Cities and towns across America are dotted with local meeting spots for patrons to gather for a cocktail. Many establishments have historical significance once frequented by renowned patrons, while others offer their eclectic charm. Check out our list of the 10 Most Famous Bars in the US and be sure to order their signature cocktail for the full experience. 
10. Green Mill Cocktail Lounge // Chicago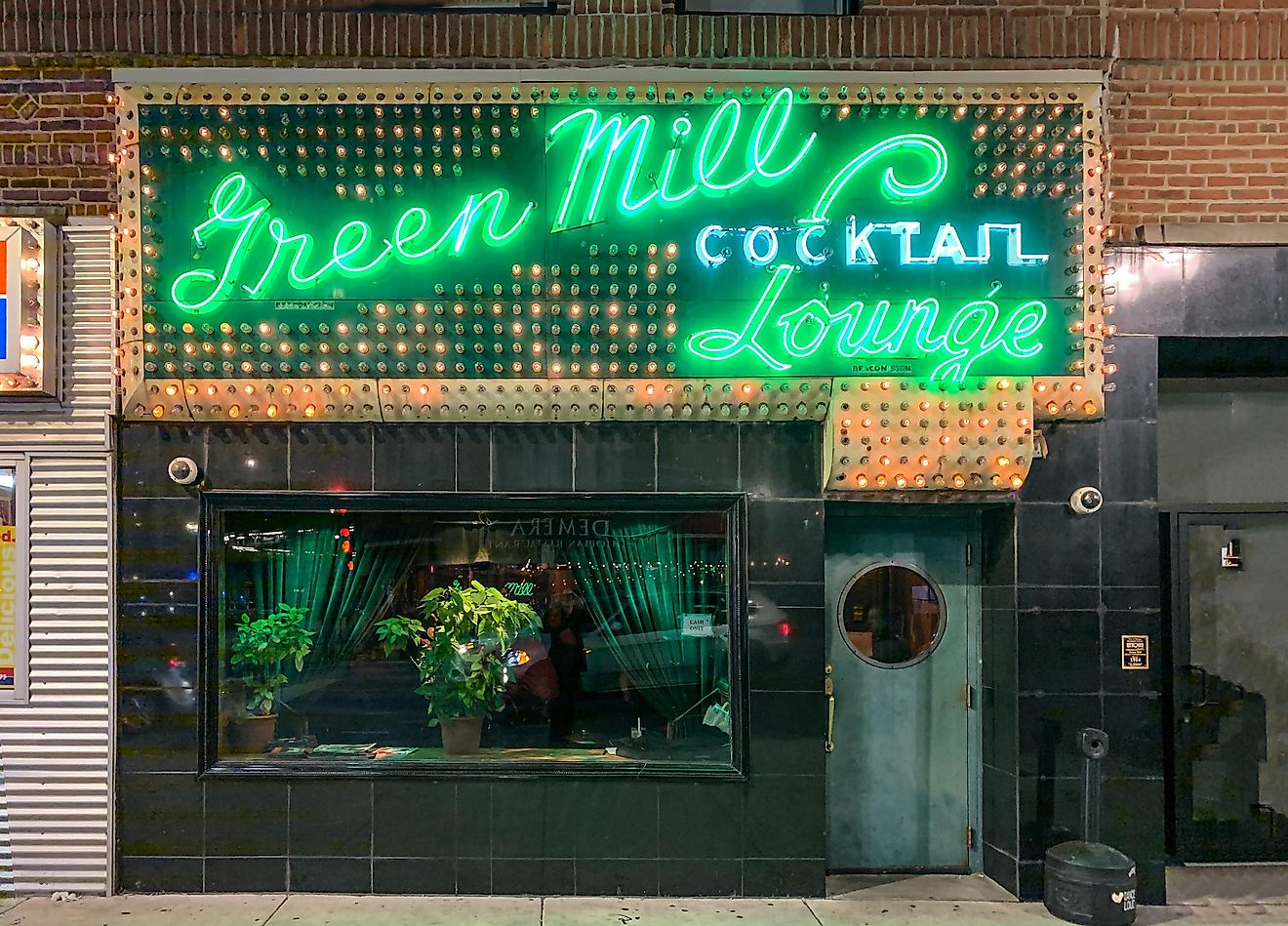 Step back the age of Prohibition Era with a visit to Chicago's Green Mill Cocktail Lounge. Initially opened in 1907, this prominent Jazz venue is a nod to Paris' Moulin Rouge. In the 1920s, Al Capone frequented the lounge and always sat at his favorite table strategically positioned to see both the front and back entrances. This historic venue is complete with secret tunnels that Al Capone and his men used to allude authorities. Though visitors are not allowed to tour the tunnels, patrons can still experience some of the top jazz performances in the world. 
9. Tonga Room // San Francisco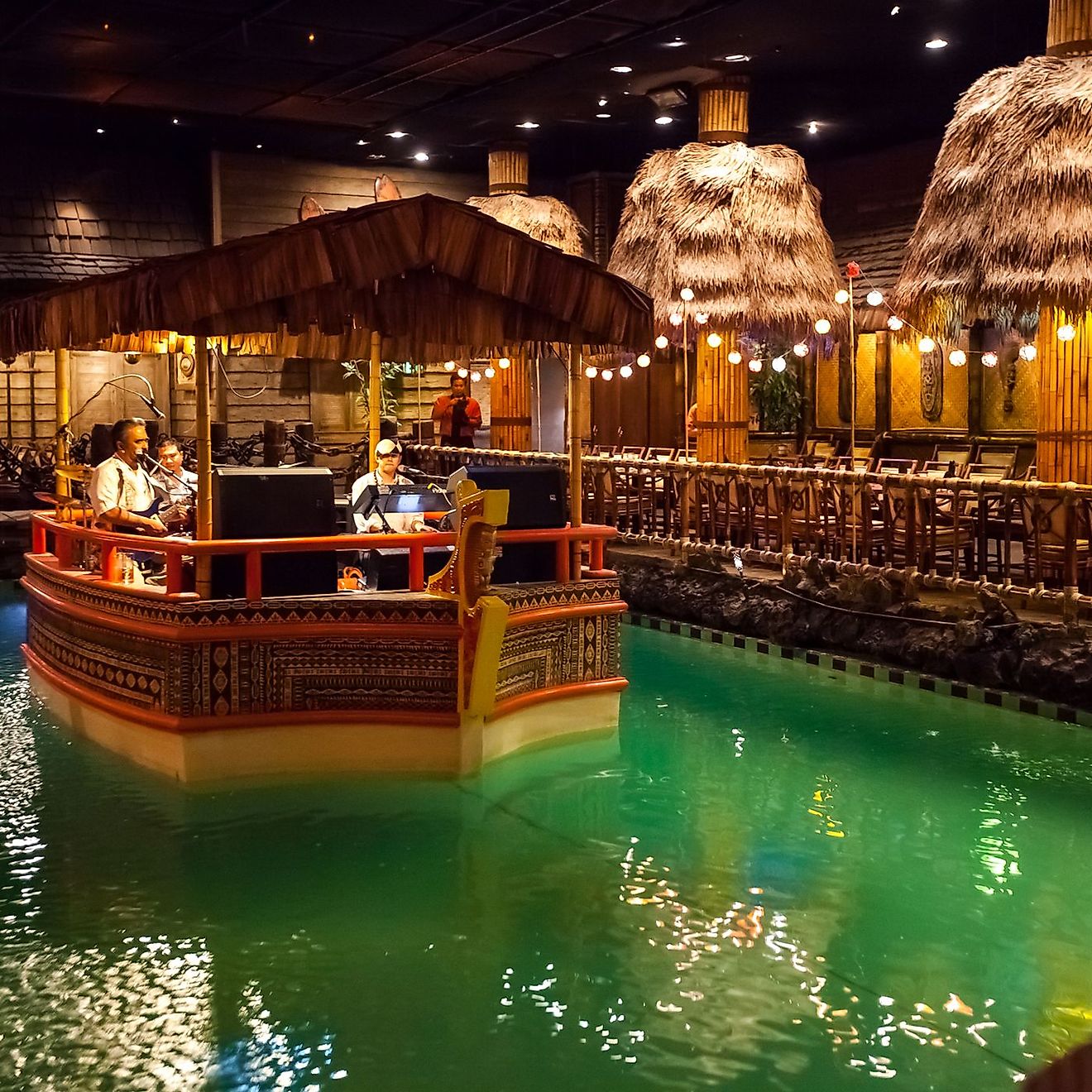 Located in the basement of the Fairmont Hotel, visitors to the Tonga Room, step into the same Polynesian paradise experienced when the club first opened in 1945. This unique restaurant and Tiki Bar offers an indoor pool complete with live musical performances atop a floating stage. There's even a tropical rain shower occurring every hour around the perimeter of the bar. Guest can enjoy a full Happy Hour Buffet featuring umbrella drinks, including their famous Mai Tais. 
8. Vesuvio // San Francisco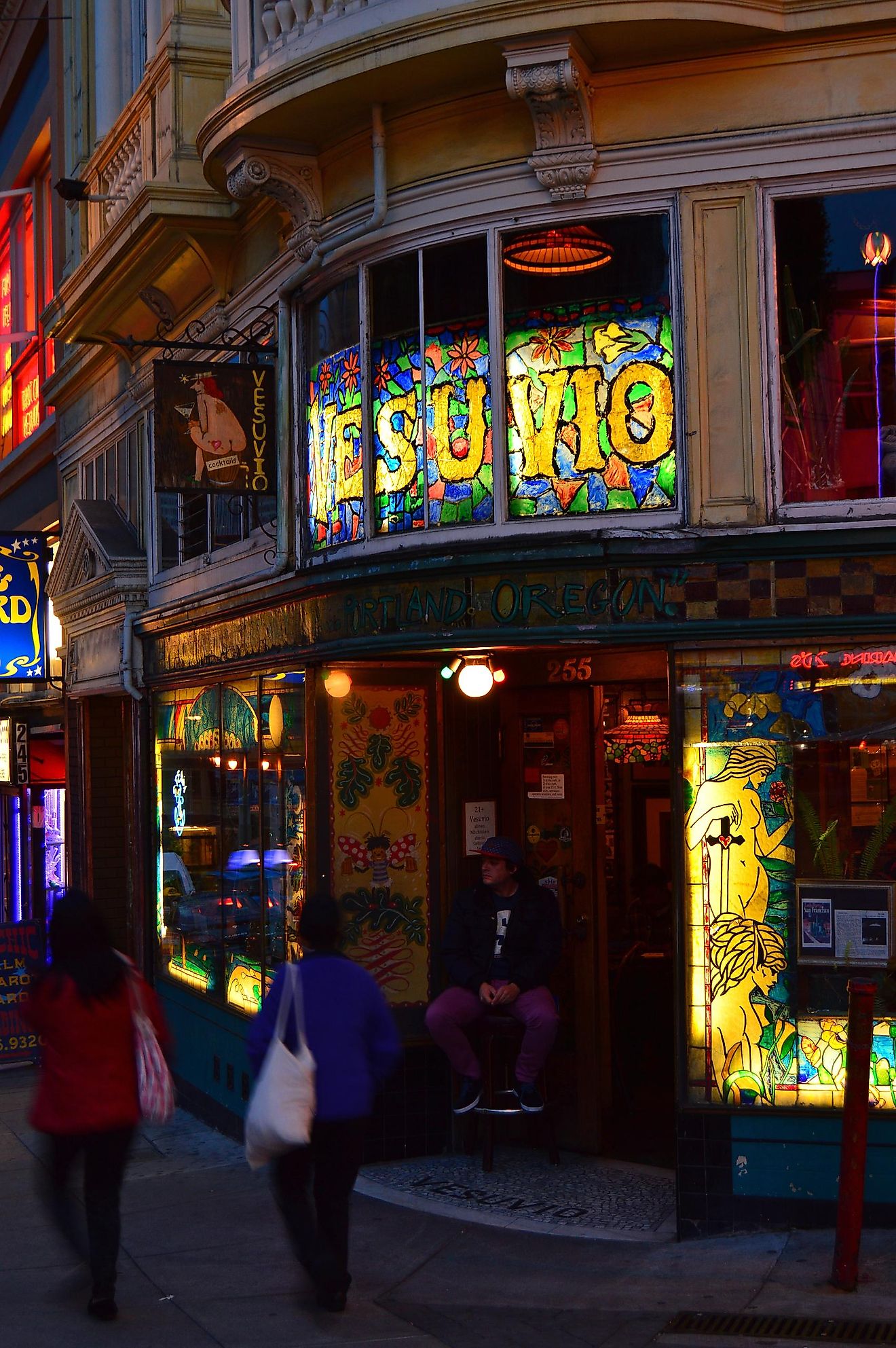 Dating back to the 1950s, Vesuvio, located in the North Beach area, is a compact bar, rich in history. Its most well-known patron is Jack Kerouac, who was a regular at this beatnik and bohemian styled venue known at one time as "Ground Zero." There is even a pedestrian walkway named Jack Kerouac Alley. 
7. King Cole Bar // New York City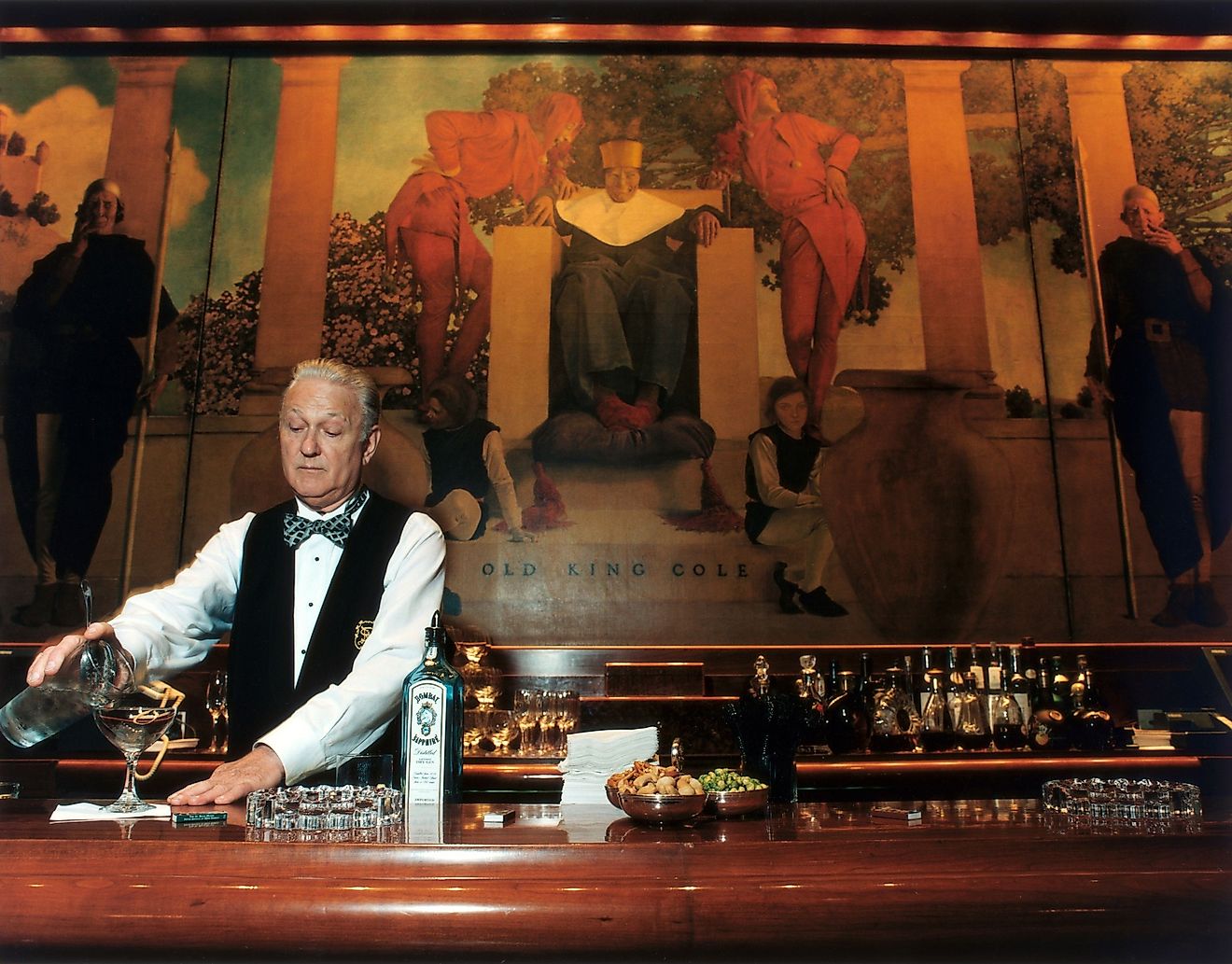 King Cole Bar, located in the prestigious St. Regis Hotel in Manhattan, is known as the birthplace of the Bloody Mary. In 1934, bartender Fernand Petiot curated the perfect recipe for a vodka and tomato juice-based cocktail and garnished it with a stalk of celery. Though the concoction was originally named Bloody Mary, the high-end bar renamed it Red Snapper to create a more elegant name for the hotel's elite clientele. No matter which name you use, the drink remains the signature cocktail of the King Cole Bar. 
6. Green Dragon Tavern // Boston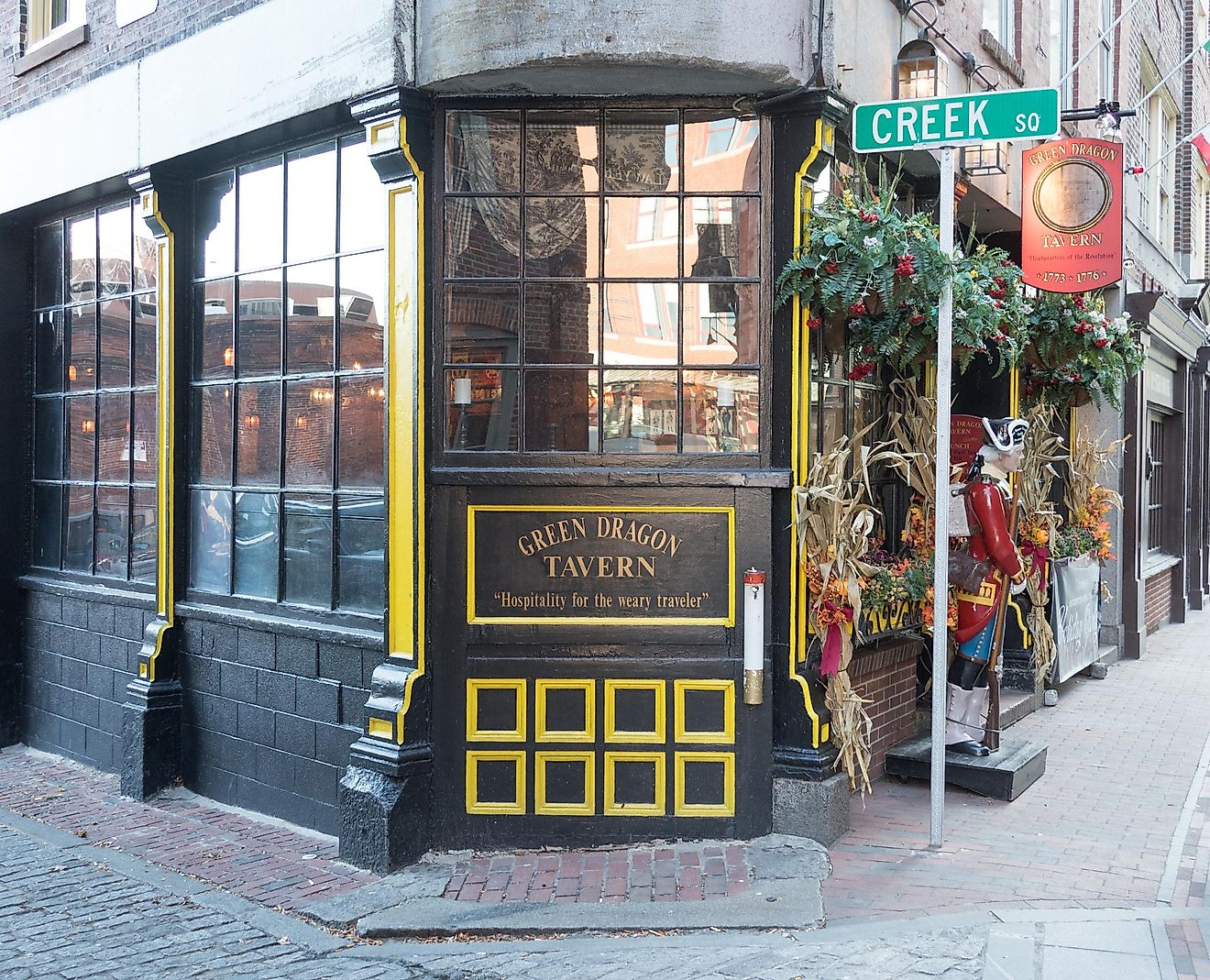 Soak in our nation's history while sipping a pint at this historical Boston Establishment. Green Dragon Tavern was a favorite watering hole for some of the most well-known names in history, such as Paul Revere, John Adams, and John Hancock. The tavern is dubbed the "Headquarters of the American Revolution," and it's rumored to be the spot where plans for the Boston Tea Party were formed. 
5. Chumley's //New York City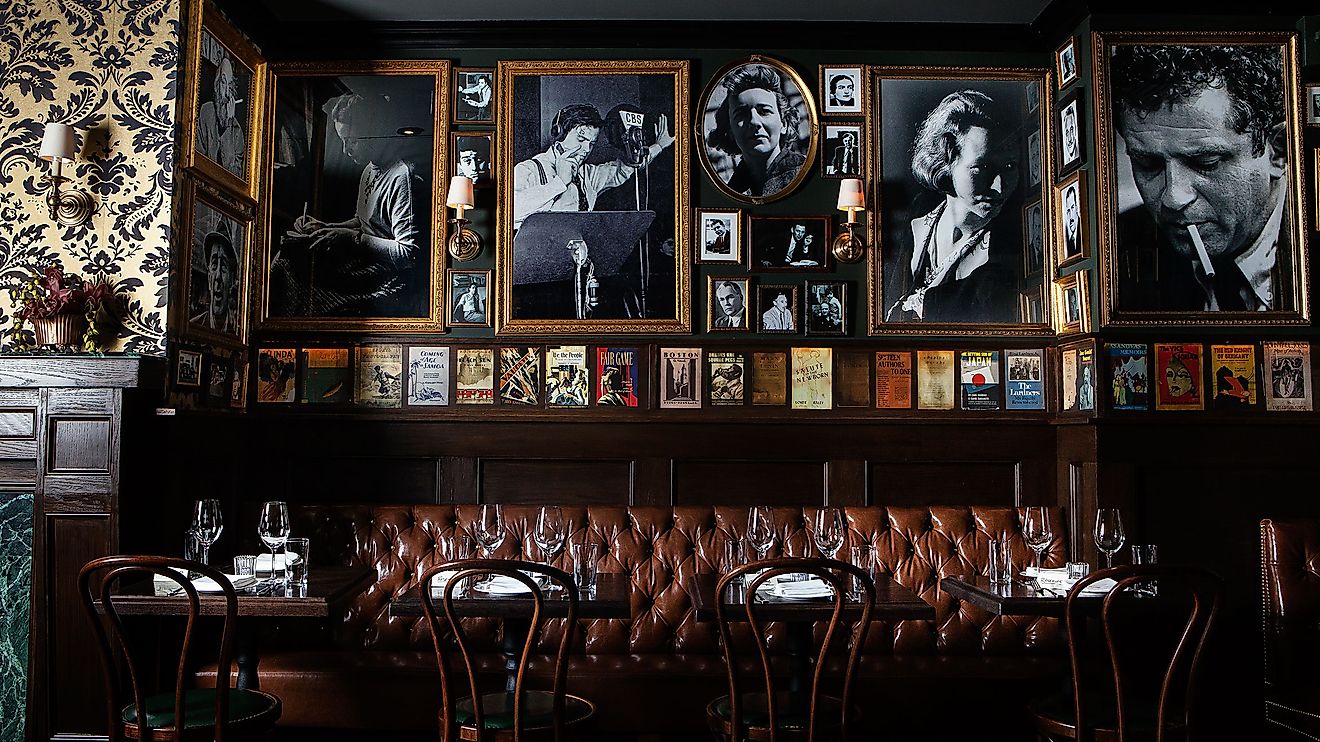 Chumley's leather booths and eclectic decor stay true to its 1920s history. This decades-old establishment was once a well-known hangout for some of the most iconic creatives in history, such as F. Scott Fitzgerald, Ernest Hemingway, and Simone de Beauvoir. While their gatherings mostly took place in the underground area that has since collapsed, the eatery is today known today for its upscale cuisine. 
4. Round Robin and Scotch Bar // Washington, DC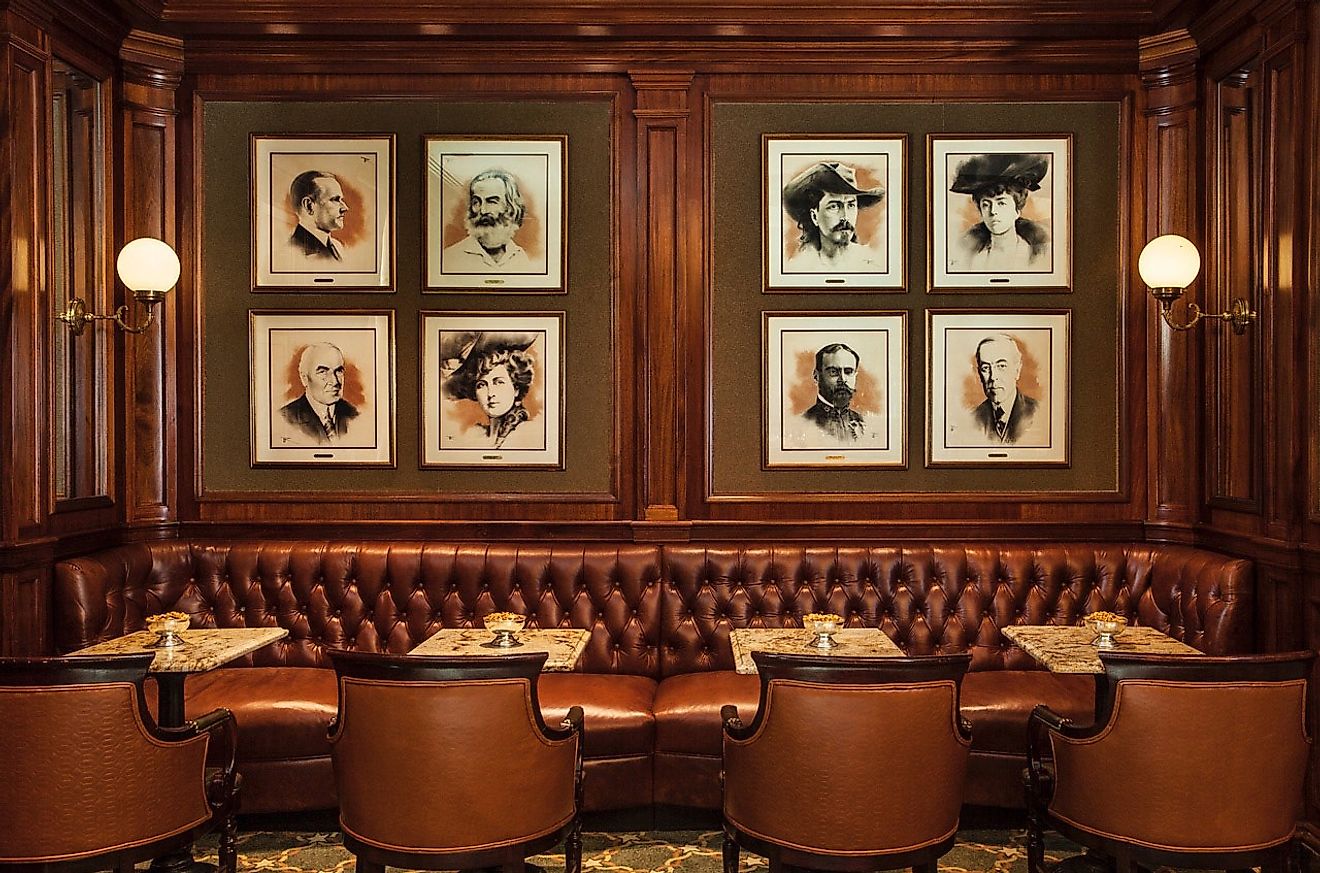 Those heading to Washington, DC to tour the White House can add Round Robin to their list of historical presidential spots to visit. Since 1847, the bar has been a popular meeting place for leaders of our nations. With its dark leather interior and presidential decor, patrons can sip on the bar's signature drink, Mint Julep, while imaging what types of important decisions were discussed within those walls. 
3. Carousel Piano Bar & Lounge // New Orleans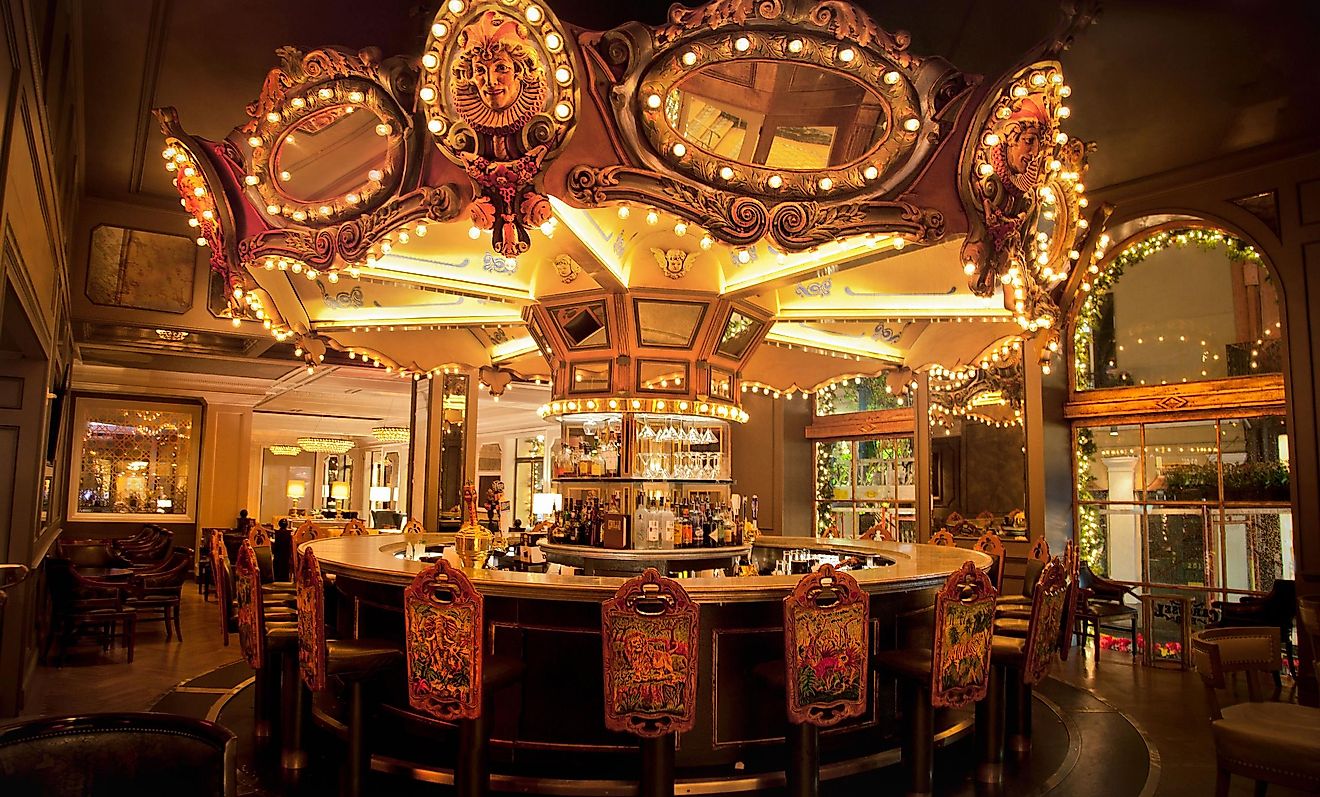 Those heading to Carousel Bar in New Orleans expecting a rotating bar with glimmering lights will not be disappointed. This unique French Quarter lounge is located inside the historic Hotel Monteleone. Grab a spot at the 25-seat rotating bar gingerly, making a full rotation every 15 minutes. The bar offers a mix of traditional and contemporary libations, including its famous concoction, Vieux Carre, a blend of Bullet Bourbon, Sweet Vermouth, Benedictine, and Bitters. 
2. Tootsies Orchid Bar & Lounge // Nashville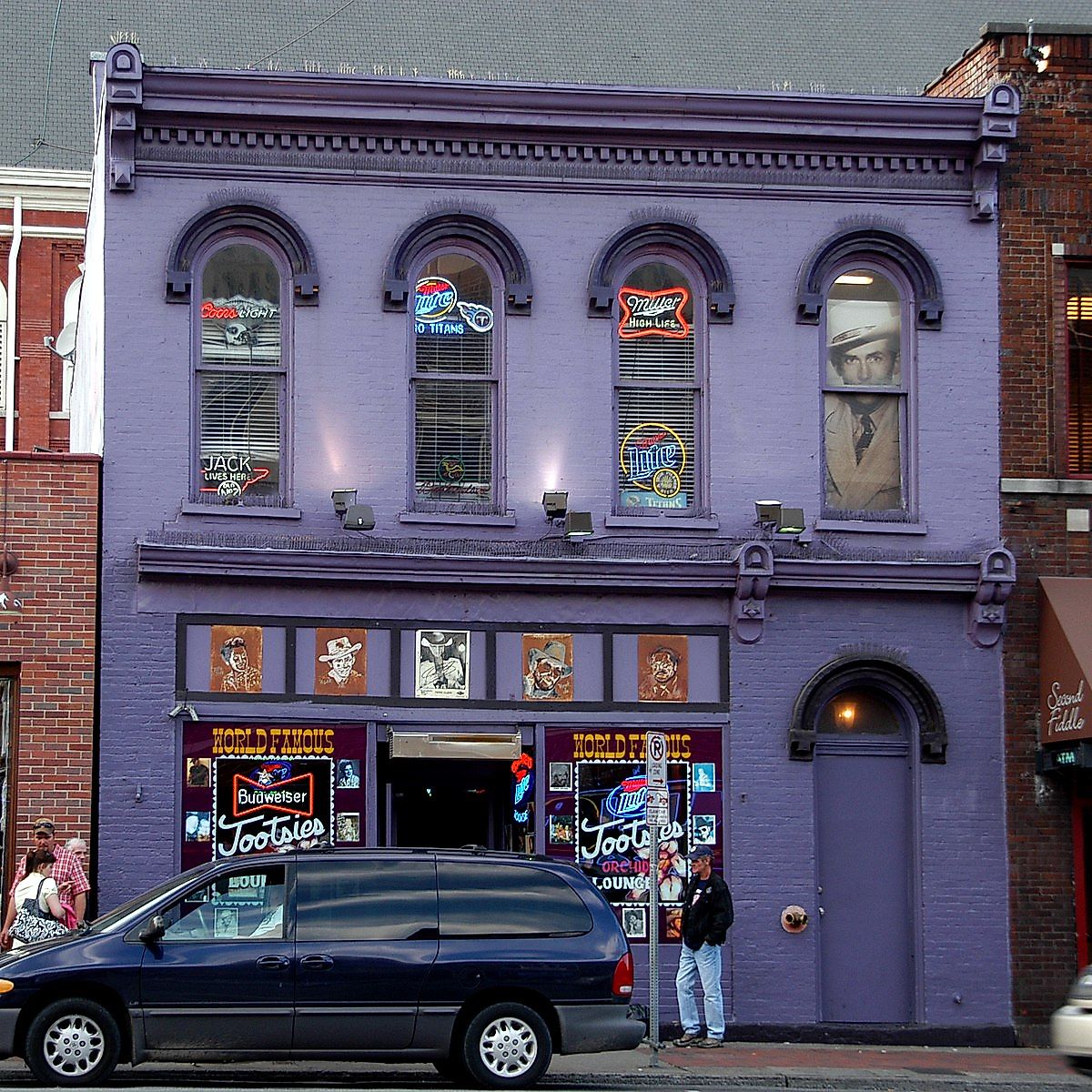 No list of bars is complete without representation from the Music City. Tootsies opened its doors in 1960 and have been delivering the best in honkey-tonk ever since. Some of the nation's most famous Country Music stars have played this iconic venue, including Willie Nelson, Waylon Jennings, and Patsy Klein. Patrons can explore the lounge's three floors offering live music performances while sipping Tootsies' famous Apple Pie Shine. 
1. The Mint Bar // Wyoming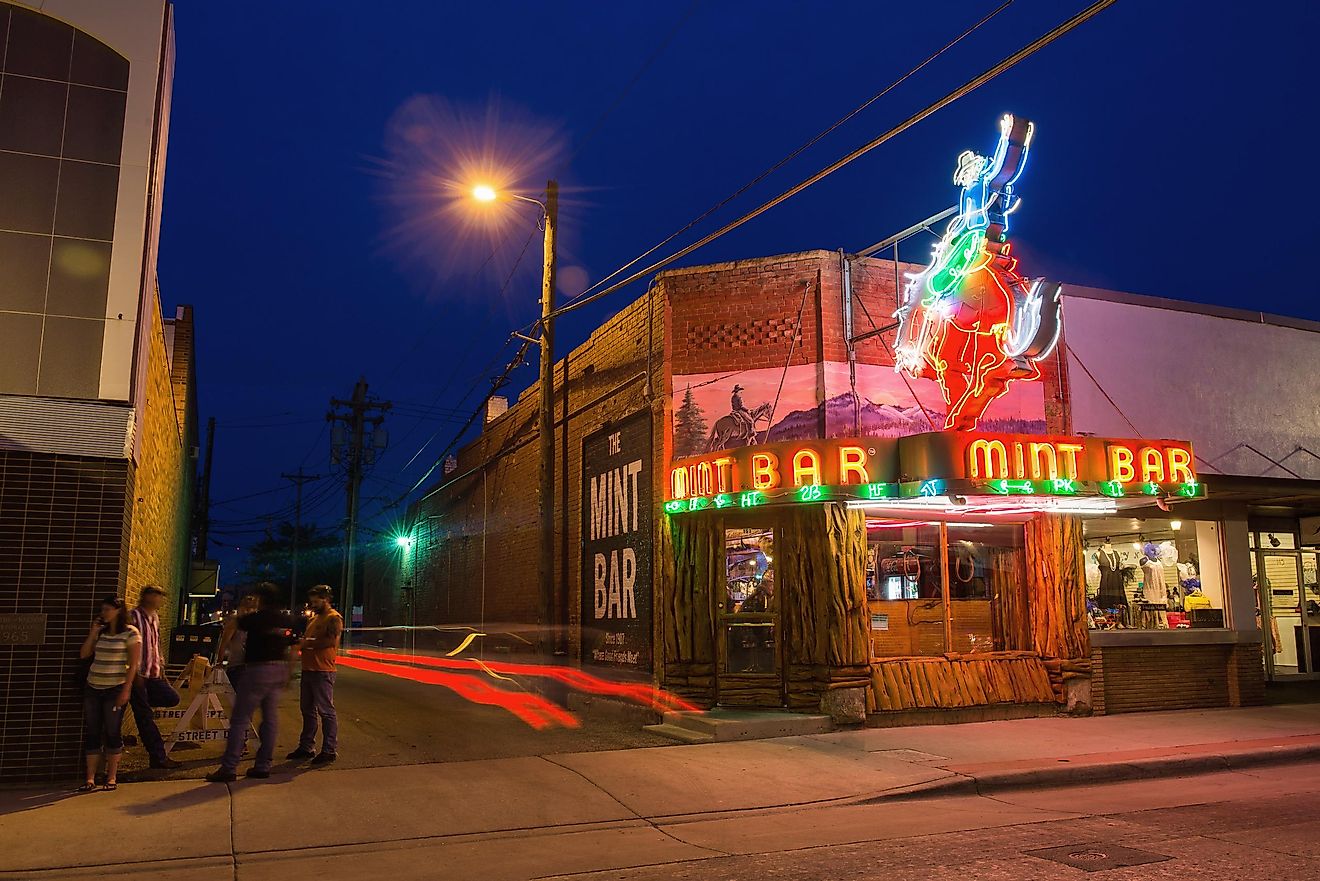 Since 1907 this Sheridan, Wyoming tavern, has been a favorite among cowboys and ranchers. With walls decorated with pictures and memorabilia, this cozy pub is a must-do for travelers to the area. The owners have dubbed the phrase, "Meet you at The Mint," where guests can saddle up the bar and order a cold one.