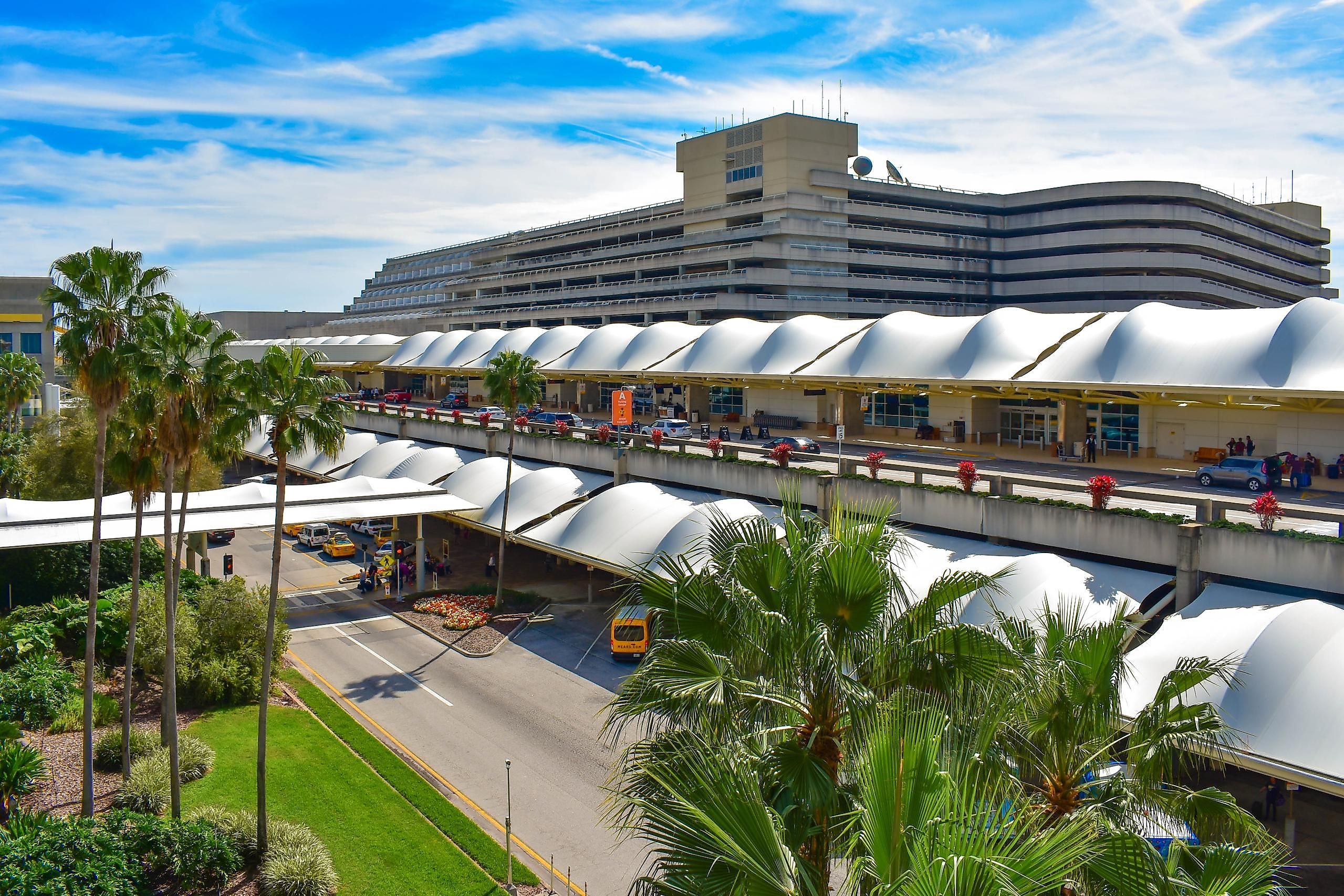 10 Biggest Airports In The United States
Airports are the first thing people see and experience upon landing in a country. The United States boasts a record number of airports, accommodating business travelers, expediting traffic during the holidays, and catering to travel worldwide. These ten biggest airports in the US strive for flawless service to ensure that their immense size correlates with efficiency, punctuality, and other customer needs.
1. Denver International Airport (DEN), Colorado - 135.7 km2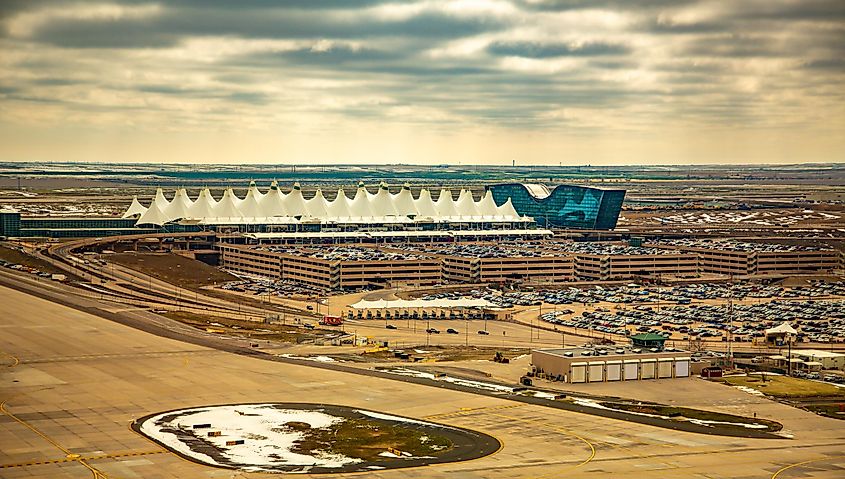 Denver is by far the largest airport in the US, sprawling across 135.7 km2 of land, which is over twice the size of the runner-up. DEN is the second-biggest airport in the world, although 6-times smaller than the world's largest, King Fahd Airport in Saudia Arabia. Despite DEN's sheer spread, it trails behind four other US airports in terms of volume. In 2021, the airport connected 58 million travelers to over 215 domestic and international destinations.The airport's 135.69 square kilometers house six different runways spaced 4,200 feet apart for safety. Its largest runaway holds the record in the US and ranks seventh biggest in the world. DEN is highly regarded as one of the States' best airports for travel, whose immense size does not compensate for modernity and quality of services. Completed in 1995, after most other airports in the nation, it modernized two terminals with 89 gates in 2018. DEN'a main airlines are United Airlines, Frontier Airlines, and Southwest Airlines.
2. Dallas/Fort Worth International Airport (DFW), Texas - 69.63 km2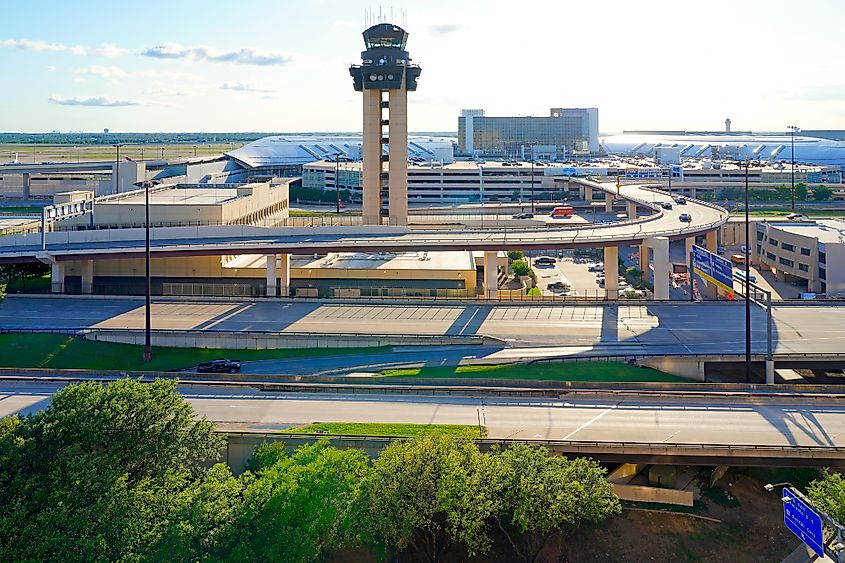 DFW is the central hub for American Airlines, connecting to 260 destinations, including over 35 different countries around the globe. It is under half the size of the largest airport in the US but the fourth-busiest. With an average traffic of 70 million passengers a year, DFW ranks the 12th busiest worldwide. The airport topped out at 62 million passengers post-Covid havoc in 2021 and hit record high two years prior, with 75 million.The 6,963-hectare airport is nearly half a century old, spanning several counties in Dallas and Fort Worth with its own post office ZIP Code. It boasts immense runaways, while the five terminals and 191 gates cover just a little over half the whole breadth. DFW is renowned for its travel experience with linked terminals via Skylink, an efficient people mover system that was part of the airport's recent modernization project. 
3. Orlando International Airport (MCO), Florida - 54 km2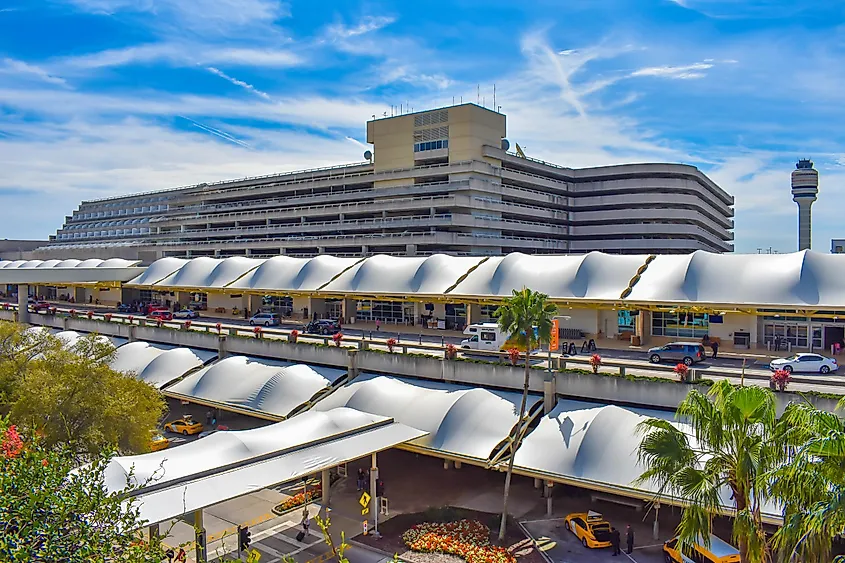 The former Strategic Air Command installation known as McCoy Air Force Base from 1942 is the third largest airport in the US, designated MCO. The airbase closed after the Vietnam War in 1975 and was converted for civil use the following year, making the airport in its 40s today. MCO covers nearly 60 km2, with some 40 million passenger traffic in 2021 and an average of 50 million travelers. The airport plans to modernize soon with an additional terminal that will accommodate post-Covid increasing traffic. Currently, it has two terminals with 129 gates and four concourses. MCO is a family-friendly airport with the Disney World scene at the door. The park attracts some 58 million visitors yearly, with many landing at the airport. 
4. Dulles International Airport (IAD), Virginia - 52.6 km2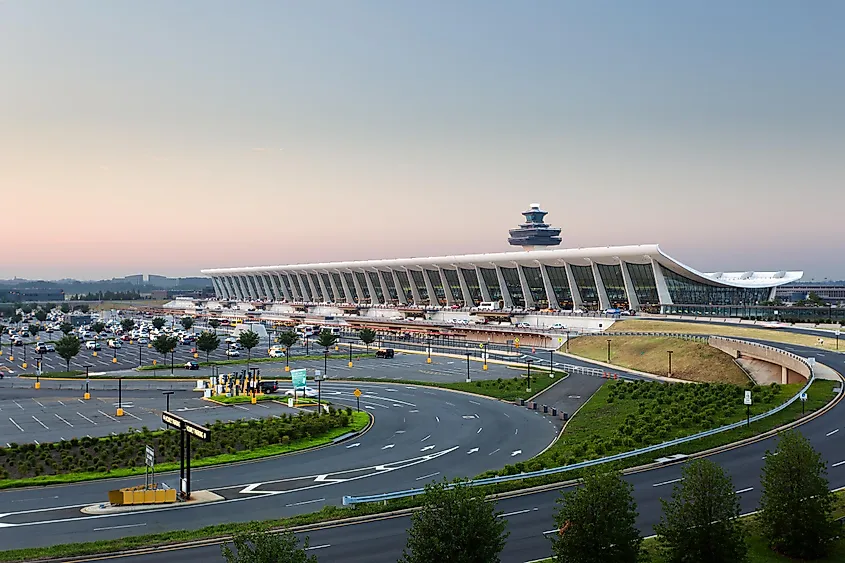 "Dulles" is the fourth-largest airport in the States, only marginally smaller than MCO's. The airport was named to honor the 52nd US Secretary of State during Eisenhower's presidency, John Foster Dulles. With its inauguration and first scheduled flight in 1962, Dulles now caters to some 24 million travelers a year. Initially, DIA, IAD today covers parts of Fairfax and Loudoun Counties in Virginia. The airport serving the nation's capital boasts efficient services, a modern look, and attractions. IAD is home to 3 terminals and 113 gates, known for convenient access and easy orientation, with most foot traffic at the main terminal. The airport is located 25 miles west of DC on the Northern Virginia side, with a 45-minute traffic to the heart of the capital. 
5. George Bush Intercontinental (IAH), Texas - 40.5 km2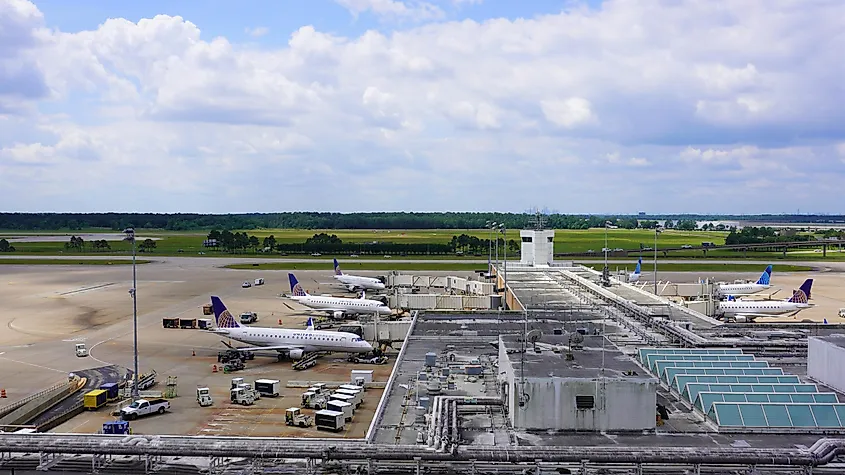 IAH, formerly known as Houston Intercontinental Airport, was renamed in 1997 to honor US President George H. W. Bush. The 40.5 km2 airport is smaller than Dulles but with over-double traffic. It handles an average of 45 million passengers and nearly half a million aircraft in and out every year. IAH is Houston's main airport and the second most significant hub for United Airlines.The popular, centrally-located airport adopted United Airlines' contactless customer service system before most others. The system allows quick and easy people-to-agents connection using cell phones to video chat with a customer service representative instead of queueing.
6. Salt Lake City International (SLC), Utah - 31.1 km2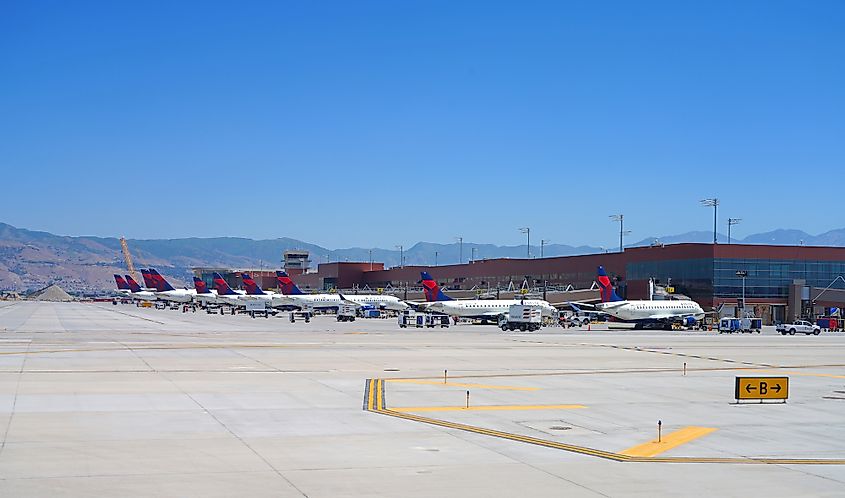 Salt Lake City International Airport is renowned for time management and punctuality. It ranked first in 2017 for on-time departures and arrivals, as well as the fewest flight cancellations. The sixth largest US airport ferries around 24 million people a year. SLC was established in 1960, six kilometers out of Salt Lake City. Upon gaining appropriate popularity, a number of flights, and destinations, the airport adapted with several timely renovation and expansion efforts. Today, the lovely airport boasts connecting via the Utah Transit Authority's TRAX system, where residents can park outside the airport in-leu of the high-cost parking on-site.
7. O'Hare International Airport (ORD), Illinois - 30.9 km2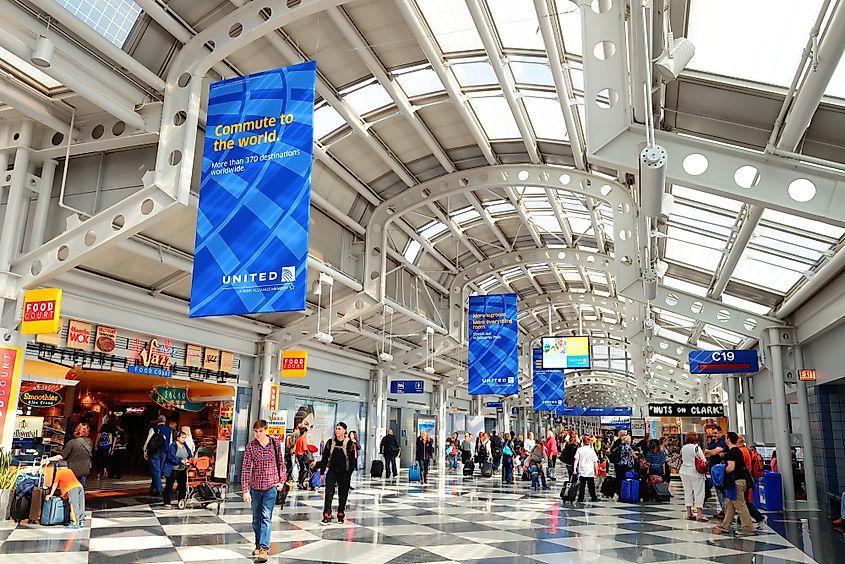 ORD is the first major airport planned post World War II and is the United Airlines and American Airlines' major hub. It has an average traffic of 80 million passengers annually and was "the busiest" in the US from 1963 to 1998. Chicago O'Hare International Airport is home to four terminals and parallel runways with non-stop service to nearly 230 worldwide destinations.The seventh-biggest airport in the US is negligibly smaller than SLC but quadruples in traffic. Set fairly central to the Midwest region, it is home to 91 different gates and seven runways, with a nearly finished 8th. ORD is currently working with architects on near-future modernization plans to make the traffic flow more efficient.
8. San Francisco International Airport (SFO), California - 21.07 km2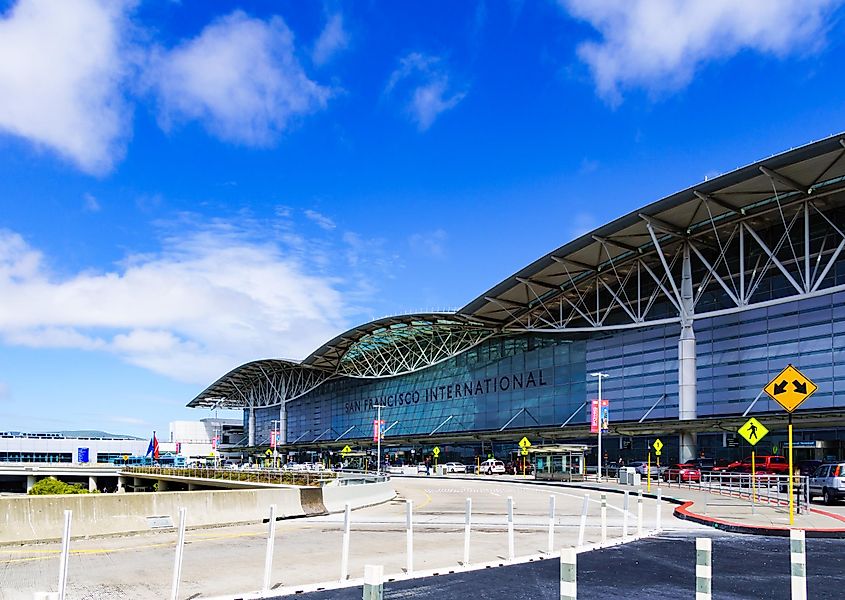 California's principal airport, SFO, is the largest of the four airports serving the Bay Area, chiefly connecting passengers to Europe, Asia, and Australia. The busy airport in San Mateo County, some 13 miles south of downtown San Francisco, handles heavy foot traffic of about 55 million passengers annually. Despite being popular and internationally focused, navigating the four terminals with 115 gates at this loud airport is challenging. So far, the airport has only reduced the amount of noise with a quiet airport initiative of using a PA system and more digital tableaus. The confusing airport is owned and operated by the City and County of San Francisco. 
9. John F Kennedy Airport (JFK), New York - 21 km2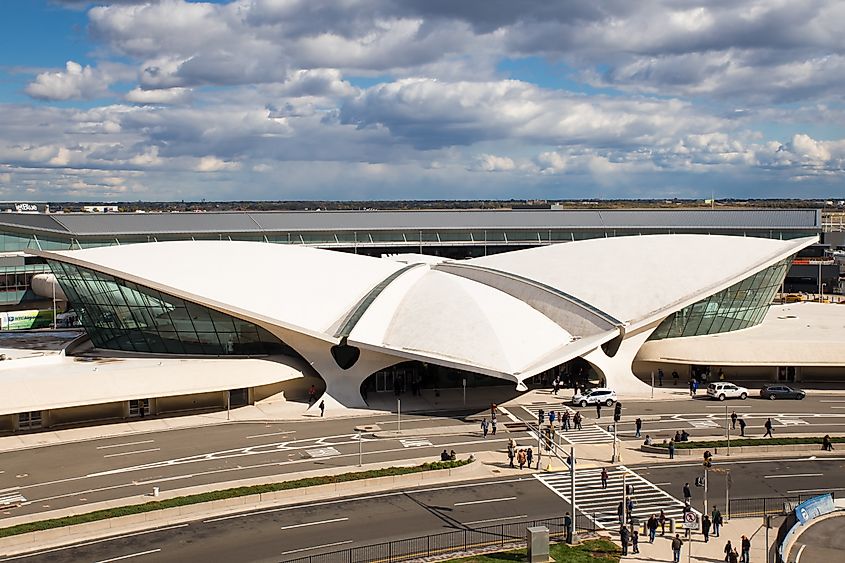 The 9th biggest US airport is New York City's famed "JFK." It spreads for 21 km2 with eight terminals in a high-traffic Jamaica neighborhood of Queens. The busy airport, with un-proportionate traffic of 60 million travelers on average each year, plans to upgrade and expand soon.
10. Detroit Metropolitan Airport (DTW), Michigan - 19.6 km2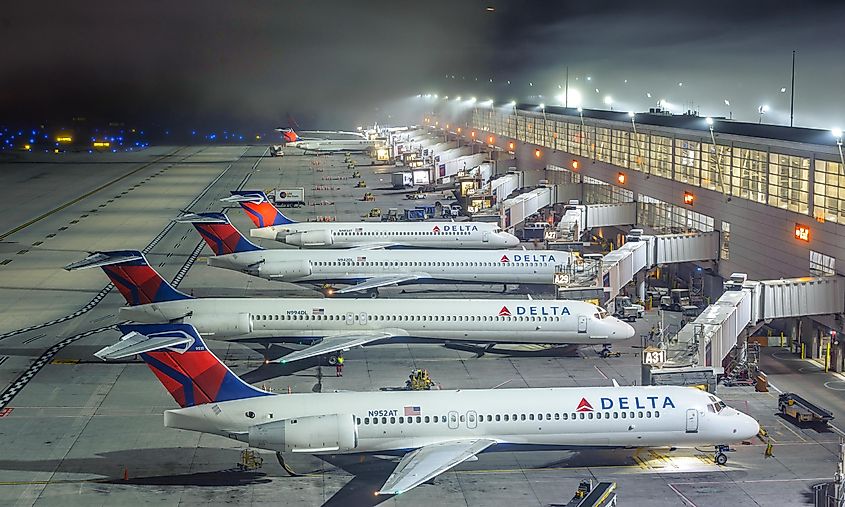 Originally constructed in 1929 on a 2.6 km2 piece of land, DTW expanded to complete the list at 19.6 km2 in breadth. The 10th largest US airport is set just outside of Detroit with six runways and two terminals. It trafficked over 34 million passengers in 2017, which is predicted to almost double in the next 15 years. The McNamara Terminal of this airport, with four concourses and 103 gates, is used by Delta Air Lines and partnering Aeromexico and Air France. The near-future plans include refurbishing, expansion, and making connections more efficient. 
These legendary giants are integral to relevant states and the country, representing the US to the world. With a high-stake reputation to behold, many plan to renovate with more efficient service for the travel-starved, post-Covid world.
| Rank | Airport | Location (State) | Area (in km2) |
| --- | --- | --- | --- |
| 1 | Denver International Airport (DEN) | Colorado | 135.7 |
| 2 | Dallas/Fort Worth International Airport (DFW) | Texas | 69.63 |
| 3 | Orlando International Airport (MCO) | Florida | 54.0 |
| 4 | Dulles International Airport (IAD) | Virginia | 52.6 |
| 5 | George Bush Intercontinental (IAH) | Texas | 40.5 |
| 6 | Salt Lake City International (SLC) | Utah | 31.1 |
| 7 | O'Hare International Airport (ORD) | Illionois | 30.0 |
| 8 | San Francisco International Airport (SFO) | California  | 21.07 |
| 9 | John F. Kennedy Airport (JFK) | New York | 21.0 |
| 10 | Detroit Metropolitan Airport (DTW) | Michigan | 19.6 |