Zanzibar Map and Map of the Zanzibar Archipelago Information Page
Zanzibar Archipelago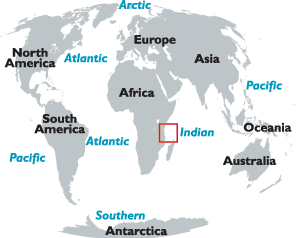 Zanzibar, an Indian Ocean archipelago located off the eastern coastline of Tanzania, contains three large islands and a number of smaller ones.
Once under British control, it gained independence in 1963, and one year later it merged with the former African state of Tanganyika, forming Tanzania.
Although part of the country of Tanzania, Zanzibar still elects its own President and House of Representatives, and they deal with internal matters.
Occasionally called the "Spice Islands," Pemba and Zanzibar (or Unguja) are renown for cinnamon, cloves and nutmeg production.
Zanzibar (the island) has a growing tourism industry. Zanzibar Town (or city) is a popular destination, and its old quarter is a United Nation's "World Heritage Site."
Mafia island, though part of the archipelago, is governed from the mainland, and known for it world-class fishing and idyllic scuba diving venues.
This page was last updated on September 2, 2020.