Welland Canal – Map and Information
How does international shipping in the Great Lakes move between Lake Erie and Lake Ontario, when it can't navigate past or through the Niagara Falls area?
The answer is the remarkable Welland Canal. This 28 mile (43 km) long body of water, and its system of locks, is utilized by thousands of freighters each year. Of its eight locks, a few are called 'twin-flight', as they allow one ship to be lifted as another is lowered.
The canal carries ships over the Niagara Escarpment between Port Colborne on Lake Erie and Port Weller on Lake Ontario, which is 326 ft (99m) lower.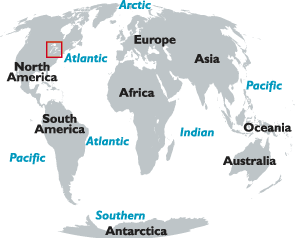 This page was last updated on June 16, 2020.