Tierra Del Fuego – Map & Details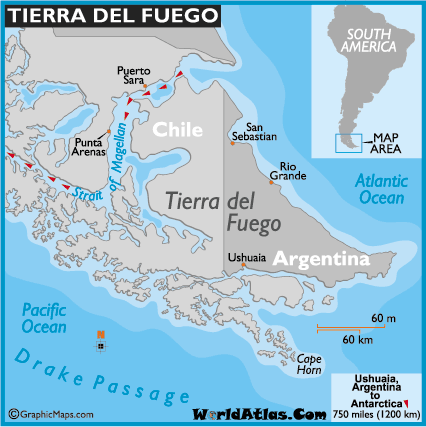 Located at the southern tip of South America, the Tierra Del Fuego archipelago includes one large island (18,571 sq miles, 48,100 sq km) in size, and a series of smaller ones.

It was reportedly named by the Portuguese adventurer, Ferdinand Magellan, the first explorer to circumnavigate the globe. His chosen route (shown with red arrows) through the Magellan Strait proved to be the fastest and safest connection between the Atlantic and Pacific Oceans for sea-going commerce and exploration.
The western half of the main island, as well as all islands to the south and southwest are politically part of the Magallanes Region of Chile. Positioned on the edge of the Magellan Strait, the capital city of Punta Arenas was once one of the most important supply stops for mariners of the day, until the Panama Canal opened for business in 1914.
The eastern half of the main island is a part of Argentina's Tierra Del Fuego Province; its capital is Ushuaia (the southern-most city on the planet) and the gateway for expeditions and guided tours to Antarctica.
This page was last updated on September 3, 2020.