Map of St. George's Channel - St. George's Channel Map, Location Facts, St. George's Channel History
St. George's Channel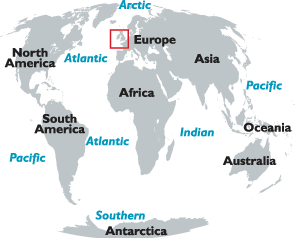 St George's Channel between Ireland and Wales connects the Celtic and Irish Seas.
At one time the channel's waters included a much larger area, one that extending further to the north and south.
Today its name refers to only the waters immediately adjoining its narrowest point.
That point, between Carnsore Point, Ireland, and Saint David's Head, Wales, is 47 mi (76 km) in width.
Rosslare Harbor is now southeast Ireland's main port. Thousands of visitors arrive by ferry in the summer months.
The channel's name reportedly comes from the legend of St. George, when he traveled to England by sea from Constantinople.
This page was last updated on September 3, 2020.