Robinson Crusoe Island Map and Map of Isla Róbinson Crusoe History and Information Page
Robinson Crusoe Island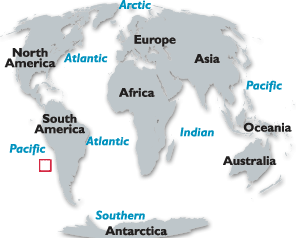 Robinson Crusoe Island (Isla Róbinson Crusoe), is the largest island of the Chilean Juan Fernández archipelago, situated 674 km west of South America in the South Pacific Ocean. The archipelago is made up of three islands, Robinson Crusoe, Alejandro Selkirk (not shown) and the much smaller Santa Clara.
Robinson Crusoe is mountainous, with a rolling, rugged terrain, formed by ancient lava flows from volcanic eruptions.
This mountainous island has a population of nearly 600, with all of them living in the coastal village of San Juan Bautista. To reach the island, the flying time from Santiago, Chile is about three hours.
The island was first named Juan Fernandez Island after the Spanish captain who first landed there in 1574. However, it was a sailor named Alexander Selkirk that made the island famous as he was marooned here for over four years from 1704 to 1709, and became the inspiration for Daniel Defoe's classic novel, Robinson Crusoe.
We visited the island in late January, 2010, and we have a series of Photos!
This page was last updated on September 2, 2020.