What and Where is the Ring of Fire?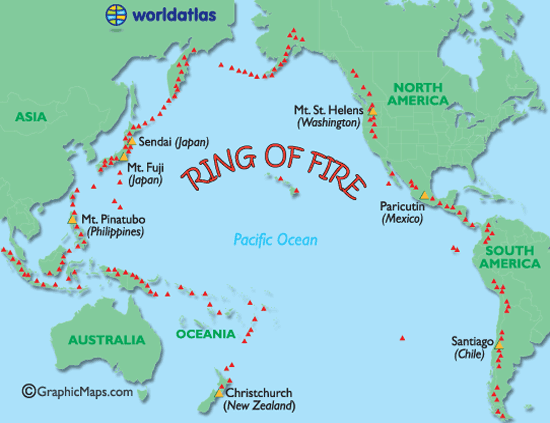 The large series of volcanoes (some active) encircling the Pacific Ocean are referred to as being part of the Ring of Fire, and notorious for frequent earthquakes and volcanic eruptions.
The Ring of Fire, coinciding with the edges of one of the world's main tectonic plates, (the Pacific Plate) contains over 450 volcanoes and is home to approximately 75% of the world's active volcanoes.
Approximately 90% of the world's earthquakes occur along the Ring of Fire; most recently, the devastating quakes in Chile, Japan and New Zealand.
Volcanoes and Earthquakes of note:
Christchurch Earthquake, New Zealand
Mount Saint Helens, Washington, USA
Mount Pinatubo, Philippines
Mt. Fuji, Japan
Paricutin Volcano, Mexico
Santiago Earthquake, Chile
Sendai Earthquake, Japan
This page was last updated on September 2, 2020.