Lake St. Clair Map Detroit River St. Clair River Information Page
Lake St.Clair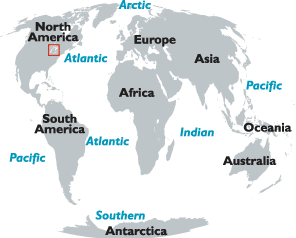 Surrounded by Ontario, Canada, and the U.S. State of Michigan, Lake St. Clair (the smallest lake in the Great Lakes system) is not considered to be one of the "Great Lakes," however, it is part of the Lake Erie basin.
Lake St. Clair is shallow, averaging 10 feet (3 meters) deep. St. Clair's maximum depth is only 21 feet (6.4 meters), a mere fraction of Lake Superior's maximum depth of 1,332 feet (406 meters).
However, to accommodate international shipping navigating between Lake Erie and Lake Huron, it is 27 feet (8.2 m) deep in the navigation channel which has been dredged for ocean-going freighter passage.
French explorers discovered the lake in 1679, calling it Lac Sainte Claire in honor of Sainte Claire of Assisi whose feast day fell at that time.
Government officials and map makers later changed the spelling to the present form of Saint Clair, or St. Clair. This led to some confusion as to the true origin of the name. Another (now disputed) theory is that the lake was named after the first governor of the Northwest Territory: General Arthur St. Clair.
The northeastern portion of Lake St. Clair is an extensive delta system, the largest within the Great Lakes.
This page was last updated on September 3, 2020.