Lake Ladoga Map, Lake Ladoga Location Facts, Major Bodies of Water, Russia
Lake Ladoga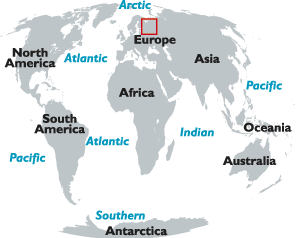 Located in northwestern Russian, directly east of St. Petersburg and to the southeast of Finland, Lake Ladoga is European Russia's largest freshwater lake.
Excluding islands, varied resources indicate the lake is approximately 6,700 sq miles (17,600 sq km) in total area. From north to south the lake is 136 miles (219 km) long, with an estimated average depth of 167 feet (51 m).
There are over 650 islands in the lake, and Lake Ladoga's shoreline is completely covered by alders, pine and willow trees.
Hundreds of rivers and lakes (too numerous to illustrate on this small map) were originally formed by the lake's huge water basin. The largest outlets (or tributaries) include the Neva, Svir, Says, Volkhov and Vuoksi rivers.
This page was last updated on September 3, 2020.