Gulf of Aqaba – Map & Description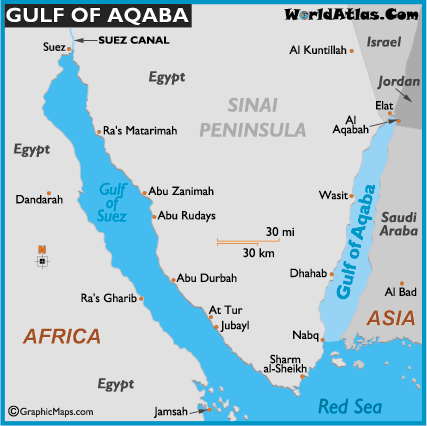 The far northern end of the Red Sea is divided into two parts (gulfs) by the Sinai Peninsula; in the east the Gulf of Aqaba, and in the west the Gulf of Suez.
The Gulf of Aqaba is positioned along the southeastern edge of the Sinai Peninsula, and bordered by the countries of Israel, Jordan and Saudi Arabia.
The Gulf is an important shipping conduit for both Israel and Jordan, and just beyond its southern edges, resorts like Sharm al-Sheikh and others are fast becoming major tourist destinations for scuba divers and sun worshipers because of their consistent sunshine, coral reefs and white sand beaches.
Terrific photo by NASA of the entire Gulf of Aqaba area
This page was last updated on September 3, 2020.