Map of Gulf of Guayaquil, Gulf of Guayquil Facts Location, Bodies of Water, Ecuador
Gulf of Guayaquil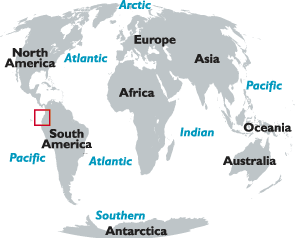 The Gulf of Guayaquil is positioned just south of the Equator, along the northwestern edge of South America. It's bordered by the countries of Ecuador and Peru.
Sitting on the edge of the Guayas River, Guayaquil (Santiago De Guayaquil) is the most populated city in Ecuador, and the country's most important port.
In fact, almost all of Ecuador's imports flow through the gulf to the port of Guayaquil. In the northern reaches of the country, coffee beans and other agricultural product are brought south along the Guayas River for export to destinations around the world.
Guayaquil is a departure point (by air) to the Galapagos Islands. Boat trips are certainly possible, but air travel is recommended.
This page was last updated on September 3, 2020.