Map of Aegean Sea - World Seas, Aegean Map Location
Aegean Sea
Positioned between Greece and Turkey, the Aegean Sea, part of the Mediterranean Sea, also includes the Sea of Crete and Thracian Sea.
Covering an area of approximately 214,000 sq. km, it's bordered in the northeast by the Dardanellas Strait, and in the south by the Ionian Sea, Mediterranean Sea and the island of Crete.
Just off the coastline of northeastern Crete the sea reaches a maximum depth of near 3,294 m (10,000 ft.)
Iraklio (Heraklion), Izmir (Turkey), Piraeus, Thessaloniki and Alexandroupolis are its chief ports, and the sea is well served by cruise ships, regional ferries and hydrofoils. For trips to the Greek Isles (of any length), the port of Piraeus serves the entire sea.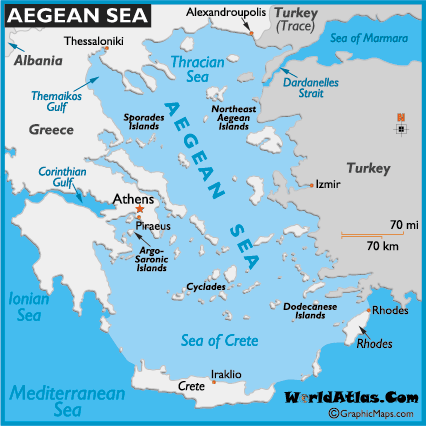 this map
This page was last updated on August 17, 2020.