Nepal Flag and Description
Nepal Flag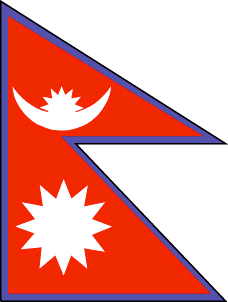 Buy this flag,
or any country flag
here
DESCRIPTION
The Nepal flag was officially adopted on December 16, 1962, and it's the only national flag that's not a rectangle or square.
The blue border symbolizes peace, while red is the color of the rhododendron, Nepal's official flower. The crescent moon is said to represent the royal house, while the sun represents the Rana family.
all Country Flags here!
Map of Nepal here!
This page was last updated on July 12, 2016.