Bermuda's Information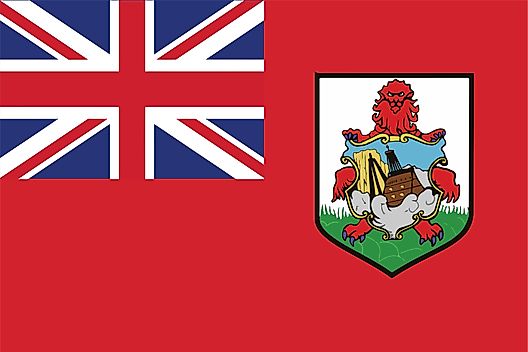 | | |
| --- | --- |
| Land Area | 54 km2 |
| Total Area | 54km2 |
| Population | 70,537 (#202) |
| Population Density | 1,306.24/km2 |
| Government Type | Parliamentary Democracy (Parliament); Self-governing Overseas Territory Of The UK |
| GDP (PPP) | $5.20 Billion |
| GDP Per Capita | $85,700 |
| Currency | Dollar (BMD) |
Bermuda History
Bermuda is a British overseas territory located in the North Atlantic Ocean. It consists of 138 islands that form a fishhook-shaped landmass, stretching some 22 miles in length and about a mile across. Bridges and causeways connect the eight largest islands.
Spanish navigator, Juan de Bermudez (for whom the islands are named), discovered the area in 1505 and claimed it for the Spanish Empire.
In 1609 Sir George Somers, of England, set sail aboard the Sea Venture. Caught in a storm, the Sea Venture began to founder. In order to keep from sinking, the ship was driven onto the reefs east of Bermuda. All 150 crewmembers and passengers survived and are credited with the settling of Bermuda.
In 1612, an additional 60 settlers were sent to Bermuda, led by Sir Richard Moore, the first governor. They founded and built the town of St. George.
Slavery and Industry
Early in the 17th century, slavery was introduced. Most of them were laborers and domestic workers. Many were treated brutally, resulting in revolts. Finally, in 1807, slave trade was outlawed and by 1834 all slaves were freed.
As the arable land was too small for a significant agricultural industry, the focus was on the maritime, with the islands' Bermuda cedar trees used for shipbuilding. In the 18th century many of the merchant vessels built in Bermuda were used for privateering, preying on shipments from Spain and France. During the American War of Independence, the Bermudians were aggressive in their attacks on American ships.
In 1815, the capital was moved from St. George's to the port city of Hamilton, in the center of the island. Since Britain had lost its ports in the American colonies, Bermuda became a stopover point between Canada and British possessions in the Caribbean.
By the end of the 19th century, exporting of vegetables to the United States, especially the Bermuda onion, became quite profitable and provided a steady income. As the U.S. began producing more of its own crops, the agricultural industry fell, but tourism took its place.
The Furness Steamship Company in England picked Bermuda as a stop for their new ships. Wealthy Americans visited Bermuda, especially during the Prohibition Era, as they could drink on the ships and in the hotels.
This page was last updated on July 12, 2016.