Sporades Islands Map / Geography of Sporades Islands / Map of Sporades Islands
Sporades Islands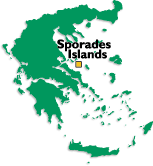 These mountainous, densely-forested islands are located off the eastern coast of Greece in the Aegean Sea. The group includes about two dozen islands, of which only Alonnisos, Skiathos, Skopelos, and Skyros are inhabited.
Long the playgound of the rich and famous, these charming and historic islands are some of the most popular tourist destinations in all of Greece. Skyros, the largest island in the Sporades, is well known for its beautiful terrain, crystal blue waters, indigenous ponies and first-class tourism facilities.
All of the major islands are accessible by a dependable ferry service from mainland ports, and some of them can be reached by air.