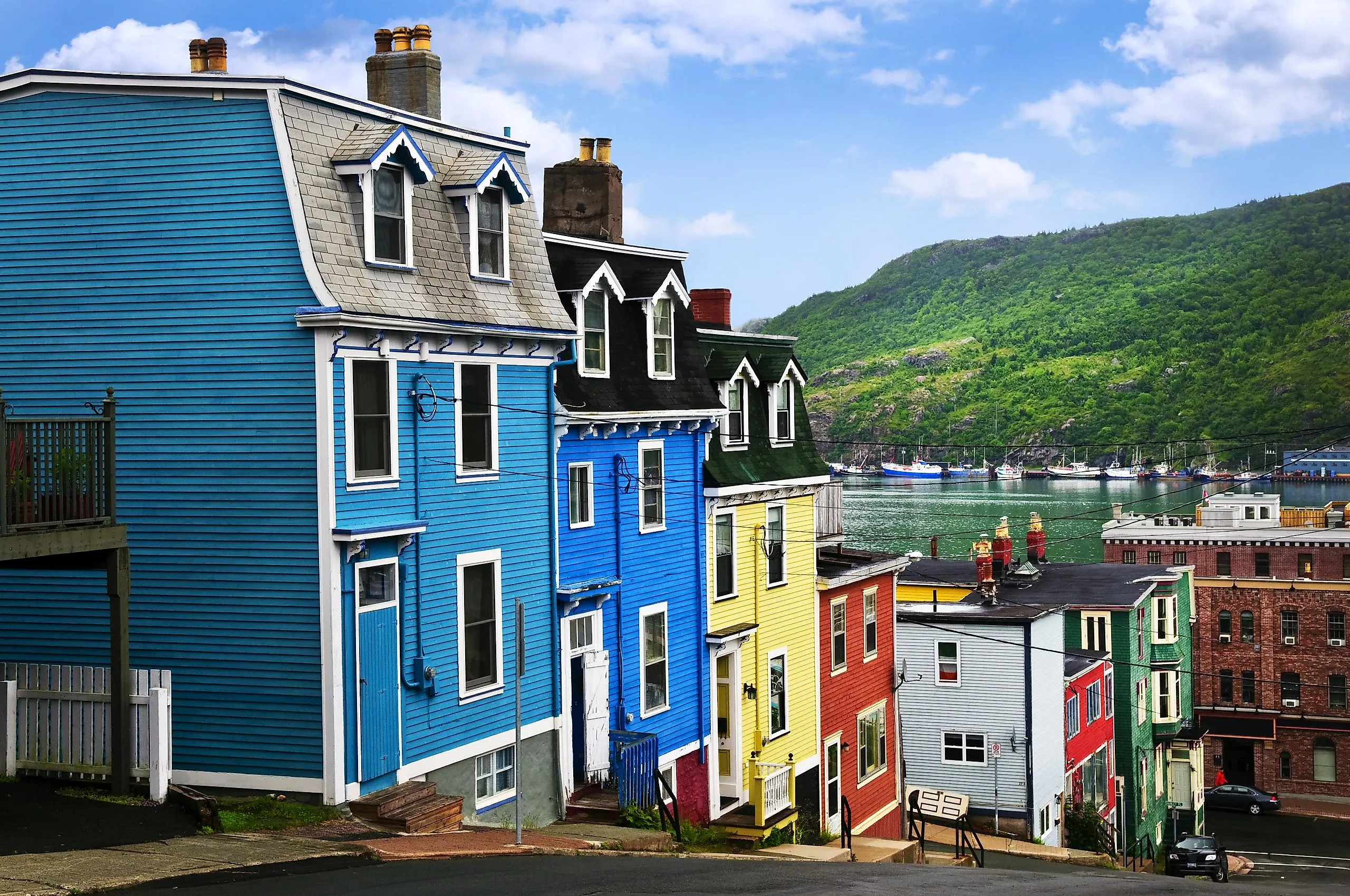 Visiting An Old Friend In St. John's, Newfoundland
When bitten by the travel bug, the outside world tends to look fresh and tantalizing, while one's home country can feel banal, or outright problematic. I'm constantly on a quest to visit foreign places, and yet, I haven't seen each Canadian province/territory, let alone delved into the endless sub-regions and cultures of this massive country. The longer I'm away from my home and native land, the more I recognize the need to rectify this oversight. So since I grew up in Central Canada (Ontario), and spent more than a decade as a traveling salesman in the West (British Columbia, Alberta, and Saskatchewan), I figured it was time to take a trip to the East Coast (Newfoundland). Thankfully, I had a close friend/lifelong St. John's resident to show me some highlights and connect me to the unmistakably Celtic culture. With her help, I got up on stage at some of the local live music venues, chased the phallus-shaped iceberg that was the temporary talk of the town, saw transatlantic freighters off from North America's final feet of land, and explored many other facets of this rough n' tumble, but spirited place.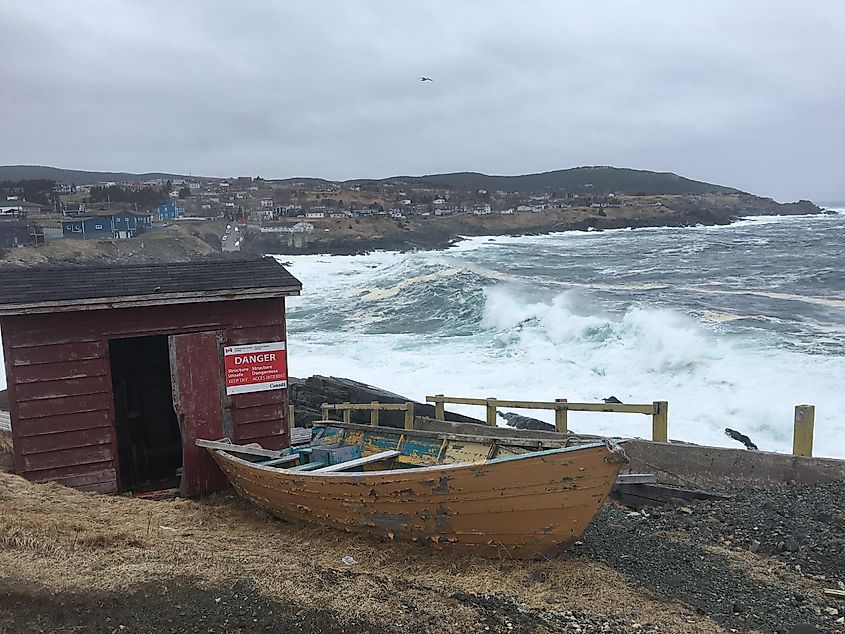 The Rugged Beauty Of The Atlantic Coast
Newfoundland is an island province and the easternmost land mass in North America. It is bounded by the Gulf of St. Lawrence (to the West), the North Atlantic Ocean (to the East), and the Labrador Sea (to the Northeast), which divides Canada from the wintery wonder that is Greenland, and forms the Southern aspect of "Iceberg Alley." As such, in St. John's (North America's easternmost city), the winds blow hard and often (creating a mix of stalwart coniferous forests and grassy tundra), the snows stay late into the spring (something that caught me a bit off-guard during my late-May visit), the rocky shores do their best to meet the onslaught of white-capped waves, and the persistent clouds make you wan't to put on a wool sweater and toque, and seek refuge in a stout beer at an old pub.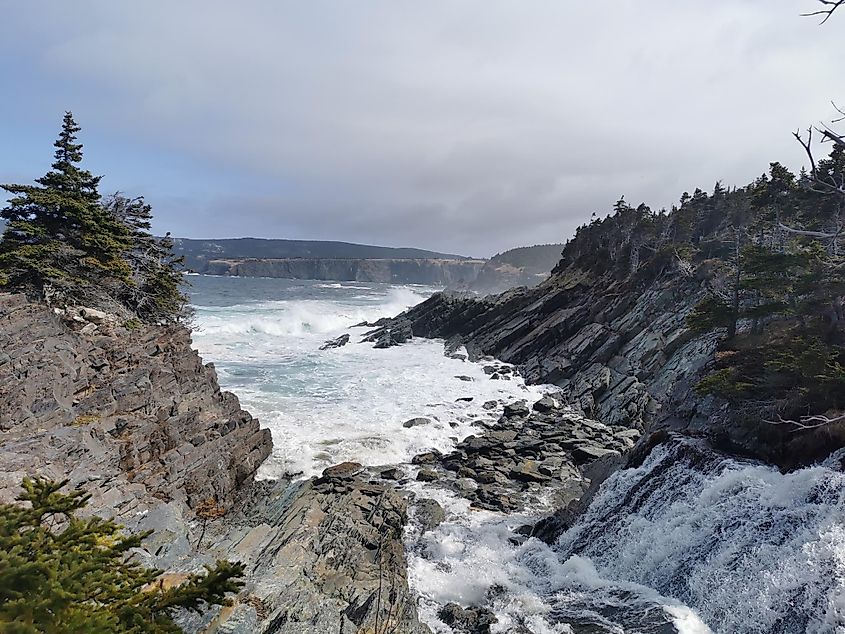 Since I was only there for a three-week trip, I embraced the novel and challenging climate with eagerness and intrigue. I enjoyed my daily trips up to Signal Hill to face the wind head on (passing by the harbored ships and fist-bumping the Terry Fox statue on my way out/back). It woke me up with the zip of ten coffees, and put an empowering chill in my bones that would make Wim Hof proud. Upon returning to the inside world, everything felt cozy and beautiful in a way that I hadn't been able to appreciate in the tropical and desert settings of my prior travels. At the same time, it was obvious that eventually the obstinate cold wears on the soul. Newfoundlanders pull no punches in regards to their opinions on the weather. It was the obligatory small talk in any social setting, and it seemed that even though this has always been the case (and always will be), the lifelong residents (of which St. John's has a high percentage) would never make their peace with it. This dynamic is hilariously portrayed in this satirical Newfoundland & Labrador tourism ad (which does genuinely showcase the great sides of downtown St. John's that I saw with fresh eyes).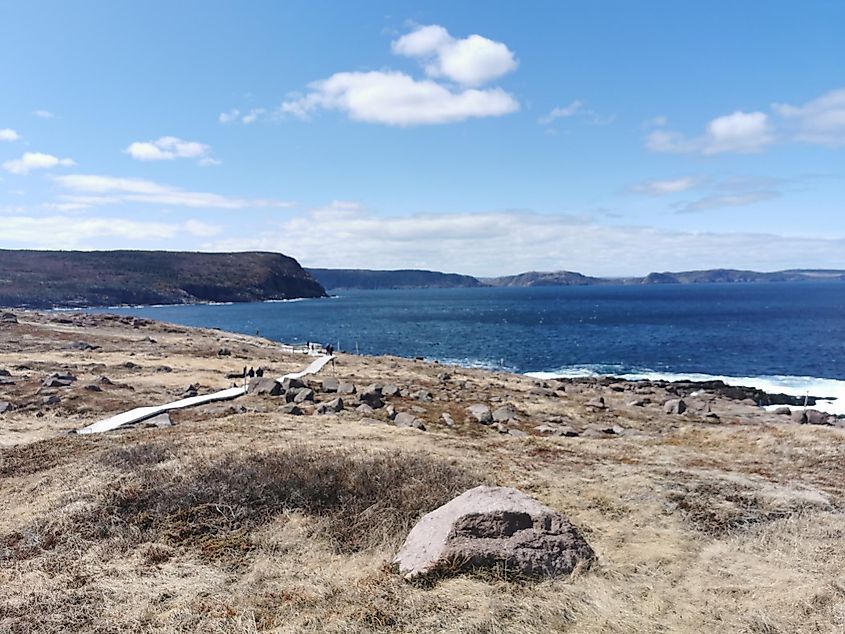 Though I was encouraged to explore more of the vast island, such as the fjords of the West Coast's Gros Morne National Park, or Labrador's enchanted Torngat Mountain National Park, I was satiated by the immediate attractions around St. John's. For instance, I was able to pick up a section of the 336-kilometer (209-mile) East Coast Trail at Fort Amherst and follow it most of the way to Cape Spear Lighthouse National Historic Site (i.e. the easternmost point on the continent). I thankfully avoided any black bear encounters, but I did see a teenage moose pop out right behind me as I neared the end of Blackhead Road.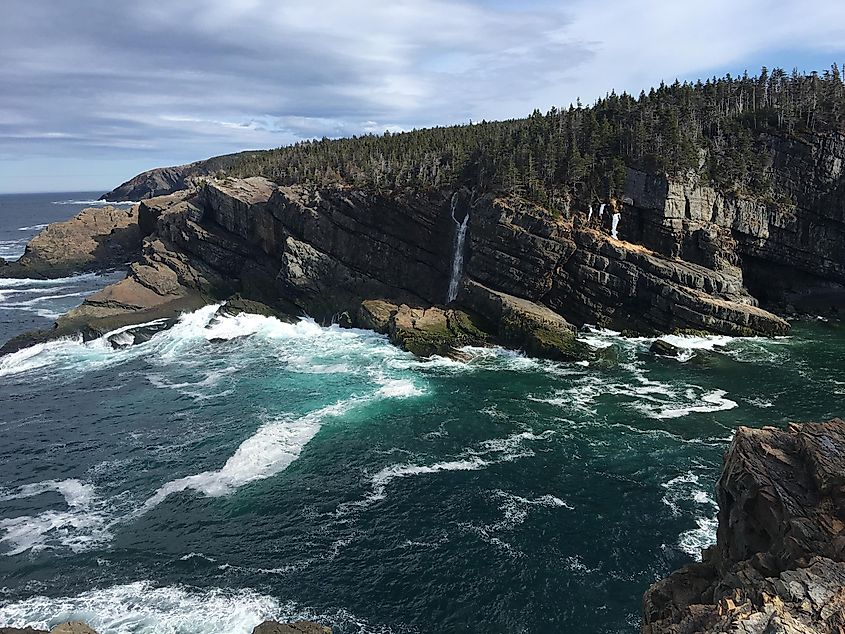 Anywhere I couldn't reach on foot, my patient chauffeur, Selina Boland, made sure I saw. We went to the waterfalls of Stiles Cove, the weathered towns of Pouch Cove, the community beach fires and striking viewpoints at Middle Cove, the islands of Tors Cove, the passing icebergs at Ferryland (with an obligatory stop at the appropriately-themed ice cream shop on the way back) – like Tom Hanks in Castaway, the tide seemed to bring in new surprises each day. I realized that there are countless shorelines to visit, hikes to brave, and scenic drives to take just on the Avalon Peninsula alone. No wonder no one bothers to leave this rock.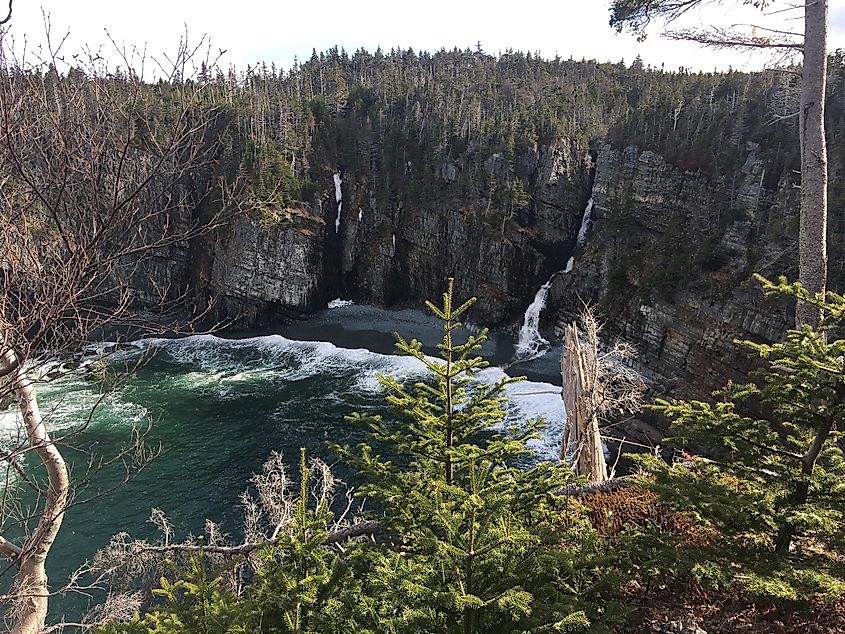 In St. John's, Music Is Always In The Air
The cultural silver-lining of the remote and capricious environment is that it encourages the St. John's community to come together in song. Any night of the week, at almost every pub along George and Water Street (plus nearby cafes, farmer's markets, and even some traditional house-party sessions), live music can be heard. And because of the Irish heritage (and similar geographical settings), most performers anchor to the folk and Celtic genres. The warmth of the wood and wind instruments blends with the lyrical tragedies of shipwrecks and broken hearts, but also the uplifting swells of sea shanties and late 90's rock covers. This strip really is a paradise for music lovers, and a cabin-fever-busting sanctuary for everyone else.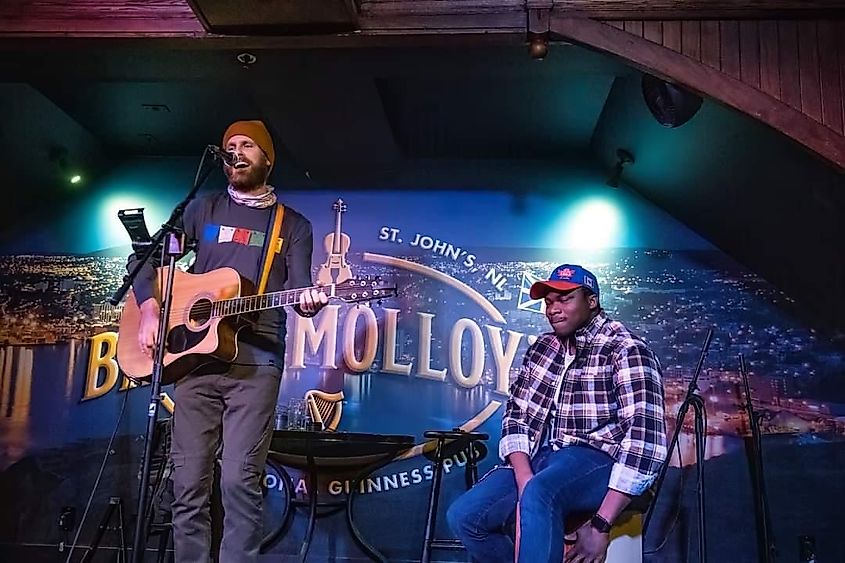 Selina is an extraordinary local-musician and was kind enough to bring me out to open mics, and even fix us up with a shared gig (amidst her own album launch and upcoming island tour, nonetheless). Between the live music black hole that was the pandemic, and my transition into a world-traveling freelance writer, I hadn't played much in recent years – let alone on a stage. But once a musician, always a musician (in your soul at least) – lack of calluses and intonation be damned! I did my best to eke out a few covers, and then relished my role as an audience member.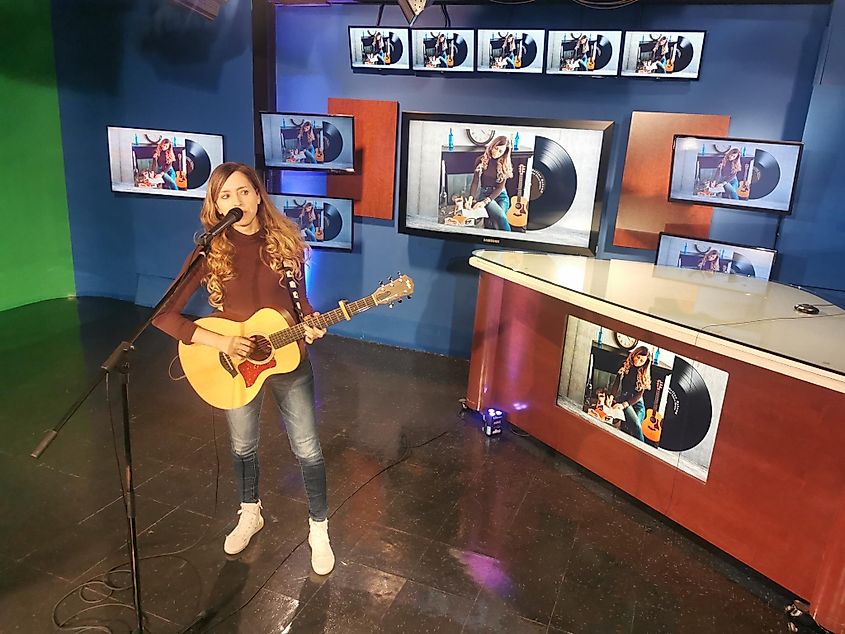 For a little taste of the current Newfoundland charts, and stunning drone shots of the surrounding area, check out Selina's latest music video. 
Grey Skies Meet Colorful Houses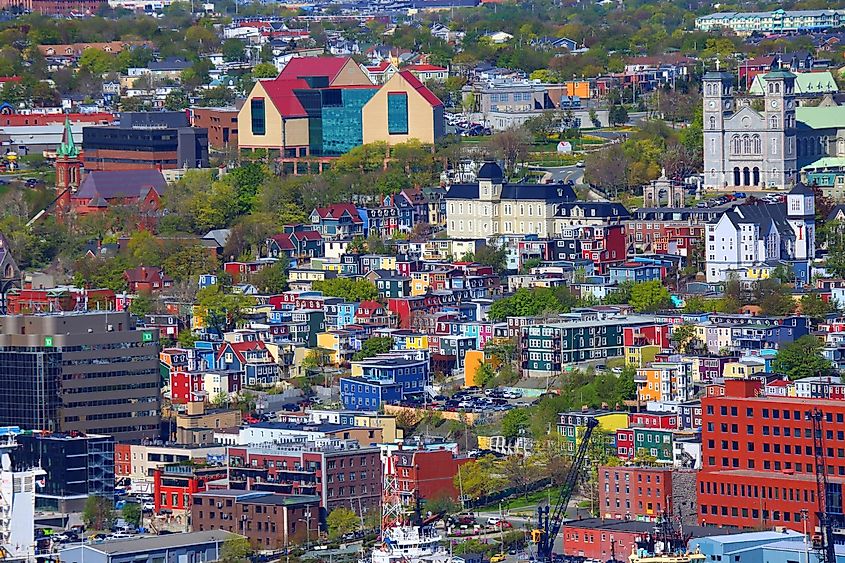 Another inspiring coping mechanism that Newfies have consistently deployed is painting their houses bright colors to contrast the muted sky. Despite the local propensity for driving everywhere, which leads to a perpetual cab shortage (and no, rideshare companies aren't allowed here), I made a habit of walking as often as I could so as to see all of the different displays. Sometimes the streets looked delightfully random, while other blocks demonstrated neighborly synergy. These playful crayon colorways punch out of the deep blues, greens, and grays that form the natural canvas, just as the bright accents and tenor tunes rise above the sonorous winds and percussive waves.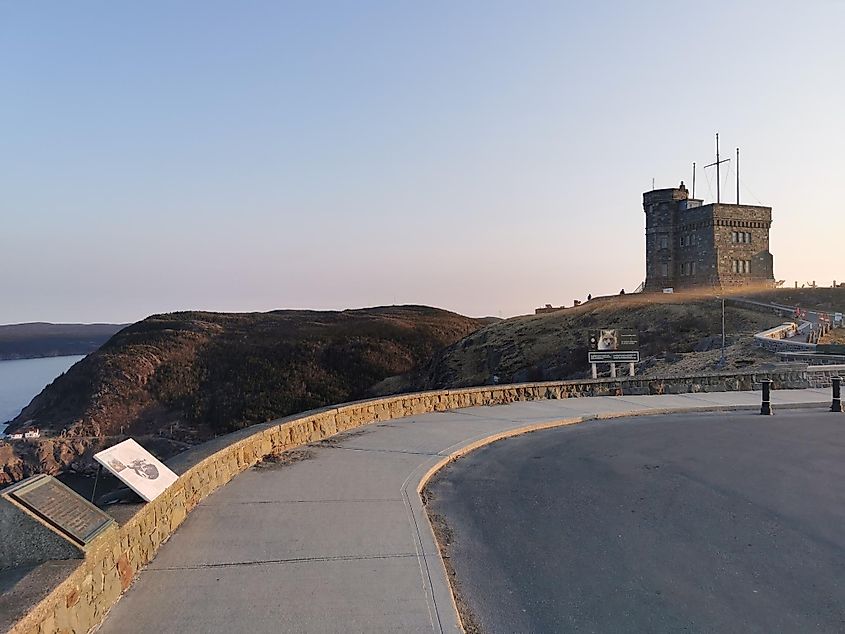 Each evening, should the clouds decide to part, the parking lot atop Signal Hill National Historic Site fills with locals wishing to bear witness to Canada's first sunset, before heading off to backyard fire pits or preferred watering holes. I like places that have little community rituals – especially when they're anchored to the rhythms of nature. Since Newfoundland is inseparable from the elements, there is no shortage of these amiable expressions. Sure, it's cold a bunch of the time, the cost of living is untenable, and the nation's highest tax rates don't seem to be helping the rising substance abuse and homelessness issues, but hey…that's the kind of stuff you worry about as a citizen of a country, not a nomadic traveler. I think I'll enjoy seeing Canada as a starry-eyed tourist a bit longer.