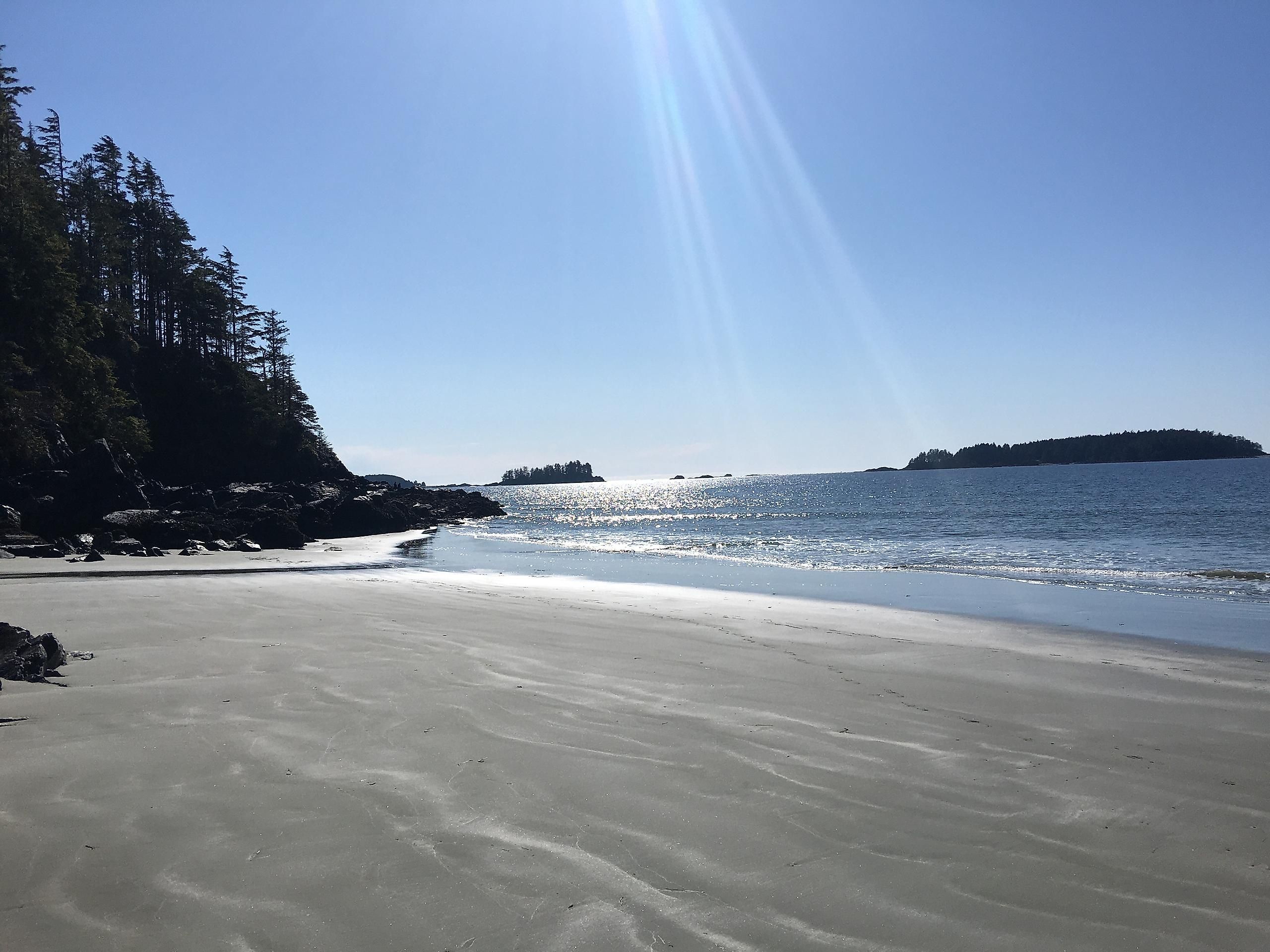 Resetting on the Shores of Tofino
I have always been a fan of solo, introspective journeys when facing down one of life's many crossroads. One such example is when I abandoned my career after ten years. What started as a one-year contract that relocated me from Ontario to Alberta turned into an unforeseen journey that took me into my thirties. Don't get me wrong, it was a fulfilling role, but I got into it just after university and didn't want to passively progress down a lifelong path. I wanted to test myself, and try new things. So shortly after my final day on the job, I drove from Calgary to the beatific surf/resort village of Tofino, on the west coast of British Colombia's Vancouver Island. I figured a couple of weeks away from my phone, staring at the ocean, and walking the temperate rainforest trails and flat beaches would do my soul well. Unfortunately, I arrived on March 16th, 2020, just as a certain global event was about to slam into my wishful reality. But without internet access, it took me a few days to realize what was happening. So even though it was cut painfully short, one of my more memorable trips still ensued, and led to a much more substantial reset than I could have ever imagined.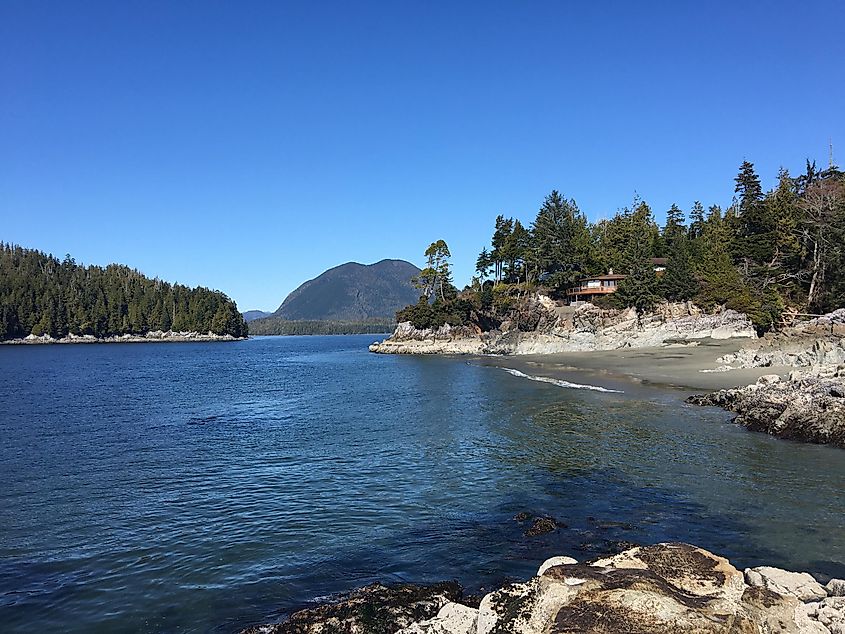 Magical Ferries
One of the best parts of visiting Vancouver Island is taking the ferry across the Strait of Georgia/Salish Sea. My adventure called for the two-hour crossing from Vancouver's Tsawwassen terminal to the city of Nanaimo, before driving another three hours to Tofino. The sea breeze, island scouting, overpriced but satisfying onboard coffee, and occasional dolphin sightings are usually plenty to cement a positive experience, but something a little extra blessed my trip.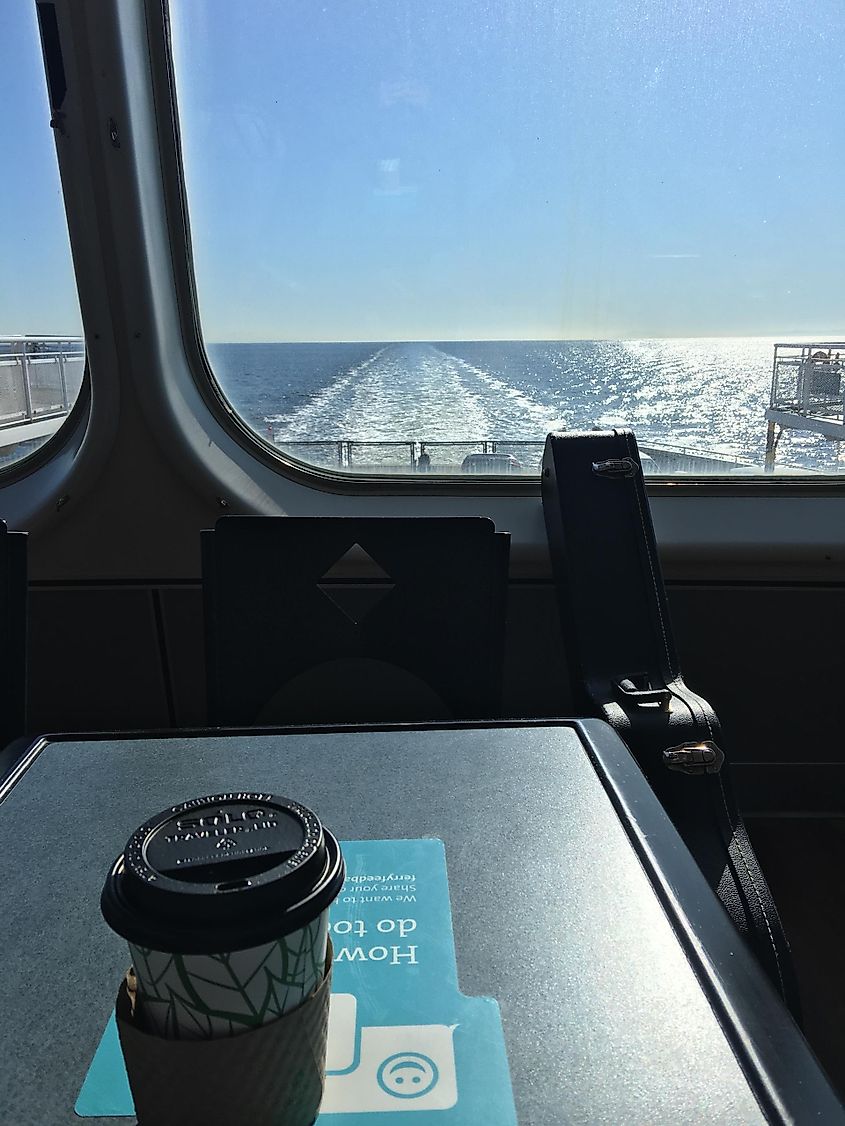 Now that I was jobless, I planned to turn my attention to my musical passions to see if it could bear sustainable fruits. Gigs and records are one thing, but I've always appreciated the art of busking. Playing unplugged in a random spot, is exhilarating, oftentimes creates special moments between strangers, and can be surprisingly lucrative under the right circumstances. Since I had my guitar with me, I casually started tickling the strings on the front of the ship. The modest crowd seemed pleased, and I got a vigorous go-ahead wave from the captain, and so I committed to belting a short set of my favorite Canadian songs across the windy deck. The receptive audience grew in size and enthusiasm, which subsequently helped top up my gas fund and general zest for life. In that moment, I felt that anything and everything was possible.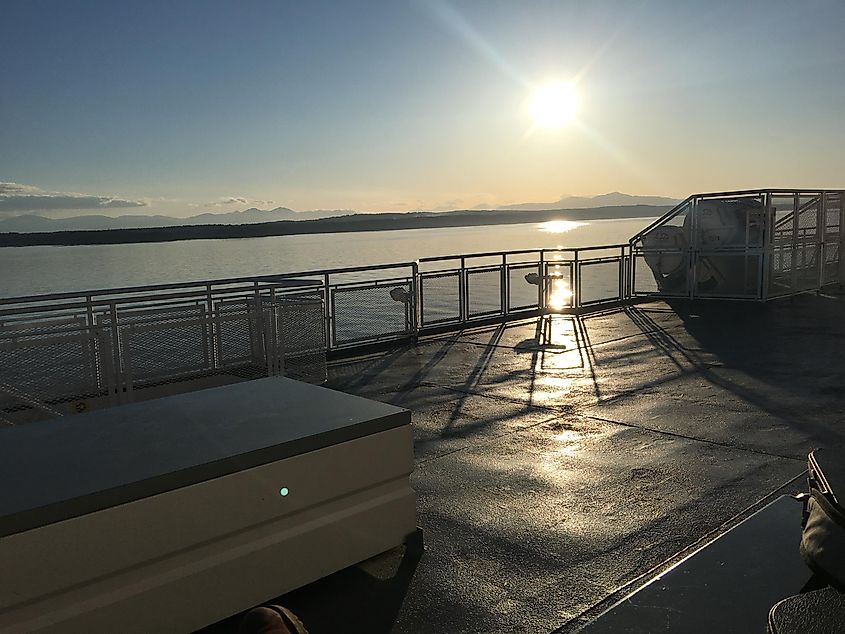 Seek Refuge In The Attitude Of Detachment 
Sometimes art and nature combine in a powerful, impression-cementing way. An insightful book (the Bhagavad Gita), a compelling lo-fi album (Hovvdy's Cranberry), and an empty stretch of sun-soaked beaches is the trifecta that will forever make me remember Tofino as an enlightening place. Sure, I lucked out with unseasonably pleasant weather (especially by early Canadian spring standards), and unbeknownst to me, the budding pandemic kept a certain amount of tourists at bay, so I experienced a very different version of Tofino than most. Typically, the high-priced accommodations are fully-booked, and the car-camping riff raff gets the squeeze. But my surf-chasing peers tell me that there are always little windows of opportunity to be found.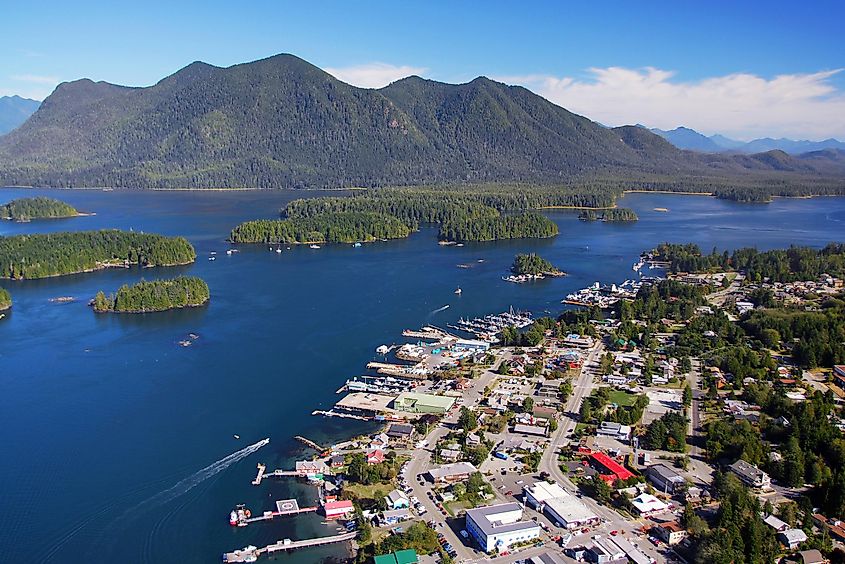 At any given time, and depending on your budget, there are really two Tofinos. The place where the Prime Minister vacations with his family, and the place where Bodhis sleep on an unenforced side road on the edge of town, bathe in the ocean, use the coffee shop bathrooms, surf, hike, or frolick in some fashion by day, and then congregate on brewery patios, or around the food trucks in the evening. I obviously fell into the latter category. But either way, once you emerge from wherever you rest your head, the natural surroundings are spacious enough for everyone to find respite, regardless of the season. 
The Beaches of Tofino
Everyone's first impression of Tofino should be formed by walking down to Tonquin Beach. A seductive forest trail leads to a tasteful wooden staircase, which emerges onto a sheltered stretch of Pacific shoreline. It evokes images of Washington's west coast, except free from washed up logs and seaweed. The nearby islands seem to moderate the tide, reducing it to a gentle, sand-smoothing rhythm. The lightly lapping waves also induce an automatic state of meditation, and the unaffected air brings clarity to westward truants.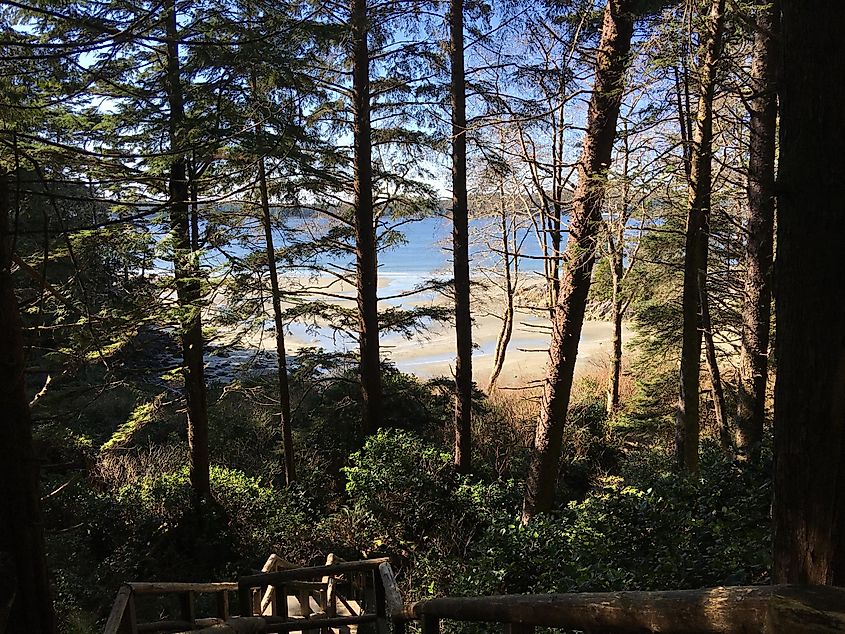 Tonquin Trail skips up and over the southern rocky outcrop and lands hikers on the tiny, even more sheltered Third Beach. This may prove to be the spot of the day, or you may crave a long, rhythmic beach walk – the only desire that these first two spots can't quite accommodate. Middle Beach, on the other hand (which can be reached by continuing the forest trail journey) really fosters freedom of movement. One almost feels bad at first for disrupting the enshrined sand ripples with footprints, but the incorrigible tide will recreate its work in due time.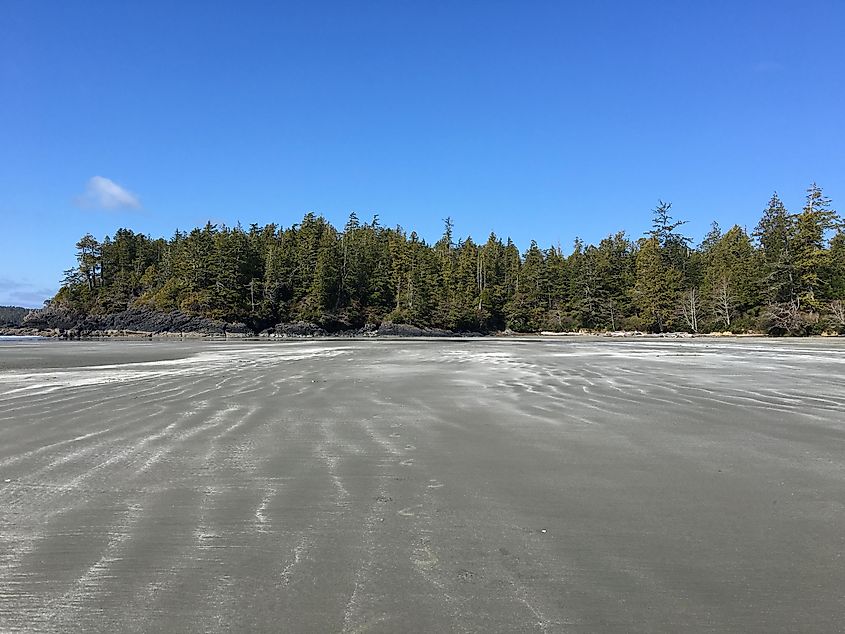 My priority was to slow down, and seek stillness. But for future visitors who are feeling energized, Tofino is part of the 349,947-hectare UNESCO Clayoquot Sound Biosphere Reserve – so you'll be far from confined to these three beaches. On this particular excursion, rather than bank miles, I chose to become better acquainted with my book, my thoughts, and the spirit of Tonquin Beach. 
An Unexpected Disruption (No Duh!)
On March 17th, I played a set outside Rhino Coffee House. It once again filled me with a sense of possibility, but at the same time, there were murmurs of looming catastrophe. On the 18th, there was a palpable mood shift, and the establishments started take-out-only service. Come the morning of the 19th, everything was closed, the mayor put up notices for all tourists to vacate town, and the only place I could even go to the bathroom was at the gas station. Not knowing exactly what to expect, I bought some extra bottles of water, snacks and wet wipes.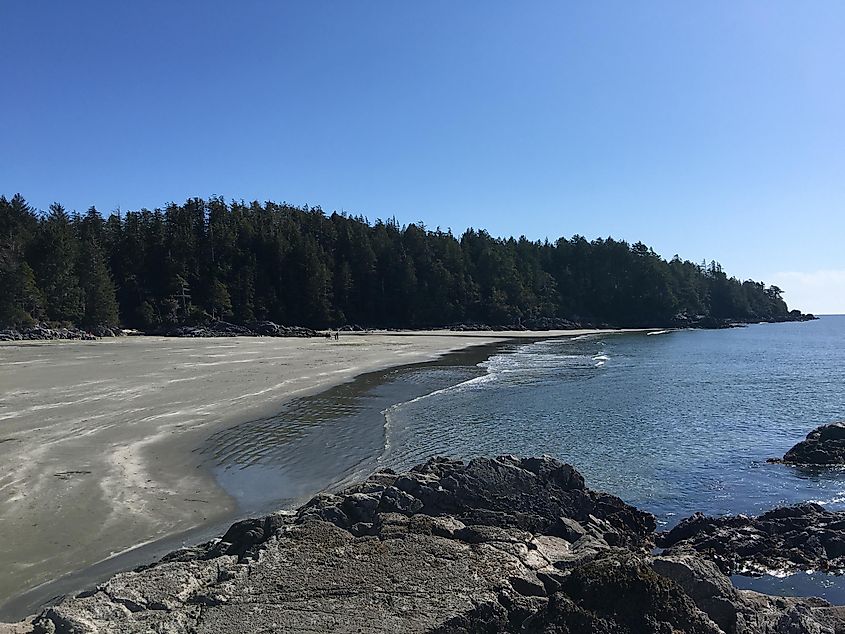 Despite the fact that things were obviously "getting real," the combination of beach bliss and the inspiring conversations between Krishna and Arjuna put me in a perspective bubble, and led me to seek an alternative location, rather than head home. Lucky for me, the cousin community of Uclulet, is just a half hour drive Southeast of Tofino – still part of the same coastline, and just as pretty. This bought me one extra day to find myself, or at least consider what the next decade of my life might hold.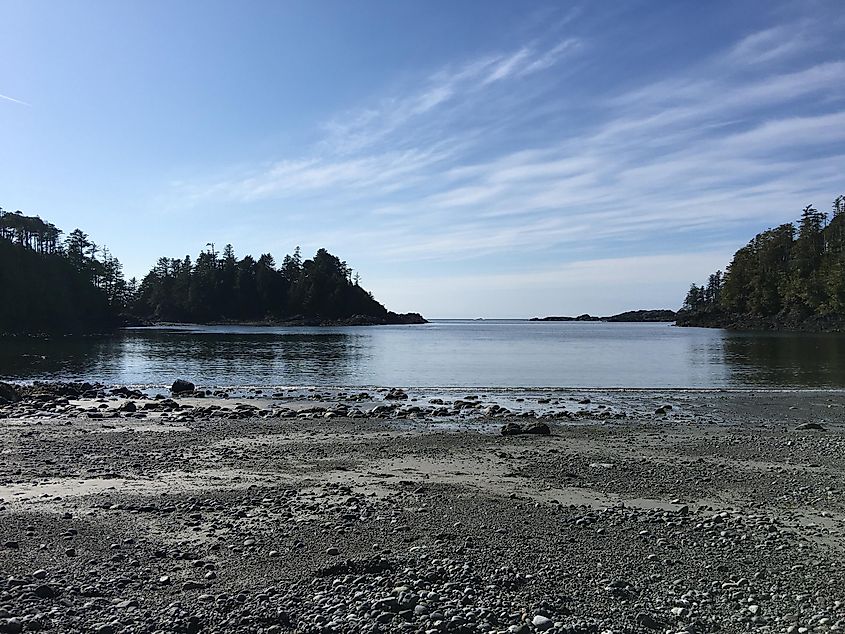 Well, the subsequent year or so held for me what it ultimately held for most everyone: oscillating lockdowns and staged reopenings, false hopes, pain and tragedy, and somewhere along the line, creative reevaluations. To pair two inflammatory words into one optimistic phrasing, I guess in the end, I found freedom by restriction. I moved in with my girlfriend, busked a ton before transitioning to remote work, and by the following summer, we started traveling the world…and we still haven't stopped. So I guess my aimless spiritual quest on the shores of Tofino did amount to something. It not only helped me to reset after a significant planned change (and prepare for a major unplanned one), but it seems to have catalyzed a fulfilling next phase of life: just as I was hoping it would.