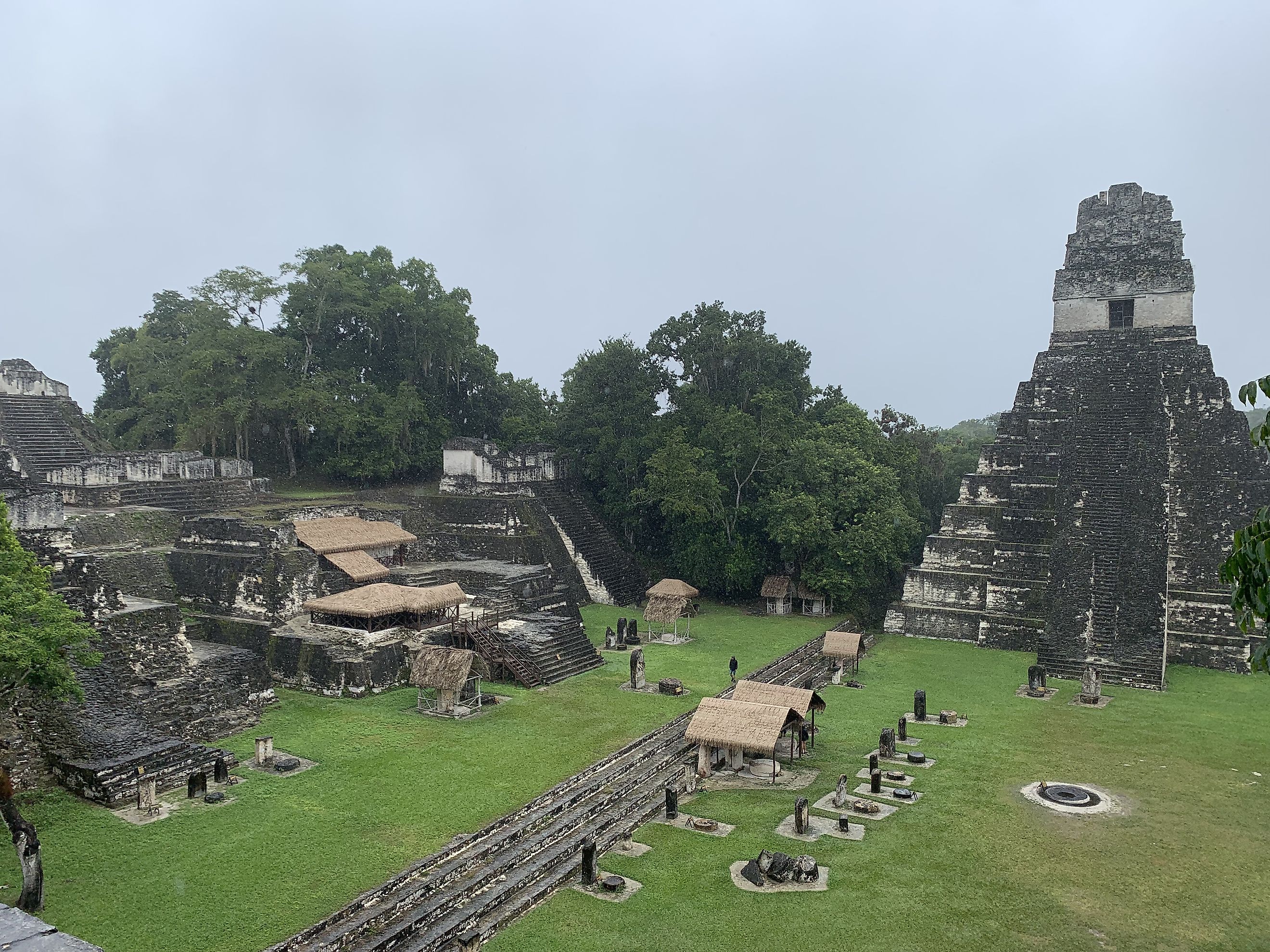 Backpacking Through the Tikal ruins and Flores island in Guatemala
Shifting from the Río Dulce region of Guatemala's Eastern, Caribbean side, to the Northern Department of Petén, a captivating combo of destinations whisks treasure-hunters off their feet. Isla de las Flores is inhabited by a delightful, red-roofed town, known simply as Flores, that is buffered by the Southwestern fin of Lago Petén Itzá. A little over an hour's drive Northeast (functionally two with the required stop at the national park ticket office), the colossal and mysterious Mayan city of Tikal (or Yax Mutal) reanimates Mesoamerican history like few other sites on the continent can. Together, these places offer a complimentary mix of experiences that will easily melt a whole week away. Irina and I ping-ponged from Flores to Tikal and back to Flores, allowing a few days for each interval. Many people elect to do a day trip to explore the ruins, but if your budget and schedule allow for a stay at one of the hotels within the park, I highly recommend seizing the opportunity.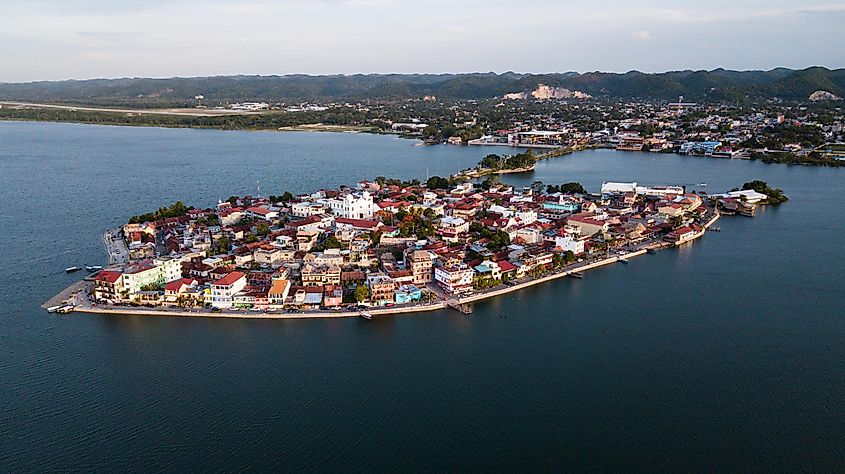 Some Basic Travel Notes
Backpackers (such as ourselves) will likely arrive at mainland Flores by bus from another hub (such as Rio Dulce, or Guatemala City). If this is the case, be prepared for a slow-going journey that will be further delayed by constant but weirdly-random highway police stops. Often, officers would board, check the identification of the people sitting in the first few rows, and then move on. It appears as if they fished some bribes off one unlucky individual, but they showed no interest in pestering gringos. To avoid any such hassle, there is also the Mundo Maya International Airport. In either case, the tranquil embrace of the island community (which starkly contrasts the hustle and bustle of the mainland) is only a short jaunt away – so don't take the first price thrust at you by the swarming taxi and tuk tuk drivers. We turned down the first solicitations, started walking towards our destination, and then a lone tuk tuk driver puttered up and offered half the price (maybe even a quarter, if memory serves me correctly). One thing I'll never understand is that fees are based on the number of people. Even though the same journey will be made in the same vehicle using (essentially) the same amount of gas, another body doubles the fare.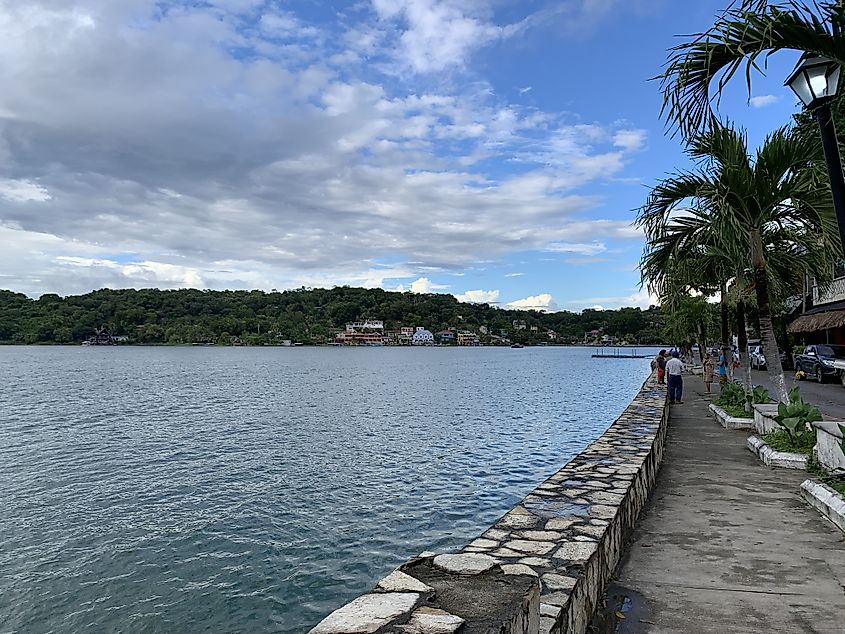 When you reach the island, all your tour and transportation needs can be arranged by the numerous tour agencies. Just go for a stroll around town (it only takes about 20 minutes to walk the entire perimeter) and you'll sporadically hear someone call out from inside those offices with pretty pictures of exotic places plastered all over. I know there can sometimes be a suspicion that these outlets should be bypassed, but they really are legitimate, fairly-priced, and an important part of the local economy that has struggled greatly since the pandemic (and since local hostels started arranging their own tours). Plus, there's something satisfying about this old-school approach to travel. Just show up, talk to a real person, and figure out a plan (which may even entail cool options you hadn't thought of). In our case, we simply paid for a one-way spot on a shuttle to Tikal. We planned to spend a few nights in the park, exploring at our own leisure (a fact that instilled great envy amongst our day-tripping bus-mates). 
The Island of Flores Blooms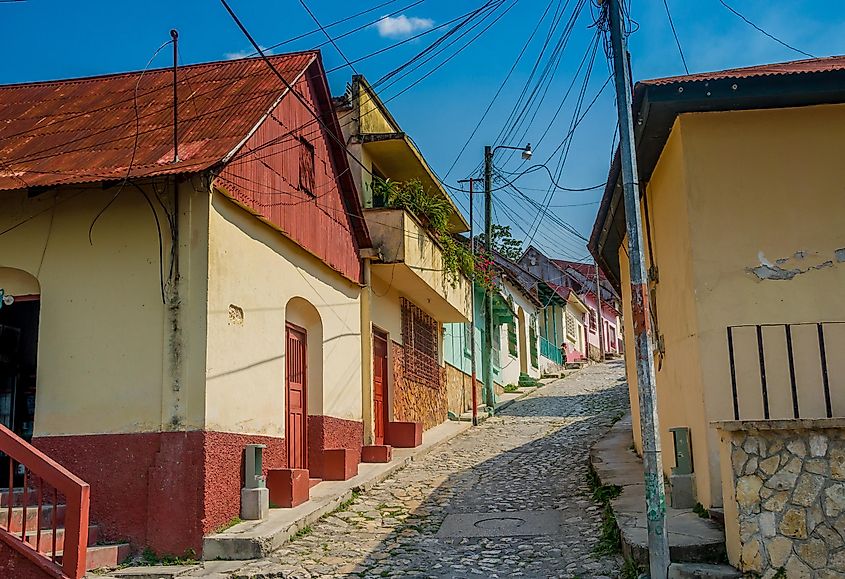 Island life on Flores is as relaxing as any Carribean equivalent, only this lake-locked rock has some blemishes. Don't get me wrong, Flores is as pretty as the name suggests (Spanish for flowers), with colorful buildings, character-rich establishments, and striking scenery all around, but it also has a swimming dock instead of beaches, the East side was partially submerged when we there (and no one seemed the least bit bothered), and certain quadrants have suffered from neglect. But this mixed aesthetic offered a full-spectrum experience, and one that, while undoubtedly appealing, doesn't leave the area overrun with zealous tourists. 
When not simply enjoying the viewpoints from our accommodations (we switched it up, staying in a moderately-upscale hotel, a hostel, and guesthouse), Irina and I rotated between two preferred spots: Cool Beans Cafe – a bohemian coffee shop/restaurant run by a Chilean philanthropist on the Northeast corner, and Restaurante San Telmo – a comfy, vine-covered vegetarian joint with an extended happy hour and spectacular views.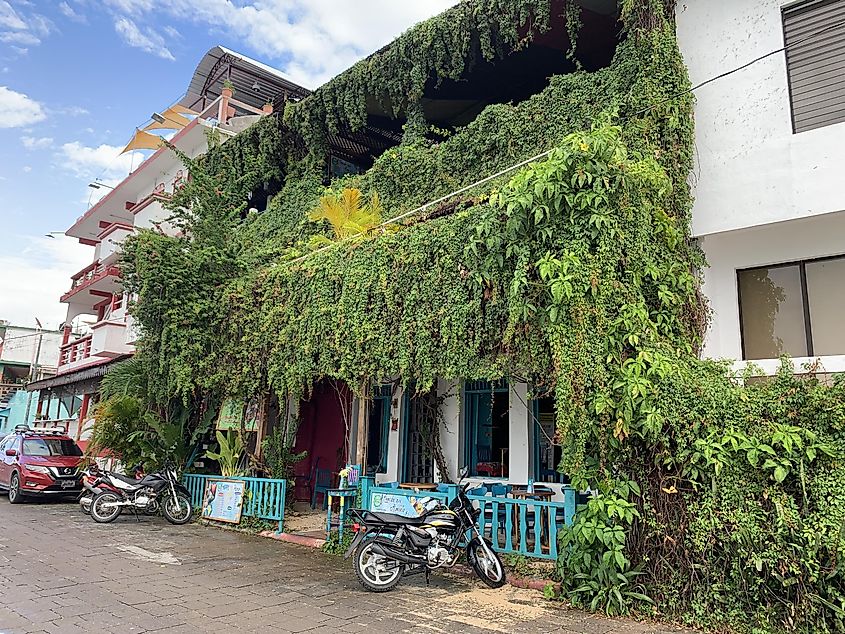 An easy and worthwhile half-day trip is to Playa Chechenal. There are lanchas all around Flores that will take you all the way to the beach (for a moderate sum), or to the mainland on the North side (for next to nothing), from which a short and pleasant hike can be undertaken to the destination in question. Playa Chechenal is another charming spot without much fanfare. There are a handful of covered picnic tables, bathrooms, and a large wooden dock that is perfect for running cannonballs. 
Tikal Your Fancy
Yax Mutal served as the capital for the prolific Mayan empire. It is believed that there are over 3,000 structures on site (excavations are continuously occurring), that supported an estimated peak population of 90,000. The general area was perhaps inhabited as far back as 1,000 B.C., cultural developments began in 700 B.C., the city's core construction was completed by 300 B.C., and the prime era was likely between 200 to 900 A.D.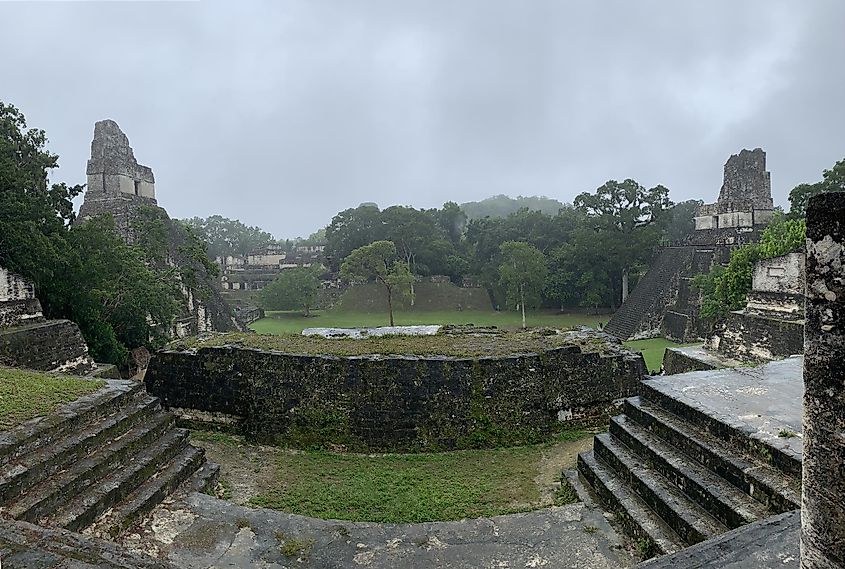 Because of a suspected combination of ongoing wars, overpopulation, deforestation-related struggles, and disease, the once-great ancient megacity was abruptly abandoned and reclaimed by the jungle until modern explorers rediscovered it in the mid-19th century. The towering pyramids, reverent temples, and common structures of the people owe their longevity to their hardy limestone construction. Some buildings are only to be photographed, but many can handle bus loads of visitors curiously trodding amongst them. 
In my opinion, this UNESCO World Heritage Site is too big to enjoy in a single day. One can walk steadily across the uncovered terrain in that time, but not fully sink into its majesty. For that reason, I'm glad we had a home base at the Jungle Lodge (hostel portion). We were able to relax into the Tikal National Park atmosphere the first day, wake up (not so) bright and early to the demonic wails of the plentiful howler monkeys, get a full day of exploring in, and then use day three to fill in some gaps, and double back on our favorite sections.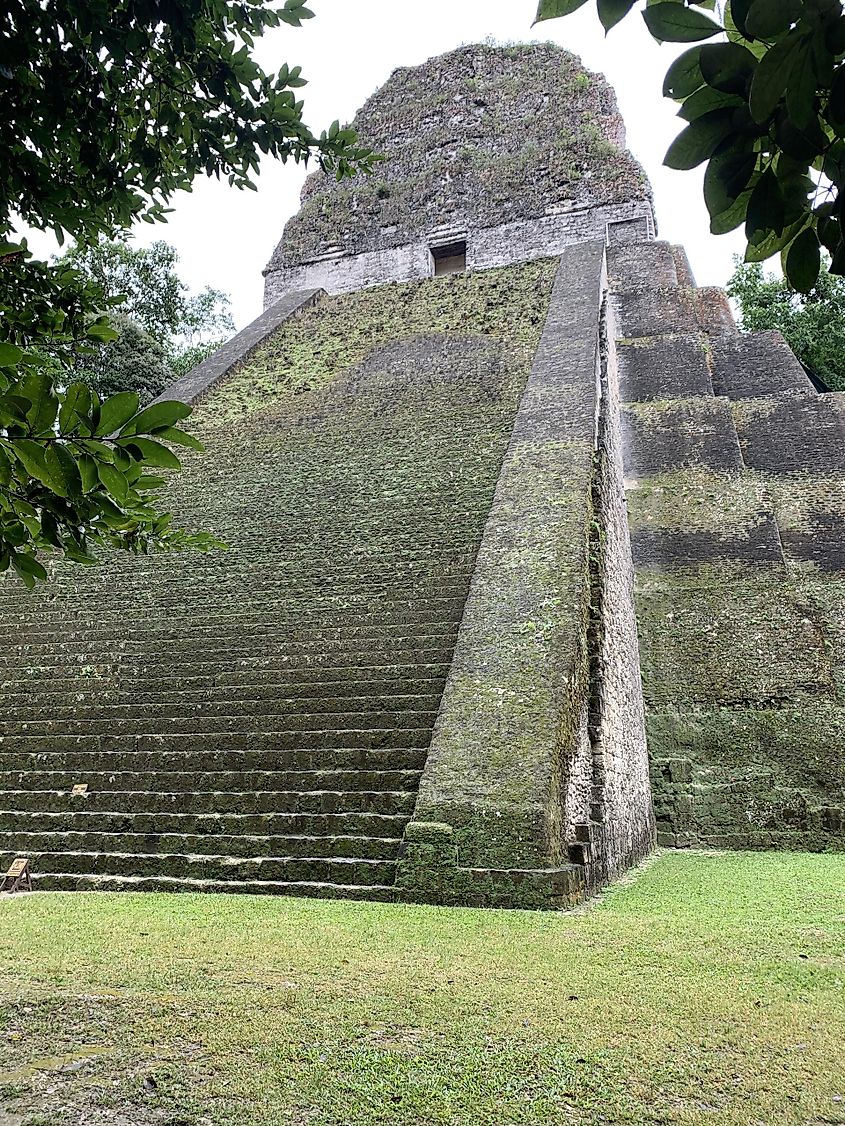 Seeing the stalwart remains of a bafflingly large, ancient civilization was both arresting and grounding. The unfiltered, living history dispelled the glorified myth of the noble savage just as much as it did the notion that humans were somehow unsophisticated before computers and Purell. The Mayans were plugged into the environment and the cosmos in ways that we may never fully comprehend (in large part because the bulk of their codices were ordered burned by Spanish priest Diego de Landa). Here's hoping that more artifacts and carvings are uncovered in some forgotten corner of modern-day Tikal. 
After our jungle adventure, we had a few more days to kick back in Flores, before returning to our little homestead in Río Dulce. Our trip up to that point had covered the hectic streets of a developing city, some stimulating side trips to wild and underappreciated spots, ancient history, entertaining modes of transportation, and an idyllic town. Our last major stop in Guatemala injected a little class into our itinerary – a boutique hotel in the colonial city of Antigua.