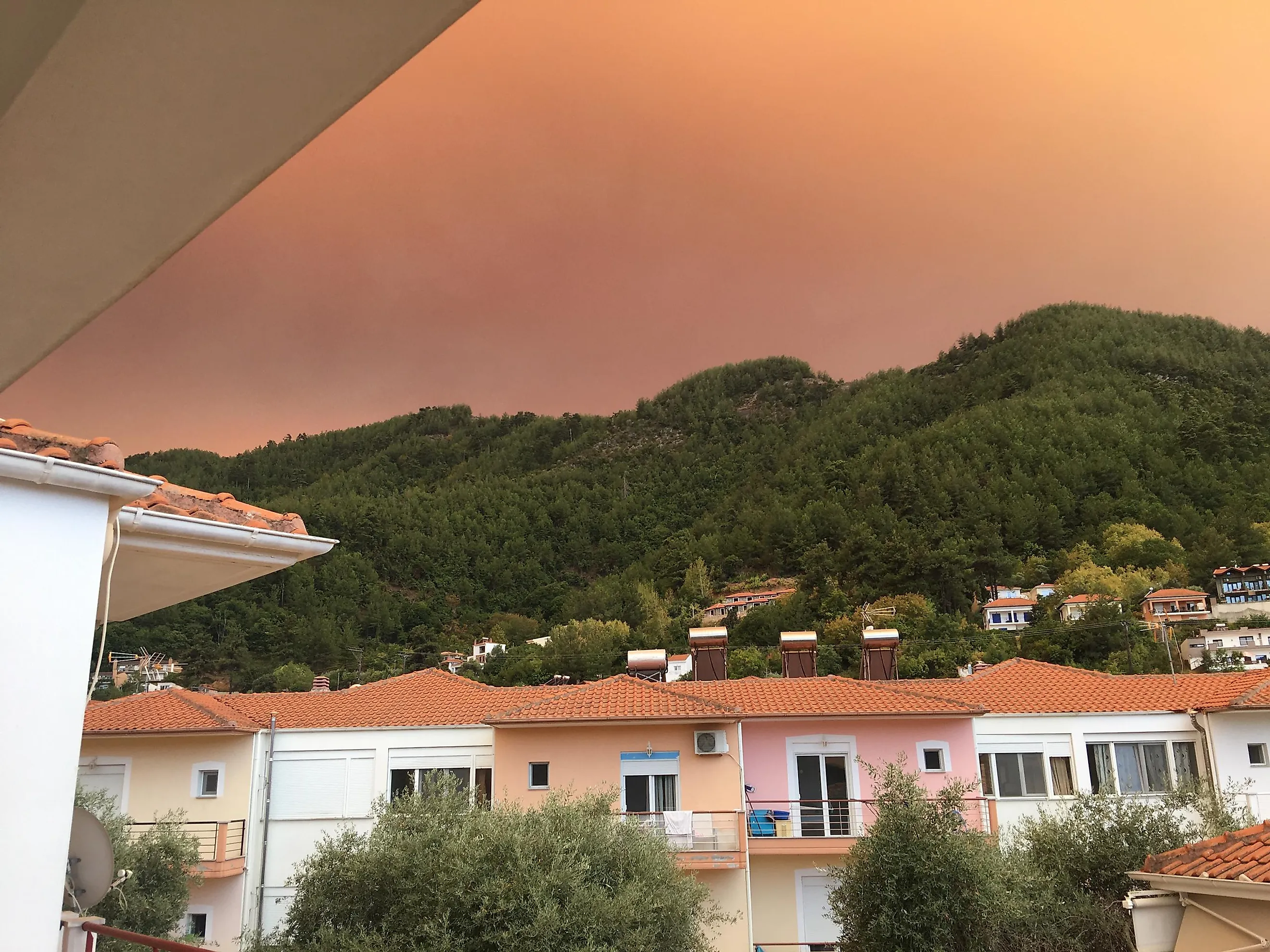 A Fiery Vacation in Greece
Every country has its preferred vacation spots. Growing up in North America, I witnessed the regular snowbird migrations to places like Palm Springs, Cancun, and Cabo. Now, having tagged along with Romanians over the course of two sweltering summers, I've seen their propensity for the Capathian mountains, the Black Sea, and most recently, the Greek island of Thassos. Thassos floats in the Thracian Sea (an extension of the Aegean Sea), just off the Northeast coast of the country. This means that Bucharest-based road-trippers can make the drive somewhere in the neighborhood of ten hours (including two border crossings and a ferry). Thassos has seen such a large influx of Romanian tourists lately (as is evidenced by the "RO" license plates) that the restaurants have adopted hybrid Greek/Romanian menus (similar to the hotspots in Mexico that incorporate English as much as, if not more than, Spanish).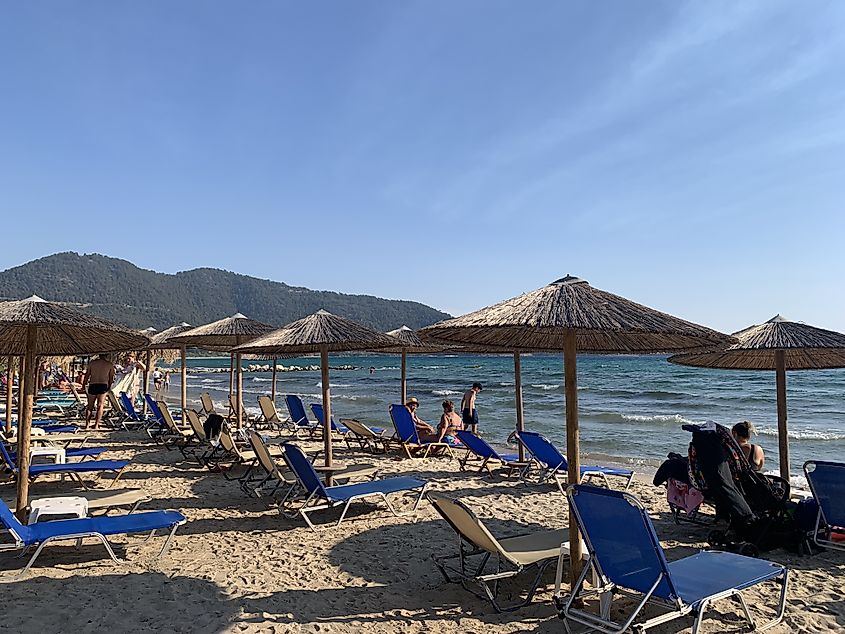 Being surrounded by the cool waters and a frequent sea breeze makes for a perfect escape from the stifling heat of Bucharest's concrete jungle. Balkanians jump at this opportunity during summer's peak, and then the extra-fair-skinned travelers from Northern Europe swoop in to capitalize on the lower UV index beginning in September. But anyone can and should take advantage of this 145 square-mile rock that blends small beach towns with large, hikable mountains. It's easy to get to – the culture capital and second-largest Greek city, Thessaloniki, is only a couple of hours West, and there are multiple ferry ports – plus, distinct settlements crop up every few miles along the ring road, all of which have pleasing accommodations. I recently found myself in Skala Potamias, but unfortunately, just as the smoke from the unprecedented wildfires was beginning to encroach. I was able to get a savory taste of the region (this was my first time in Greece), before making a swift retreat to Bulgaria.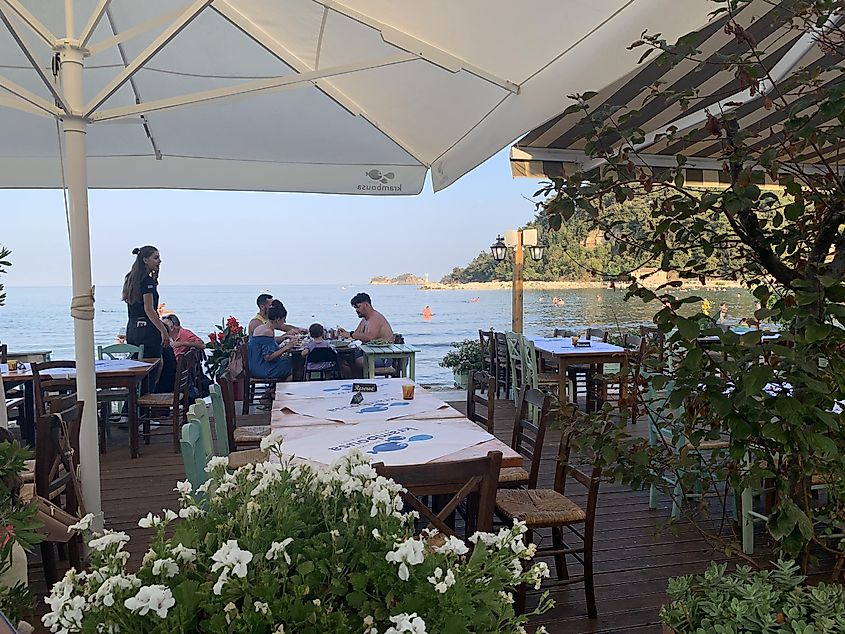 The Landscape of Thassos 
Sometimes it's helpful to research destinations in advance, in order to get a feel for what the attractions are, and to generally build anticipation for the upcoming trip. But I went over to Thassos completely blind – another fun strategy that I recommend trying from time to time. For me, the biggest surprise was the mountains. The 3,950-foot, pine-covered peak of Ipsarion (along with many subsidiary summits and ridges) springs forth from the sea, making the island look like some kind of Bond villian's secret layer. Even though this was intended to be a sunbathing retreat, I instantly knew that I would traverse the undulating wilderness on a daily basis. It turns out the local hiking club has done an excellent job of blazing and marking a network of trails. There are trailheads all over the island, and the routes criss-cross though the various passes, and connect to traditional towns around the coast and throughout the interior.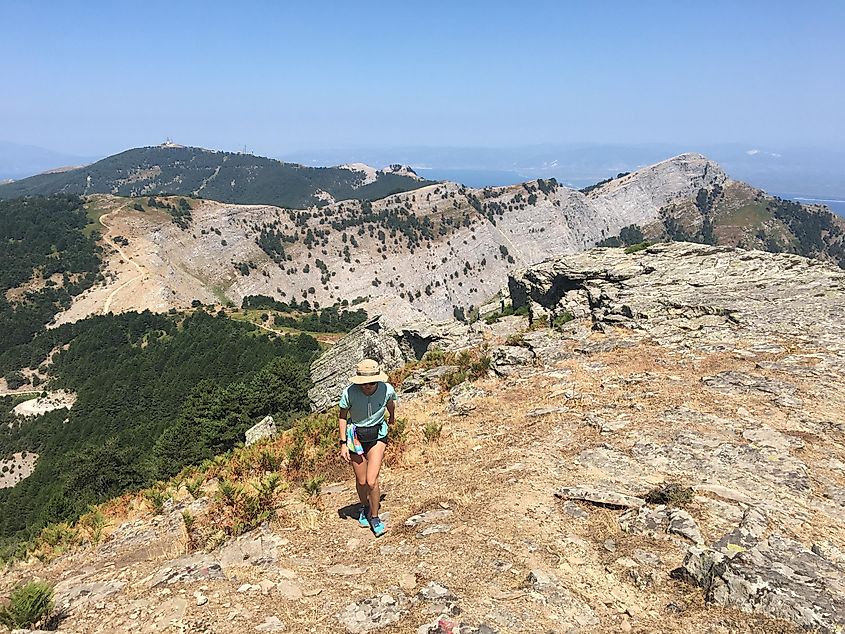 While I do enjoy time at the beach, my desired dosage is typically one to two hours. After that, I just get overheated and restless. My idea of relaxation involves locomotion – especially when exploring new terrain. Not only is this genuinely pleasurable, but by hustling during the first part of the day, one can stave off the soggy vacation body (and hangovers) while still indulging in the regional treats (of which Greece has many) during the second half.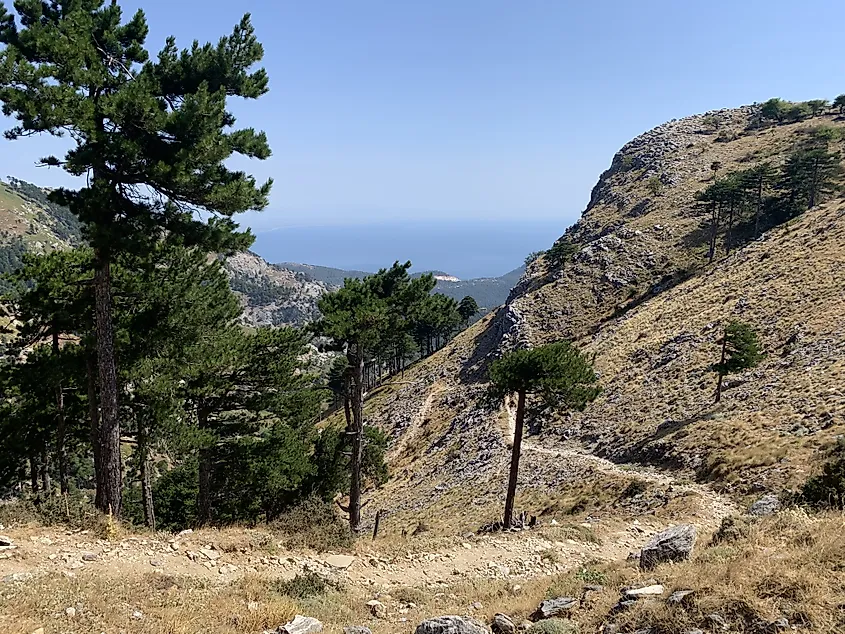 My Big Fat Greek Holiday
Something about the Mediterranean climate, arid vegetation, eternal sunshine, and postponed responsibilities made me crave red wine and salty foods. I simply could not get enough olives, feta cheese, tzatziki-dipped pita, baklava, and half-liter copper gauges filled with the good stuff to wash it all down. I had never intentionally avoided Greek food, but at the same time, it never occurred to me to seek it out. After spending ten days on Thassos, it's fair to say that there is nothing that better satisfies my palette. Oh, and for you non-vegetarians out there, the seafood scene is stellar. Many of the waterfront restaurants displayed their daily catches in transparent refrigerated cases, and my peers assured me of the quality.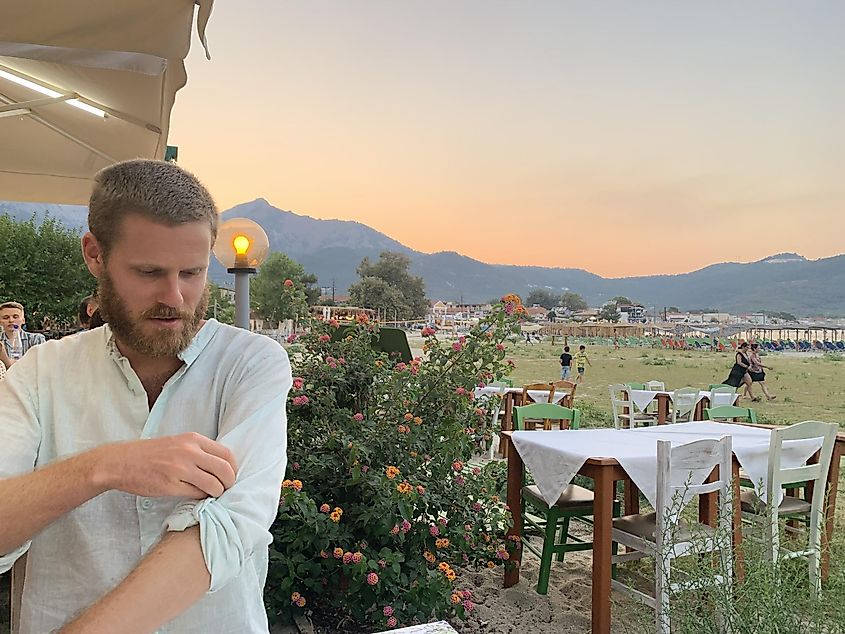 The Character and Layout of Thassos
From what I saw of Thassos, tourism has not yet dominated the island, but rather has been allocated to certain hubs. For example, Skala Potamias is where the vacation villas, shops, and multilingual restaurants congregate, leaving the village of Potamias (just a mile or two up the road), in peace. This gives incoming travelers an easy-going place to set up camp, while allowing residents, and visitors interested in culture, a place to retreat to. While it is true that the long, thin, Blue Flag beaches are packed with thousands of people, all of whom are required to rent chairs/umbrellas from whatever restaurant owns that stretch of sand, the boardwalk was nowhere near as built up or rambunctious as many other spots I've seen. One can enjoy a pleasant walk, a genuinely well-prepared meal by passionate local chefs (not at every single restaurant, but at least half of them), bargain for produce at the pop-up vendors, and retire to one's quarters at a reasonable hour, without being inundated by party noise.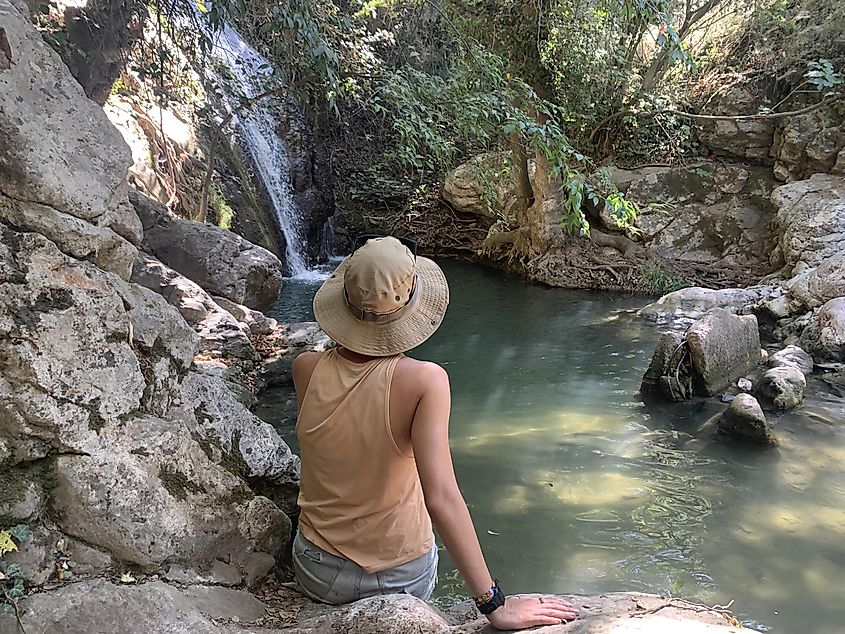 Since the island is linked by a tight but perfectly-driveable ring road, enriching day-trips are always available. Anyone with wheels and the motivation to ditch the beach for a half-day can drive up Ipsarion (though I highly encouraged the reasonably fit to hike it), stop by the waterfalls outside the village of Theologos, visit the various ruins, or simply complete the full circuit for a thorough overview of Thassos. No matter what you do or how you get there, be sure to embrace the Greek art of slow, listless movements. Set aside time to stroll the quiet, beige streets bathed in the shine of adjacent marble mountain quarries.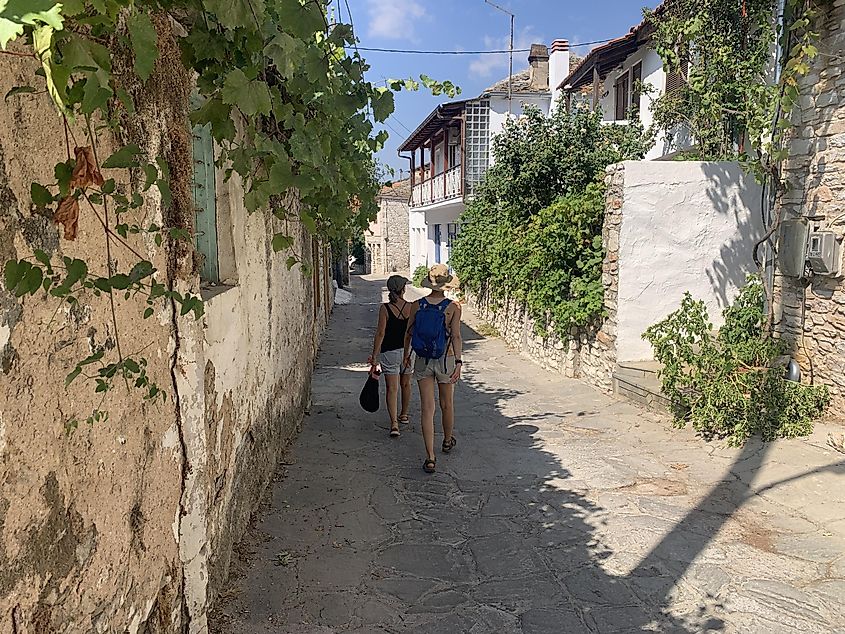 The Raging Wildfires of Greece
Greece feels like an easy-going fantasy world – a geographical, cultural, and climate bubble that is free from the wild and stressful outside world. But sadly, the wildfires did not get this message. Hundreds of blazes have been erupting (and as of the writing of this article, still are) across the country, particularly in the Athens and Alexandroupolis regions. Even though the flames could not jump the several miles of water over to Thassos, the smoke absolutely could. The faint smell of combustion had been present for much of this trip, but one fateful day, Southern gusts brought a massive cloud of fumes and an ominous orange glow over the mountains, raining ash on Skala Potamias in the process. Not only had the air quality plummeted to a concerning state, but the latest reports listed Thassos as a high-risk area for further outbreaks. After all, almost the entire island is covered in sun-soaked, dehydrated, timber ready-to-burst at the first sign of a spark.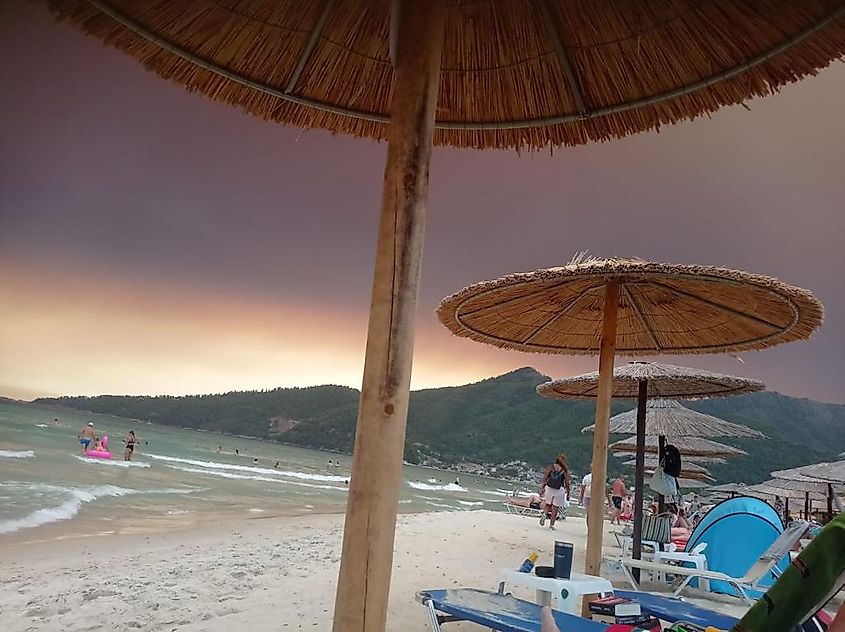 It became clear that we needed to revise our next booking on the heavily-impacted mainland, retreat to a safer region, and hope that the combined efforts of Greek and international firefighters dispatched by the European Union would be enough to suppress the nefarious forces of nature.
I don't feel qualified to add much commentary on the intense wildfires that have devastated many parts of the globe this year. As is often the case, the causes and conditions appear to be multifaceted and complicated. But the consequences of these outbreaks are undeniable. As of right now, at least twenty people (predominantly immigrants holed up in the forests near Alexandroupolis) have perished, and countless Greeks are experiencing losses to their property, stability, culture, and health. To a lesser extent, travelers are having to pay close attention to the state of affairs in classically appealing areas that have been unexpectedly wrought with natural disasters. At the moment, my girlfriend and I intend to move into an apartment in Thessaloniki for the month of September, but a bolt of lightning, aggressive winds, or more arsonists, could all change that plan on a moment's notice.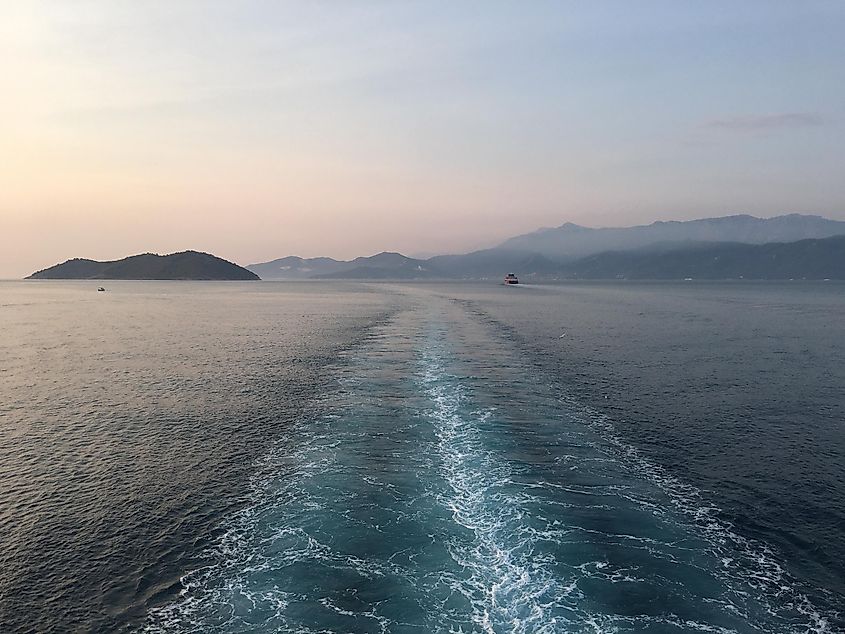 In the end, I wish the people of Greece, and all of the tourists, immigrants, and refugees who find themselves in this beautiful cradle of Western civilization all the best. While there are certain places that should be avoided for the time being, the country as a whole deserves all the praise and economical boosts that come with regular tourism. The fires will be quelled, and the peaceful, delectable way of life will resume.