The Mammoth Hot Springs is a huge complex of hot springs perched atop an impressive hill of limestone terraces located in the area of Yellowstone National Park in Park County, Wyoming, United States. Its hot water originates from the Norris Geyser Basin which runs parallel to the Norris to Mammoth road and most flows from the underground. Areas of lower elevations in Yellowstone Park where the Mammoth Hot Springs is located is generally warm during the entire year. Thunderstorms often come during most summer afternoons when temperatures are typically in the 70 to 80 degrees Fahrenheit while during winter temperatures can fall between zero to 20 degrees Fahrenheit. Snow can be expected at anytime during the year with ever changing levels of precipitation.
Visiting Mammoth Hot Springs
About 3 million people visit the Mammoth Hot Springs every year. The closest airport servicing Yellowstone is West Yellowstone, MT located just 1 mile north of West Yellowstone town. It is open only seasonally, from June to the first two weeks of September. Other airports nearby are Cody and Jackson, WY, Idaho Falls, ID and Bozeman and Billings, MT. Available all year round is Bozeman, MT's bus service which travels via Highway 91. In the summer months, bus service is available directly from Idaho as well as Cody and Jackson. The closest train station is located in three locations namely southeast Idaho, northern Montana and Salt Lake City, Utah. Visitors planning to visit the Mammoth Hot Springs by car are advised to carefully consider several factors including road statuses, road construction and delays and of course, the ever changing weather of the area.
Major Attractions
Apart from the spectacular scenery that the Mammoth Hot Springs terraces offer, the Yellowstone Park where it is located in has a lot of fun and entertaining activities and facilities to offer. Backcountry hiking and camping, boating, bicycling, day hiking, cross country skiing and snowshoeing, fishing, camping and llama packing are just some of the examples. The Albright Visitor Center is a good place to start when visiting the Mammoth Hot Springs. Guests can obtain information about nearby attractions that they can visit, permits for hiking as well as learn about Yellowstone's vibrant and unique cultural heritage there.
Wildlife
Mammoth Hot Springs is home to many of this world's most primitive bacterial organisms including the Thermus aquaticus. These bacteria are currently being used by scientists who are looking for cures for several kinds of diseases that plague the humankind. Numerous species of arthropods and flies also thrive where these bacteria can be found, which get their sustenance from molecular hydrogen found in the water. Other animals living in Mammoth are elks, grizzlies, wolves, bison, bighorn sheep, cranes, ducks and other birds.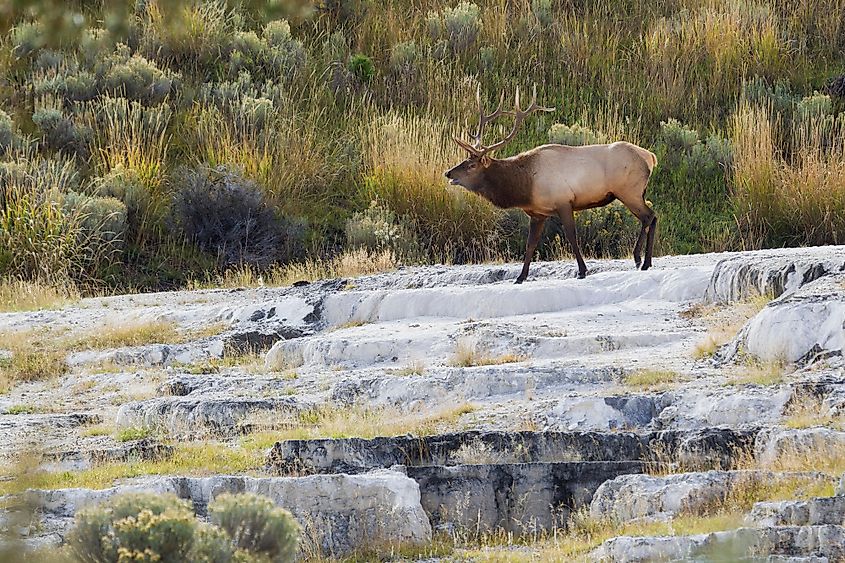 Threats
Initially, researchers thought that the springs in Mammoth Hot Springs were slowly drying up. However, more recent information has shown that water discharge and overall spring activity has not changed over the last couple of decades. Swimming in Mammoth Hot Springs is not allowed due to the fragile condition of the travertine terraces.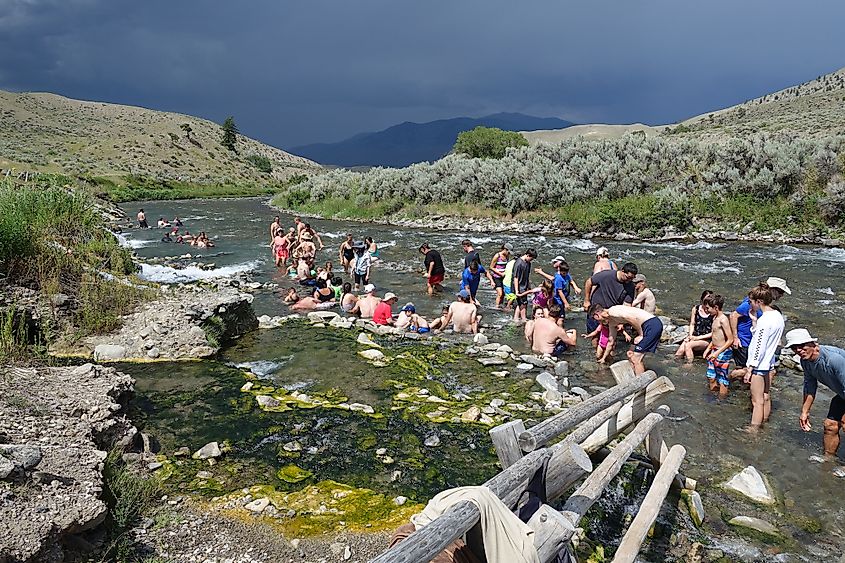 Those who wish to swim may do so by visiting the nearby Boiling River, which is north of Mammoth and open to swimmers during daytime. A potential danger while visiting Mammoth Hot Springs is the widespread presence of grizzlies, bison, and other potentially dangerous nearby. Visitors who frequent geothermal attractions are also warned about the serious burns, along with falls and crashes, that can result from irresponsibly swimming and exploring the hot springs.