10 Best Things To Do In Monterey, California
Founded in 1770 during the period of Spanish California, the city of Monterey is a picturesque coastal paradise nearly 200 kilometers south of San Francisco. Filled with natural beauty, splendid history, and a variety of arts and artists, Monterey is a great place to explore. In the process, visitors will get not only a close encounter with California's history but a wonderful holiday. This article looks at the 10 Best Things to do in Monterey. 
Visit Monterey Bay National Marine Sanctuary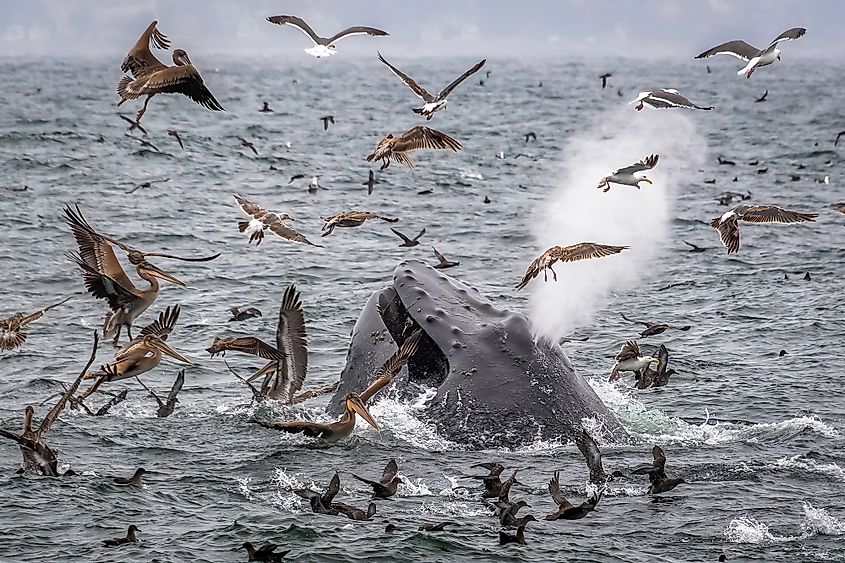 A federally protected area covering a shoreline length of 444 kilometers, the Monterey Bay National Marine Sanctuary (MBNMS) is a stunning and pristine tract of nature, ideal for wildlife sightings. Stretching from San Francisco to the town of Cambria (and naturally encompassing Monterey), the Sanctuary is home to many diverse ecosystems. It is the natural habitat for many fish, mammals, and native plant species. Drive along the coastline to get spectacular views of the scenery, and perhaps even book a whale-watching tour! Stop at the Coastal Discovery Visitor Centre and Point Sur Lighthouse or simply gaze at the wildlife. Spending time at the MBNMS is a truly special excursion for the whole family.
Travel 17 Mile Drive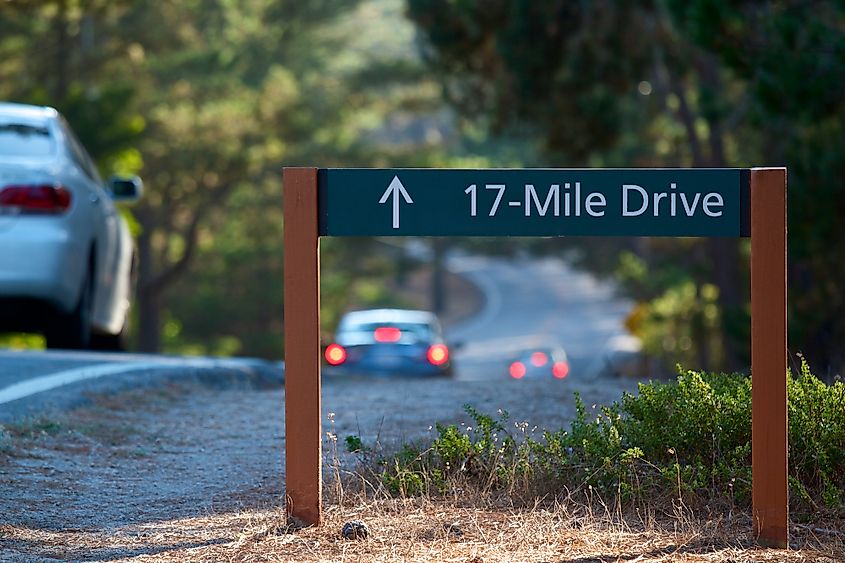 Spanning 17 miles (27 kilometers), the aptly named 17 Mile Drive is a beautifully scenic route on the Monterey Peninsula; completed in 1880 and spanning the distance from the communities of Pacific Grove and Pebble Beach respectively, 17 Mile Drive is a great way to further explore California's coastline and the charming little habitations in the greater Monterey area. Travel by foot, bicycle, or vehicle, for a small toll, visitors can view rugged and splendid cliffs, coastline waters, pretty beaches, and stunning trees. Along the way visitors will pass historic mansions, prime golf courses, and of course great restaurants, shops, and other boutiques. Do not forget to stop at the Pebble Beach Market where food, souvenirs and great photo opportunities are always in abundance. 
Visit The Monterey Museum Of Art 
With a permanent collection of some 14,000 items, the Monterey Museum of Art is a proud promoter of Californian art and the artists who call the State home. In addition to the local exhibitions, the Museum also hosts works by artists like Picasso, Matisse, and Joan Miro' and several special displays devoted to photography and Asian American art. Divided into two locations, on Pacific Street and Via Mirada respectively, the Monterey Museum of Art was established in 1959, and remains an important part of Monterey's social life. From California creations to the international masters, a visit to the Museum is a wonderful way to spend an afternoon, or two!
Visit Monterey State Historic Park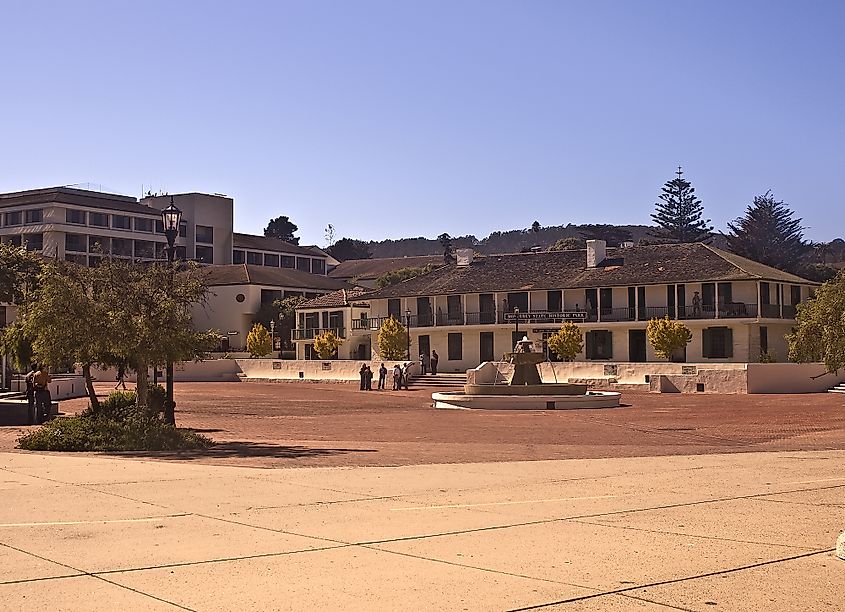 Built in 1776, the Monterey State Historic Park (MSHP) houses the Old Town Historic District, which was once the center of the city at its founding. Added to the National Register of Historic Places in 1970, the MSHP is a literal time machine to the 18th and 19th centuries. A stroll through this park will bring visitors up close to several lovingly restored buildings and beautiful gardens, perfect for the history lover and those who just like being in a charming outdoor atmosphere. Visit such sites as the Stevenson House (former home of the author Robert Louis Stevenson), California's first theatre (built in 1846), the Casa del Oro army barracks, or California's first brick house (1847), amongst many others. Indeed the MSHP is a culturally rich and immersive experience that all in Monterey should be familiar with. 
Visit Cannery Row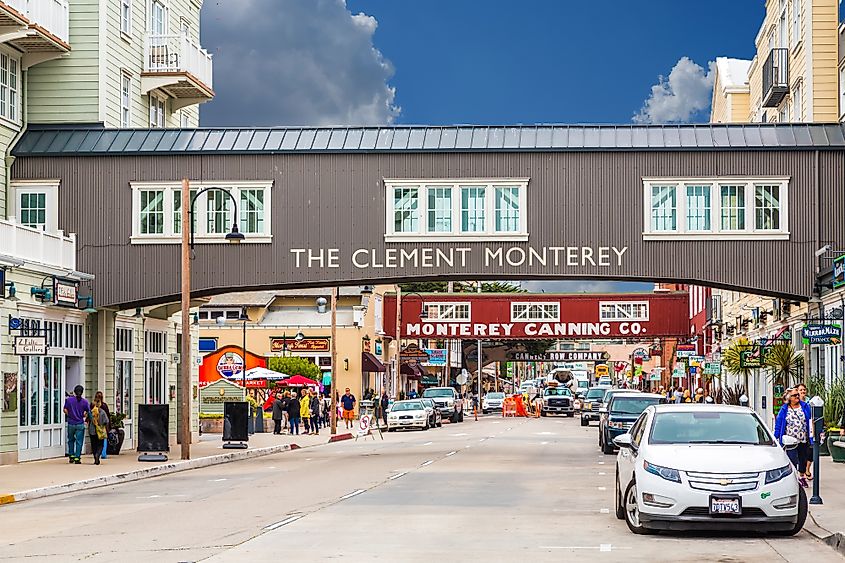 A waterfront street that borders the community of Pacific Grove, Cannery Row is one of the most charming places to visit in Monterey. Once the site of a number of sardine canning factories, author John Steinbeck even wrote a novel of the same name about the street in 1945. For a peak into Monterey's fish packing history and early industrial growth, visitors can see the now closed cannery buildings lining much of the historic street. But other than old and shuttered factory buildings, visitors to Cannery Row today will find loads of tasty local restaurants, souvenir shops, and truly unique surroundings perfect for a memorable photoshoot. And of course, one cannot forget to stop at the Monterey Bay Aquarium, whose main entrance is located with rows of old canning factories!
Visit Old Fisherman's Wharf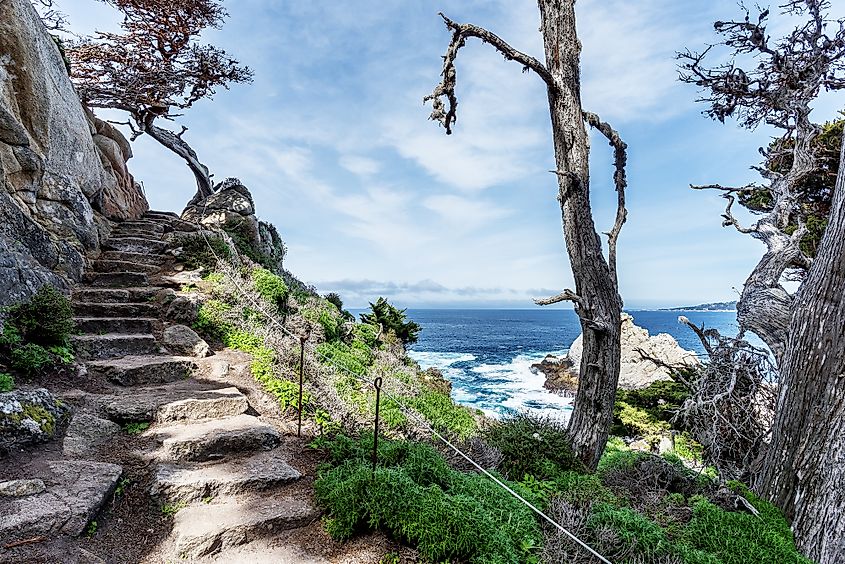 The Old Fisherman's Wharf is just a short distance away from Cannery Row and is filled with seafood restaurants, souvenir shops, galleries, candy stores, and even a jewelry shop. Like its more famous counterpart in San Francisco, the Old Fisherman's Wharf is a tourist hot spot and one of Monterey's most commercially popular destinations. And for those who want to get out on the water, the Wharf is the launching spot for glass-bottomed boat tours and exciting whale-watching excursions!
Travel The Monterey Bay Coastal Recreation Trail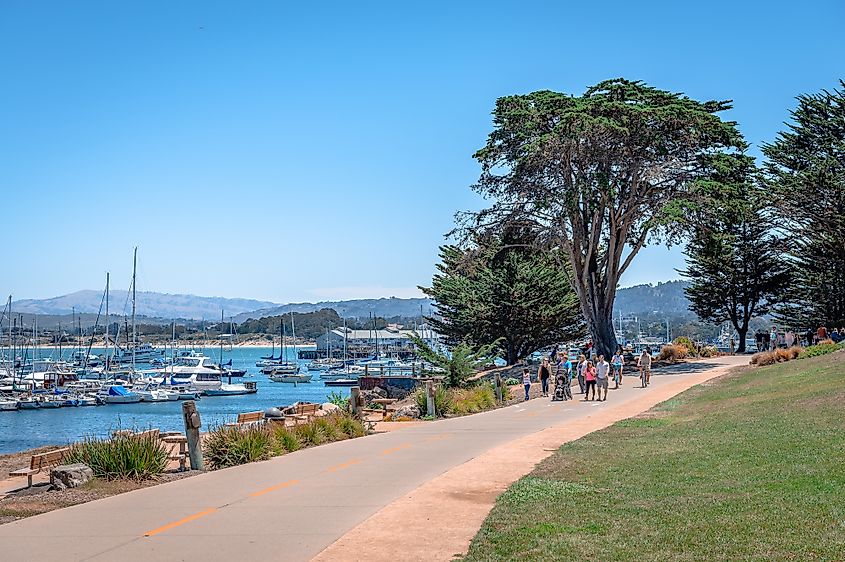 With a length of 30 kilometers and an elevation of 320 feet, the Monterey Bay Coastal Recreational Trail is another great way to appreciate the California coastline and its stunning views. Built along the route of the former Southern Pacific Railroad, this trail is ideal for a variety of activities, including hiking, cycling, and even casual walking. Connected to various small beaches, along the way, visitors can stop at an assortment of restaurants, souvenir shops, and green spaces perfect for picnics. One can even rent kayaks, surfboards, and scuba equipment while viewing wildlife at any of the various lookout points.
Visit Lover's Point Park And Beach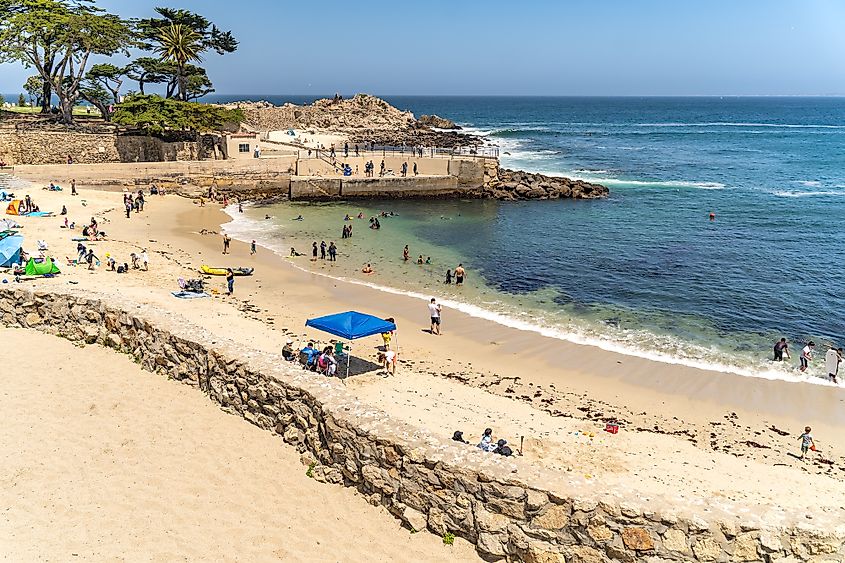 This charming little park area is a great place for picnicking, hiking, cycling, and more beautiful views of Monterey Bay. A part of the Lovers Point State Marine Reserve, the Park and Beach area is a perfect getaway for solo travelers, couples, and families. Take in the beauty of nature all around, go for a swim, or rent a kayak. This quiet, reflective spot is an ideal locale away from the busyness of the city. The Pacific Grove Museum of Natural History, just a 10-minute walk from the Park is a great attraction for a history enthusiast.
Explore Fort Ord Dunes State Park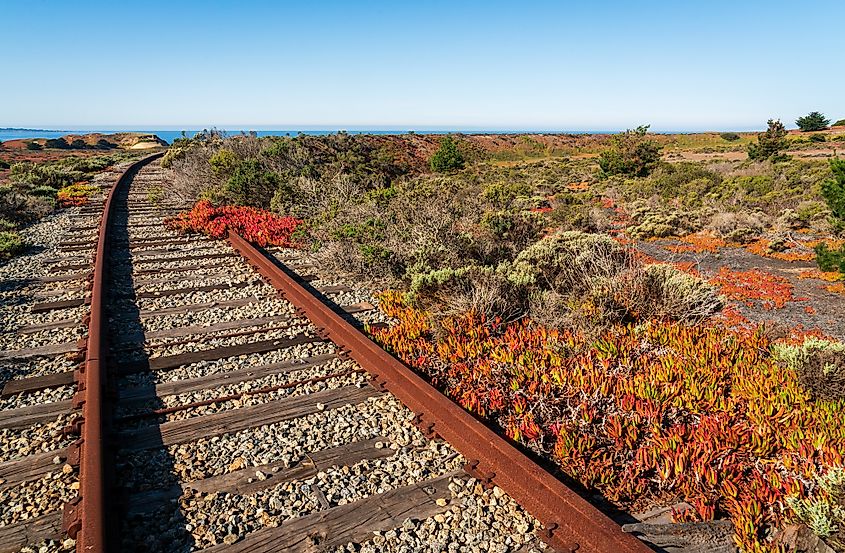 Covering an area of nearly 7 kilometers of coastline on Monterey Bay, a visit to Fort Ord Dunes State Park is yet another fantastic way to get acquainted with the area's beautiful nature and stunning sea views. Walk along the charming boardwalk, go hiking, biking, and gaze at the coastal dunes that fill the landscape. A natural habitat for many species, access to some trails and dunes may be limited, but even from afar, the views of these unique natural formations are spectacular. Down by the beach side, lucky visitors may even spot a whale or two, and at dusk, the view of the sunset is a most special vista. 
Visit Point Lobos State Natural Reserve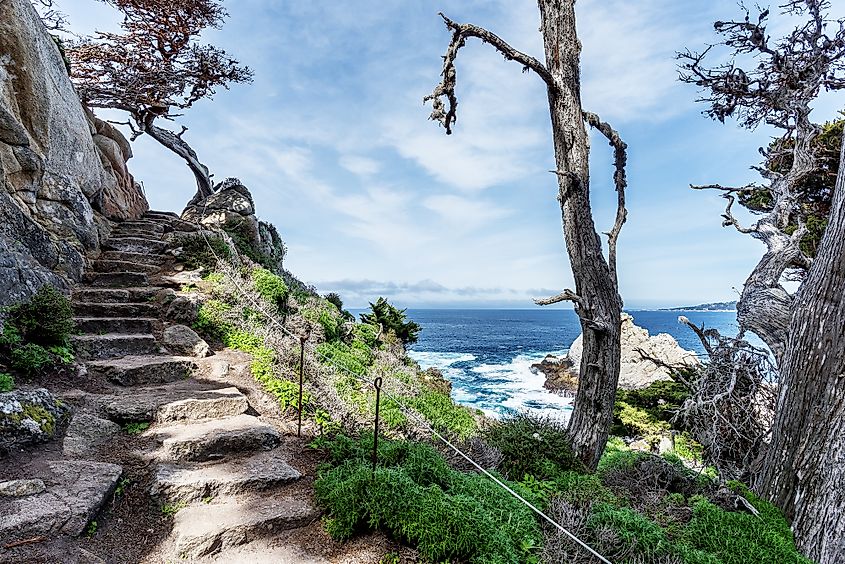 Nicknamed the "Crown Jewel" of California's State Parks, the Point Lobos State Natural Reserve has breathtaking coastal views, natural coves, towering cliffs of granite, pristine beaches, historic buildings, and of course, plenty of wildlife. Visit Whaler's Cove for picture-perfect vistas, or explore the Whalers Cabin, built in 1850 and listed on the National Register of Historic Places. Featuring a plethora of hiking and biking trails all along the ocean front, Point Lobos is a slice of paradise and sees up to one million visitors each year.
Monterey is a charming coastal city that captures some of the best the State of California offers. From stunning natural beauty and splendid views of the Pacific Ocean to unique history to a friendly place for artists and families alike, Monterey is indeed a perfect place to explore and relax. And with so much to see, it is no wonder this town is affectionately known as California's "First" City!