The Campeche Bank is a marine region of the Gulf of Mexico and is an underwater bank that runs from the Yucatan Straits in the east to the Tabasco-Campeche basin in the west. It is 130 kilometers west of mainland Campeche. The bank itself is home to several reefs and islets, such as Cayos Arcas in the southwest section and Arrecife Alacran in the north.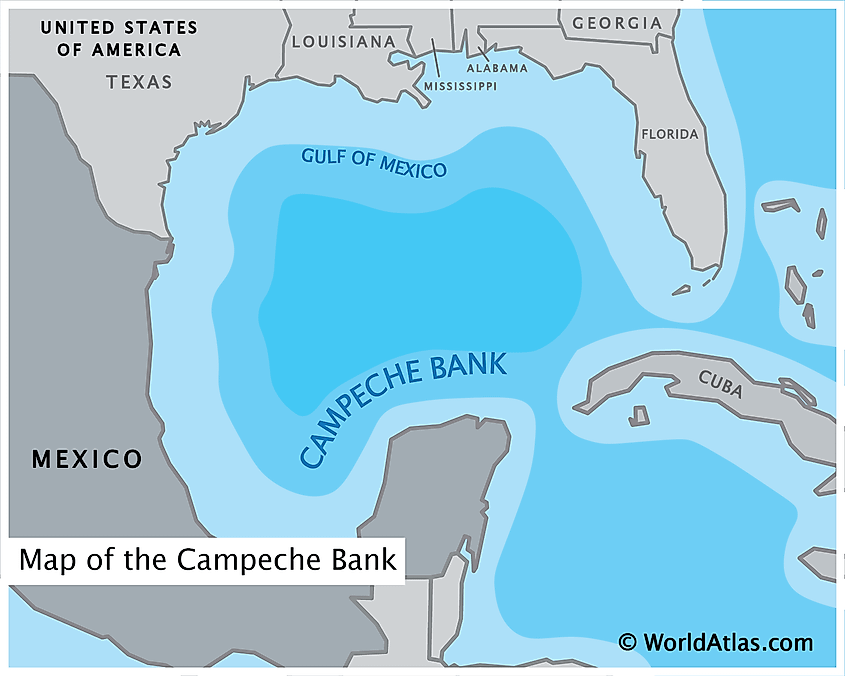 Cayos Arcas
Cayos Arcas is a chain of three tiny cays and reefs along the Campeche Bank. Together the cays make up 22.8 hectares of land, with the largest main island being Cayo del Centro. The other islands include Cayo del Este and Cayo del Oeste. None of the cays are inhabited and have very sparse vegetation as well, containing mainly shrubs and grasses. 
Offshore, however, the Cayos Arcas Terminal contains several petroleum stations in the Arcas' reef system. These oil rigs are some of the largest oil producers in the Gulf of Mexico. Oil is one of the key aspects of the Campeche Bank and surrounding area, and the region has proven very fruitful in terms of petroleum. 
Arrecife Alacranes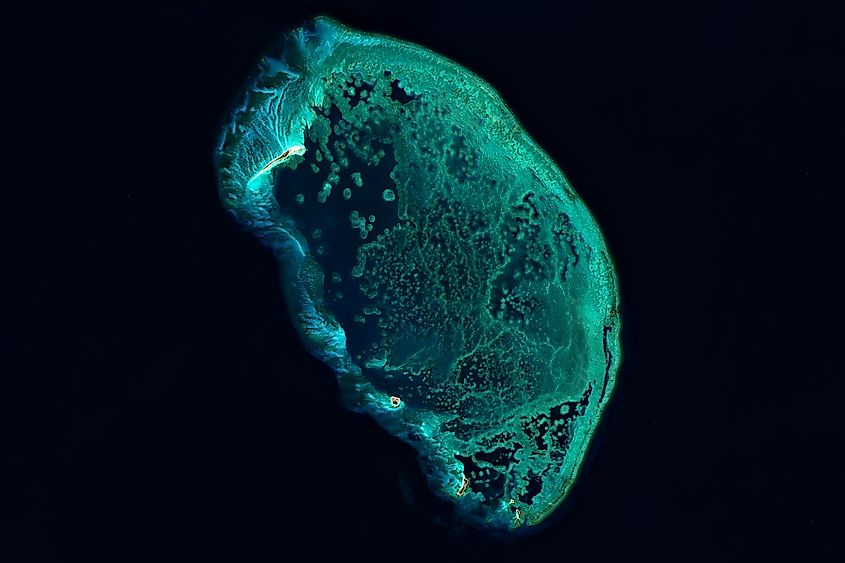 Arrecife Alacranes is Spanish for Scorpion Reef and is the term for the emergent platform type reef along the outer shelf of the Campeche Bank. The reef surrounds a group of small islands in the Campeche Bank area of the Gulf of Mexico. It is the largest reef in the southern part of the Gulf, and contains the archipelago islands of Isla Pérez, Isla Desertora, Isla Pájaros, Isla Chica, and Isla Desterrada, of which the only inhabited island is Perez.
This reef is rich in marine life and birdlife. In fact, the reef, islets, and surrounding waters are part of a designated Important Bird Area due mainly to the presence of the magnificent frigatebird, a large fish-eating seabird. Other species include ground nesters like the masked booby, Sooty Tern, Brown Noddy, and a range of other trans-migratory bird species that use the islands for resting.
These islands and the Campeche Bank, in general, are extremely important for trans-gulf migratory birds, as they are one of few stops across the Gulf where birds can rest and recuperate.
Importance Of The Campeche Bank
The Campeche Bank is a valuable area for a number of reasons. Its abundance of petroleum allows it to be a significant oil mining location for Mexico and North America, providing energy courses to the nations. Similarly, the area has become an important fishing area, as a number of different fish species can be found within the Gulf and easily accessed around the reefs and deep water just off the escarpment.
Lastly, the importance of the reef and islands to birds is invaluable as, without this stopping ground, many species would not be able to cross the large expanse of the open Gulf.