In India, the practice of recycling is one that goes back centuries. However, a recent trend in rapid urbanization and rising incomes have prompted a change in the way that many across the country are consuming, and in turn, discarding. India's annual solid waste generation now amounts to over 1,00,000 metric tonnes per year and Indian cities are producing massive volumes of plastic, metal, tin, glass, and other household wastes. Most of this garbage piles up in gigantic mounds of solid waste in the landfill sites in and around the cities, threatening the health and well-being of residents. To aggravate the situation further, many of these cities suffer from insufficient systems of waste management.
Despite this grim scenario, several Indian start-ups and individuals are painting a brighter picture of the future of waste management in the country. Silver Nut Tree is one such endeavor. Created by two enterprising Indian women by the names of Rituparna Das and Angeline Babu, Silver Nut Tree transforms "ugly" trash into enchanting jewelry and attractive items of household decor. World Atlas caught up with these entrepreneurs to learn more about their inspirational work.
A New Venture For A Greener Future
Through Silver Nut Tree (SNT), Rituparna and Angeline utilize their love and passion for art and craft to create unique handcrafted products from everyday trash.
"Our little girls and their curiosity," Angeline said when asked about what triggered the establishment of SNT.
In an attempt to explain the true meaning of recycling to their inquisitive six-year-old daughters, both mothers ended up showing them how recycling is actually done. This attempt gave birth to their first creation, an earring created using the plastic from a PET (polyethylene terephthalate) plastic bottle as the raw material.
"We created our first earring without the aid of any professional tools. Instead, our scissors, makeup pliers, and safety pins doubled up as tools," Angeline said.
Although their daughters' queries about recycling were now satisfactorily answered, it was just the beginning of a new journey for the two women.
Inspired by the nursery rhyme "I Had a Little Nut Tree", the women named their business and set out to produce more creations.
"The name ended up being prophetic, since Silver Nut Tree unleashed our hidden potential and made us explore paths and patterns with unfettered curiosity, just like a child. It defined us, and allowed us to find a purpose in a creative, greener future," Angeline shared of Silver Nut Tree's beginnings.
Making Glamor From Garbage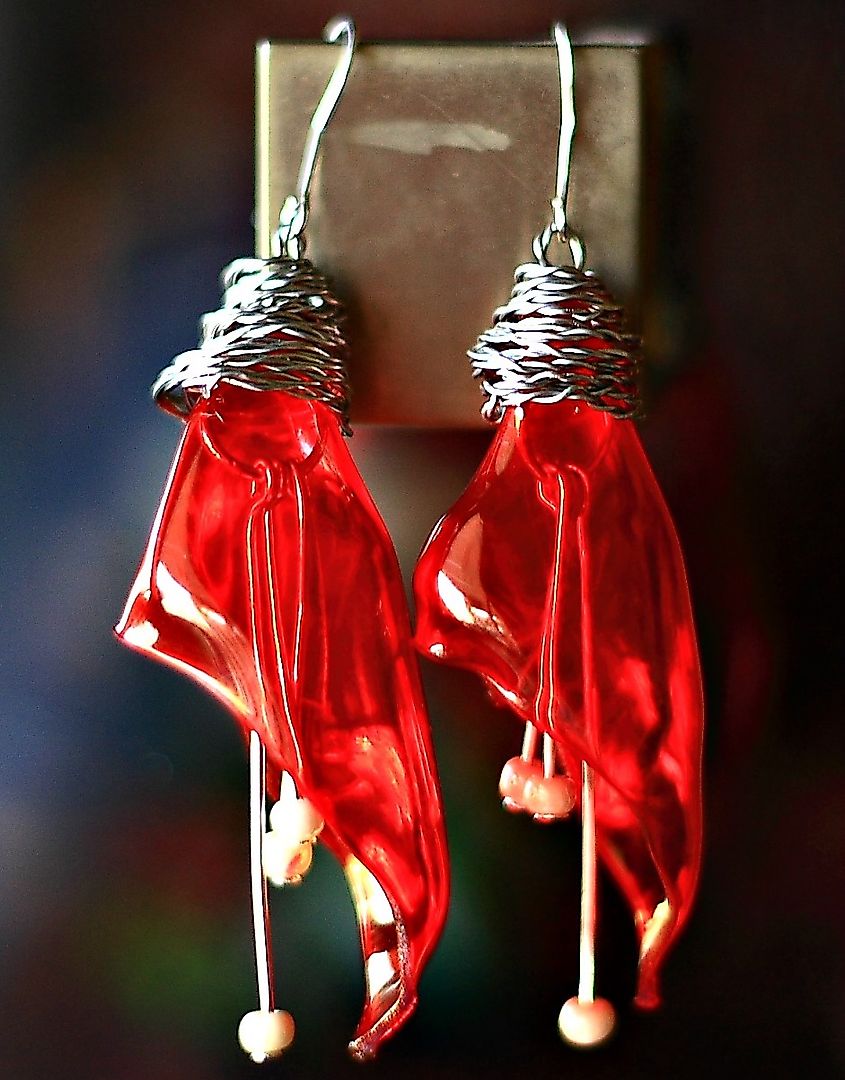 A pair of danglers sold by Silver Nut Tree, made from plastic obtained from PET plastic bottles. Photo credit: Silver Nut Tree.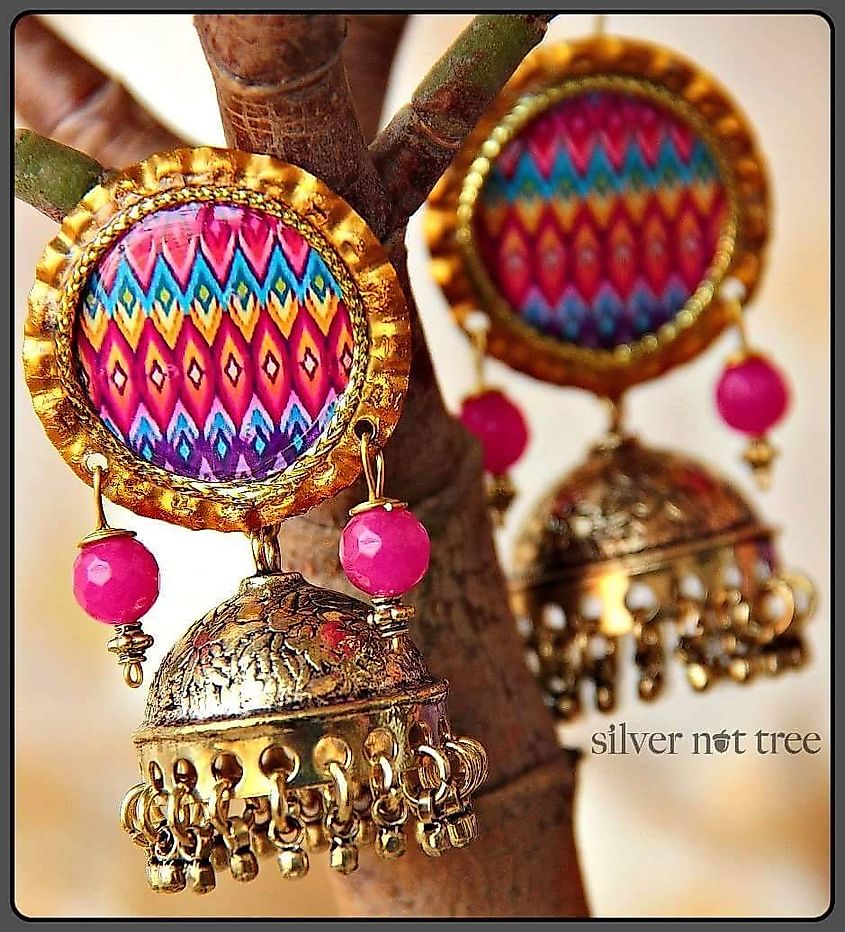 Earrings made using metal corks of bottles. Photo credit: Silver Nut Tree.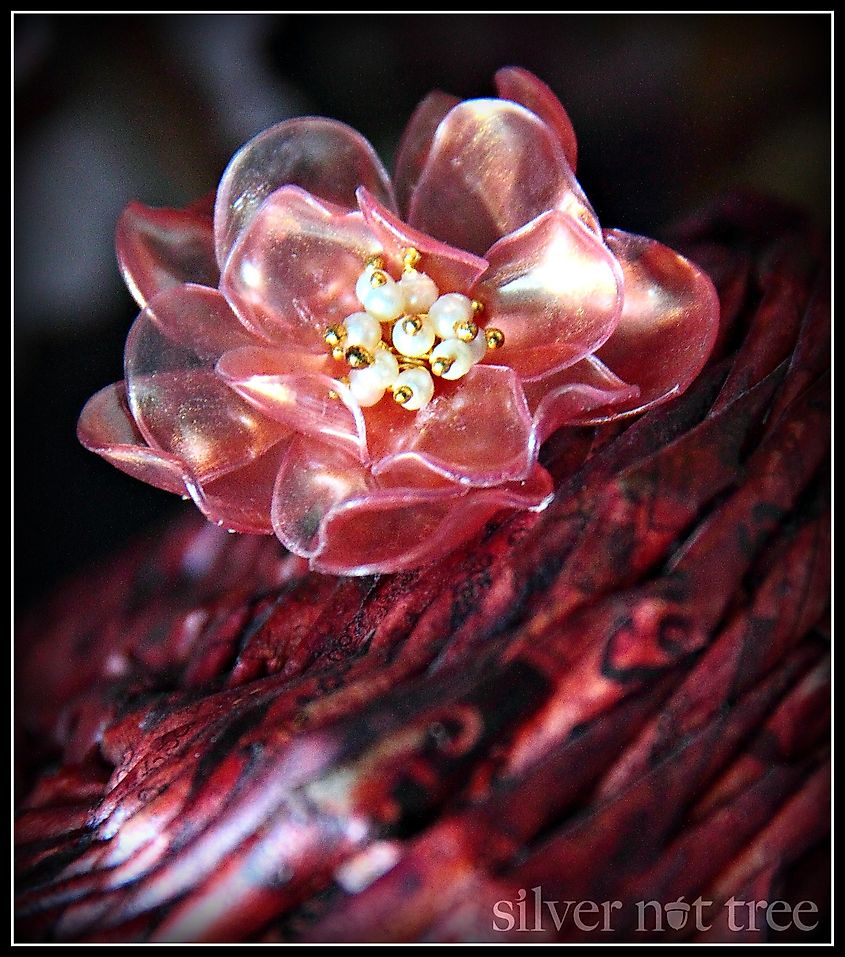 A ring constructed from plastic PET bottles. Photo credit: Silver Nut Tree.
At SNT, Rituparna and Angeline use an extensive range of waste materials for their creations. Glass bottles are used to make lamps, vases, and other home decor products. Unused CDs are utilized to make tea light votives. Unisex dog tag necklaces are produced from up-cycled tire tubes, washers, nuts, and bolts. Earrings and other attractive jewelry are generated from the metal crowns of bottles. PET plastic bottles are also extensively used to create necklaces, brooches, earrings, bracelets, and more.
During the process of conversion from trash to SNT products, the base material is thoroughly scrubbed, cleaned and sterilized beforehand. In the creation of jewelry, extra caution is adopted to eliminate any kind of toxicity that might harm the skin of the wearer.
In summary of their work methodology, Rituparna said: "We first visualize a piece in its entire splendor and then spend days and nights tormenting our brains about how to convert it into a reality!"
At SNT, it is all about new experiments every day. The two founders strive to create unique products that inspire awe. When asked about their daily source of inspiration, Rituparna had the following to say:
"Both of us have an acute interest in mythological, vintage, folk, and lost art forms. Unexplored and unchartered territories of art are yet to be unraveled and presented to the world as keepsake pieces. The thrill of it inspires us all the time."
She also mentioned that turning a piece of waste, which was destined for an ever-bulging landfill, into a thing of beauty unrecognizable from its original state is worth every bit of the effort. It is what keeps them going despite the hardships of working with an unconventional medium.
Looking Towards The Future
For Rituparna and Angeline, SNT is much more than just a business venture. Speaking of their future goals, Angeline said:
"We have realized that SNT is bigger than either of us individually and it has a destiny that is still evolving. More than anything, we desire that SNT is able to spread the message that even the humblest of trash has immense potential to become a treasure that you cannot part with. You only need to look at it differently."
Rituparna also echoes the thoughts of Angeline. "We believe every little effort counts," she said. "Every bit of waste that is turned into an 'objet d'art' or something that can be reused will definitely add up to a huge positive change, both in the environmental conditions and in the psyche of the masses. Our ardent hope is that soon the upcycled products will lose their halo of wonder and become a part of our everyday lives."
To learn more about the Silver Nut Tree, you can visit their Facebook page here.
**
Dr. Oishimaya Sen Nag is a freelance writer and editor from Kolkata, India. She loves to participate in wildlife conservation activities and to explore new places and cultures.