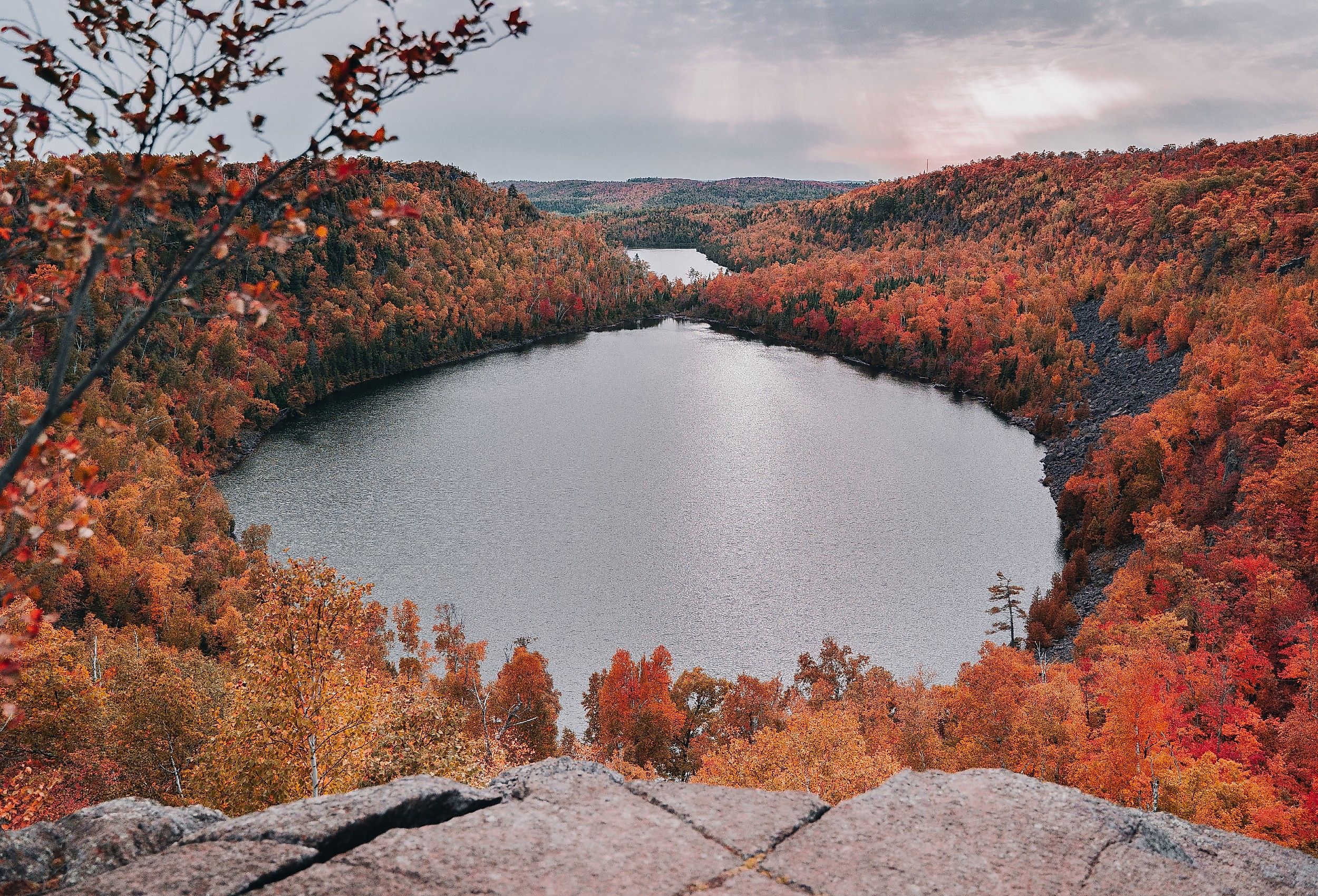 Best Fall Hikes In Minnesota
Minnesota's boreal forest, covering over 2 million acres in the northern portion of the state, is made for fall. The big and tall oak, ash, and maple trees pop with red, yellow, and orange colors, making for beautiful, relaxing hikes along the water of Lake Superior and in the deeper in-land wilderness. There is no need for extensive hikes filled with difficult terrain that require expensive clothing and gear: these scenic fall hikes are accessible and well-maintained, with wide paths and clear markings. Try these hikes this fall for the best natural scenes in Minnesota.
Superior Hiking Trail: Fifth Falls Loop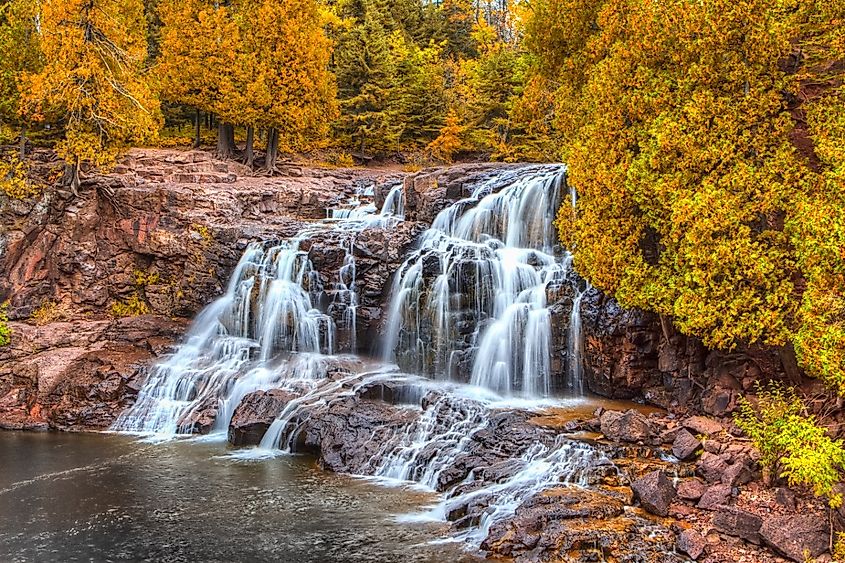 The Superior Hiking Trail is 310 miles (499km) in length along Lake Superior, spanning eight Minnesota State Parks through the Superior National Forest. Fifth Falls Loop, a small sub-section of only 3 miles (4.8km) near the town of Castle Danger, is a perfect section for beginner and moderate-level hikers to take in the falls at Gooseberry Falls State Park near the town of Two Harbors, surrounded by colorful fall leaves. Previous trail-goers note that the parking lot is a 20-minute walk from the trailhead, that bug spray is essential, and to expect others around touristy-viewpoint areas. Expect an easy-going path and fabulous waterfall views from this short loop.
Afton State Park: North River Trail Loop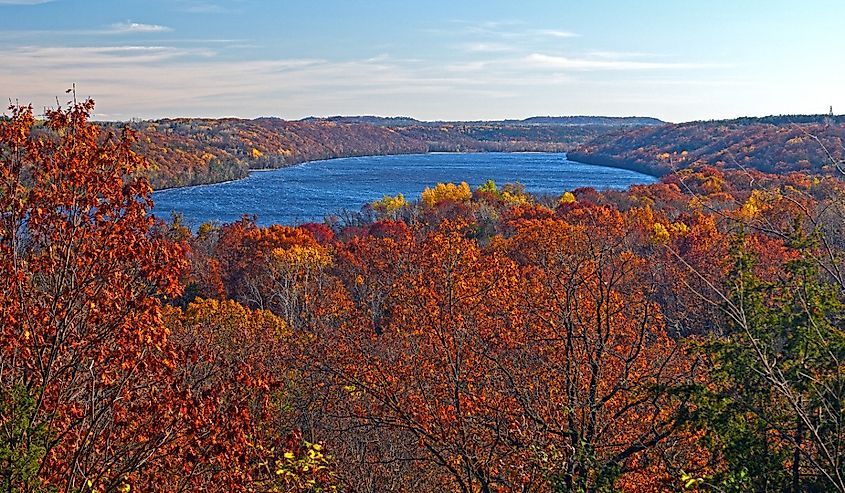 Afton State Park's wooded valleys and dense oak treeline make for a scenic fall hiking loop on the North River Trail. This trail leaves the small town of Afton and follows the St. Croix River right along the Minnesota-Wisconsin border for 3.8 miles (6.1km) and is somewhat challenging, given an overall elevation gain of 515 feet (157m). But the views are worth it, with crests of hills overlooking small ponds and lakes and the red and yellow borders in the fall season with red leaves covering the forest floor. Afternoon hikers should stop at the designated park riverside dock and picnic area.
Make sure to take a map from the Afton State Park office upon entry: this trail intersects with many others in Afton State Park, making it easy to unintentionally extend your walk.
Superior National Forest: Eagle Mountain Trail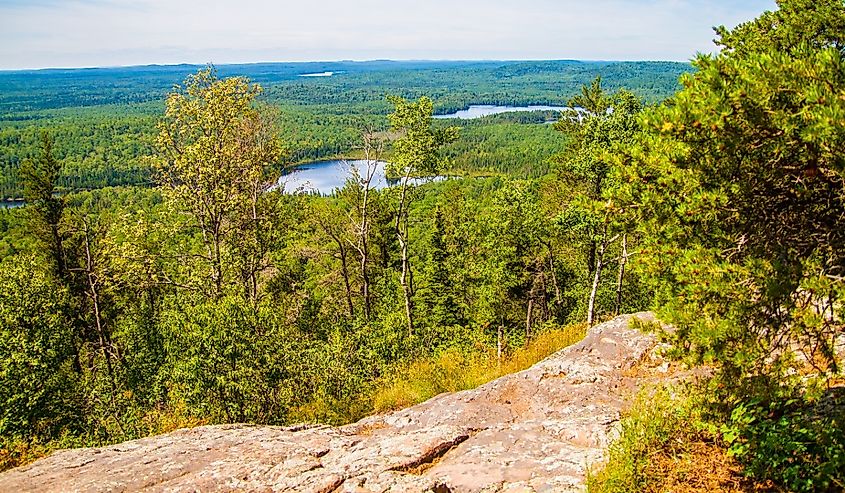 Eagle Mountain is a rocky trail, at times making it tough to trek, but its beauty surpasses its difficulty. It is 6.3 miles (10.1km) long and gains about 656 feet (200m) in elevation. It brings you to the highest point in Minnesota — the top of Eagle Mountain — 2,301 feet (701m) above sea level. This means there is a stellar view filled with fall leaves, pine trees, and serene lakes down below. The majority of the trail lies within Federally Designated Wilderness, meaning that the surrounding boreal forest is sure to be clean, full, and breathtaking. It also means that hikers should be prepared with proper footwear for rugged rocks and roots and light pants for knawing branches and bushes.
Seven Mile Creek County Park: Trail 8 & Trail 10 Loop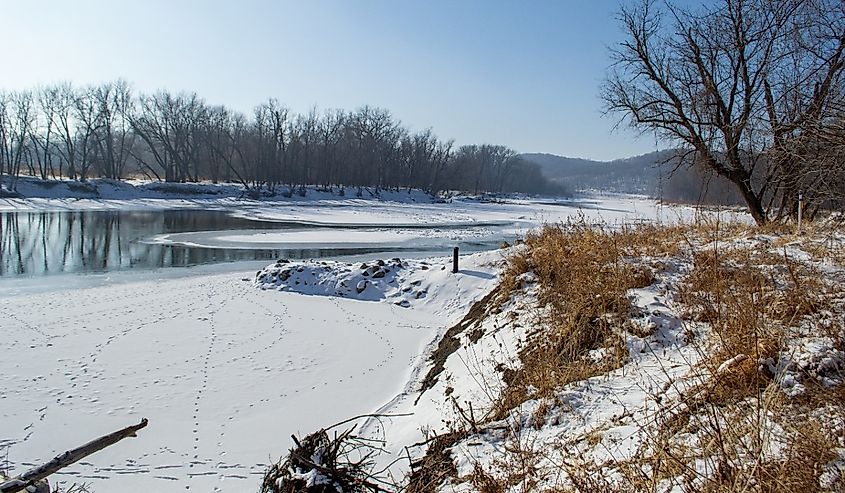 Trail 8 in Seven Mile Creek County Park is a pure display of fall foliage through big and tall red oak and sugar maple trees. Near the town of Mankato, it follows the shallow Sevenmile Creek, making a few crossings along the way, and meets with the small prairie loop of Trail 10 for hikers looking for an extra view. It is 3.9 miles (6.3km) long, with some steep rolling hills, making it an intermediate-level walk. The beauty of the path is its solitude: there are seldom more than a few fellow hikers, and the trail doesn't pass any tourist attractions or campgrounds. The only noises around are the bustling leaves and the rolling water.
Tettegouche State Park: Baptism River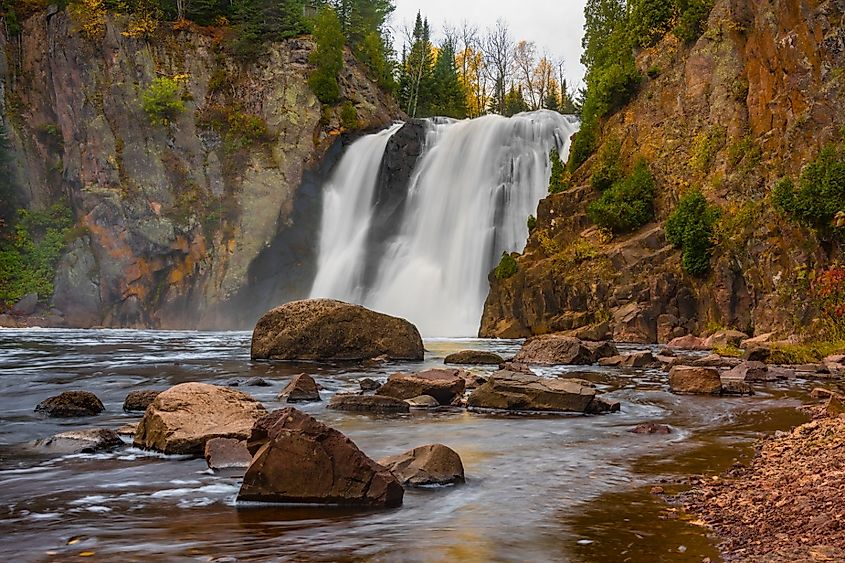 Baptism River Trail combines fall leaves and loud waterfalls for a popular hike in Tettegouche State Park near Silver Bay, Minnesota. It follows the Baptism River to the feature view — High Falls — a roaring 100-foot (30.4m) rushing waterfall surrounded by rock cliffs and autumn-color trees. Notice the presence of evergreen pine trees, creating accents to the red and yellow colors. The hike is 2.9 miles (4.7km) of medium-level terrain due to some vertical distance (a total of 384 feet). 
More advanced hikers should take the trail in reverse, starting from the parking lot on Park Road and the adjoined section of the Nipisiquit Lake Trail. Follow that trail only briefly until you reach the Superior Hiking Trail and turn left towards the Red Pine Overlook — a 130-foot climb for a lookout over the Baptism Trail. Return to the same Superior Hiking Trail section and continue straight, meeting the High Falls first and working down towards Lake Superior along Baptism River.
Superior Hiking Trail: Split Rock Ridge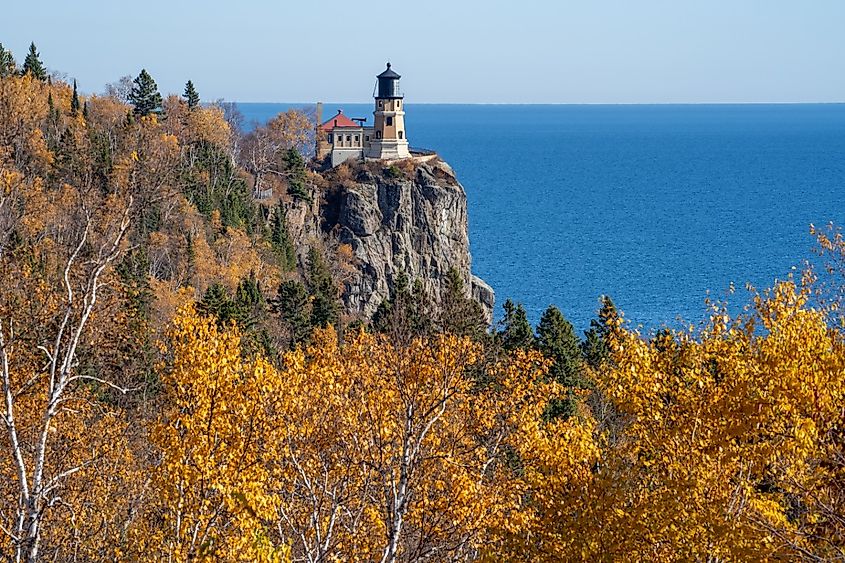 Between the small towns of Two Harbors and Beaver Bay is a 6-mile (9km) loop section of the Superior Hiking Trail that cuts through Split Rock Lighthouse State Park. It follows Split Rock River upstream, with a vertical climb of about 980 feet (300m) across the loop's total distance of 6 miles (9km). Along the way are unique rock formations carved into small caverns of river water, emphasized from the small cliffs above by the fall colors of birch and ash trees. The return journey offers glimpses overlooking the Split Rock Lighthouse tucked in by Lake Superior in the background of the red, yellow, and orange trees. Walk along the rocky beach at the endpoint, taking in the fall reflections off the calm water.
Lebanon Hills Park: Lebanon Hills Loop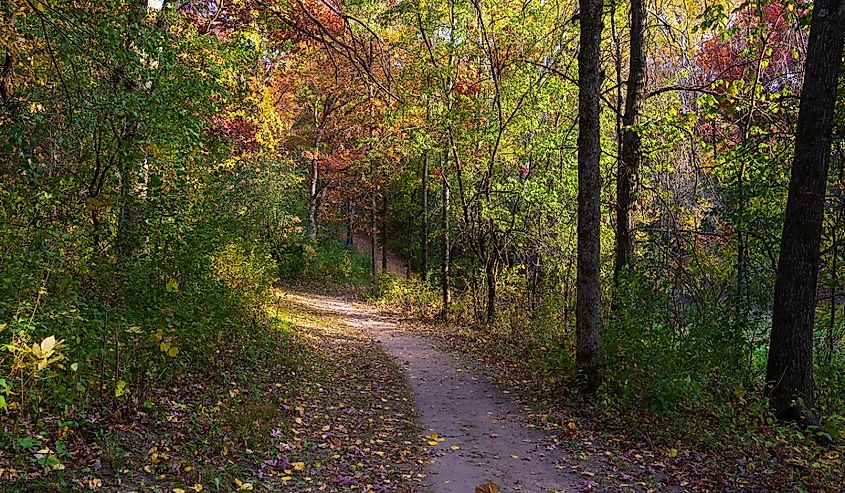 Further inland from Lake Superior, near the twin cities of Minneapolis and St. Paul, is Lebanon Hills Park and its marquee trail, Lebanon Hills Loop. The trail is flat, about 5.3 miles (8.5km) in length, and loops across a series of lakes, the largest being Jensen Lake: a peaceful oasis covered in lilypads and bordered by a dense treeline of red oak and sugar maple trees that come alive in bright colors in the fall. The path is wide and walkable, making it accessible to most hikers. Ambitious visitors will have no problem finding more trails to conquer: there are several intersecting trails along the way that lead to the multitude of ponds and lakes in Lebanon Hills Park. 
Itasca State Park: Aiton Fire Tower Trail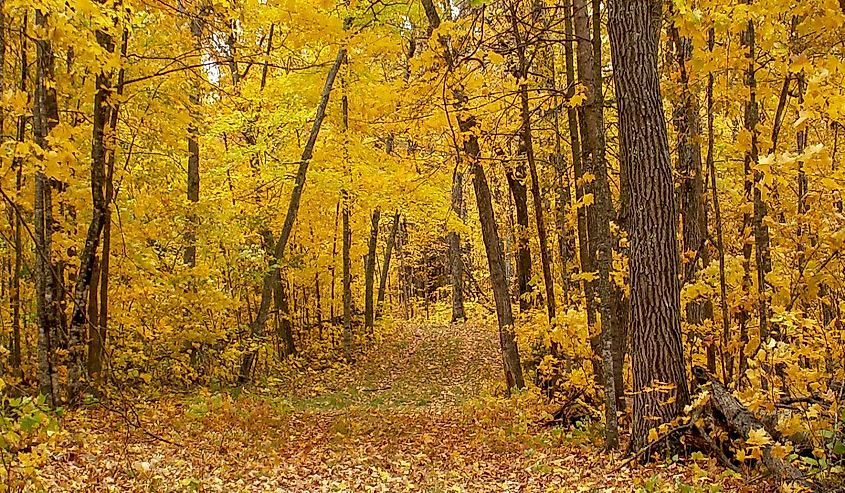 The Aiton Fire Tower Trail is the best lookout view in the state. Itasca Park is Minnesota's first state park, and it's massive, encompassing Lake Itasca, the Mississippi River Headwaters, and 32,690 acres of northern Minnesota. Despite its size, hikers can enjoy an expansive view of the park from the flat and easy-going trail to the Aiton Heights Fire Tower's 10-story stair climb. The view is 360 degrees of all shades of red, orange, and yellow in the fall months. The trail is wide and easy and only 2.2 miles (3.5km) out-and-back, perfect for families. For a full afternoon, plan lunch at the Douglas Lodge — a 120-year-old accommodation now housing a cozy family-style restaurant — and take the Deer Head Trail towards the fire tower.
Fort Snelling State Park: Pike Island Loop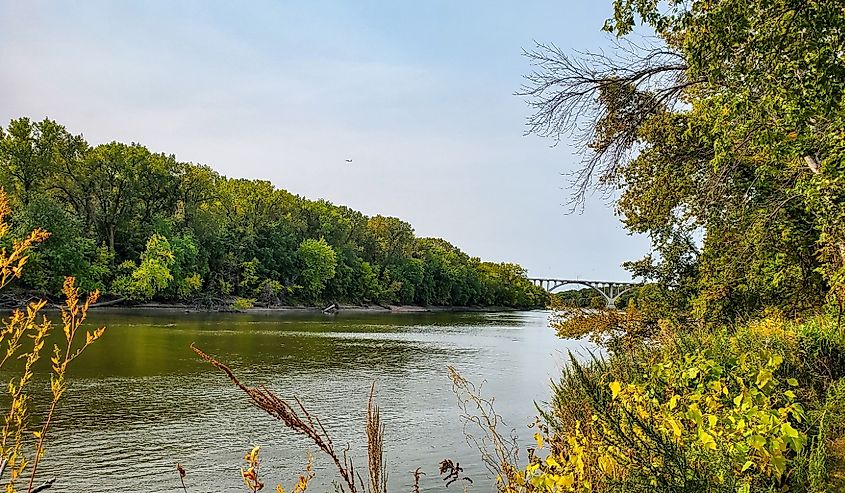 Most visitors recognize Fort Snelling State Park for its diverse history as a Civil War-era military base, but neglect to mention the beautiful calm of nearby Pike Island Loop. Start at the Fort Snelling military base and enter Pike Island's 3.9-mile (6.3km) loop across flat, soft rock terrain and wide-open trails. The path travels through beautiful, tall, densely forested areas that shine red in the fall and cover the floor with autumn colors. Pike Island is a serene forest escape right outside the Twin Cities. Interestingly, the out-portion of the loop follows the Mississippi River, and the return-portion follows the Minnesota River. 
Superior National Forest: Leveaux Mountain Trail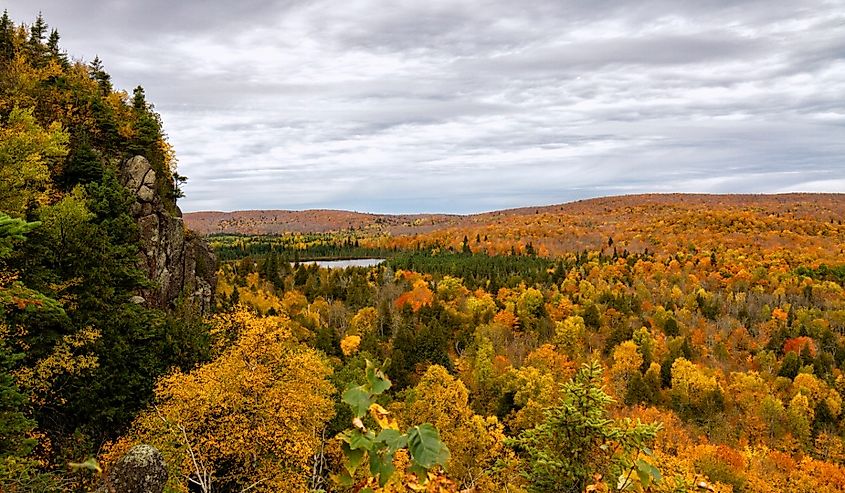 The view from Leveaux Mountain is stunning in any month, but in fall, it shows a blanket of autumn trees that go on forever. Leveaux Mountain Trail is a great alternative to the neighboring and ultra-popular Oberg Mountain Trail: Leveaux's peak is only 6.5 feet (2m) shorter, and there is substantially less foot traffic. Be prepared for some vertical gainage — about 500 feet (152m) — that makes it a moderate-level hike. The path is only 3.2 miles (5.2km) in total, making it accessible to most hikers and family members. Push through the last hill portion and make the summit for the red and yellow view — it is worth it.
Review these trails, complete your research, and then become a successful finisher by putting on your hiking shoes and committing to these beautiful hikes in your free time. The key is to pick one and complete one. Pick an easy one, finish it, and then pick another one. Each has great views and clear instructions. Check the weather, gather your clothes, and enjoy Minnesota's deep boreal forest and the vast Lake Superior. Not many have the chance to capitalize on such a colorful season full of beautiful trails. Don't let the bounty of state parks wither without a visit from close friends and their water bottles.