Set in the spectacular Ruby Mountains, Ruby Lake sits in the Ruby Lake National Wildlife Refuge at an elevation of 6,000 ft. This high-elevation marshland lake is fed by over 200 springs and small creeks, making it a spring-fed lake. It is much loved by backpackers and outdoor enthusiasts for its 360° panoramic vistas of the mountains within the rugged backcountry of Nevada. 
Geography Of Ruby Lake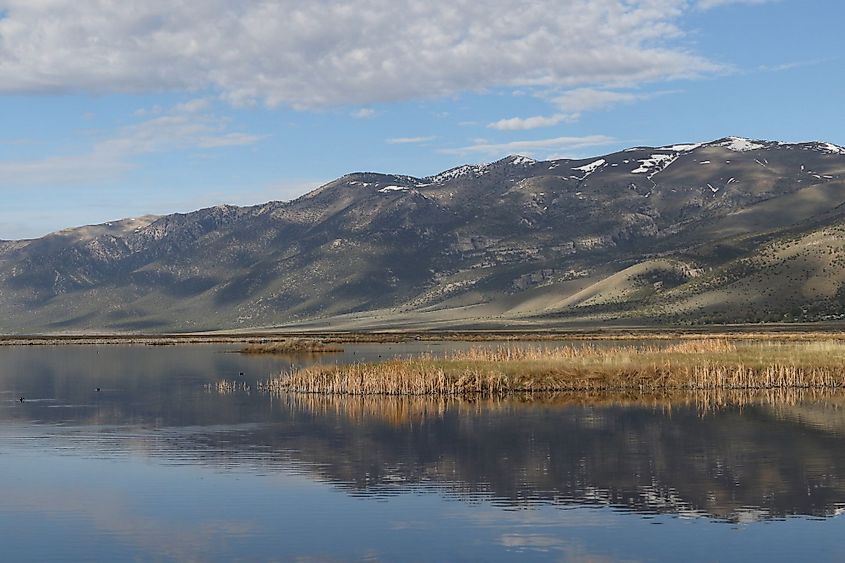 Ruby Lake is situated within Elko County and White Pine County in the northeastern portion of the US State of Nevada. The lake is divided into the North Dike and the South Lake. The historic landmark of the Ruby Fort can be found in the south, along with its plaque as a roadside attraction. Ruby Valley Road traces the entire western edge of Ruby Lake and contains Shantytown, South Ruby Lake Campground, and the Gallagher Fish Hatchery. Boating is popular on Ruby Lake, with two boat launches available at Main Boat Launch on the South Lake and Narciss Boat Landing. Ruby Lake is in a remote location, with the closest cities being Elko which is 65 miles northwest, and West Wendover, about 140 miles northeast.
Geology Around Ruby Lake

Ruby Lake lies in an area where the Ruby Mountains and the Humboldt Mountain Ranges merge. Runoff from springs and streams from both the East Humboldt and the Ruby Mountains serve as a primary flow into the Ruby Valley. At 5,900 ft, the Ruby Valley is among the highest altitude valleys in the entire Great Basin. The lower part of the Ruby Valley is made up of Franklin Lake and Ruby Lake, which are divided by an alluvial ridge. Due to sediment flows from Harrison Pass and waves on Ruby Lake, the ridge has been built up over time. This has also allowed for vegetation such as marshes, grassland, and shrubs to thrive around the 37,632 acres of the Ruby Lake National Wildlife Refuge.
Recreation Of Ruby Lake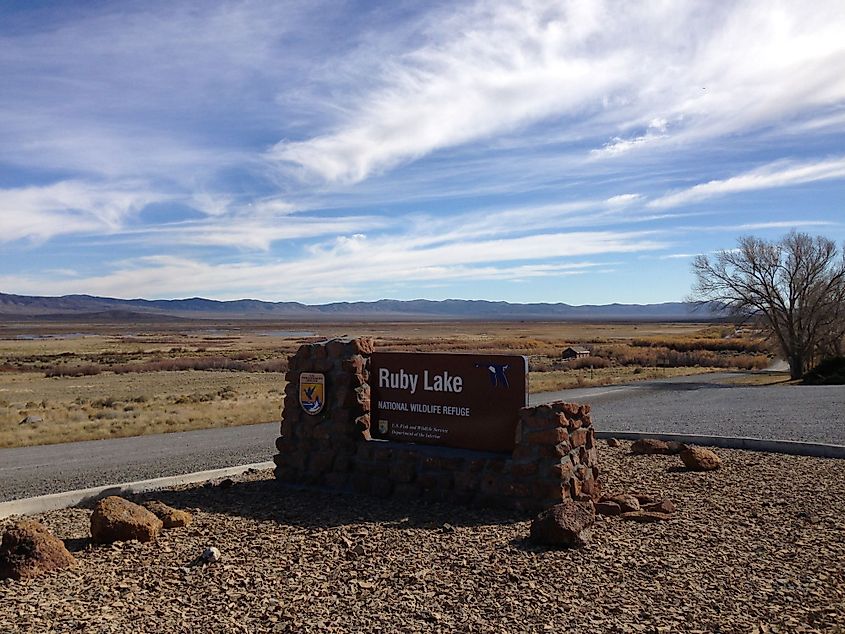 Hunting, fishing, boating, photography, birding, and backpacking are among the most popular activities to partake in Ruby Lake. Due to water levels, boating is only permitted on South Lake. The Ruby Crest Mountain Trail is a short drive from Ruby Lake and offers trekkers a multi-day backpacking experience of over 43 miles. Fishing, trolling, fly-fishing, and shore fishing are all techniques anglers have used successfully for fishing on Ruby Lake. With glistening blue water and bulrush-encrusted shorelines set against mountainous peaks, Ruby Lake is a popular area for nature and outdoor photography.
Wildlife Of Ruby Lake
Each year, 225 different species of migratory birds can be spotted roosting in the Ruby Valley. Among these feathery visitors are trumpeter swans, greater sage grouse, and sandhill cranes. Ruby Lake supports one of the highest canvasback populations west of the Mississippi. The popularity of fishing on Ruby Lake continues to be a significant draw for those visiting the area. The Nevada Department of Wildlife stocks Ruby Lake with thousands of tiger and rainbow trout annually. Other notable species are brown trout, brook trout, and largemouth bass, which can be found hiding in the bulrushes and around islands. On a cautionary note, coyotes are known to frequent the lake and should not be approached if spotted. It should be said, as the Great Western Drought forces birds to discover new refuges, there has been an uptick observed in the bird population in Ruby Lake by the Nevada Department of Wildlife. 
Ruby Lake is a protected wildlife area. Yet, non-native fish species have been discovered in this body of water. For those who wish to visit this natural jewel of the Ruby Mountains, visitors should practice leaving only footsteps behind and taking only memories. Ruby Lake should be at the top of one's bucket list when traveling to northeastern Nevada, offering beautiful visuals that can only be truly appreciated in person.