Situated within Graham County in the US state of North Carolina, Lake Santeetlah is a small town known for its natural beauty. The town is located on a peninsula within the picturesque Lake Santeetlah and the Nantahala National Forest, placing it in a peaceful environment away from fast-paced city life. That being said, while it may be calm, there are still many fun things to do, ranging from fishing to kayaking and more. So, with its 50 or so permanent residents, this town is picturesque, relaxed, and a great place to enjoy nature's beauty.
Geography And Climate Of Lake Santeetlah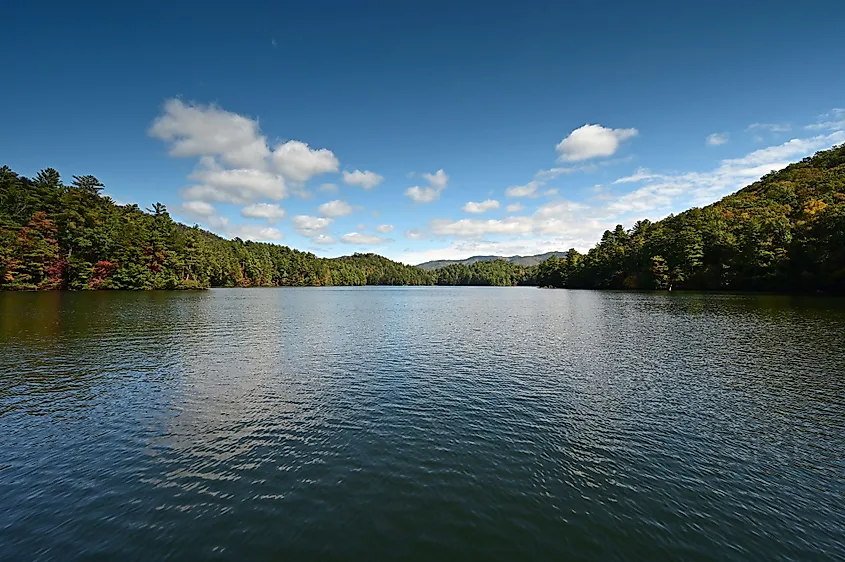 The Town of Lake Santeetlah is quite small as compared to surrounding areas, with a total area of just 0.50 sq. km. This entire area is occupied by land, but while there may not be any water within the town boundaries, it is surrounded on all sides except the northeast by the expansive Lake Santeetlah. Apart from that, this area is further situated within the Nantahala National Forest, due to which the town is primarily filled with lush greenery and abundant coastal space. Surprisingly, Lake Santeetlah has an elevation of 2,000 feet which is much higher than the state average of approximately 700 feet.
Lake Santeetlah has a humid subtropical climate but is surrounded by various oceanic climate zones according to the Koppen Climate Classification. Due to this, the town has mild winters with low-end temperatures reaching -4 °C and warm summers that can see highs of up to 28.9 °C. This allows the lake to remain pleasant year-round with only a few months of extreme temperatures on both ends of the spectrum. When it comes to precipitation, the town gets an average of 61 inches of rain per year. Although, due to the minimal sub-zero temperatures, the town only gets approximately 5 inches of snow per year which is much less than other areas in the United States.
Brief History Of Lake Santeetlah
The town of Lake Santeetlah came to be quite recently due to the entire Graham County being quite mountainous in its terrain, which deterred European settlers from moving into the area. In the late 1800s, people began to move into the nearby areas until finally, the nearby town of Robbinsville was incorporated in 1893. Throughout this time, the area around Lake Santeetlah was sparsely populated, with the only prominent developments being the construction of the Santeetlah Dam in 1928. That being said, development of the area sped up in 1939 when the land was purchased by the US Forest Service and subsequently passed on to Kenneth S. Keyes Sr. in 1947. Keyes was a prominent real estate dealer in Miami, and he created comprehensive plans to develop a hotel complex in the area known as Thunderbird Estates. Sadly, the plans never came to fruition, and Keyes ended up selling the land to a Florida land developer in 1958. This was followed by further sales, during which time an owning corporation known as Smoky Mountain Resorts developed various lodges and cabins in the area, which brought in various homeowners to the Lake Santeetlah area. While the land was beginning to look more like a town, problems were prominent throughout the next 20 years with further ownership sales, water problems, and even a lawsuit between the owning corporation and many of the local residents. Thankfully, by 1989, various factors such as the dismissal of the lawsuit prompted the decision to incorporate the Town of Santeetlah.
The Population And Economy Of Lake Santeetlah
The town of Lake Santeetlah has a population of 38 individuals as per the latest US Census. With the total area being only 0.50 sq. km., this brings the town's population density to approximately 76 individuals per sq. km. When it comes to the race and ethnicity of the population, 100% of the population consists of white individuals. An interesting fact about Lake Santeetlah's population is that the median age is relatively high at 70.3 years old, which is almost double the state average. The median household income of Lake Santeetlah is $66,500, with an employment rate of 12.5%. Apart from this, the average value of a housing unit in the town is $483,3000, which is significantly higher than the value in both Graham County and North Carolina.
Attractions In Lake Santeetlah
Santeetlah Marina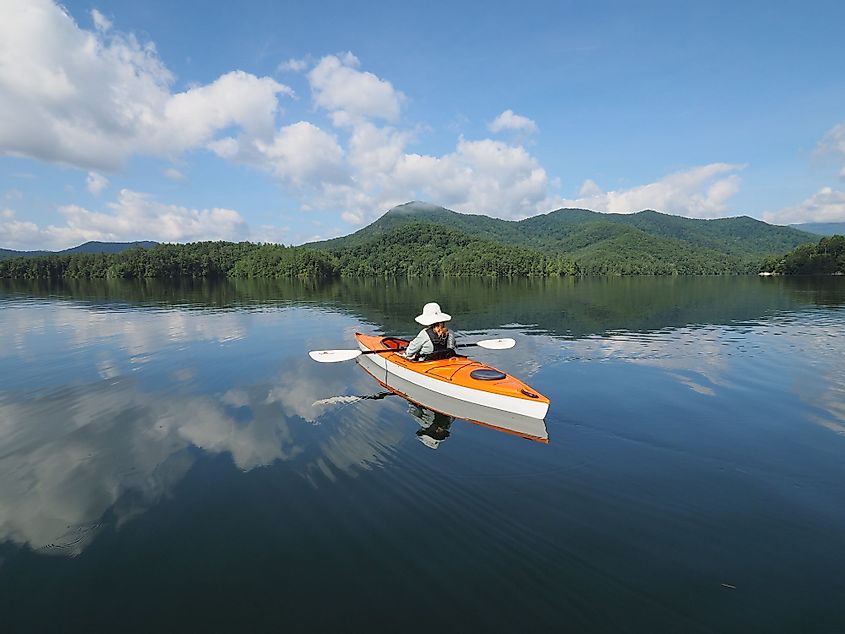 A beautiful marina built near the edge of Lake Santeetlah, the Santeetlah Marina is one of the most well-known spots in the town. It is home to various fun activities such as fishing, boat rides, and more that attract both locals and tourists during the spring and summer months. Most people come here with their own boats or buy rentals to take a leisurely ride and enjoy the beautiful scenery from Lake Santeetlah.
Joyce Kilmer Memorial Forest
Joyce Kilmer Memorial Forest is located near Lake Santeetlah town and is home to some of America's most impressive and ancient trees. With some being more than 400 years old and taller than 100 feet in height, it is truly a place that puts into perspective the natural connection the entire area has. Apart from this, there are also various amenities such as washrooms and picnic tables so you can enjoy a day out here without any worries.
Cheoah Point Recreation Area
For those who love spending their time outdoors, the Cheoah Point Recreation Area is one of Lake Santeetlah's best attractions. The area has loads of things to do, ranging from camping and fishing all the way to boating and picnicking. There are also various RV sites, cabins, and an accessible ranger station to enjoy the beautiful greenery and water with complete safety and security.