Lake Rabun is located in Rabun County, in Georgia, United States. It is a small lake, covering only 3.4 square kilometers of area, but a surprising 40 kilometers of shoreline. It is part of a larger chain of six lakes which lie in the former Tallulah River bed. 
History
Lake Rabun is a constructed, or artificial lake. The main dam, Mathis Dam, was finished in May 1915, with the intention of filling the lake chain. It took ten years until the reservoir was filled, however, due to a delay with the tunnel construction. This tunnel was needed in order to connect the dam to the Tallulah Falls area. Once the lakes were finally filled, the dam had forced some ten million gallons of water into the lake. On average, the water level sits at about 515 meters above sea level. The hydro plan at the dam, known as Terrora Hydroelectric Plant, can generate up to 16,000 kilowatts of energy.
Landscape and Geography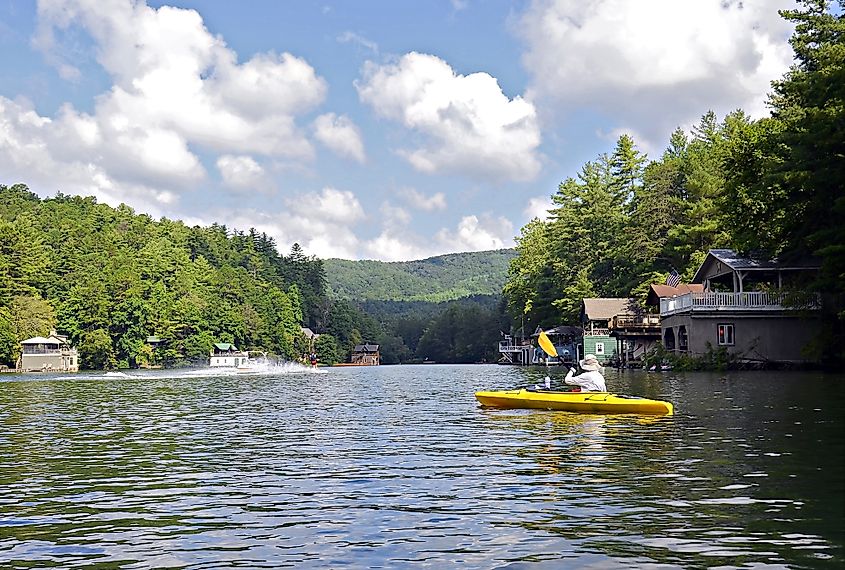 The six lakes that are connected in this area are Lake Burton, Lake Seed, Lake Rabun, Lake Tallulah, Lake Tugalo and finally Lake Yonah. These lakes were constructed and are owned by Georgia Power Company, as they were intended as sources of hydropower. Much of the energy generated by these lakes is fed in the city of Atlanta, and at one point the lakes were the primary producers of electricity for the region.
Living on the Lake
Due to the boom in the hydro industry, as well as the increase in population in the Georgia area, housing along the lake grew. With the lake itself being so small, many wanted to take advantage of the quiet and quaint atmosphere. The Lake Rabun Association in the region works hard to ensure that despite growth, the cute homey feel of the lake is maintained. To continue to inspire this mentality, several community related events take place on the lake each year. On the Fourth of July, Lake Rabun hosts a wooden boat parade. This parade focuses on families and locals decorating their wood boats to promote pride not only for their country but also for their community.
Similarly, the Rabun Ramble Road Race, takes place along the lake's twisting shoreline each year. This 5K and 10K footrace is popular with marathon qualifiers and casual runners alike. Everyone from pros to families come out to participate and raise money for the local community. These events aim not only to fundraise, but also to strengthen the ties of the small town community, especially amidst a growing hydro industry.
Despite being a synthetic lake built for hydro purposes, Lake Rabun is a beautiful area tucked away in the quiet Georgia landscape. Its long winding beaches and calm waters make for an excellent getaway for visitors and holiday-ers. From wooden boats to cocktails cruises and early morning water skiing, this quaint lake town is a great example of lake recreation and small town community.