Covering an area of 590 km2, Lake Izabal is the largest freshwater lake located in the Central American nation of Guatemala. Lake Izabal is situated in the northeastern corner of Guatemala. It is positioned between the Santa Cruz Mountains in the northwest, San Isidro mountain in the southeast, and Minas mountain in the southwest.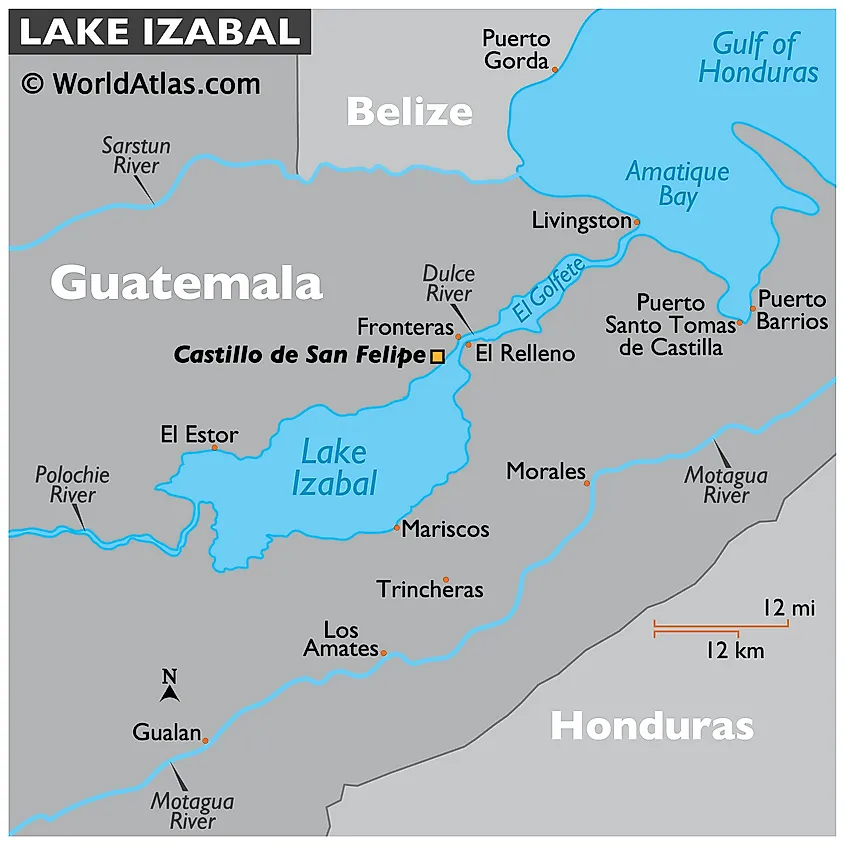 Geography
Lake Izabal measures about 48 km in length. It also has a maximum width of about 24 km and an average maximum depth of only 18 m. The Polochic River empties into Lake Izabal. The waters of the lake drain into the Amatique Bay of the Caribbean Sea via the Dulce River. The lake is situated just 8 m above sea level.
Brief History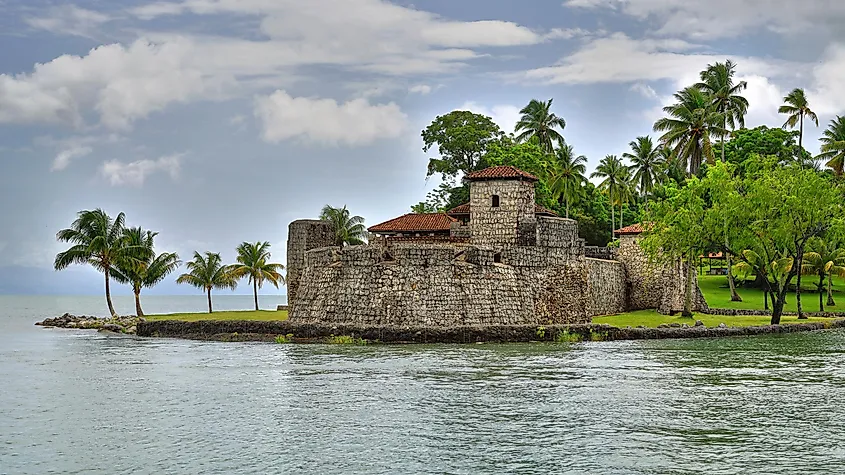 During Spanish colonial times, Lake Izabal was a trade and export location for products from the nearby highlands. In 1652, the Fort of Castillo de San Felipe de Lara was built by Spanish colonialists to protect the lake region from pirate attacks, though the fort itself was looted by pirates several times. The fort was also used as a prison and was rebuilt at least thrice during the 17th century. It was abandoned in the 18th century, and starting in the 1950s, this dilapidated fort was gradually restored and was declared as a National Landmark by the Government of Guatemala in 1956.
Wildlife
Lake Izabal is surrounded by tropical rainforests and hosts a variety of species including numerous types of fish, freshwater sharks, lizards, crocodiles, and hundreds of avian species. Some of the notable fish species that are found here are sawfish, tilapia, catfish, blue-eye cichlid, etc. It has also been found that hydrilla, an aquatic plant, provides nourishment for the fish found in the waters of the lake. The important mammals that are found in Lake Izabal and its surrounding areas include the freshwater sea-manatees, jaguars, spider monkeys, and howler monkeys. The Rio Dulce National Park and the Bocas del Polochic Wildlife Refuge are situated in the areas surrounding the lake.
Human Settlement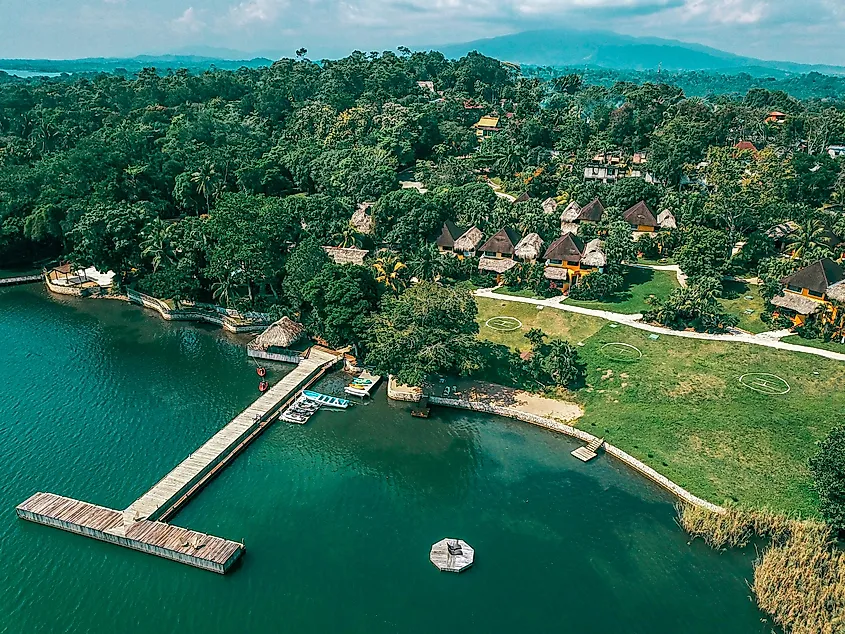 Many important Indigenous communities like the Q'eqchi Mayas reside in the areas surrounding Lake Izabal. The numerous fish that are found in the lake waters provide nutrition for these Indigenous Guatemalans. The mountains that surround Lake Izabal have been mined for nickel and therefore several nickel mines are found in the areas near the lake. Situated near the western edge of the lake is the town of El Estor, which serves as the principal settlement along the lake shores. Eco-tourism is a growing endeavor in the lake region and the lake area serves as a perfect place for various recreational activities like boating, fishing, kayaking, etc.