Formerly referred to as Cascade Reservoir, Lake Cascade is a big reservoir situated within the Boise National Forest in Valley County in the US State of Idaho. The reservoir was created due to the construction of an earthfill dam on the North Fork Payette River in 1948, mainly to provide water for irrigation, generate hydropower, and control floods. Besides serving as an excellent fishing spot, Lake Cascade is a popular place for boaters, water skiers, kayakers, and other water sports enthusiasts. Over the years, Lake Cascade has developed into a well-liked destination for outdoor recreational activities in the Gem State. More than 300,000 outdoor enthusiasts visit the lake annually to enjoy boating, fishing, swimming, hiking, and camping.
Geography Of Lake Cascade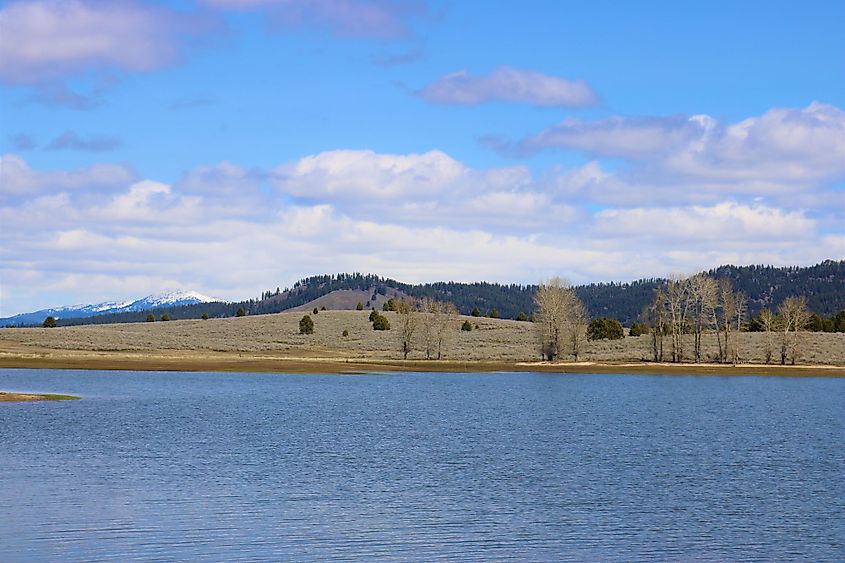 Lake Cascade is Idaho's fourth-largest reservoir covering a surface area of 122 sq. km. The reservoir is 21 miles long, 4.5 miles broad at its widest point, and averages 26.5 feet deep. Four creeks—Mud, Lake Fork, Boulder, and Willow—and two rivers—North Fork Payette and Gold Fork—empty into the reservoir's northern end. Lake Cascade is placed approximately 75 miles north of Boise and adjacent to the cities of McCall, Donnelly, and Cascade. The reservoir has a catchment area of 1,610 sq. km and a total capacity of 854,900,000 cubic meters. 
Climate Of Lake Cascade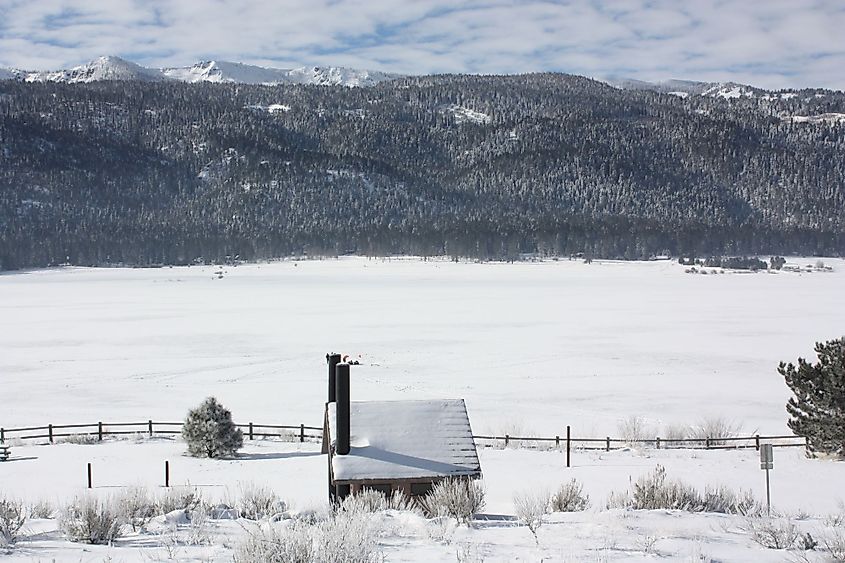 The winters in the Lake Cascade area are chilly, snowy, and partially cloudy, whereas the summers are brief, warm, dry, and generally clear. The average annual temperature is between 13°F and 82°F; it is infrequently below -3°F or over 89°F. From July to August, Lake Cascade is open for swimming. The water temperature of Lake Cascade does not fall below 68°F during these months, making swimming comfortable. In Lake Cascade, the average water temperature varies from 34.2°F in the winter to 46.2°F in the spring, 69.6°F in the summer, and 52.2°F in the fall.
History Of Lake Cascade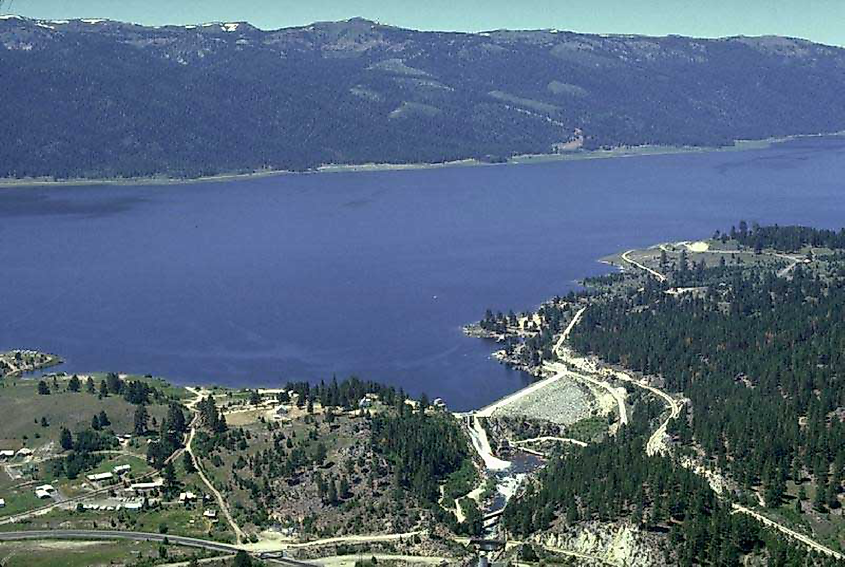 The construction of the 239 m long and 33 m high earthfill Cascade Dam by the U.S. Bureau of Reclamation (USBR) in 1948 led to the creation of the Cascade Reservoir, mainly as a flood control and water storage facility. Local tourist boosters changed the name of Cascade Reservoir to Lake Cascade because they thought it sounded better. The name "Lake Cascade" became widely used in the 1990s, with the federal name change in 1999. 
This reservoir, located in the Payette Division of the US Bureau of Reclamation's Boise Project, provides irrigation water for over 60,000 agricultural acres. A two-unit, 12,800-kilowatt power plant was built at the Cascade Dam by the Idaho Power Company in 1983, with the Federal Energy Regulation Commission's permission to generate hydroelectric power. The reservoir's watershed contains around 65 percent steeply sloped forestland, whereas the area next to the reservoir and its principal tributaries is primarily agricultural (22 percent). Another 13% of the total land area comprises urban and residential regions.
Ecology Of Lake Cascade
Lake Cascade contains several fishes, including smallmouth bass, perch, rainbow trout, coho salmon, and Kokanee salmon, which anglers can catch from the shore or in the water during the summer or through the ice during winter. Various shorebirds use Lake Cascade as a crucial staging region, while waterfowl, colonial waterbirds, and raptors use it as an important nesting location. The adjacent uplands are home to various other wildlife, such as deer, elk, coyotes, foxes, bats, and passerine birds. Since the late 1970s, bald eagles and ospreys have nested here and are regularly observed.
Threats To Lake Cascade
Because of the lake's low water level, high phosphorus concentration, and warm climate in 1993, blue-green algae bloomed here. Phosphorus was discovered to be present at high concentrations in water quality studies, which led to the algal bloom. As indicated by harmful algal blooms, aquatic weeds, and fish deaths, water quality is a constant issue here. The main causes of water pollution are high nutrient inflow and sedimentation due to coastline erosion. According to studies, fish hatcheries and wastewater treatment facilities account for around 10% of the watershed's phosphorus loading. An estimated 84% of nonpoint source contamination came from forests, agriculture, and urban areas, with the remaining 6% coming from malfunctioning or failing septic tanks.
Recreational Activities At Lake Cascade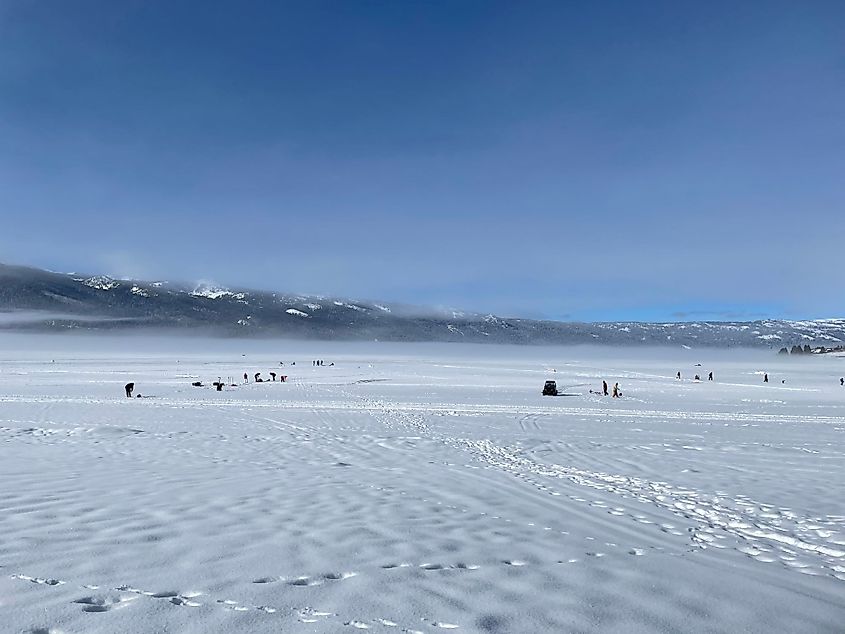 Excellent outdoor activities are available at Lake Cascade State Park, including numerous camping sites, hiking, biking, fishing, playgrounds, and horseshoe pits. Boat rentals, water skiing, wakeboarding, kayaking, fishing, lake excursions, and wine cruises are some of the recreational activities offered here. Ice fishing and cross-country skiing are both wintertime attractions. Around Lake Cascade, there are also 32 undeveloped campsites, 83 serviced campsites, and 164 standard campsites. Overall, Lake Cascade is a magnificent location to engage in various outdoor pursuits, and one can create many priceless memories during a vacation at this beautiful lake.