Located in the southwest corner of Alaska, Iliamna Lake is surrounded by tiny villages, small lakes, rivers, and creeks. Iliamna Lake, named by the local indigenous tribe, Tanaina, covers an astonishing 1,000 square miles. It has an average depth of 144 feet, with the deepest section reaching depths of over 900 feet. 
This remote landscape is accessible only by air. It is possible to take a short 45-minute flight directly from Anchorage, Alaska, to the village of Iliamna. The town of Iliamna houses 55 residents. The population has fallen by 50% over the past 12 years. Other municipalities, such as Pedro Bay, Kokhanok, Igiugig, and Newhalen, are the only townships that border Iliamna Lake. The local economies depend on sport-hunting and fishing excursions and are home to some of the most beautiful lodges in the country. Igiugig is the only village with no local airport, and crossing the vast lake is the only access to the outside world for this community.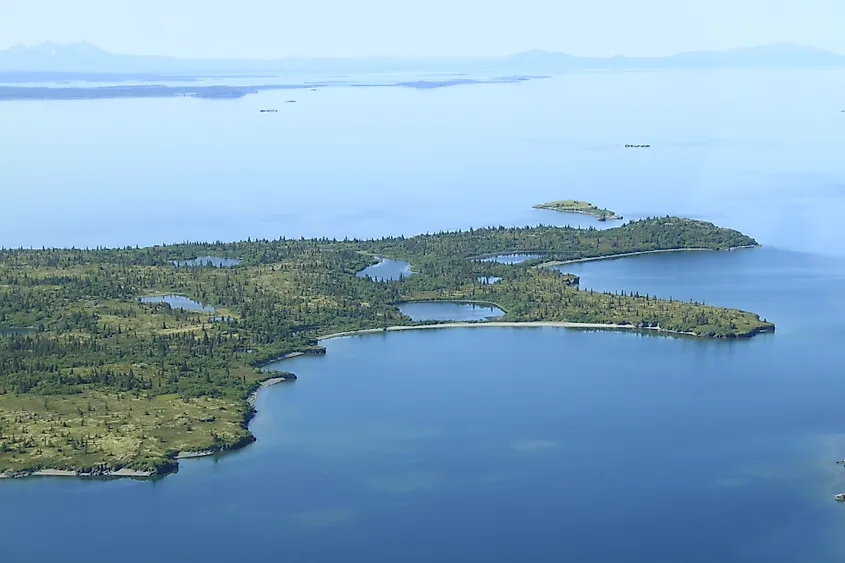 Ecology Of Iliamna Lake
Roughly 60 miles southeast of Lake Iliamna is Bristol Bay. This massive salt-watered bay is home to around 30 million sockeye salmon. During the summer, the sockeye salmon run up the Kvichak River and spawn in the freshwater of Lake Iliamna. This is said to be one of the largest sockeye salmon runs in the world. Once their eggs hatch, these beautiful salmon will spend 1 to 3 years in the lake before migrating back to the ocean. Chinook and Coho Salmon also spawn in these waters with the Sockeyes. 
Dolly Varden, Lake, and Rainbow Trout are also found in abundance in the lakes, making it a famous fishing destination. The Iliamna Lake also harbors freshwater seals, the only such seal population found in all 50 states. With the decreasing population of aquatic fauna in the lake, many animal activist groups across the country are coming together to protect these species and the delicate ecosystems from further harm.
The Iliamna Lake Monster
Iliamna Lake is also associated with a mythical creature. According to legends, an enigmatic creature lurks in the lake's cold waters called the Iliamna Lake Monster. Some call it Illie, but local tribes may use the words Gonakadet or Jigiknak. It is reportedly 10- to 30-foot-long with a cube-shaped head to club fishing boats that steer too close to it. It is also believed to have a wolf-like tail and the body of an orca whale. In the 1970s, a local news company offered a $100,000 reward to any risk-takers that would be able to show proof that this lake monster was in fact, real.