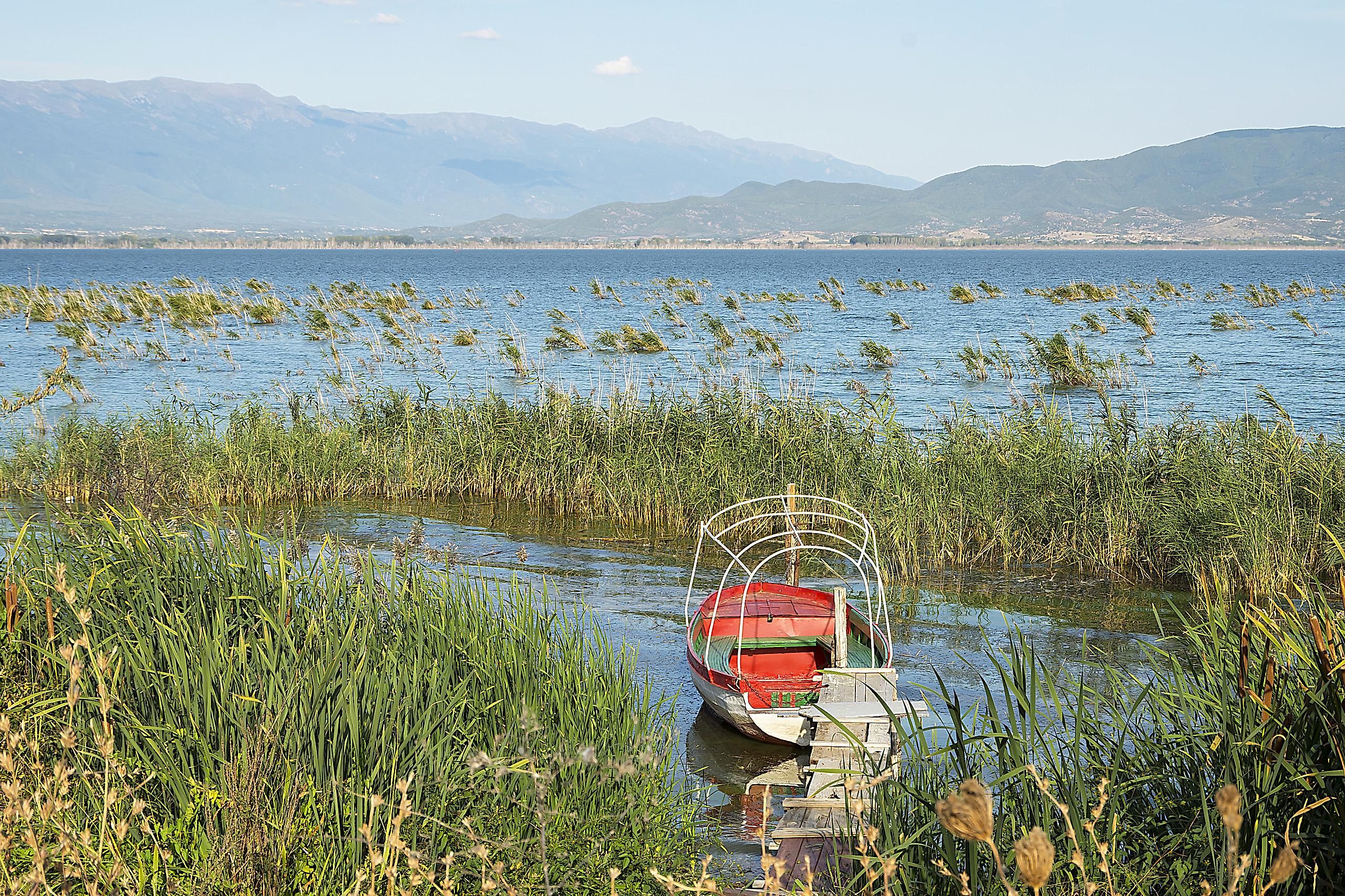 Lake Doiran, also known as "Dojran Lake," is a beautiful lake resting along the North Macedonia-Greece border. With a total area of more than 40 sq. km., the tectonic lake supports diverse species. The lake is also known for its historical importance, as it witnessed many battles of World War I along its shores. Hence, the lake is an important tourist destination, attracting many visitors to explore its history, wildlife, and scenic beauty.
Location And Size Of Lake Doiran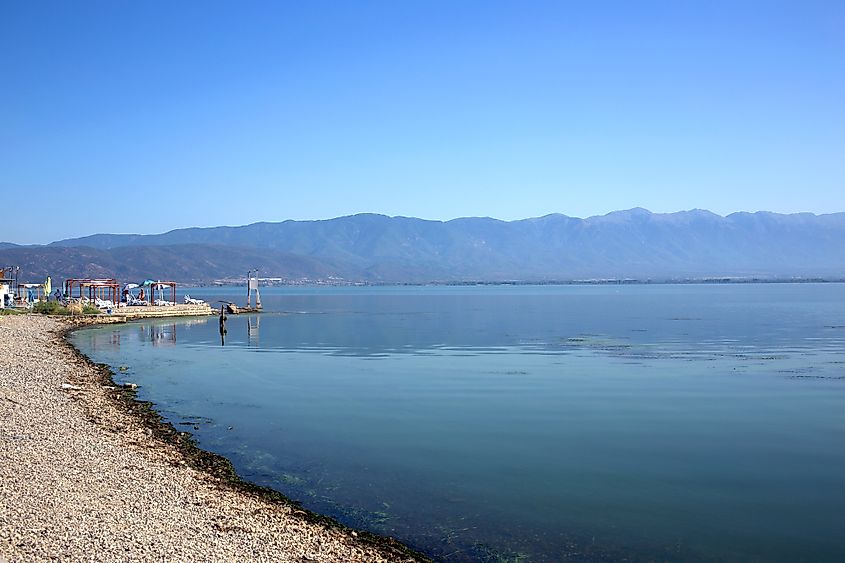 Lake Doiran lies between the Macedonian city of Star Dorjan in the west and Greek Miriofito in the east. It has a rounded shape with a maximum length and width of 5.5 miles (8.9 km) and 4.4 miles (7.1 km), respectively, which is split longitudinally by the countries' borders. Apart from this, Lake Doiran has many beaches and natural areas, like the Nikolich Beach. In terms of its total area, the lake covers a notable 16.6 mi2 (43.1 sq. km), which makes it the third-largest lake partially in North Macedonia. Of this, 63% lies in North Macedonia, while 37% is within Greece's borders. While the lake impresses on the surface, it does not have the same effect underwater. With a maximum depth of only 33 feet (10 m), it is Macedonia's most shallow tectonic lake.
Climate Of Lake Doiran Area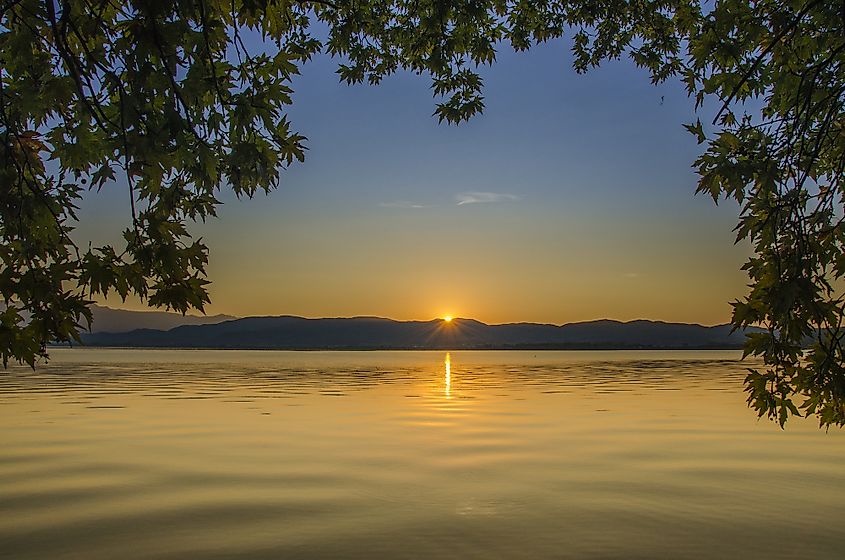 Lake Doiran is located in a hot summer Mediterranean climate zone (Csa) based on the Koppen Climate Classification. This zone spans most of central-east Macedonia as well as parts of northeastern Greece. It indicates a hot and dry summer season, while winters are mild with moderate precipitation. To this end, the median temperature at Lake Doiran ranges from a high of 25°C (77°F) in July to a low of 3°C (37°F) in January. The lake gets quite hot in the summer, with daily highs above 27°C (81°F) from June to September. But in winter, it's much colder, sometimes hitting sub-zero temperatures during the 3.5-month season. So, if you plan on visiting the lake, April to September are the best months with warm weather to enjoy. During these months, water temperatures are also quite pleasant, ranging from 20-27°C (68-81°F) for a warm swim. In terms of precipitation, Lake Doiran gets about 165.5 mm (6.5 in) of rainfall per year. This is mostly in June, which gets 20 mm (0.8 in) of rain on average.
Formation And History Of Lake Doiran
Lake Doiran not only looks beautiful but also has a rich history and intriguing stories. Once part of the much larger Lake Paionia, the lake was formed by strong seismic activity hundreds of millions of years ago. Gradually, Lake Doiran reduced in size until we got the 16.6 sq. mi (43.1 sq. km) seen today. But, there are also local legends that tell a different story about how Lake Dojran formed.
One of the most popular tales linked to the lake is the local legend of Dojrana and Labin. According to the legend, a lush meadow with a raised water well was located where we have the present-day Lake Dojran. This well provided water to nearby settlements and was locked with nine locks. One day, a beautiful girl named Dojrana went to collect water with her boyfriend, Labin. Busy in each other's caress, Dojrana forgot to close the ninth lock, causing the well to overflow. As water poured out, it filled the entire valley, subsequently creating Dojran Lake.
While its formation is one thing, millions of years since then, the lake was also the site of a famous World War 1 battle. The Battle of Doiran involved several fights between British and Greek troops and Bulgarian positions near Doiran Lake. These battles lasted from 1916 to 1918, and Lake Doiran was a strong part of the Macedonian front's second line. After the attacks, a monument and cemeteries were built to honor the brave troops who passed away.
Flora And Fauna Of Lake Doiran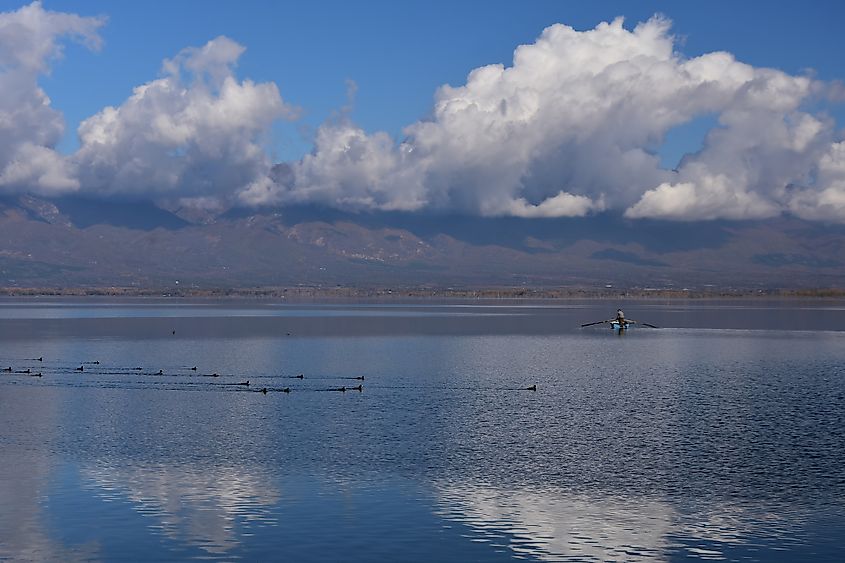 Surrounded by ecologically rich wetlands in Southeastern Europe, Lake Doiran boasts an abundance of flora and fauna. Both the lake's water and its coast teem with an array of trees, flowers, bushes, and plants. Eurasian watermilfoil (Myriophyllum spicatum) and Clasping leaf pondweed (Potamogeton perfoliatusta) are two of the most common species that can survive immersed in water. Along the coast, you can find White willows, White poplars, and many rush species together. Thus, vibrant and thick foliage is present around the lake's boundaries.
Bolstered by the foliage and constant supply of water, Lake Doiran is also a hotspot for wildlife in the region. BirdLife International has designated it as an Important Bird Area because of its global significance for bird conservation. Specifically, Lake Doiran supports large groups of Ferruginous ducks, Dalmatian pelicans, and Pygmy cormorants, among other avians. Coming down from the sky, the lake's waters are home to approximately 15 species of fish, including the Eurasian Carp (Cyprinus carpio) and Amur bitterling (Rhodeus sericeus). Add on the array of frogs, snakes, and mammals using the lake for water, and you get a diverse ecosystem full of life.
Protection Of Lake Doiran
In the late 1980s and early 1990s, Lake Doiran's water levels saw a constant and dangerous drop. An increase in water usage for agricultural purposes led to more and more water being drained from the lake. Combined with a drop in underground water sources at the time, it was impossible to maintain the water. Lake Doiran lost between 2-3 meters of average depth due to this negligence. Thankfully, in recent years, Macedonia and Greece have taken extreme measures to replenish the lake's former glory. With steps such as constant examination, visitor management, and managing agricultural usage, Lake Doiran has been restored quickly.
Dating back millions of years, Lake Doiran is an unassuming yet astonishing body of water. Split amongst two European countries, the quaint lake is a hotspot for history and ecology. Whether this is the immense battles that took place or the beautiful flowers lining the coast, the surprises are endless. So, if you're looking for a tranquil place to visit in Southeastern Europe, why not plan a trip to Lake Doiran?