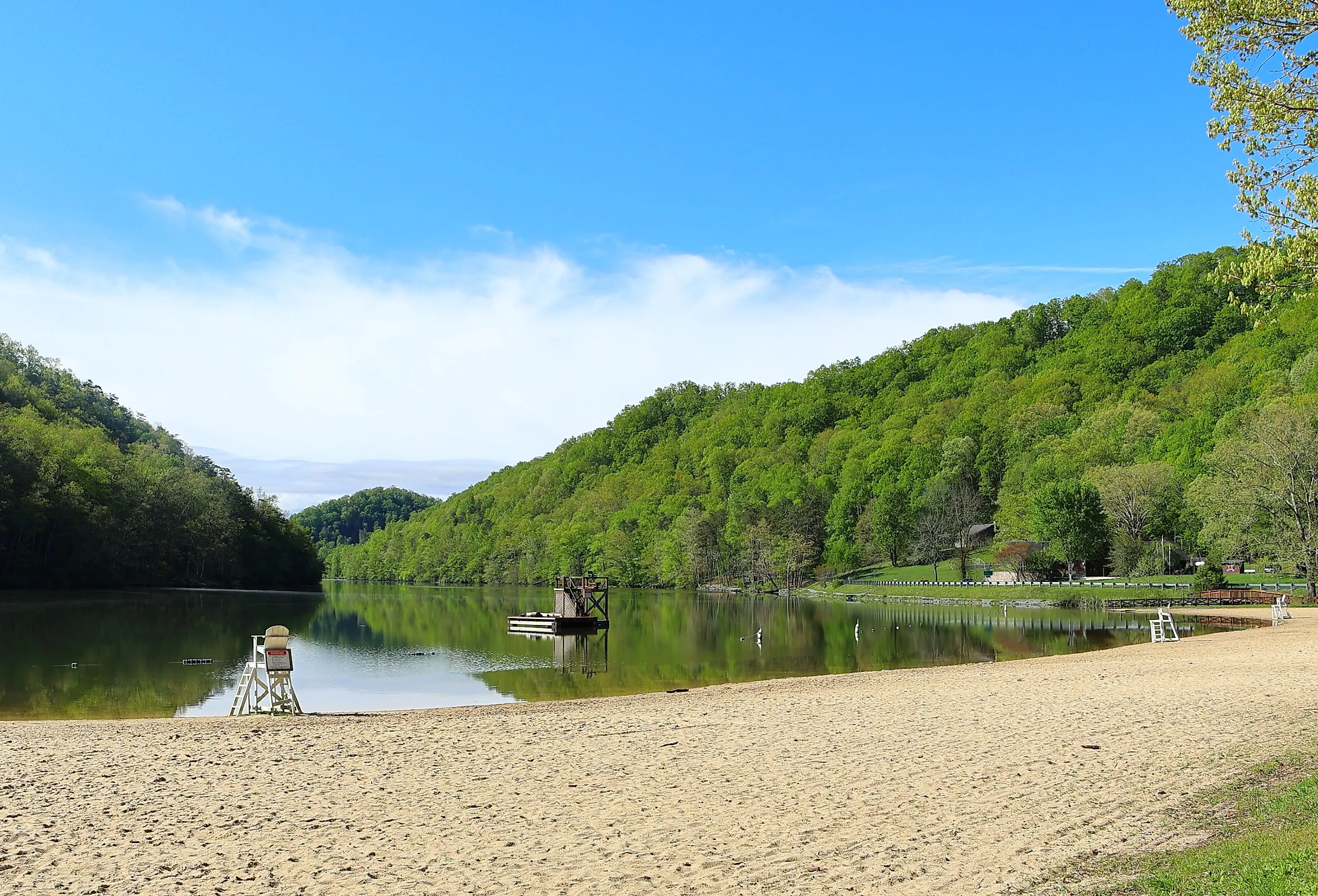 7 Most Beautiful Lakes In Virginia
Nestled on the eastern seaboard of the United States, Virginia offers travelers stunning natural landscapes, a rich history, charming cities and towns, and genuinely breathtaking lakes. In Virginia, the beauty of nature is on full display, with many exciting activities to occupy your time. You can hike the Blue Ridge Mountains or the Appalachian Trail, kayak with dolphins on the Atlantic Coast, and even camp with wild ponies. As you explore this state, you will also discover many stunning lakes. Whether natural or man-made, Virginia's lakes change with each season, revealing their beauty all over again from spring to winter. These tranquil bodies of water offer respite from city life, each with its own charm and beauty. Virginia's lakes have it all, whether you are seeking a relaxing landscape, thrilling water sports, great fishing, or a leisurely lakeside stroll. So pack your swimsuit and head to Virginia to explore these magical lakes.
Smith Mountain Lake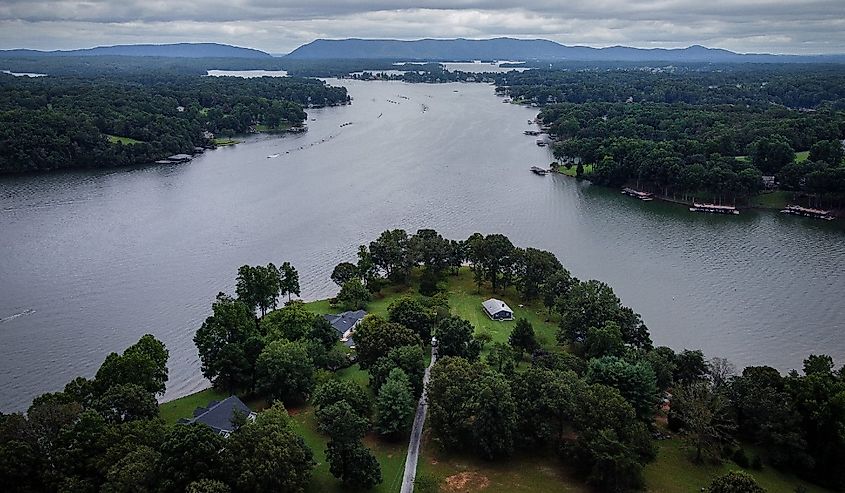 Located in the southwestern part of Virginia, Smith Mountain Lake stretches across three counties and covers an impressive 20,600 acres. Smith Mountain Lake is a manmade reservoir near Roanoke, Virginia. The reservoir was created in 1963 and has been delighting visitors ever since. With 500 miles of shoreline and stunning views of the Appalachian Mountains, Smith Mountain Lake is an excellent spot for fishing, water sports, and boating. It has also been voted one of the best places in the United States to invest in a second home. As the largest lake entirely contained within the Commonwealth of Virginia, it is no wonder this lake is one of the state's most beautiful.
Germantown Lake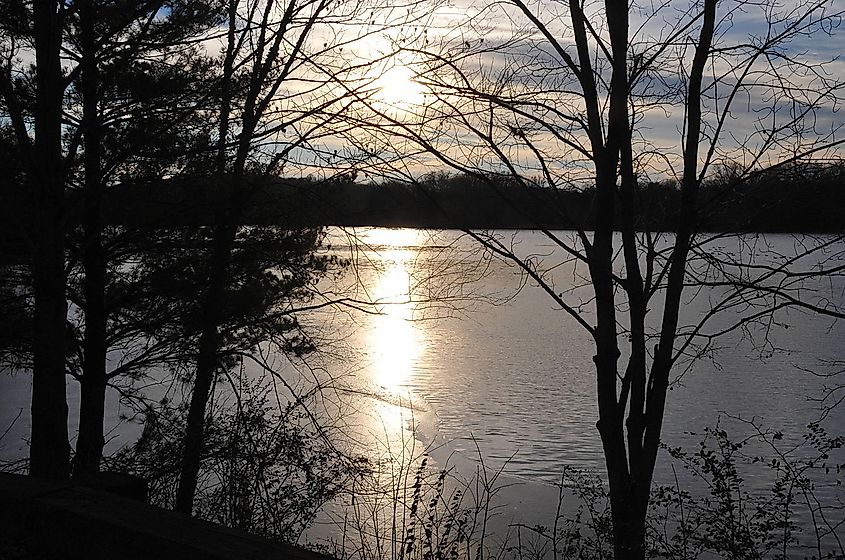 In Fauquier County, Virginia, lies Germantown Lake, one of the state's most beautiful and serene lakes. The lake has a prerevolutionary German history dating back to 1718 when 12 German emigrant families settled in the area and named the new rural community Germantown, along with the lake. Known for its beautiful forest scenery and excellent bass fishing, Germantown Lake offers outdoor enthusiasts a lakeside park called CM Crockett Park on its entire right bank. Visitors can enjoy a variety of activities such as renting boats, playing sports like volleyball, riding horses, hiking, and cycling or jogging on the cross-country trail.
Lake Accotink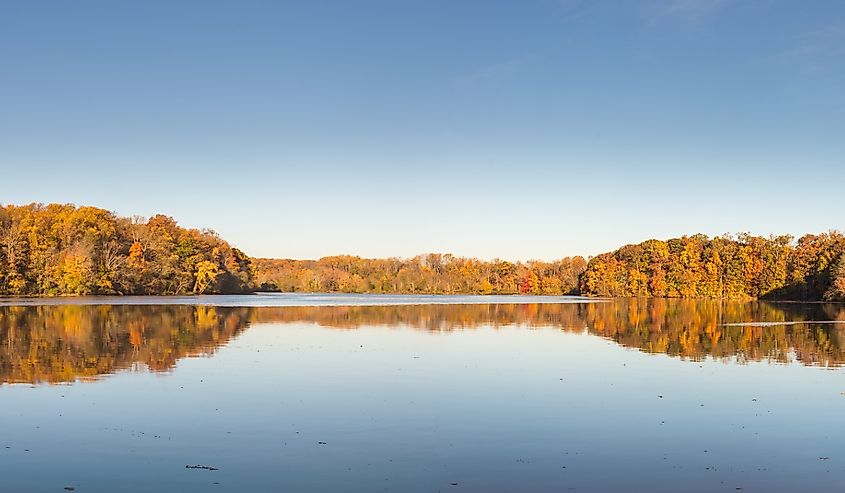 Northwest of Springfield, Virginia, lies Lake Accotink and Lake Accotink Park, a true hidden gem just minutes away from the hustle and bustle of city life. Lake Accotink is a manmade reservoir created by the army in the early 20th century. Eventually, the lake and its surrounding land were acquired by Fairfax County and turned into the little slice of heaven you can visit today. The surrounding park, along with the lake, has become a recreational hotspot for locals and visitors alike. There are numerous activities available, including biking and hiking trails, mini-golf, kayaking, and boat rentals during the summer months. The park also features a restored vintage carousel that is sure to delight the little ones. There are picnic benches and grills available for a great spot to celebrate any occasion. With Lake Accotink as a beautiful backdrop, there are countless photo opportunities to be had.
Claytor Lake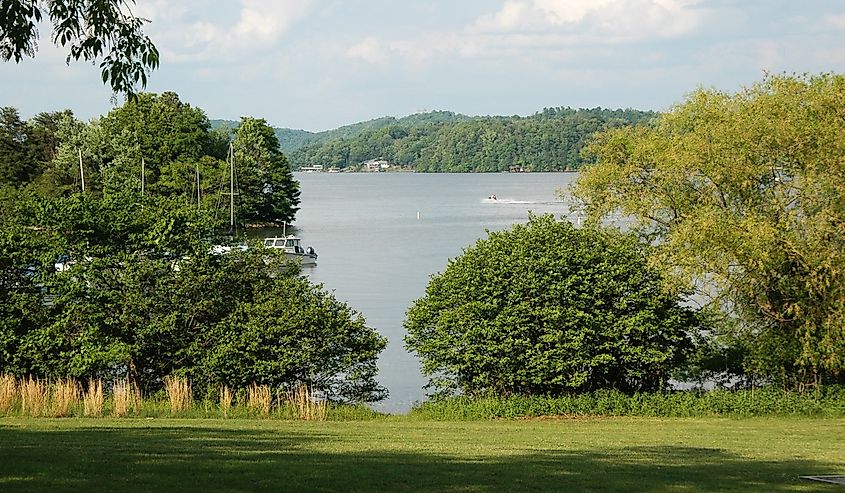 Just a 10-minute drive from Radford, Virginia, lies the beautiful Claytor Lake. The lake is a 4,500-acre man-made reservoir with a 21-mile-long shoreline. Surrounded by rolling hills and a lush forested shoreline, Claytor Lake is a fantastic fishing destination. Anglers will find sunfish, catfish, and three varieties of bass. Claytor Lake hosts catch-and-release bass fishing tournaments. The lake neighbors Claytor Lake State Park, offering sandy beaches, hiking trails, biking trails, boat rentals, and even yurts for rent. The marina features a meeting facility and a white wooden gazebo for special occasions, making it the perfect location for a lakeside wedding ceremony.
Lake Chesdin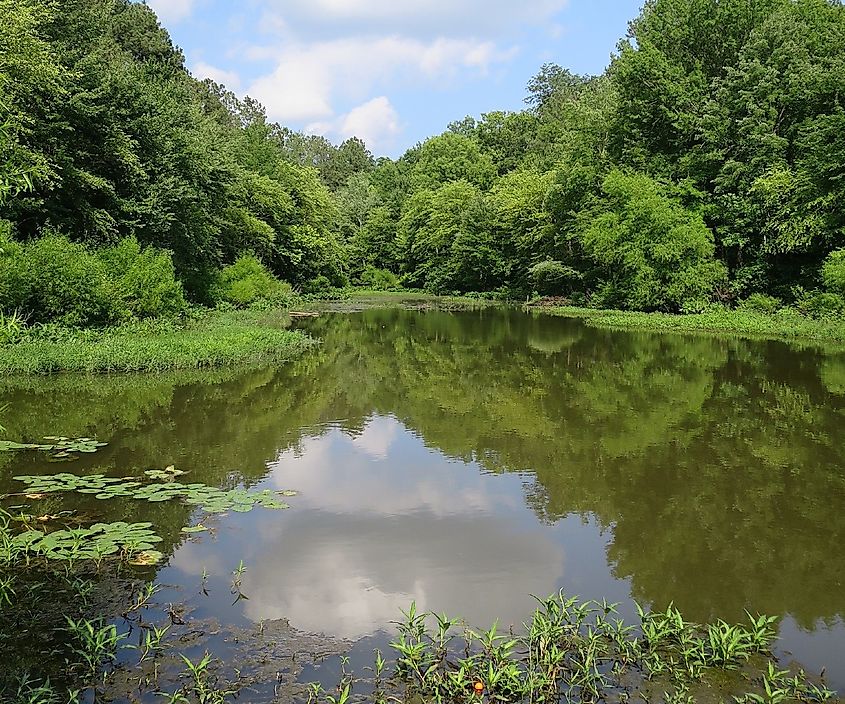 Located in east-central Virginia, Lake Chesdin is a 3,100-acre reservoir that stretches across Chesterfield, Dinwiddie, and Prince Amelia counties. The reservoir provides water and power to the area and is a terrific fishing spot. It features a public boat ramp and handicap accessibility for an inclusive fishing experience. Largemouth bass, black and white crappie, and catfish can be found in the reservoir. Lake Chesdin also offers the opportunity to spot impressive wildlife, including bald eagles, ospreys, and great blue herons. Located a short 40-minute drive from Richmond, you can easily explore the lake as a day trip from the city.
Hungry Mother Lake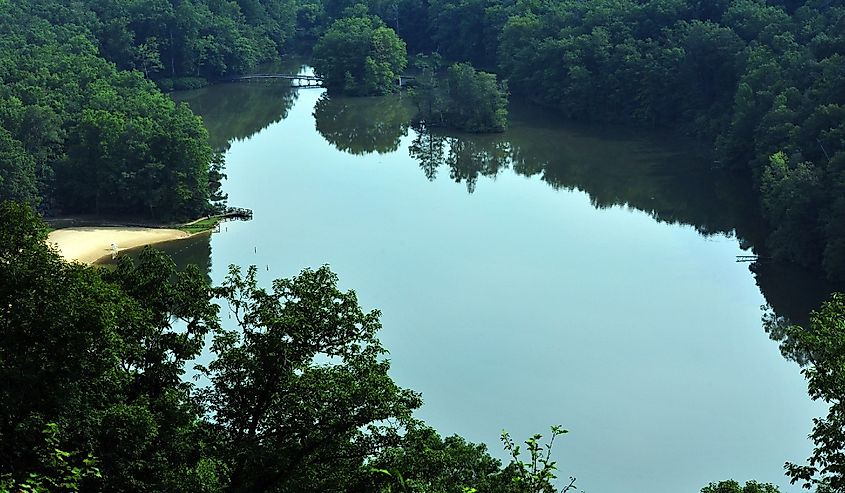 Located within Hungry Mother State Park, Hungry Mother Lake is one of Virginia's most peaceful and serene lakes. With the Appalachian Mountains as a backdrop, hiking around the lake, especially in the fall to admire the foliage, is one of the most popular outdoor activities for visitors. The lake offers beautiful views for any nature lover, but what makes it unique is its name. Legend has it that after a raid by Native Americans, only a child and their mother, Molly Marley, survived. After some time, Molly collapsed from hunger. Eventually, the child and unconscious mother were found by a search party. The only words the child could say were "hungry mother." Unfortunately, it was too late for Molly, who inspired this stunning lake's sad name. Despite its history, the lake and surrounding park are well worth a visit in the fall or during any other time of year.
Philpott Lake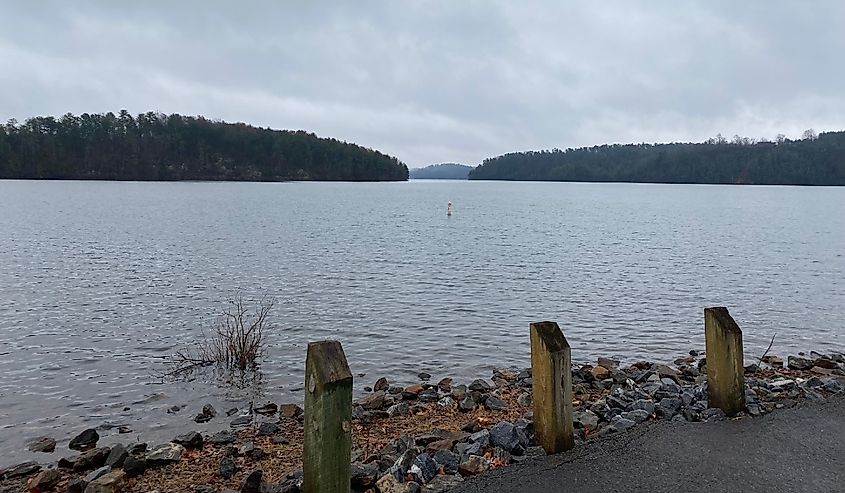 A visit to Philpott Lake in Virginia is a wonderful way to connect with nature. In 1952, the Philpott Dam was created in the Smith River to control flooding and provide hydroelectric power to the area. Surrounding the lake are lush forests with views of the Blue Ridge Mountains in the distance. With 100 miles of undeveloped shoreline, there are ample opportunities to immerse yourself in nature at Philpott Lake. Visitors will find waterfalls, hiking trails, several campsites, and Deer Island, an island only accessible by water. Those looking to truly disconnect might consider camping on the island. With its six manmade beaches, Philpott Lake is a wonderful summer destination for the entire family.
Virginia's lakes, whether natural or man-made, give visitors a chance to relax and unwind. From hiking to cycling to boating to fishing and swimming, the beautiful lakes in Virginia are definitely worth a visit. These tranquil bodies of water offer a refuge from the hustle and bustle of city life and invite visitors to unwind on their serene banks. Set up a tent in one of the many state parks and enjoy the stunning Appalachian scenery with a lakeside view.