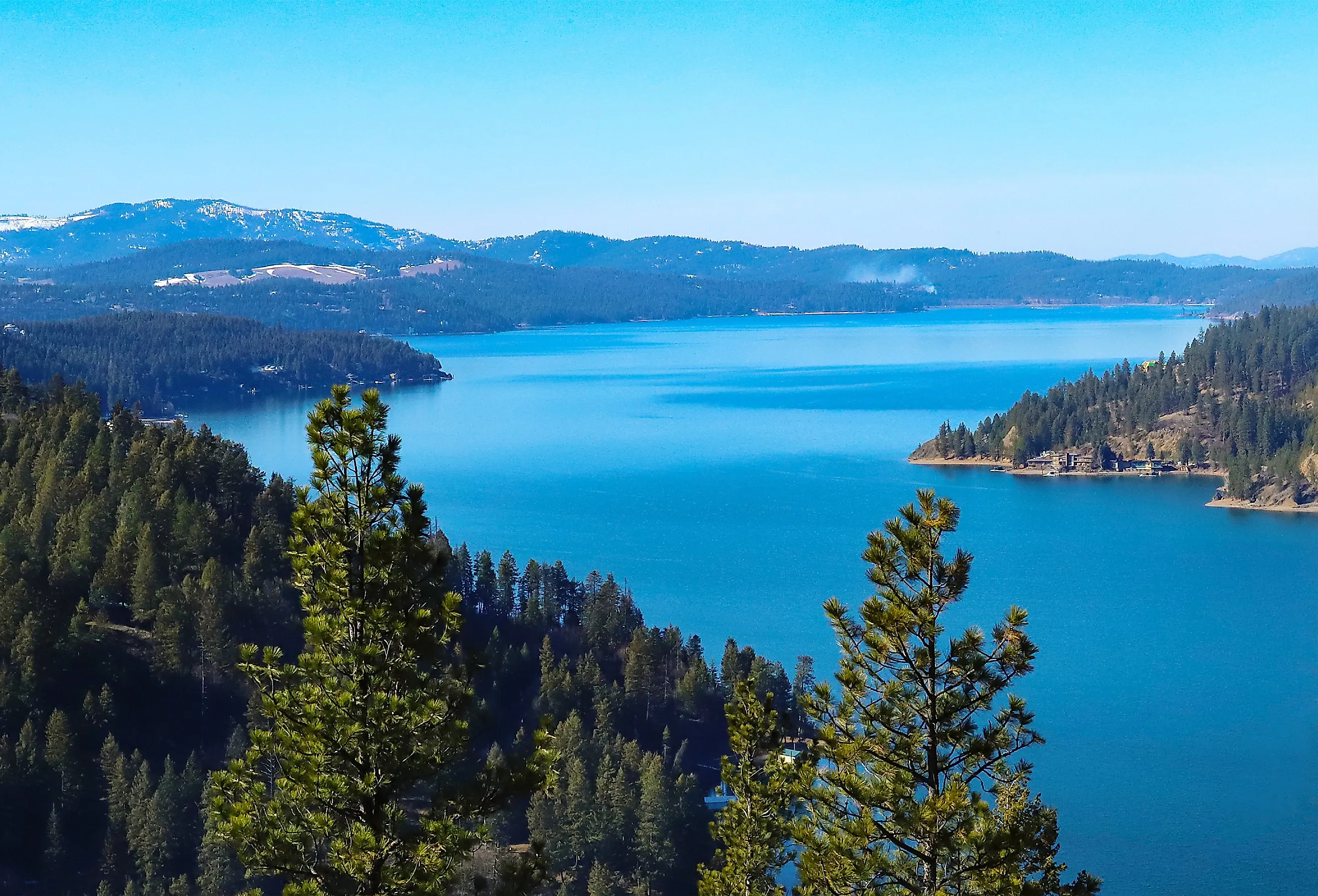 11 Most Beautiful Lakes In Idaho
Idaho is a scenic state located along the Canada-United States border in Western America. Known for its beautiful natural scenery, the state encompasses a variety of landscapes and wildlife. Included in this scenery is an astonishing 2,000+ named lakes as well as thousands of other bodies of water. To this end, there are a plethora of enthralling lakes offering unique scenery and amazing activities. These lakes in Idaho stand out with both locals and tourists for their stunning appeal.
Lake Pend Oreille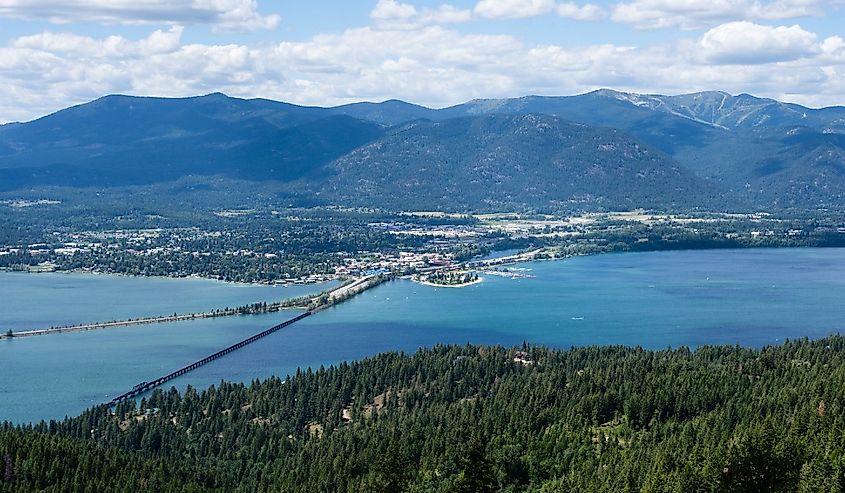 Lake Pend Oreille is the largest lake in Idaho, covering an immense surface area of 148 square miles, making it the 38th largest lake in the United States. Along with the lake's area, it is also the fifth deepest in America, reaching depths of up to 1,150 feet at some points. With such a massive presence, Lake Pend Oreille offers a beautiful environment in northern Idaho. Surrounded by national forests and mountainous terrain, the lake produces an enclave of water within nature. Moreover, Lake Pend Oreille sustains many amazing animal species, such as grizzly bears, moose, elk, and mountain goats, making it ideal for wildlife watching. So, when it comes to presence and sheer size, few lakes can match Lake Pend Oreille.
Alturas Lake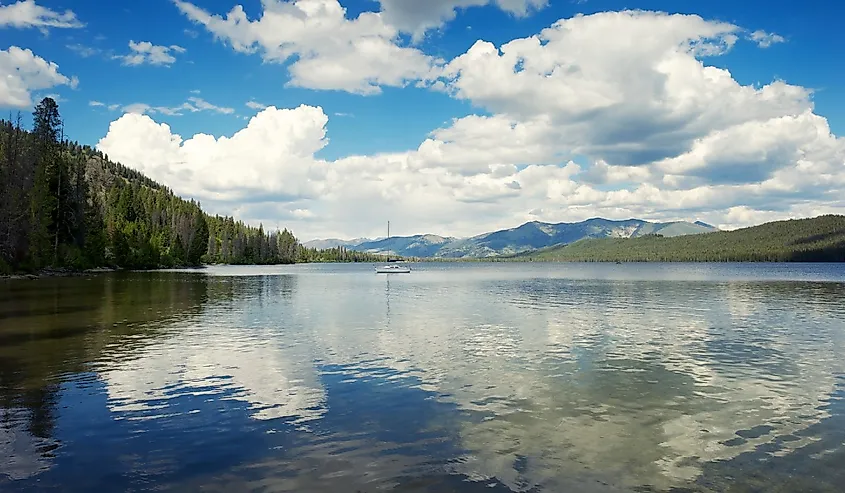 Alturas Lake is a serene body of water nestled within the Sawtooth National Recreational Area in Blaine County. The lake provides a getaway from the urban lifestyle, with many campgrounds set up along its coast. So, you can take in the clear waters and enjoy boating while relaxing in a camp nearby. If boating is not your thing, you can spend the day fishing or walking along the northern side of Altuas Lake, which provides panoramic views of the surrounding forests. All in all, this quaint lake offers amazing scenery and activities perfect for anyone who enjoy nature.
Lake Coeur d'Alene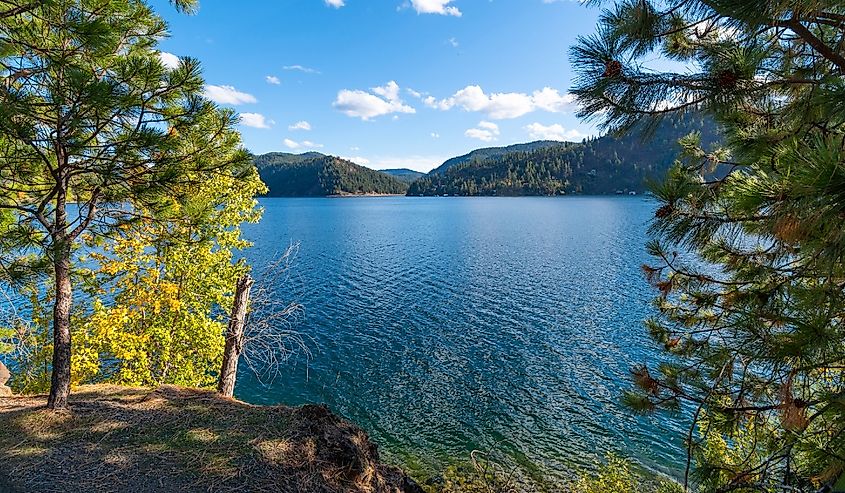 No matter when you visit, Lake Coeur d'Alene is always one of the prettiest spots in the state! This amazing lake sits in North Idaho with a surface area of 50 square miles. This is bolstered by the two primary tributaries, which provide Lake Coeur d'Alene with a constant flow of crystal-clear water. In terms of recreation, the lake has recently become very popular for its stunning views and amazing beaches. You can spend the day resting along the beach and watch animals, such as bald eagles, bluegill, and salmon, in their natural habitat. There are also many trails set up along the northern shore, which provide lovely surroundings of both forests and the lake.
Priest Lake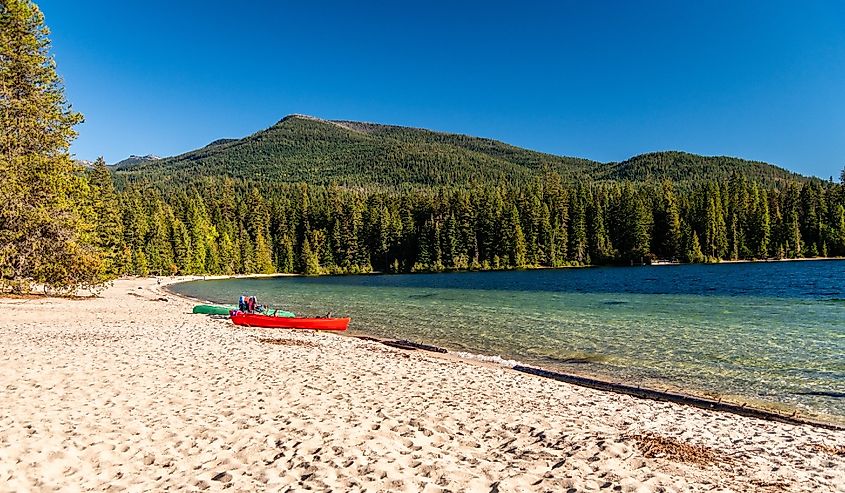 With an area of 40 square miles, Priest Lake is a stunning glacial lake in Idaho. Nestled within the Idaho Panhandle area, Priest Lake is encompassed by endless forests and mountains, which give it a beautiful panoramic view. Apart from this, Priest Lake is also known for its interesting history. The lake dates back 10,000 years, having been formed during the last ice age. Since then, it has been pivotal for many local tribes and communities. Today, Priest Lake is a beautiful attraction that supports the region's tourism. With thousands of tourists coming for skiing, hiking, camping, and other activities, it is a must-visit in Idaho.
Yellow Belly Lake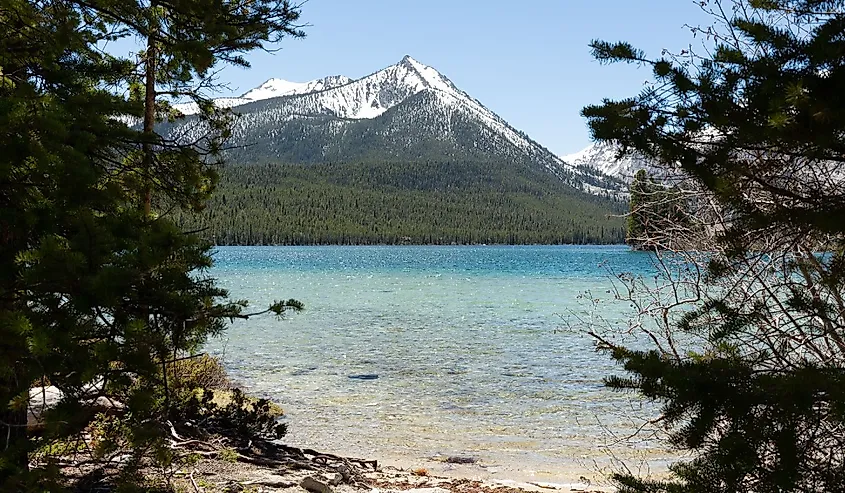 Often touted as one of the most remote lakes in Idaho, Yellow Belly Lake is another beautiful option in the state. This alpine lake sits at a surface elevation of more than 7,000 feet within the Sawtooth National Recreation Area. Due to this, there are no roads that can reach the lake directly, so most people opt to hike here. Thankfully, once you do get past the 5-mile hike, this secluded lake offers one of the most relaxing experiences in Idaho. With blue waters, a tree-lined shore, and loads of wildlife, you can spend an entire day taking in the view.
Stanley Lake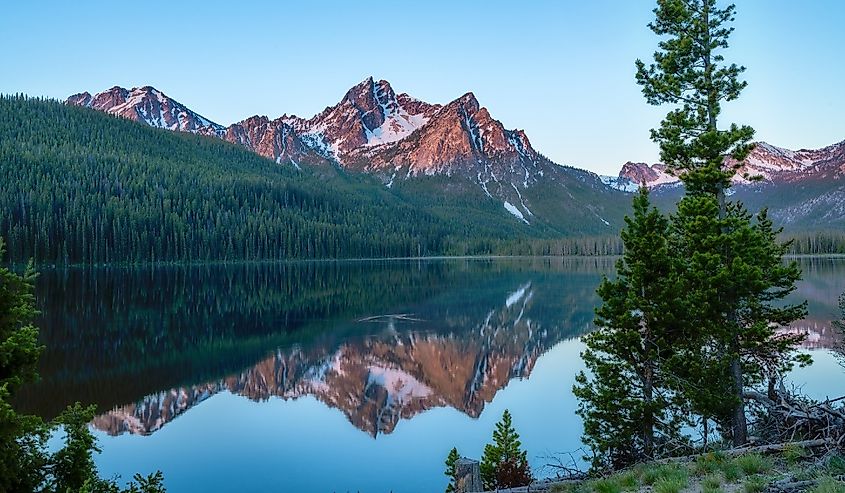 Stanley Lake is another stunning lake located in the Sawtooth National Recreational Area. This lake is average in size, with a length of 1 mile and a width of 0.5 miles. It is great for camping and has three campgrounds developed along the coast. Apart from this, the lake offers recreational opportunities such as hiking, boating, and wildlife watching. However, what makes Stanley Lake special is the nearby McGowan Peak. This 9,860 feet tall mountain covers one side of the lake, providing a unique and stunning backdrop.
Lake Cascade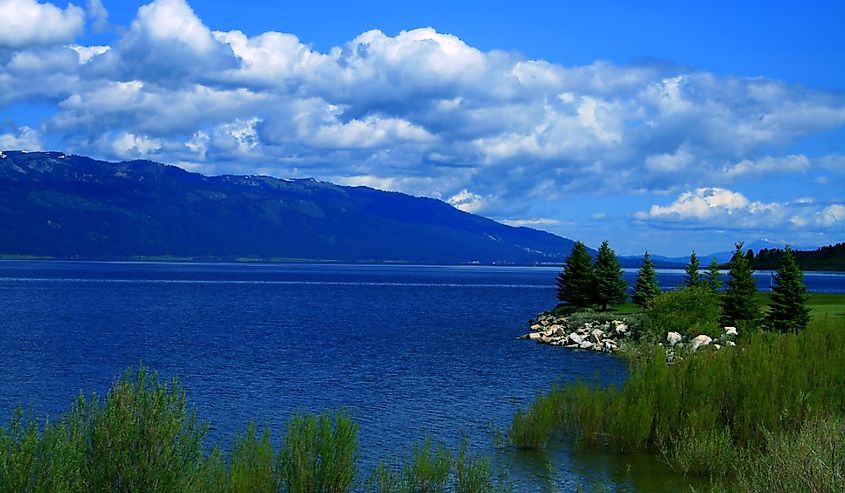 Unlike many other lakes in Idaho, formed during the Ice Age, Lake Cascade is a reservoir formed by the Cascade Dam. Located in Boise National Forest, this lake is the fourth largest in the state, with an area of 47 square miles. Testament to this, it makes a large impact on the local environment, supporting people, wildlife, and plants. As one of the few lakes with human settlements nearby, it has a unique town-side appeal! This also brings in many people to ice fish for salmon and trout during the winter season.
Bear Lake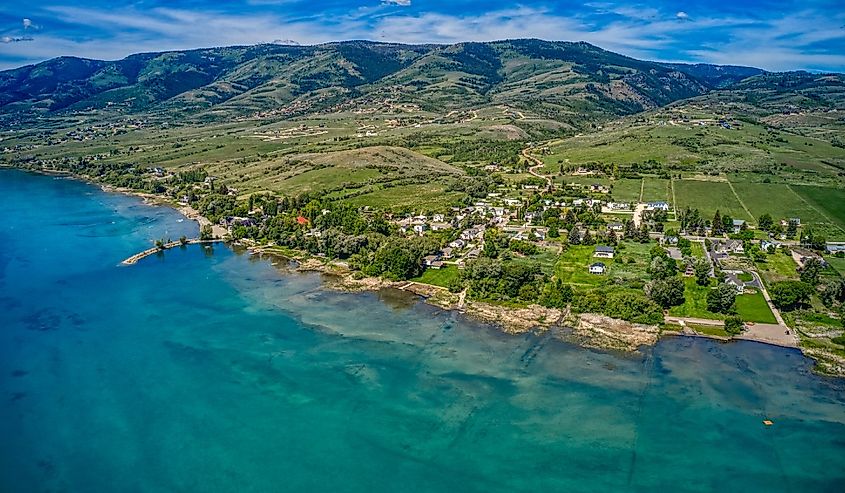 Split equally between Utah and Idaho, Bear Lake is a unique body of water famed for its alluring turquoise-blue color. Caused by the refraction of limestone deposits in the lake, this color provides a unique contrast from the surrounding grasslands, making the lake a top-contender as the most beautiful lake in the state. Apart from the amazing color, the lake is quite large, with a surface area exceeding 100 square miles! It is also a popular tourist destination where you can enjoy everything from swimming and boating to jet skiing and snowmobiling.
Market Lake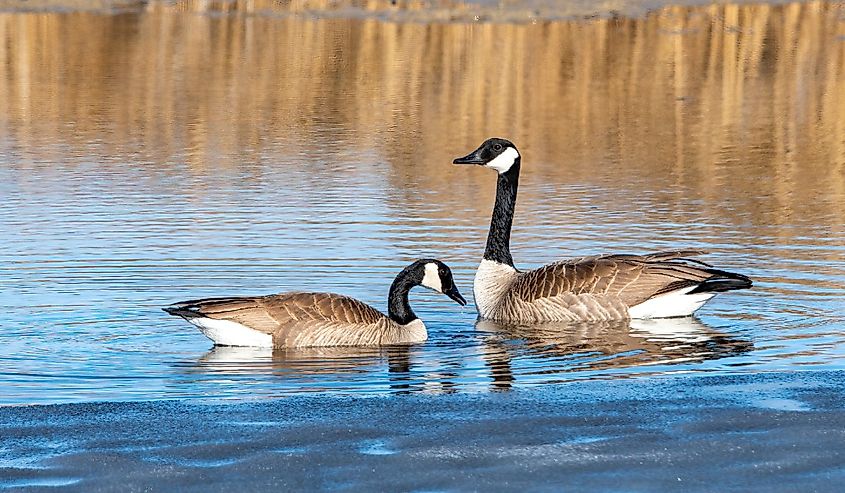 Market Lake garnered its unique name as it was once a prominent hunting ground known as a "market" for wildlife. This was thanks to the lake's abundance of wildlife, whether this was the unique fish or big game such as mule and deer. The river was drained for use as agricultural land and remained so for many years. It wasn't until the 1950s that the Market Lake Wildlife Management Area was formed, which aims to restore the lake and bolster local wildlife. To this end, Market Lake has now become a scenic abode for both animals and tourists. It has many interesting features, such as an underwater natural spring, many hiking trails, and a plethora of migratory birds for a scenic and enjoyable atmosphere.
Independence Lakes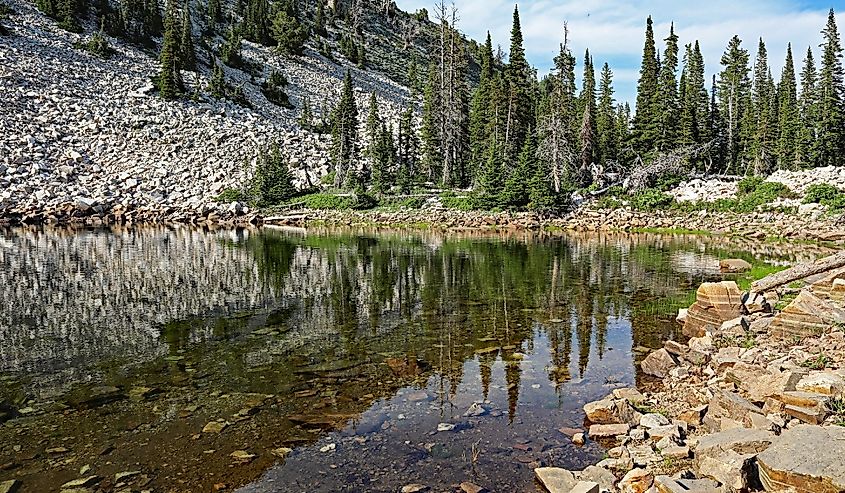 Independence Lakes is a chain of four lakes that are only accessible by foot. These alpine lakes are in Cassia County and sit nestled under the cover of Cache Peak. Thanks to this, they provide a relaxing locale from the mountainous heights, which are even more beautiful due to their unique size and shape. Surrounding the lakes are rocky shorelines, luscious greenery, and snowy peaks for a beautiful experience anyone can enjoy. Getting here is a bit of a hike via trail 805, but it is well worth the 7.7-mile trek through the Albion Mountains.
Goat Lake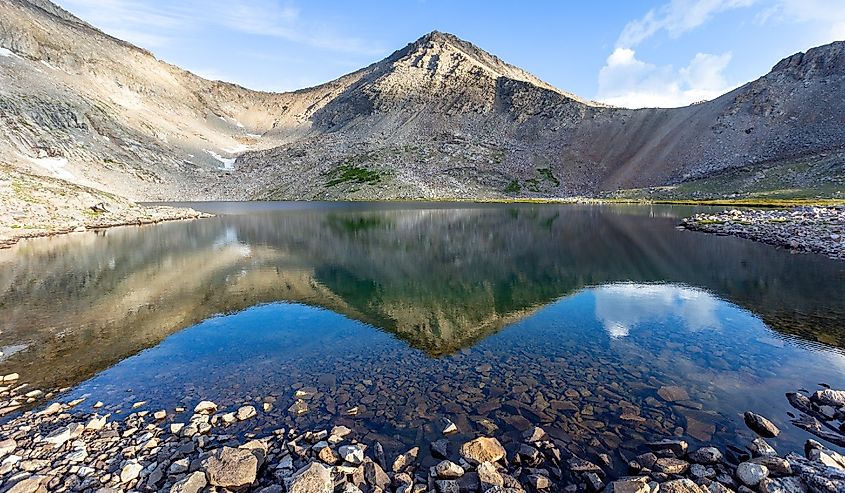 Goat Lake is another beautiful lake in the Sawtooth Mountains known for its immense height. The lake sits at a surface elevation of more than 8,000 feet above sea level! Due to this, it is very difficult to reach, and tourists must follow a steep 8.5-mile hiking route to witness its beauty. The hike is worth it as the surrounding glaciers, coupled with the lake's altitude, give it an appeal like no other. Moreover, if you can plan a visit during winter, Goat Lake freezes over for a completely different vibe and beauty.
When it comes to beautiful lakes, Idaho has no shortage. Combining the stunning mountains in Northern Idaho with the beautiful winter scenery, these lakes are some of the most stunning natural sights in the country. Moreover, with unique features such as Bear Lake's turquoise color and Goat Lake's steep height, you will always find something new. So, plan your trip now and take in the true waterside panoramic views Idaho has to offer.