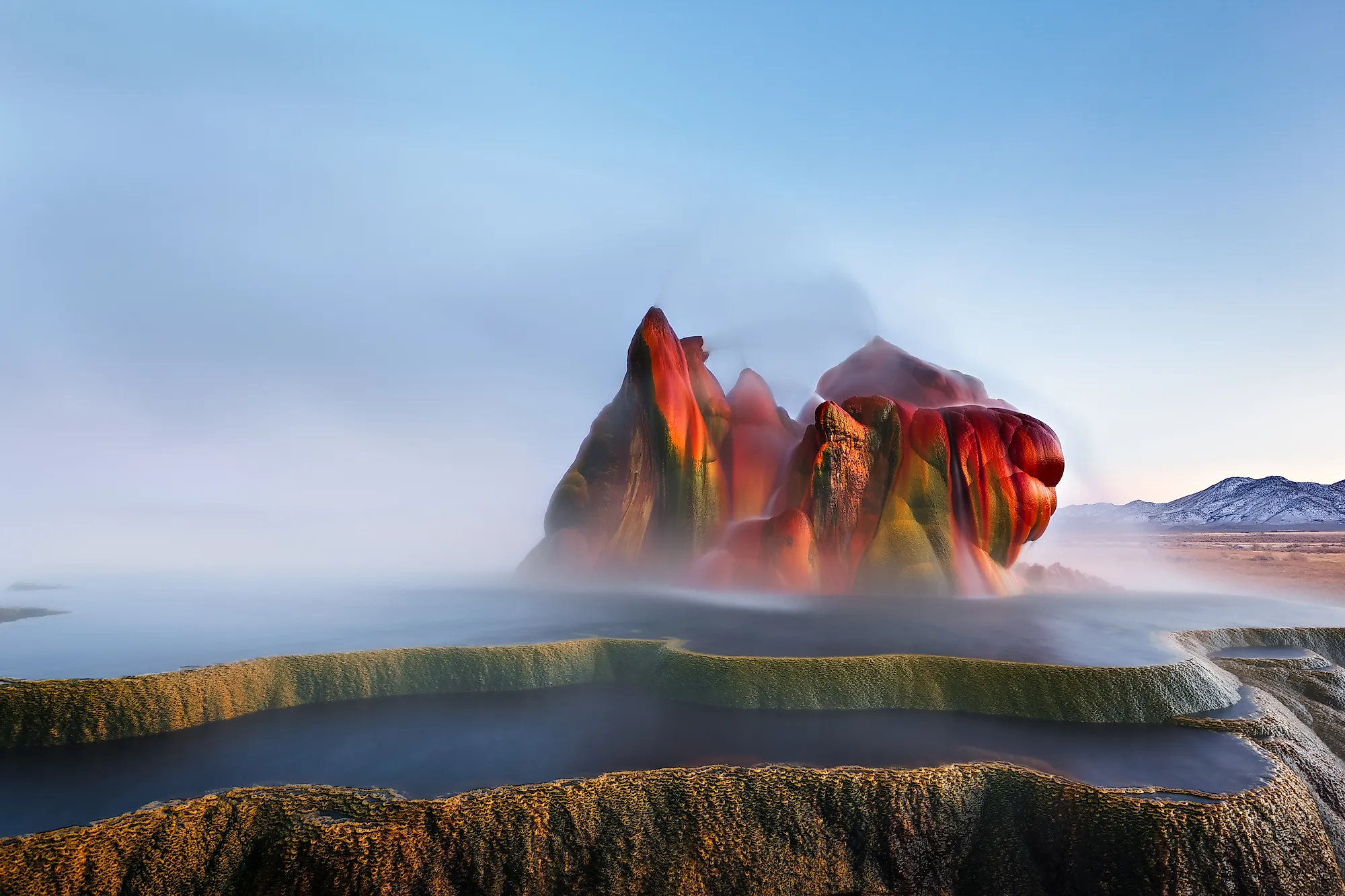 The Fly Ranch property situated in Hualapai Geothermal Flat in Nevada is famous for its fascinating geothermal pools. The property contains three geysers, of which one dates back over 100 years. The three geysers are The Wizard, Fly Geyser, and the recently discovered Will's Geyser. The Flay Geyser is a 6-foot tall colorful geyser with multiple cones sitting on a tall mound. This geyser, also known as Fly Ranch Geyser, shoots hot water to a height of about 6 feet. The Burning Man Project purchased the Fly Ranch property, including the three geysers, for $6.5 million and allows only limited access to the property.
Location
Fly Geyser is one of the three geysers on the Fly Ranch property, situated on Nevada's Hualapai Geothermal Flat. The property is a 3,800-acre private ranch located in Washoe County in northern Nevada, approximately 32 kilometers off Gerlach's north. The Hualapai Flat is bordered on the west by the Black Rock Desert and is less than 0.5 kilometers from State Route 34.
Creation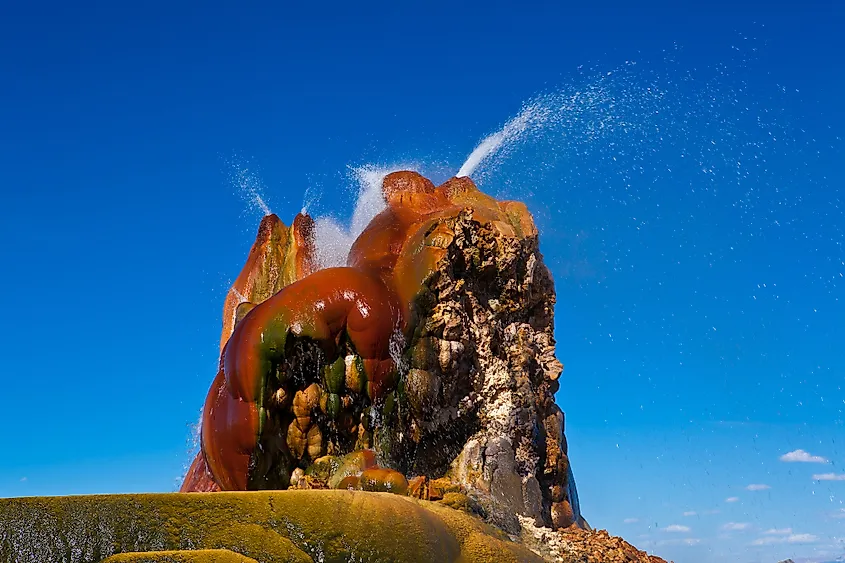 In the early 20th century, people living around the ranch region were seeking ways of irrigating their farms in the desert and decided to drill the first geyser to harvest water. Although they managed to get water, this water was too hot and close to the boiling point and decided to abandon the geyser. Later, calcium carbonate was gradually deposited in the area as hot water continued to flow, forming the present cone.
In 1964, a geothermal company drilled a second geyser just next to the first one, but the water temperature was not suitable for the intended purpose. So, the company abandoned the project and capped the well. However, they did not seal the wells strong enough to withstand pressure from the hot water. The seeping water contained dissolved minerals like silica and calcium carbonate, which accumulated and formed travertine pools and cones. The second geyser was larger, causing the first geyser to flow at a significantly reduced rate. This geyser grows by about six inches annually.
Characteristics
Fly Geyser is a tall mound rising about 25-30 feet with multiple cones of about 6 feet. It produces water with a temperature exceeding 200 degrees Fahrenheit, typical of geysers located on higher elevations. The geyser constantly releases water, which rises to 6 feet in the air, with the water creating 30-40 pools stretching 0.3 square kilometers. The geyser's colorful appearance results from the combination of mineral deposits and thermophilic algae. This combination creates multiple colors of red and green, giving the geyser a magnificent appearance.