'The Gem State' could be a justified reference to any number of things. Idaho has enormous stretches of both untamed wilderness and visitor-friendly parks, tons of underrated towns filled with wholesome people, inspiring mountain views with that crisp corresponding atmosphere, and last but not least, a refreshing collection of beautiful waterfalls. From top to bottom, Idaho has a range of humble waterways trickling through oxygen-rich forests, as well as ferocious forces of nature that charge with such persistence that they are able to supply power to large swaths of the state. Across this aesthetic spectrum there is also welcomed variability in their accessibility. Some of these falls can be seen from a roadside turnout, while others thin out the herd with a scenic-route detour, usually followed by a solid lark through the woods. So if you are heading through middle America, here are eight wonderful waterfalls to put on your checklist. 
Lady Face Falls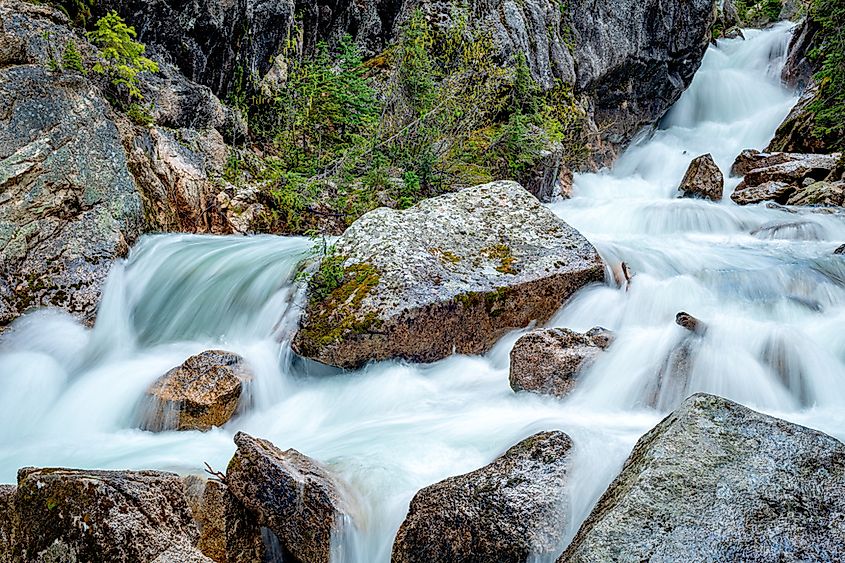 Just outside of the tiny town of Stanley, a moderate 5-mile hike (out and back) through a section of the lovely Sawtooth National Forest, brings one to Lady Face Falls. She tumbles out of a narrow slit in the hearty rocks and into a fresh natural pool – the perfect setting for a pantheistic christening. Surrounded by relatively remote wilderness and the fresh air that is reserved for middle America, this backcountry oasis provides a welcomed excuse to take an adventurous day trip, perhaps in conjunction with a weekend hiding out in central Idaho.  
Shoshone Falls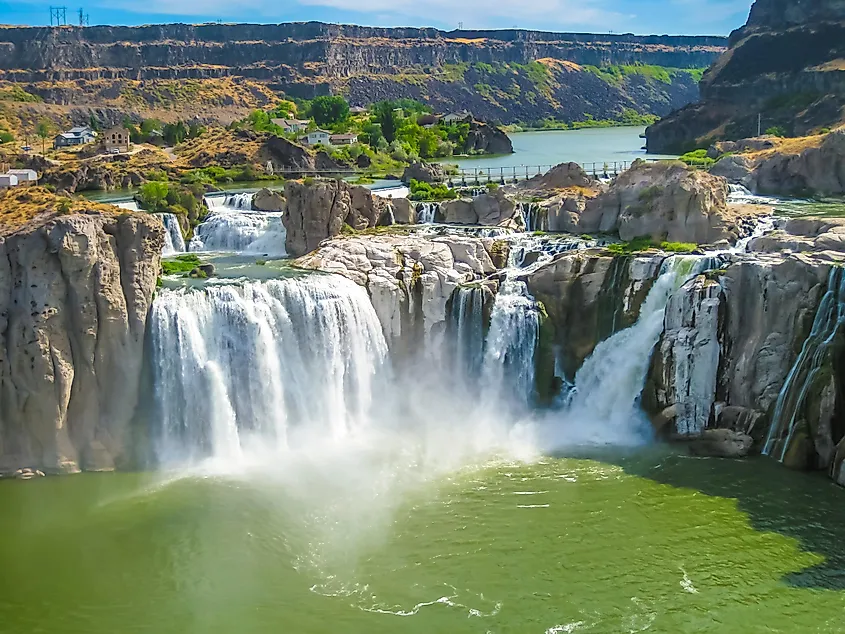 The 900-foot-wide, 212-foot-high Shoshone Falls are best viewed throughout the spring and into the early summer, when the waters of Snake River gush to their peak volume (pending flow automation by Idaho Power). During this time, it is easy to see why Shoshone has been dubbed the "Niagara of the West." To check this one off your list, head to the city of Twin Falls, in South-Central Idaho, and then continue on to Shoshone Falls Park, on the outskirts of town. Once you snag a parking spot, make a dash straight for the viewing platform, which will thrust you right into Shoshone's invigorating mist and roaring amphitheater. 
Mesa Falls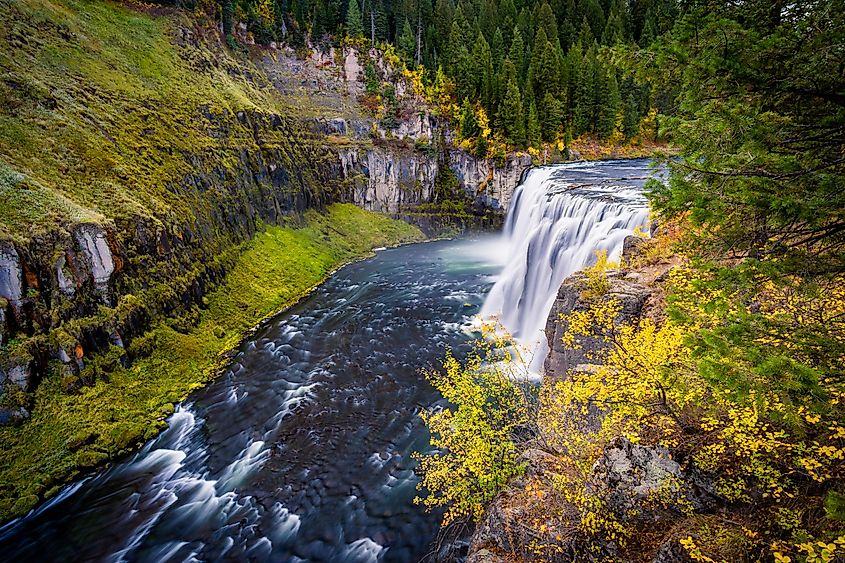 All waterfall-loving visitors to Yellowstone National Park should aim to make a side trip to Mesa Falls, in the immediately adjacent but far less popular Caribou-Targhee National Forest. Exiting through West Yellowstone, head South on Highway 20 until the Old Highway 47 Scenic route. The pleasant drive hands off to a rewarding combination of walking paths and viewing platforms. Mesa Falls is gracious enough to give a two-for-one special. Its upper portion is 110-feet-high, followed by an 85-foot lower segment. Nature purists will appreciate knowing that what you see is what you get in terms of the flow of Henry's Fork. This is one of the only substantial waterfalls in Idaho not to be regulated by a hydroelectric station. 
Fern Falls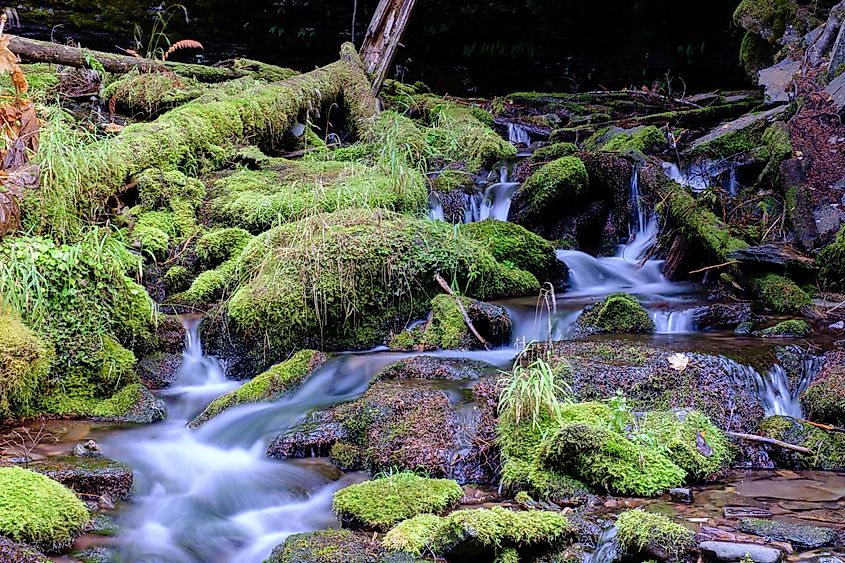 Fern Falls requires a bit of a road trip into ​​Northern Idaho's Coeur d'Alene National Forest (just an added bonus for seekers of beauty), but then a mere 200-yard jaunt to the prize. This simple, two-step cascade can be appreciated from a small bridge that crosses over the base section of Yellow Dog Creek. Fern Falls is not so much about the awe-inspiring power of nature, as it is the more subtle, meditative aesthetic of whitewater working its way through the wet-brown tones of fallen trees and the punches of vibrant-green moss. 
Elk Creek Falls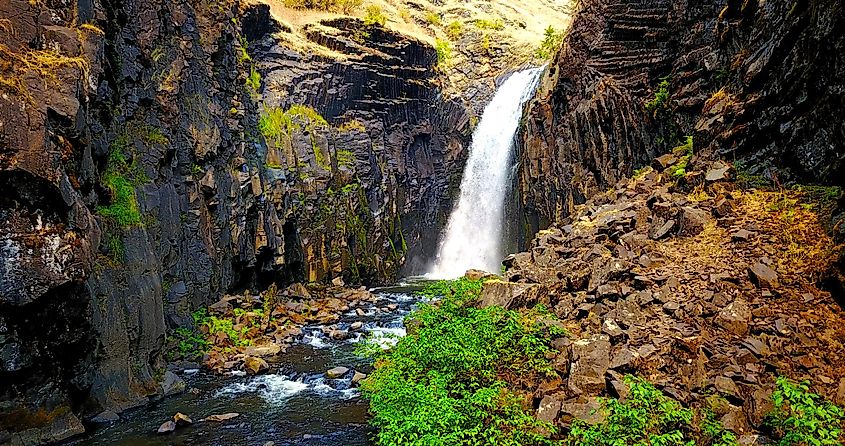 Just South of Elk River, in Central Idaho, the triple-threat of Elk Creek Falls awaits adoring visitors. The hike in from Elk Creek Falls Trailhead and Picnic Area is only a few miles (exact distances depend on whether or not your grind it out all the way to the upper falls, plus there is an optional loop to be considered), but the difficulty is a bit higher than your average nature park walking path. This blazed trail is just long enough (and certainly sufficiently pretty) to induce a Zen state. Then, upon arrival, the white noise of Elk Creek's steady flow will be sure to silence any remaining mental chatter. 
Perrine-Coulee Falls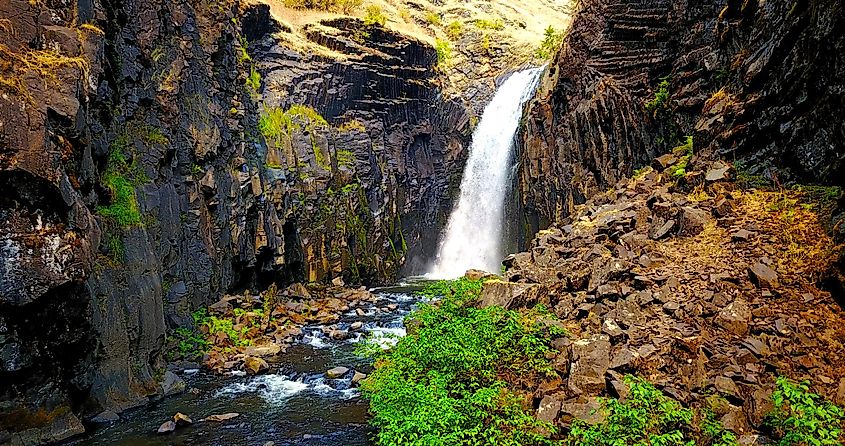 The city of Twin Falls, in the county of the same name, acts as a leaping off point for three splendid waterfalls (stay tuned for number three). After taking in the power of Shoshone Falls, scoot a smidge West, to Perrine-Coulee Falls – the picturesque product of an offshoot of Snake River. The winding Canyon Springs Road has a turnoff where motorists can stretch their legs, boot up their cameras, and for those who do not mind getting a bit wet, venture behind the falls. For a bird's-eye perspective on this tall, narrow, natural shower, head over to the Canyon Crest Event Center. 
Ritter Island Waterfalls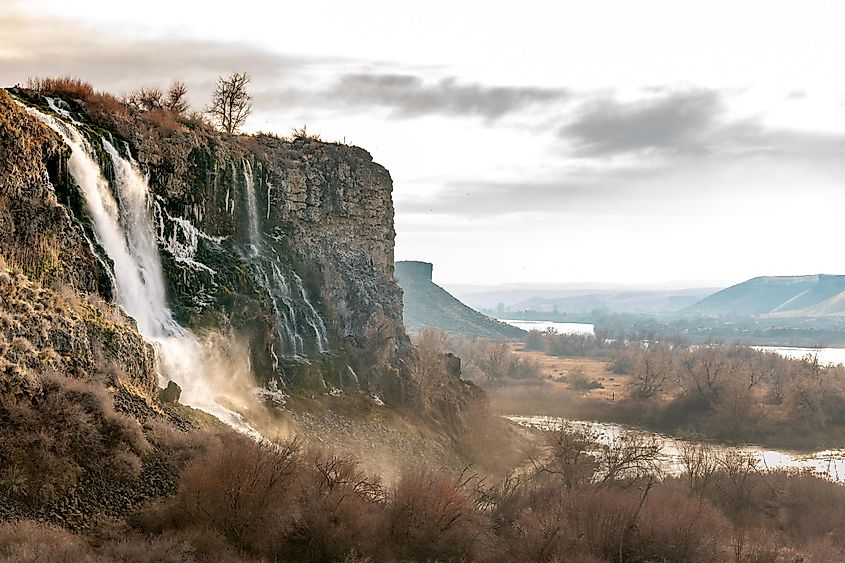 Thousand Springs State Park (also known as Ritter Island) is another blessed feature of Snake River. This package deal outdoor experience is a little over 30 miles Northwest of Twin Falls. The whole park makes for an excellent respite in nature, but the focal point is the sizable Lemmon Falls, which can be accessed via the steep, but worthwhile, Thousand Springs Grade, or enjoyed from a short distance away at the 1000 Springs Resort. Another must-see waterfall on the (sort of) island is Minnie Miller Falls. This set of narrow cascades peak through the tabletop mountain's dense green slopes. Stick around for sunset, as the soothing sounds of this pair enhances the ambient evening glow. 
Twin Falls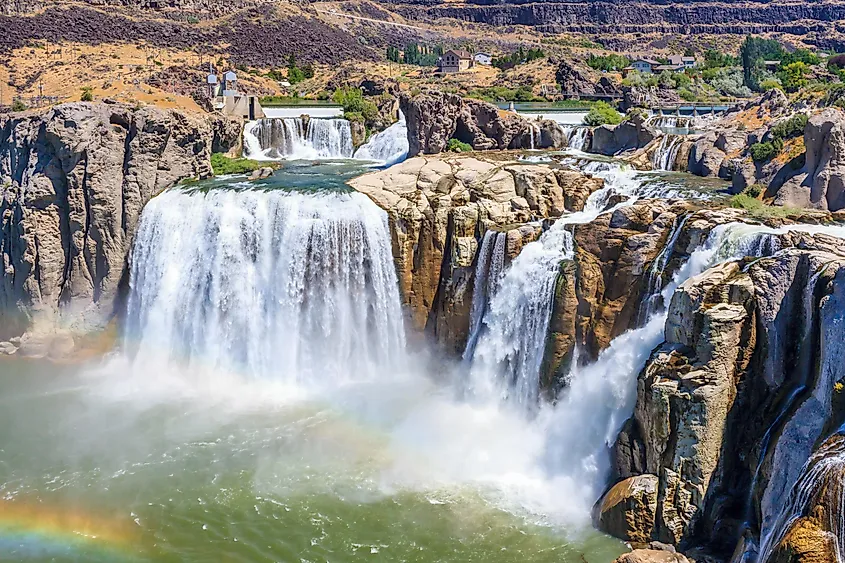 The third and final extravagant waterfall to see from Twin Falls, Idaho, is the titular wonder itself. This powerhouse of Snake River Canyon is best viewed between March and early June, when the waters of Snake River have melted, but have not yet been diverted for hydroelectric purposes. Speaking of which, the reason Twin Falls is currently just a singular phenomena is because of the hydroelectric dam. So on top of generating a renewable energy source for the State, the remaining 125-foot waterfall, backdropped by the captivating buttes of this desert town, is still an impressive site to behold.
Idaho may not have the magnetic connotation of its neighboring states, but delve a little deeper, and there are plenty of gems to uncover – not the least of which are the stunning array of waterfalls. There are restless giants with accompanying tourist infrastructure, and there are calm creekside beauties to seek out and contemplate beneath a forest canopy for an afternoon. What more could one hope for?