Durham, North Carolina, is the fourth most populous city in the U.S state of North Carolina. The city sits in the rolling hills of the Piedmont region, hugging the Eno River. What started as a tobacco town has quickly become a powerhouse of education and medicine. How exactly did Durham become a cornerstone of North Carolina's culture and economy?
Geography Of Durham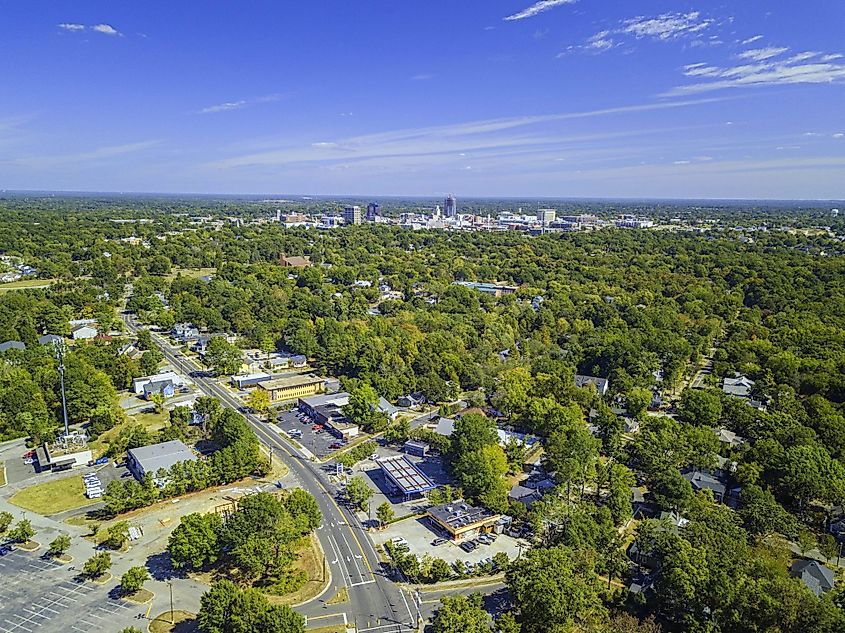 Durham covers approximately 292 sq. km, of which 2.13 sq. km is covered by water. Occupying the American Southeast, Durham is part of its namesake Durham County and is classified as having a humid subtropical climate. Durham experiences hot summers and cool winters and receives significant rainfall throughout the year. The city is about 2 hours from Charlotte but only half an hour from Raleigh.
History Of Durham
The Shakori and Sioux peoples undertook the first human settlement of modern Durham. British settlers in the mid-1700s soon made the area home and economically relied on gristmills. Durham was the site of a pre-1776 revolt against British authority, known as the Regulator Movement in 1771. This rebellion may have been put down, but the American Revolution started in 1776, and eventually, Durham became a part of an independent U.S.A. Agriculture dominated Antebellum Durham and accrued its riches via slave labor.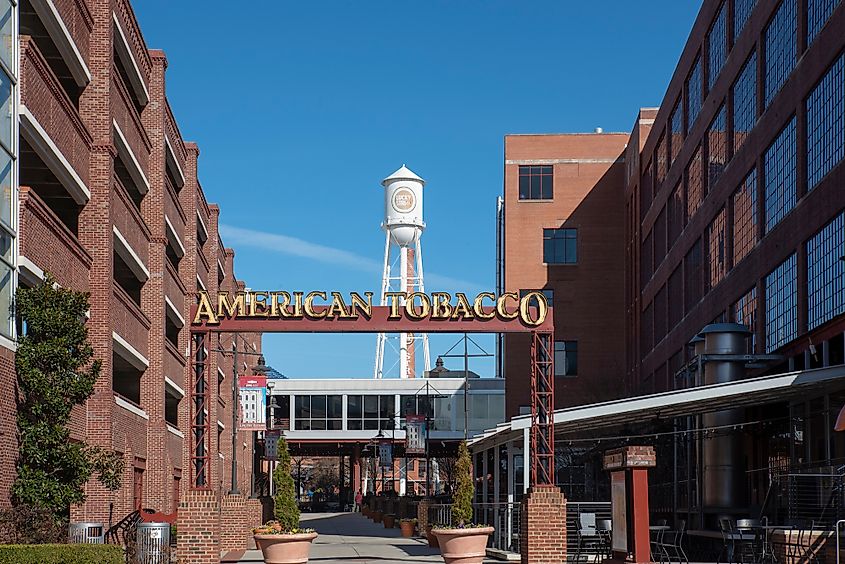 Durham became part of the Confederate States of America in 1861, mainly created to defend slavery. After the Confederate defeat in 1865, Durham turned to the tobacco industry to find its fortune after abolishing slavery. The Bull Durham Tobacco Factory was the first major economic center of North Carolina's tobacco industry. Civil war veterans had recognized the quality of North Carolina tobacco, and demand soon increased when the war was over, proving to be a boon to a state that needed new sources of income. However, Washington Duke and his family began to form a tobacco monopoly over the United States in the late 1800's, until the federal government forcefully broke it up. The Duke family continued their business as the American Tobacco company, growing in wealth and influence.
Furthermore, Durham became a center of the burgeoning electricity industry in North Carolina. Durham established its first black college in North Carolina Central University in 1910. Dr. James E. Shepard founded NCCU. Durham is also believed to be the first site of the civil rights struggle in North Carolina, as black protesters occupied white-only ice cream booths and refused to move in 1957. This protest led to their eventual arrest, but the incident helped start a ripple effect in North Carolina that empowered more African-Americans to demand their rights in the state throughout the 1960s. Durham was also the city where Martin Luther King first advocated for non-violent resistance to Jim Crow regulations in the United States. The Civil Rights Act of 1964 brought an end to official segregation in Durham, but tensions remained in the ensuing decades, especially as sections of the historic black Hayti neighborhood were demolished in favor of the Durham Freeway.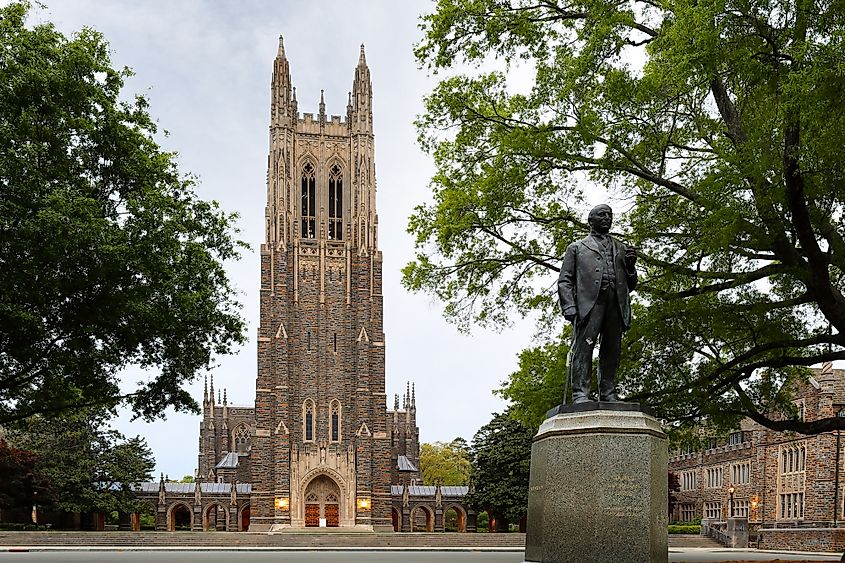 Duke University's involvement in establishing the Research Triangle in 1959, alongside Raleighs North Carolina State University, and Chapel Hills University of North Carolina, greatly increased Durham's economic reach. Bright minds poured in from all over the United States to study at Duke University, originally founded in 1838. Duke has since become one of the most prestigious universities globally and is considered the crown jewel of Durham. 
The tobacco industry started fading in the 1970s, and Durham had to focus its efforts on revitalizing the city and modernizing its economy. The city has grown to accommodate the service industry and has become a crucial point in America's educational and medicinal culture. The city has also attracted interest from the business community as a popular place for technology firms and startups. Furthermore, the city's population is continually increasing, so many former tobacco factories and plants are becoming residential areas for the growing population.
Population Of Durham
Durham is a city of approximately 270,000 residents. Being fairly diverse, 49 percent of Durham is white, 38 percent is black, and 5 percent is Asian. Mixed-race individuals make up around 3 percent of the population. Approximately 43 percent of Durham's residents openly identify with a religion. The most popular is the Baptist tradition of Protestantism at 14 percent, in line with most of North Carolina. There is also a sizeable Catholic minority among the city's religious population at around 4 percent. Non-Christian religions constitute only about 1 percent of the religious population of Durham. Durham skews towards a cis female population at 53 percent, with 47 percent identifying as cis male.
Economy Of Durham
Durham's current claim to fame economically is in the realms of healthcare and education. Several pharmaceutical companies call Durham home, such as BioCryst and Aerie Pharmaceuticals. Medical research companies are also quite common in Durham and are supplemented by the presence of Duke University and North Carolina Central University. These two universities continue to contribute to Durham's medical tradition with their high-quality programs and research teams. Duke, in particular, is also the largest employer in the city by a significant margin. However, as aforementioned, the city's business sector is growing, as investment firms, startups, and technology firms, are beginning to recognize Durham's potential for innovation and growth.
Sports In Durham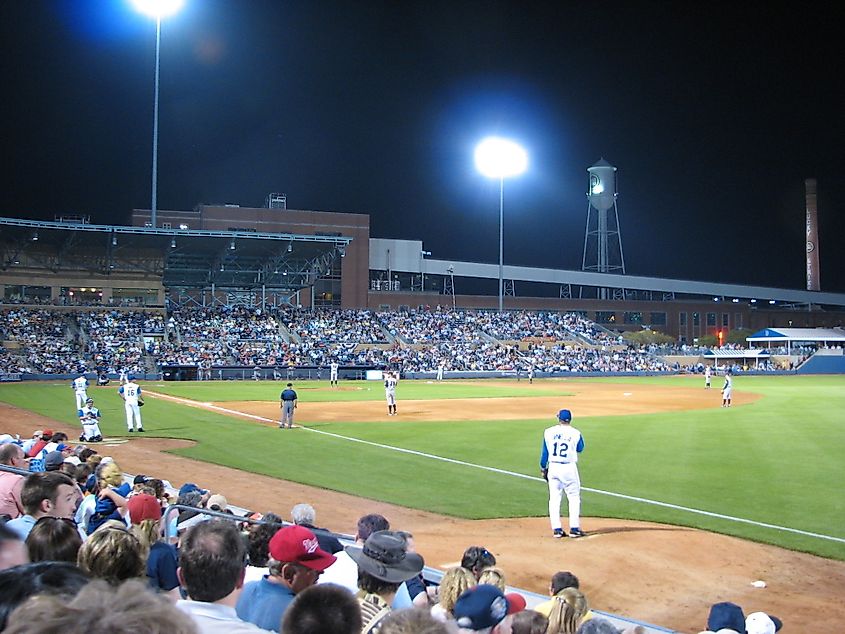 Durham packs quite a bit in a relatively small area when it comes to attractions. Despite having a professional team, Durham is more notably home to the Duke Blue Devils of the NCAA, one of the most popular sports teams in the United States. The most popular athletic program at Duke is men's and women's basketball. The men's team is a multi-time national champion, and the women's team, while never winning a national title just yet, is considered talented. Duke's women's basketball team has been runners-up in 1999 and 2006 and has won the Atlantic Coast Conference on several occasions. Both teams send a good amount of players to the NBA and WNBA, respectively. Both teams play out of the 10,000-seat Cameron Indoor Stadium. Alternatively, you can see an Eagles game. 
The Eagles are the athletic program of North Carolina Central Univesity, hosting popular athletics such as basketball and football. The basketball teams play out of Mcdougald-Mclendon Arena, while the football team plays out of the O'Kelley-Riddick Stadium. The aforementioned professional team does not play basketball or football but baseball. The Durham Bulls of the International Baseball League sit only one level below the MLB. They have existed in various forms and under various names since 1902, and are considered one of the best teams in the league, sending many players to the majors, and with a plethora of titles to their name. They play out of the 10,000-seat Durham Bulls Athletic Park. 
Attractions In Durham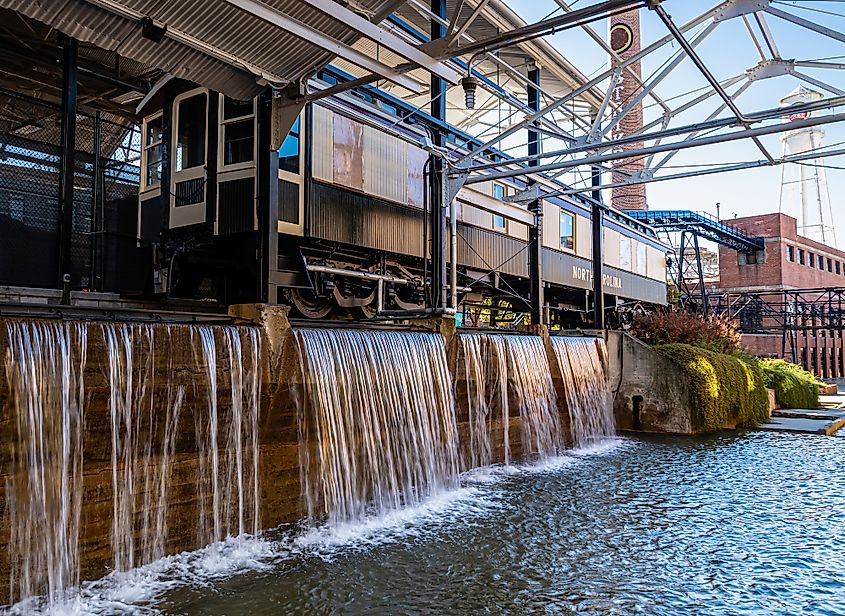 Outside of sports, you can take a ride on a trolley pub, which is exactly what it sounds like, a moving bar powered by a trolley. The Durham Performing Arts Center hosts a variety of concerts and plays that you can take in. Durham also has one of the oldest Lemur research facilities globally, at the Duke Lemur Center. You can also visit the Eno River and the state park surrounding it. Moreover, history buffs will enjoy the American Tobacco Historical district. This is a large complex tracing and documenting the extensive history of tobacco production in the city, with several historic buildings and exhibitions. 
Durham has transcended its status multiple times. Durham went from a slave-dependant economy to a tobacco hub. When the tobacco industry flamed out, it switched its focus to medicine and research. The city was once strained with racial segregation but is becoming more equal and progressive by the day. These days, Durham is known for its medical excellence, top-class colleges, and surprisingly good sports teams. However, the city is not resting on its laurels, as further population growth and financial investment will surely change Durham's economy once again. Durham has a history of adapting to change, so if it is anything like the last revitalization, the city will likely thrive.