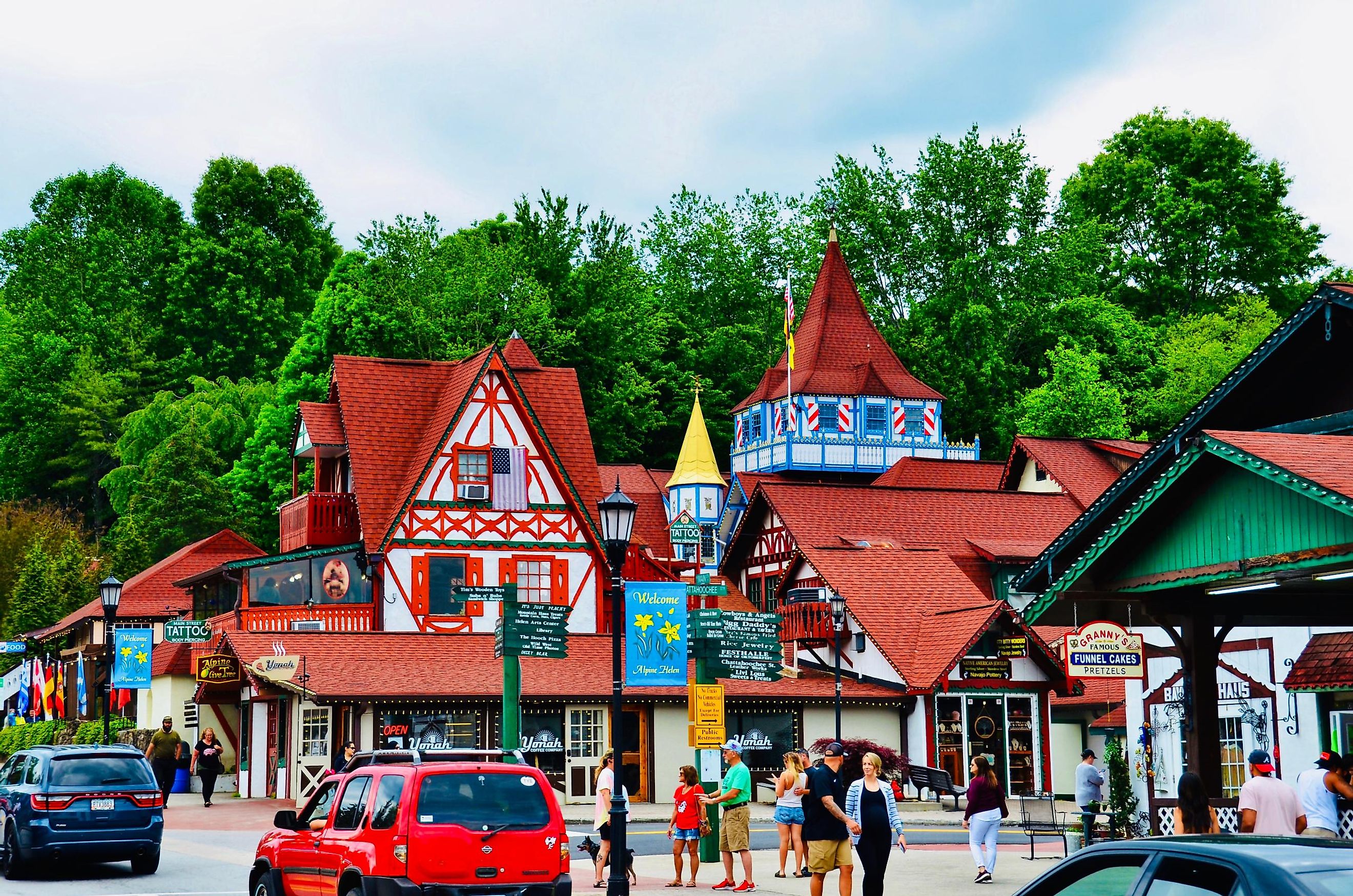 7 Must-Visit Small Towns in Southern United States
The Southern United States has long been appreciated as a region of great natural beauty, charming ambience, and fascinating cultural history. Indeed, from the Deep South to the Southeastern coastline, the States and towns that comprise this area of America are a diverse set of destinations that are perfect for getting better acquainted with the nation. From Georgia to Florida to South Carolina, these Southern places are full of all the charm and wonder that any traveller should be seeking on their holiday. So come explore some of the Southern United States' best small towns and fall in love with the beauty all around.
Helen, Georgia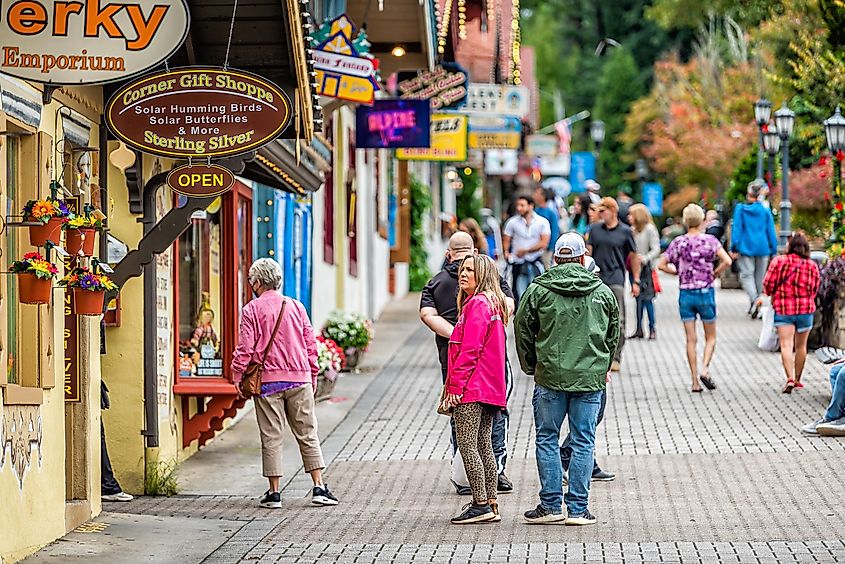 With a humble population of just 531 residents, the town of Helen, also known as "Georgia's Alpine Village", is indeed one of the most special and charming places to visit in the State. Incorporated in the early 1900s, Helen was built to resemble a Bavarian Mountain resort and most of the buildings are constructed in a southern German architectural style. A veritable spot of cultural beauty with wondrous natural allure as well, Helen is a welcoming place that will surely leave any visitor with a most special set of memories. Visitors can enjoy such events like the summer hot air balloon race or the always popular Oktoberfest, while at the nearby Chattahoochee River, opportunities for swimming and quiet afternoons are delightful. Do not forget to visit the stunning Anna Ruby Falls and of course take in a hot European style meal in this most precious of small Georgia towns.
St. Augustine, Florida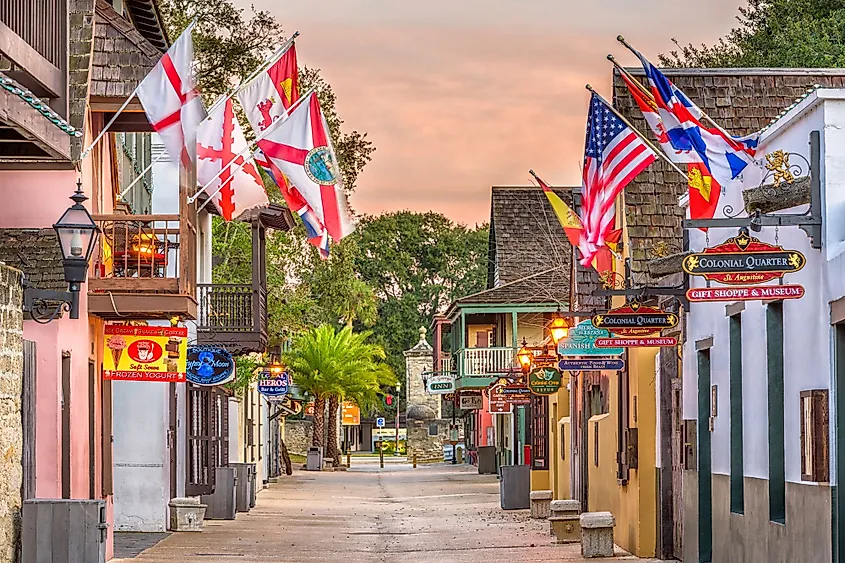 The oldest European settlement in North America, St. Augustine was established by Spanish colonists in the year 1565. Indeed this most historic town is amongst the most unique experiences for any traveler to the "Sunshine State", and spending time in St. Augustine is like passing through a living museum of America's past. Discover such fascinating places like St. Augustine Lighthouse Museum, the Colonial Quarter, Ponce De Leon's Fountain of Youth Archaeological Park, Fort Matanzas National Monument, and the Castillo di San Marcos, amongst many others. Meanwhile such modern attractions like the Pirate & Treasure Museum or the Ripley's Believe it or Not Gallery, bring the past and present together in a most delightful way. And with warm weather, pleasant ocean breezes, and a variety of welcoming stores and restaurants, St. Augustine most definitely delivers the goods.
Grand Isle, Louisiana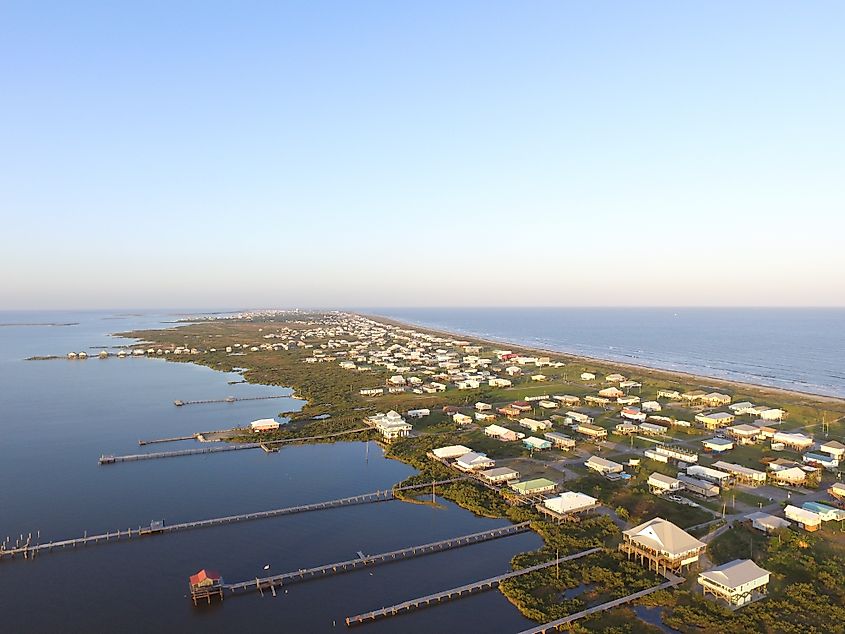 Situated on the barrier island of the same name, the town of Grand Isle is one of the best destinations to discover in the "Bayou State". Home to a modest population of just over 1,000 inhabitants, visitors and denizens alike can enjoy plenty of wonderful opportunities to relish the outdoors. Here fishing, sailing, hiking, beach strolling, and even wildlife watching make Grand Isle a cozy and welcoming place for all. Stop by the Bridge Side Marina for exquisite seaside vistas and charming shops and restaurants, while close encounters with nature can be appreciated at the Grand Isle Birding Isle. With spectacular views of the best of Louisiana's avian population, this is indeed one of most special outings for anyone in town. And do not forget to attend the Migratory Bird Festival where fun for all ages is always on hand.
Beaufort, South Carolina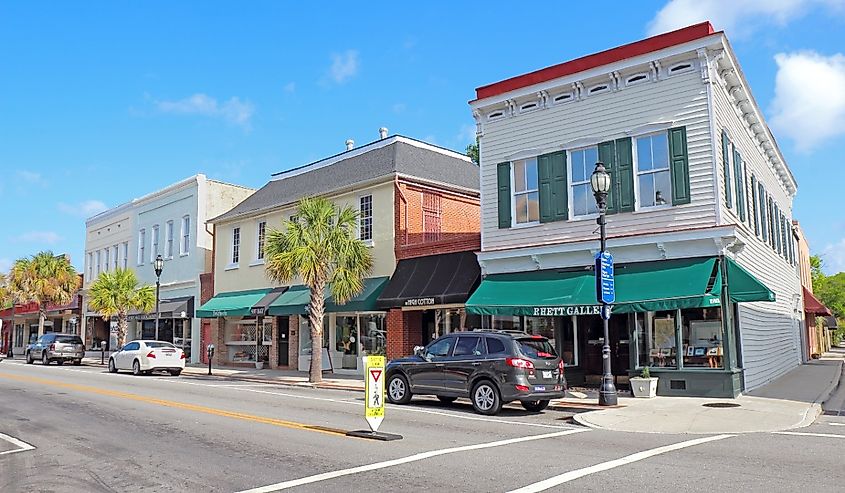 Beaufort was founded in the year 1711, and as such ranks as the second oldest town in South Carolina behind Charleston. Situated on the State's Atlantic Coast and on Port Royal Island, this most scenic and charming locale is an absolute gem of Southern colonial history and raw natural beauty. Home to a population of nearly 14,000, visitors can enjoy Beaufort's very warm climate which typically sees hot summers and mild winters. Meanwhile the history lover will truly appreciate strolling through the town's streets, where many buildings and landmarks from the 18th and 19th century continue to dot the landscape.
Visit the Beaufort Historic District to learn more about South Carolina's role in the Civil War, while experiencing a living museum type of atmosphere. And naturally with Beaufort's seaside location, spending time on the water is always popular, be it swimming, sailing, or even sunbathing. Meanwhile the most alluring and charming boardwalk at the Sands in Port Royal is a definite way to truly have one's breath taken away in a most spectacular natural setting.
Oxford, Mississippi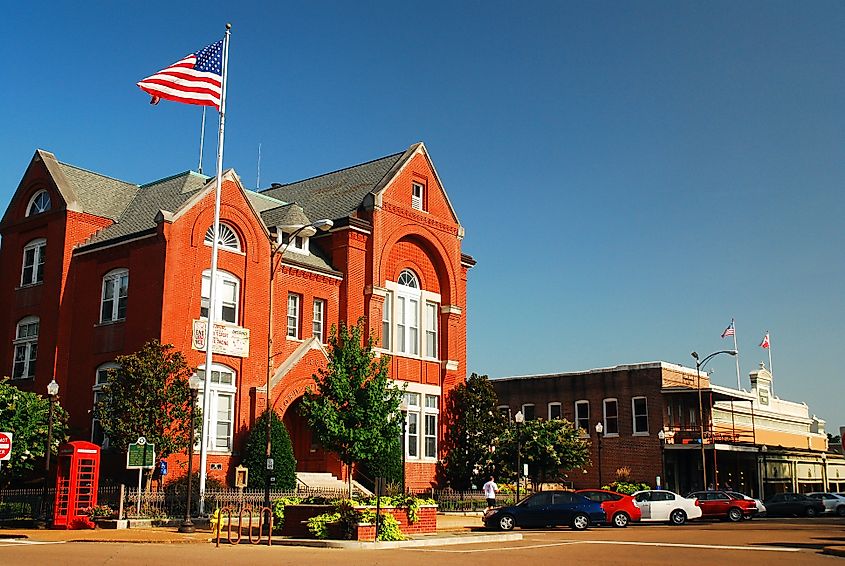 The seat of Lafayette County, the town of Oxford was named for the British city in 1837 and today is home to a population of just under 26,000 inhabitants. Full of historic intrigue and a most vibrant arts and culture scene, visitors to this splendid Mississippi destination will always have something to marvel and enjoy. Explore the beautiful campus of the University of Mississippi (1844) or spend an afternoon at the beautiful town square. Here a wonderful collection of fine art galleries, local eateries, boutique stores, and live theatre entertainment can all be appreciated in a tightly knit area. Meanwhile a visit to such historic landmarks like the Rowan Oak Mansion (1844) or St. Peter's Episcopal Church (1860) amongst many others, brings one back in time to the pre Civil War South and an important era of change for the still young United States.
Paducah, Kentucky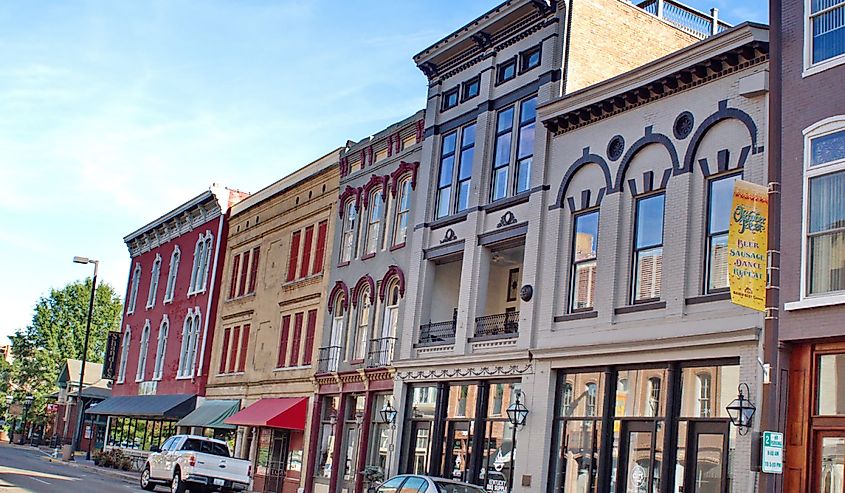 A part of Kentucky's Jackson Purchase Region, the mid sized town of Paducah is beautifully located along where the Tennessee and Ohio Rivers meet. With a population of just under 27,000, this historic place and seat of McCracken County is indeed a great place to explore for anyone with an interest in 19th century American history. Filled with an assortment of buildings and landmarks from the 1800s, many spots in Paducah are listed on the National Register of Historic Places including the Whitehaven Mansion (1865) and the St. Francis de Sales Church (1899). Meanwhile a series of beautiful wall murals can be appreciated across town that chronicle the town and regions history from the days of the first indigenous people to the modern day. And naturally as a river town, activities like swimming, sailing, and fishing are always popular in this most welcoming Kentucky community.
Magnolia Springs, Alabama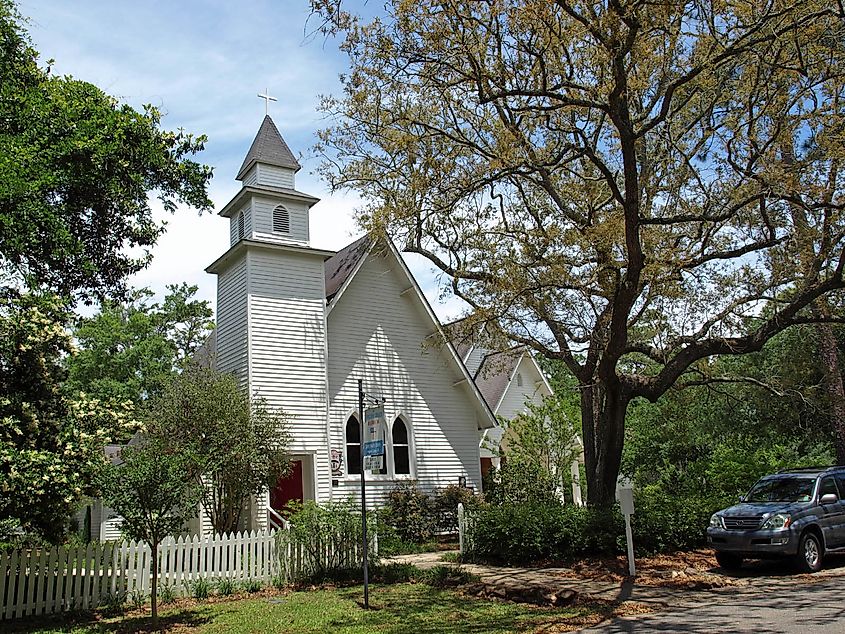 Magnolia Springs is a quiet place that is beautifully situated at the headwaters of the Magnolia River. Indeed this small town with a humble population of just over 800 permanent residents is a great place to enjoy such outdoor activities like sailing, swimming, fishing, or even just a calming stroll along the water's edge. In addition history aficionados can also appreciate Magnolia Springs where a number of sites located here form part of the National Register of Historic Places. These include the Sunnyside Hotel (1897), St. Paul's Episcopal Church (1901), and the Historic District where a trip back to the 19th century is never hard to find. Add in an assortment of charming and welcoming stores, restaurants, and loads of Southern hospitality, and this Alabama town is surely one that will leave any visitor talking for years to come. 
Known for its fascinating and unique history, its hot and inviting weather, its splendid natural beauty, and loads of famed Southern charm, the Southern United States is undoubtedly one of the most beautiful regions in the nation. Here wonderful towns and its people ensure that all who visit this part of the country will definitely leave with a very special set of memories. From the coast of South Carolina to the bayou vistas of Louisiana, and beyond, the towns and States in the Southern portion of America are all great gems that are worthy of firsthand discovery. So wait no longer and come visit the South through an exploration of some of its must see and most charming small towns!