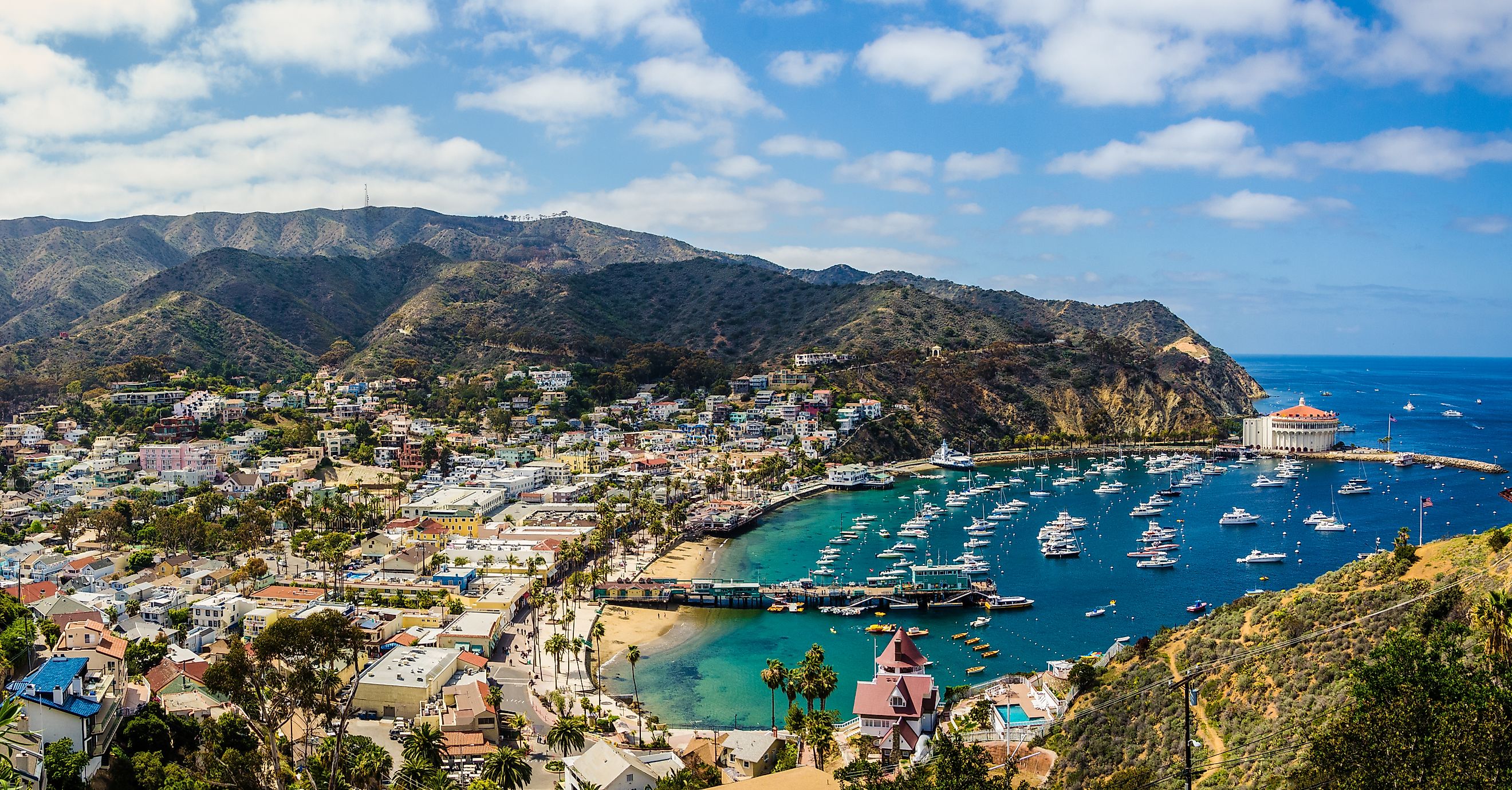 11 Most Underrated Towns In The Southern United States
The American South is a large, distinctive region with a unique cultural and historic heritage, from early European colonial settlements to the Confederacy during the American Civil War. Choose one of these towns to spend the second half of summer with a bang, or visit anytime after for warm weather and the locals alike.
While the Southern US is an ideal destination in the nation for warmth-loving souls seeking a respite from the city, many of its towns go wildly overlooked. Choose one of these towns over the common getaways with quality services, great family attractions, and pristine nature to enjoy with your favorite peeps.
Avalon, California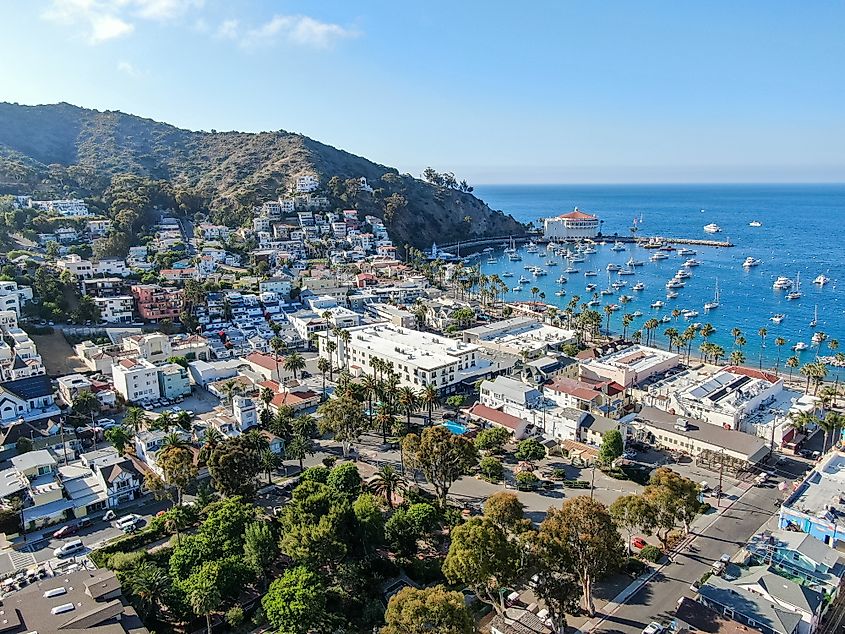 Made famous by Stepbrothers, Santa Catalina Island of the California Channel Islands, with its only incorporated city of Avalon, is wildly underrated. The southernmost town in LA County has many free and budget-friendly experiences and is unfairly treated as a destination for the wealthy. A wealth of sights, however, does not mean breaking your bank, with Avalon accessible to the everyday tourist. Explore Avalon and the beautiful Santa Catalina Island, with something for everyone, including unconventional California experiences and a luxurious feel from the scenery alone.
Start making lifelong memories from the get-go as you approach Avalon on a ferry from Long Beach with dolphins frolicking in the sparkling waters around you. Skip golfing and scuba diving, which may not be for everyone, but try the Glass Bottom Boat Experience. Pack a picnic for a day of sun, sand, and sea, with swimming and sunbathing, and stroll at sunset every evening for the most stunning scenery. Dig inland for more spectacular thrills like cool bison expeditions, zip lines, rock climbing, falconry, and camping. Stay active and recharge on the seafood galore throughout, only splurging on a dining experience over the water if you wish for your last day of vacation or getaway.
Bay St. Louis, Mississippi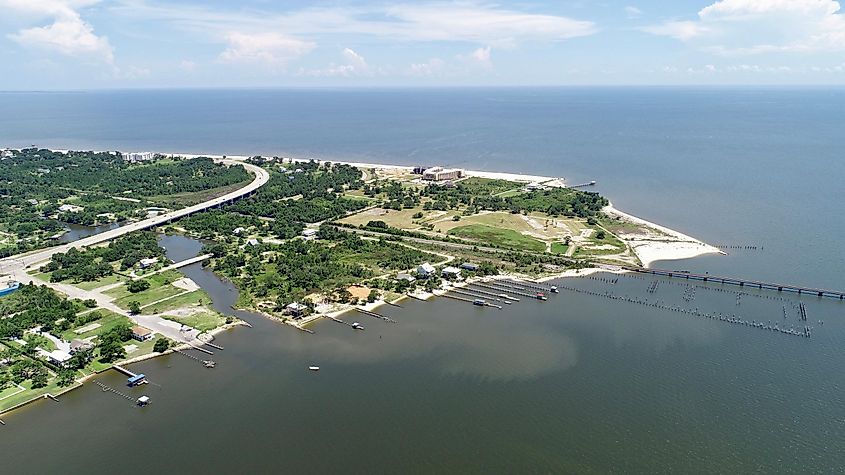 This unique small town of 11,000 forward-thinking residents embraces the past, making for a unique blend of historic vestiges and new-age flair of which few are aware. Add in the beautiful beaches, and you have a wildly underrated must-visit destination bursting with an array of sights and experiences that will leave lasting memories. Saunter along the shores in the sea breeze, the vibrant downtown fair with vintage buildings, and small businesses, eight of which were named "Best" in their respective categories. There's the wonderful Smith & Lens art gallery and the outdoor local favorite, Blind Tiger, while the cool Social Chair is officially the best gift shop in the state.
Enjoy easy access via Highway 90 from inland into the seascape of your dreams, ranked the nation's coolest by Budget Travel. Although Bay St. Louis has loyal followers, it remains "a place apart" for most, at the tip of the promontory facing its namesake bay. Immerse yourself in the small town vibe and feast greedily on crowdless downtown attractions, food at the Starfish Cafe, and nature for acres through the parkland around, including camping. Recharge at Fields Steak & Oyster Bar post-hike or enjoy a fancy dinnertime at the Sycamore House, just a hop from the beach's sunsets.
Blue Ridge, Georgia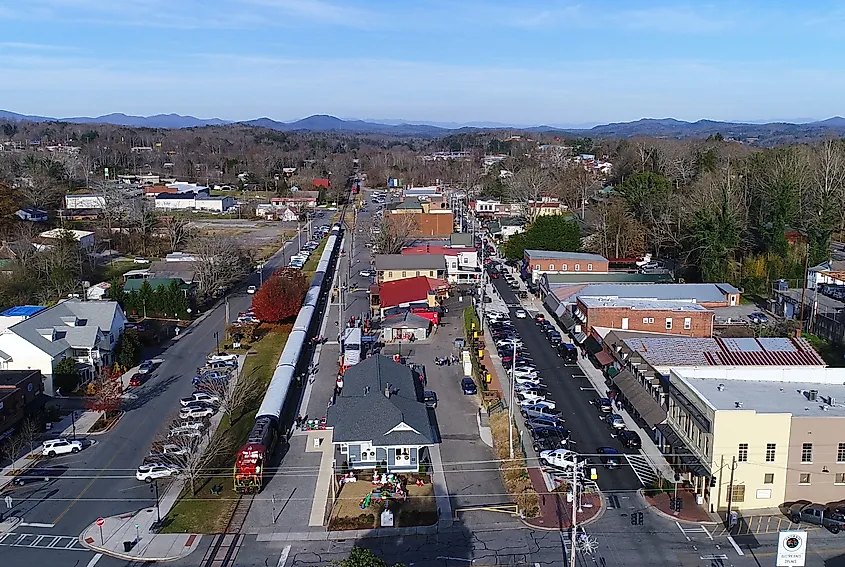 Visit this cool town in the northern part of the state for a quintessential getaway into the alpine atmosphere and Georgia's renowned wine scene. From the most charismatic downtown to the breathtaking Blue Ridge Mountains, the scenery will follow you everywhere, like through over 40 independent wineries with tastings and live music. Just imagine the tranquility after a vineyard stroll with a glass of your favorite wine under the watchful eye of those peaking giants, and start packing your bags for the easiest getaway from Atlanta.
If beer is more your style, you'll find plenty of breweries and restaurants with world cuisine over craft. Make more vibrant, cherishable moments with your family, like at ice cream shops, boutique shopping, and the popular Blue Ridge Scenic Railway. Enjoy seasonal activities like magnificent hikes in the Appalachians or the refreshing Chattahoochee-Oconee National Forest, as well as picking fruit, berries, and sunflowers during farm harvests. Choose from the many cozy, family-run B&Bs with cool porches to step into the crisp mountain air.
Deerfield Beach, Florida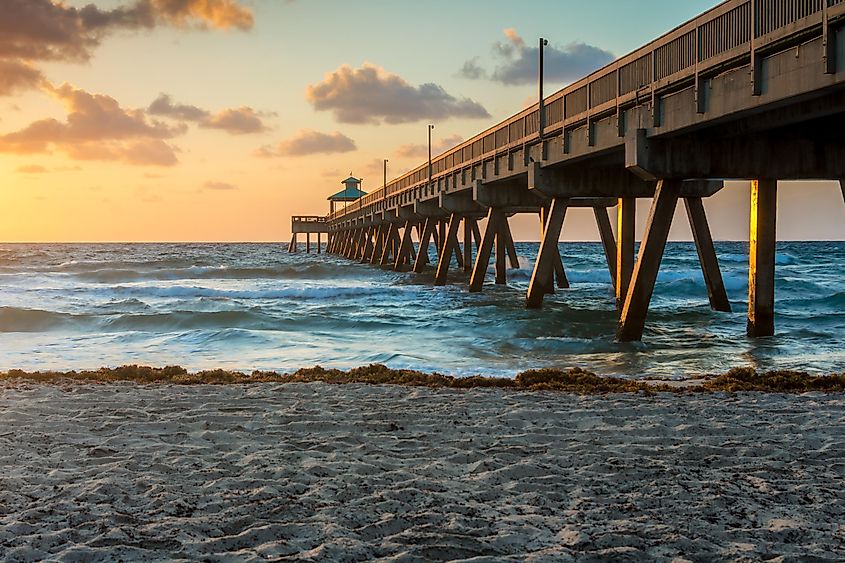 Deerfield Beach is a wildly underrated Sunshine State destination that makes for the quaintest getaway in the middle of summer's heat or to end the season with a bang along Florida's award-winning coastline. The charming small town is big on Old Florida vibes, pristine beaches, and plenty of water-based pursuits for every group and taste to bond with low crowds. From modern-day pastimes and the nostalgia-inducing atmosphere downtown to the beautiful nature all around, everyone always winds up by the wonderful 976-foot-long fishing pier for sights and photo ops.
Find unique activities in this northern town in the state like free surfing and stand-up paddleboard lessons on Saturday mornings, "Full Moon Paddle Tours," and cove-like beaches along the Atlantic. Hit the scenery-abounding Deerfield Island Park with a hike through a natural world of wonders with trails and mangrove swamps. There's fun and excitement for everyone at the unmissable Splash Adventure Water Park, like thrilling water slides, splashing, and refreshing swims. With so much to see and experience, the Charm City Burger Company will fill you up, as will JB's on the Beach with seafood or the Little Havana Restaurant with authentic Cuban cuisine.
Duck, North Carolina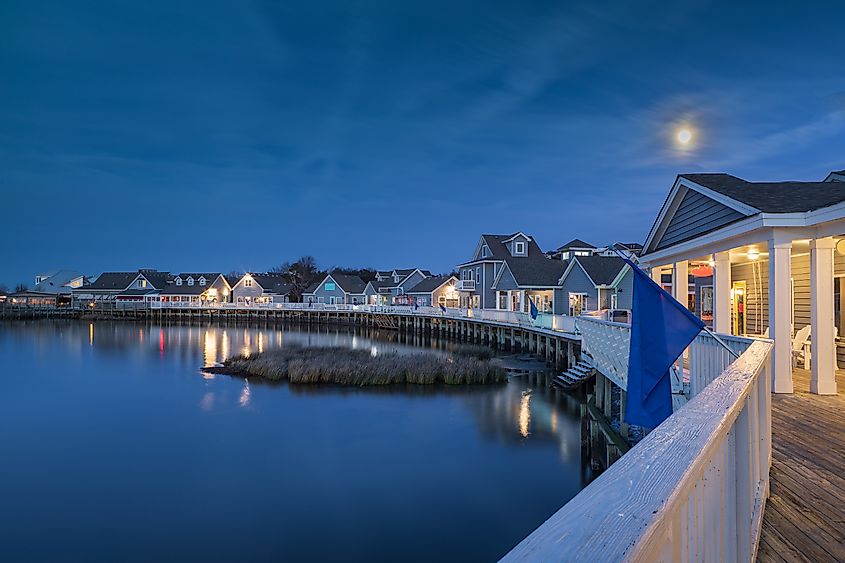 Much like its name suggests, Duck appears predictable but is like no other getaway in the whole nation. From expansive beaches and shaded bike trails to downtown strolls in the sea breeze, Duck is a pet-friendly, quintessential small-town experience. Take a hike through the unique, 11-acre maritime forest with unique nature trails and hit the aesthetic streets with dog fountains, cozy and luxurious vacation rentals, unique shopping venues, and rustic wooden boardwalks by the beach.
The lovely town in the scenic North Carolina Outer Banks of the Atlantic Ocean adapts to your taste on a getaway into nature with many cool hotspots and restaurants to appease every taste post-hike, including waterfront dining galore. Duck induces nostalgia as an image that you could not summon with your words but fits exactly your mind's eye's dreamy vacation. Visit any season for splashing in the bay's shallows, cruising the boundless waters, or the water trails dotted with small islets and marshlands to maneuver in a kayak for memorable times.
Fairhope, Alabama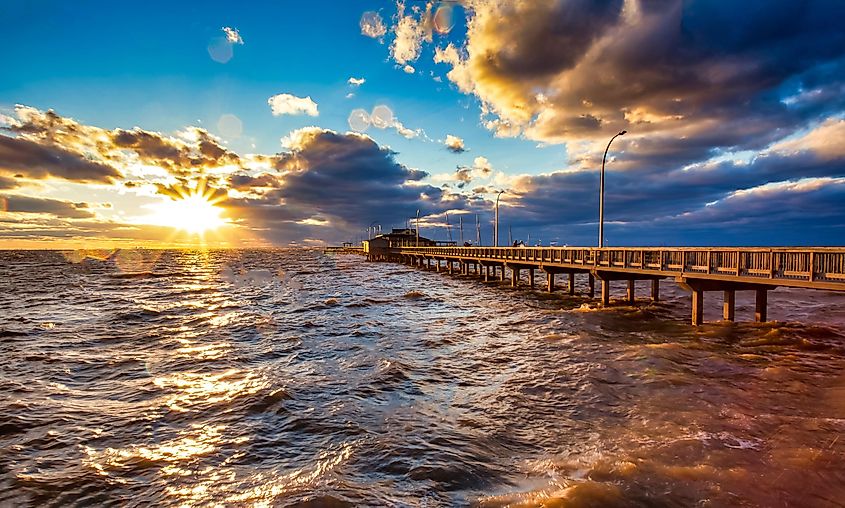 This town along Alabama's Gulf Coast is out of the way, perched atop bluffs overlooking Mobile Bay. Visit Fairope for the crowdless beach escape of your dreams, with scenery for miles and a really cool downtown vibe to chill out. The small-town atmosphere envelops you with endless sights and places like the Eastern Shore Art Center, Before & After Gallery, and Fairhope Brewing Company. Take a stroll along the scenic, flower-laden streets and local businesses, like charming art galleries and gift shops, to the beaches with winding coastal trails.
Explore around for panoramic views and wildlife, and recharge at excellent seafood restaurants through the various neighborhoods comprising Fairhope. From enjoying sunset strolls to exploring the 260,000 acres of one of the country's most beautiful and diverse ecosystems, the Mobile-Tensaw Delta, just 30 minutes away, Fairhope is a real naturalist's fantasy come to life. Take on the wildlife-ridden Bartram Canoe Trail on a stroll, bike ride, horseback, or in a canoe down its water trails through the cypress swamps and marshes, and you will not be remiss at sightings of bald eagles, kingfishers, turtles, and alligators.
Havana, Florida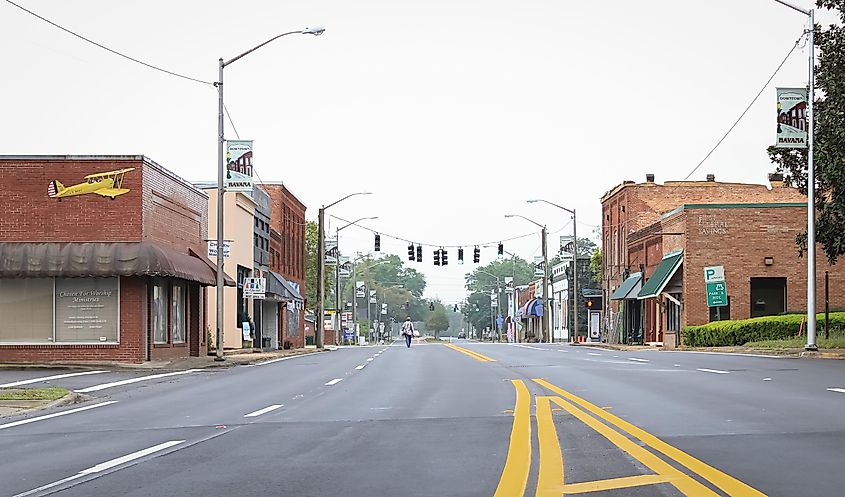 The truly quintessential town of Quincy is a masked Floridian gem, some dozen miles north of Tallahassee at the border with Georgia's renown wine scene. Its own Quincy Historic District reveals an impressive array of scenically old buildings and structures. Havana is a former railroad stop in beautiful Gadsden County. Today, it is a full-of-feel-good vibes agricultural community with an appealing streetscape of historical sights like architecture and antiques.
Explore Havana on foot with its refreshed shopping scene comprising unique boutiques, antiquing, and local shops dotted throughout vibrant neighborhoods. Shop for wines, collectibles, home decor, furniture, jewelry, and art, and choose a family-run restaurant for authentic flavors. Visit its iconic Gadsden Arts Center, a former hardware store turned vibrant art center with an eye-catching exterior and ogle-worthy works by famous local and national artists, free of charge.
Juno Beach, Florida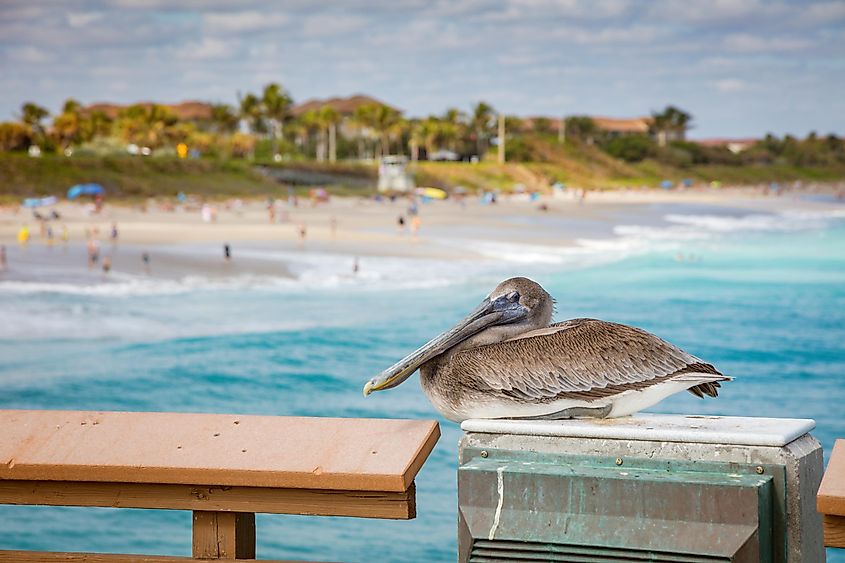 Find Juno Beach, another hidden gem along the Sunshine State's coastline bordering the Atlantic, between Jupiter and West Palm Beach. There's never the wrong time to land in this town full of family-friendly pursuits like beaches, but come from May through October for the cute and insightful spectacle of the world's densest sea turtle nesting ground. Take a tour through the Loggerhead Marinelife Center, which rehabilitates sick or injured but resilient sea turtles; it also offers guided beach walks and the cool release of hatchling reptiles.
Find the scenic 990-foot Juno Beach Pier at Juno Beach Park as great for scenic relaxation, saltwater fishing, and sunset strolls as it is for nature ventures through the park and to its Pier House for rentals of all kinds. Enjoy the 300 feet of guarded beach at your discretion, through the designated surfing area, picnic shelters, and shoreside strolls with views that stretch on forever. The 569-acre maritime hammock preserve of the Juno Dunes Natural Area has everything from easy hiking trails with wildlife to the highest natural point in Palm Beach County.
New Port Richey, Florida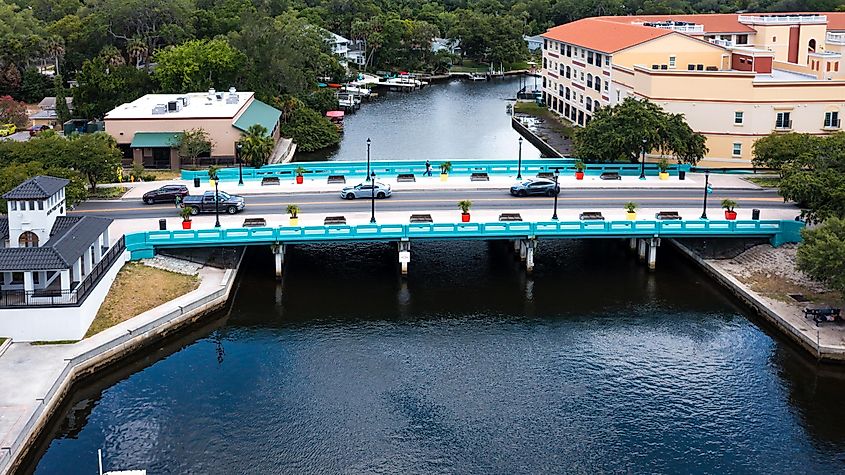 The highly underrated town of New Port Richey is a joy to discover, with a unique story and deep background even before. Discover the town with surprising offerings and memorable times spent, just 30 miles northwest of Tampa. The shining seaside gem and suburb of St. Petersburg brims with historical charm, crowdless family attractions, and the best coastal nature, like pristine beaches. Escape the city into its scenically wild riverside embrace with an appealing streetscape, diverse culture, and charming businesses.
Boasting a sister city in the French Riviera's own Cavalaire-sur-Meropens since 1995, you can expect glorious sights downtown, like the Cavalaire Square honoring the meaningful connection. Find similar geographic features along with a great coastal shopping and restaurant scene, cultural festivities, and heritage sights. Take a hike through the ravishingly dense James Grey Preserve and dine on various cuisines at the square, where something is always happening. Take a sunset stroll in the sea breeze or visit an art venue for vibrant performances, relishing the revered small-town appeal you've been dreaming of through all your pursuits.
Ocean Springs, Mississippi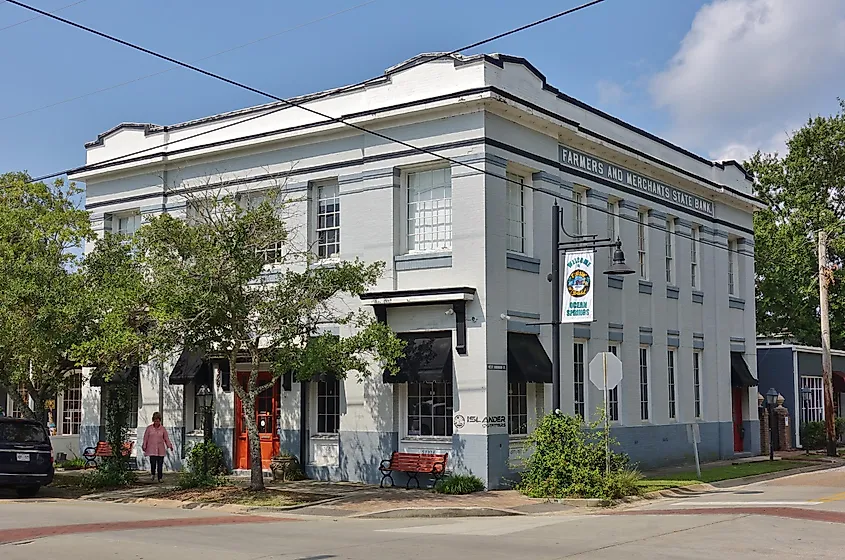 Ocean Springs is a cozy and colorful town along the scenic shore of Coastal Mississippi. It is a great surprise that a lively town of over 18,000 along the renown Mississippi Gulf Islands National Seashore does not get more accolades. Visit the "City of Discovery" with charming seaside adventures on a quiet coastal escape to relax and sightsee in nature and through the historic downtown. Enjoy easy-breezy strolls, sunny beaches, and over 200 charming businesses run independently by the locals for shopping, dining, and viewing.
The small town atmosphere gets lively during the state's largest fine arts festival, the Peter Anderson Arts & Crafts Festival, presented by Blue Moon. Stop by the Ocean Springs Art Association and visit the Walter Anderson Museum of Art and Shearwater Pottery. Ocean Springs is your escape from the city cage you've been dreaming of, including tranquil lounging during the day and active outdoor nightlife like entertainment and drinks to-go as you wander around and mingle.
Sedona, Arizona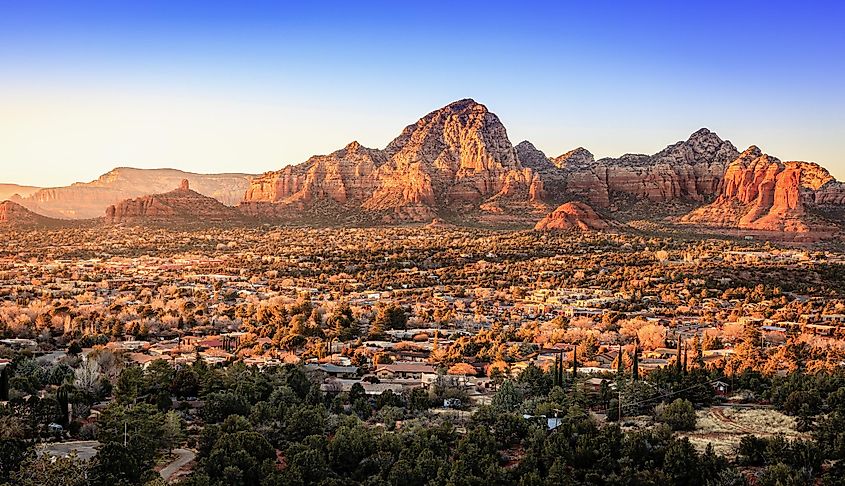 Sedona is an otherworldly desert town with towering red rock formations. While many overlook this oasis, prime for stargazing and astrophotography, world-renowned photographers seek it out for its Dark Sky Community designation. You won't be remiss after about two hours of driving 120 scenically beautiful miles north of Phoenix or a quick 30 miles south of Flagstaff. Sedona's dramatic landscape, filled with beauty at every turn, feels like you've stepped into a postcard from the moment you arrive.
The town is a dream destination for outdoorsy types, with stunning vistas to explore via biking, hiking, and backpacking, like the famous Cathedral Rock and cool natural slides at Slide Rock State Park. Seek wellness and spirituality after the exploiting city sights at the beautiful Chapel of the Holy Cross cathedral or hunt around for many energy vortexes. There are also unique boutiques, great dining with local flavors, and yoga studios for modern-day family fun pursuits.
This region, with its customs, literature, musical styles, and varied cuisines, is unofficially recognized and sought after as the "Southern Charms." From coastal gems to Appalachian enclaves, these underrated towns in the vast, diverse South region and numerous climatic zones, including tropical, boast the best nature for year-round eco-tourism.
Visit anytime, to spend the second half of summer with a bang, or after for warm weather and the locals alike. Relish in the slower pace of life, hospitality, and unique culture lending various music styles, "traditional" cuisine, and literature, including the Nobel Prize winner, the most famous southern writer, William Faulkner in literature in 1949, and Mark Twain.