The type of climate we can find in desert areas is quite interesting. As you probably know, the days can get very hot in the deserts. With little to no vegetation that can protect the land, the temperature in some deserts around the world reaches temperatures above 50°C. But, did you know that during night time in deserts, temperatures drop significantly more?
Deserts And Precipitation
In this case, we are talking about proportions, and we are comparing the desert type of climate with others, and what is the amplitude between the day and night time in a specific area. All desert climates have one thing in common: there is almost no precipitation. For example, some parts of the Sahara Desert report only 0.86 mm of rainfall - in a whole year. So, it is safe to conclude that the amount of evaporation that happens exceeds the amount of precipitation. 
One thing you should not forget is that all deserts are not necessarily covered in hot sand dunes and located in the (sub) tropical climate zones of our planet. Antarctica is the largest desert on the planet - it is immensely different from the Sahara Desert, but the yearly amount of precipitation is what classifies both as deserts.
No Evaporation 
Now, what is the problem when a specific area lacks water? During the daytime, the Sun is constantly warming up the ground, and the temperatures rise. Remember, it is the ground that gets very hot during the daytime in the deserts. That happens because there is no water and no moisture that would first absorb some of the heat and then start to evaporate. It is the process of evaporation of water from the ground that is making the temperatures not rise to the extreme, but there is almost none of that happening in the deserts.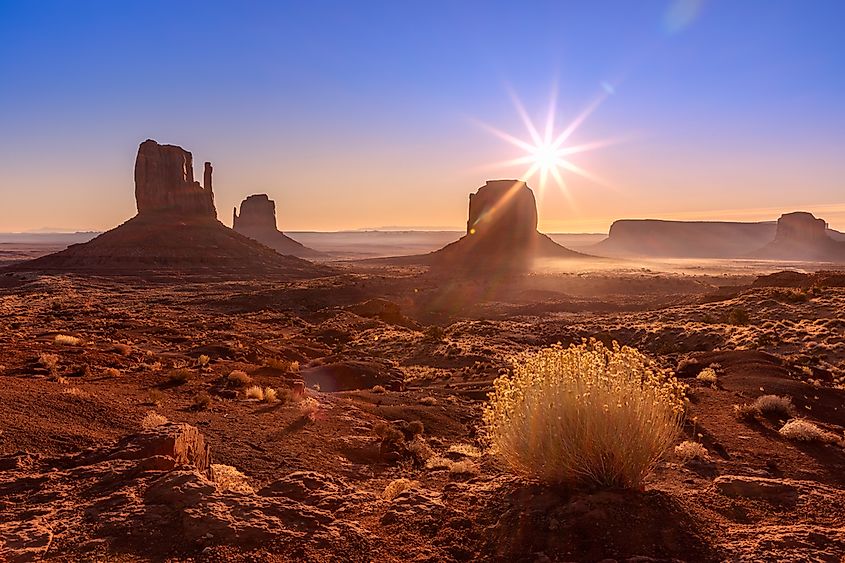 On top of that, as we mentioned before, there are no trees and plants. The reason why they are important is that they would help even more when it comes to evaporation. Plants use the water from the ground, and it evaporates through them in a process known as evapotranspiration, which simply means ''breathing.''
No Insulation
So, throughout the whole day, the ground in desserts is constantly heating up, and then finally, the Sun goes down, and it is dark. Because there is no water, there is no evaporation, and then the process of cooling can start. However, it is usually rapid and extreme, because the moist, that is commonly raised during nighttime is just not present.
If there was the evaporation of moisture present, the ground would not have such an easy road towards a cool state. Simply speaking, all of the temperature accumulated during the day can easily escape the ground as there is no insulation above it that would keep it from doing so.