What is the Longest Suspension Bridge in the World?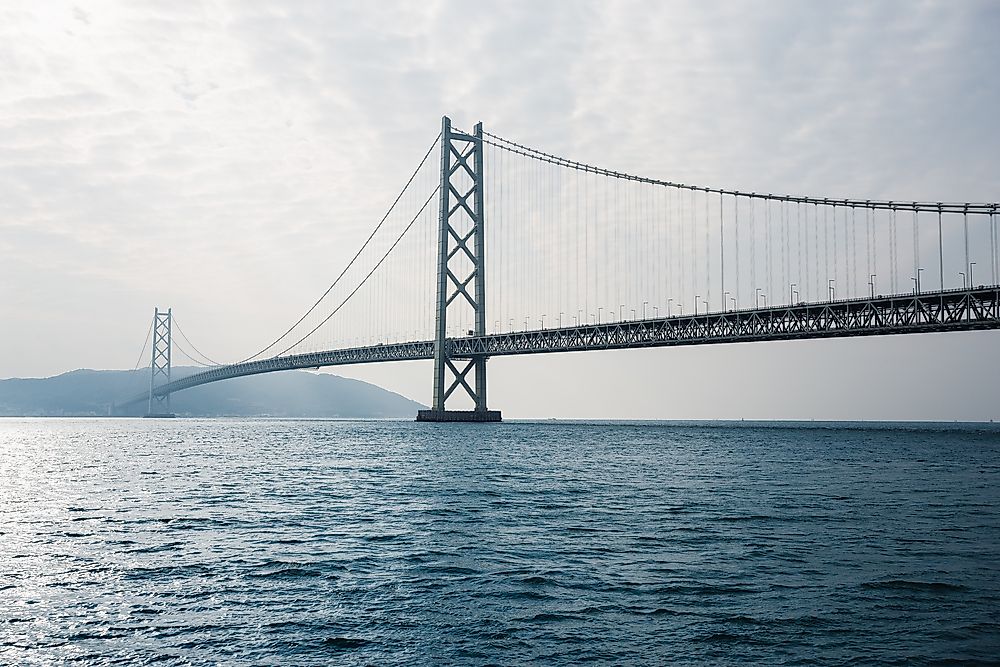 The Akashi Kaikyo Bridge in Japan is recognized as the longest suspension bridge in the world. Its longest span measures 1,991 meters long. Scientists believe that the length of suspension bridges is determined by their primary span, which is the distance of the suspending way between the bridge's towers. The bridge joins Kobe City, which is found on the dry land of Honshu to Iwaya on the island of Awaji. It also cuts across Akashi Strait, which also joins the highway of Honshu-Shikoku.
History of Akashi Kaikyo Bridge
Long before the establishment of the Akashi Kaikyo Bridge, ferries were used as a means of transport to move people from one point of the strait to another. The waterway was often affected by severe constraints like the storm in the year 1995 that led to the loss of lives of 168 passengers who were traveling by ferries that sunk. The incident encouraged the ministry of Japan to establish a bridge across the strait. Initially, the arrangement involved a combination of both railway and road kind of bridge.
By the time constructions commenced in April 1988, the plan was restructured to be purely a road with six paths. The development of the bridge did not commence until May 1988. Tsutomu Kawara, who was in charge of construction in Japan, launched the bridge on April 5, 1998, together with Crown Prince Naruhito and Princess Masako of Japan. The bridge had recognition for its three powerful features; being the longest, strongest, and most expensive bridge globally. It cost approximately 4.3 billion dollars and took ten years for its construction to end.
Suspention Structure
The Akashi Kaikyo has three spans, the main span that is also the central and the longest span, and the other two spans each having a length of 960 meters. In total, the bridge is 3,911 meters long. The bridge initially had two towers that were 1,990 meters apart but were later displaced by the Great Hanshin earthquake on January 17, 1995, and the span increased by one meter. A dual-hinged stiffened girder system was built to guard the bridge against harsh winds, earthquakes, and strong sea currents.
The main towers of the Akashi Bridge are also designed to have a height above sea level of 282.8 meters, a convenient way to allow the bridge to expand up to two meters because of the heat during the day. Moreover, 350,000 tons of cement was used for each anchorage while the cables are made of steel and cover 300,000 kilometers of wire. In addition, the bridge has adornment lights that are 1,737 in number. The lights are linked up to the main cables, and they light up in different colors depending on occasions. The bright lights give Akashi a very relaxing and romantic look since they make the bridge look like a series of pearls aligned perfectly, hence its nickname Pearl Bridge.