Animal farming is the largest destroyer of the Amazon rainforest. Agriculture accounts for 80% of deforestation, and the Amazon's forests are shrinking at an alarming rate. Livestock take an enormous amount of land to raise, meaning their geological footprint is much larger than crop farms. In particular, cattle ranches and the beef industry are by far the most destructive to the Amazon, and the environment at large. Forest clearing, burning, and cutting, destroys natural habitats of wild animals - including a number of endangered species - to make pastures and fields for grazing cows. In addition, these cattle need to be fed, and the crops take up further acreage.
In this way, animal farming has a domino effect on the surrounding areas. Not only are rainforests cut down, but the soil's nutrients are depleted, greenhouse gases are emitted, water tables are altered, and diseases spread. Agriculture, and the steps and infrastructures needed to maintain these industries, are destroying the Amazon rainforest with alarming speed. Here is a list of the main contributors to rainforest destruction, and how they effect the Amazon. 
Deforestation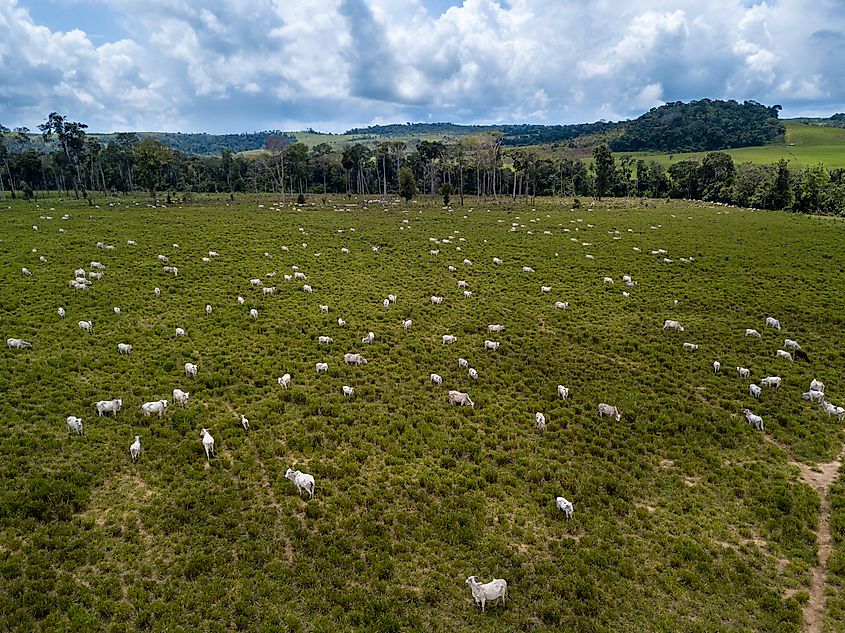 One of the largest, and most well known problems in the Amazon is that of deforestation. While trees have been cut for logging, development and human expansion, it is actually farming that is causing the most extreme and drastic deforestation among much of the Amazon rainforest. More than half of the Amazon rainforest belongs to Brazil. Because of this, it is here that much of the destruction or preservation of this forest is focused. Agriculture accounts for roughly 80% of deforestation in the Amazon, with figures showing upwards of 4,000km² of forest clearing in Brazil's amazon region. These areas are cleared, with nearly all vegetation cut, destroyed or burnt, in order to cultivate farmlands both for crops and livestock. 
Cattle Farming
Agriculture, tree clearing, and rampant illegal businesses have taken a toll on the natural (geography) of the area over the years. One of the largest contributing factors is that of cattle farming. Of all the Amazonian regions that have seen deforestation, 63% of that was directly due to the cattle farming industry. Vast areas of forested land are cleared to make space for cattle to roam and feed. Brazil is actually the largest producer of beef, raising and distributing more than any other region worldwide. A 2018 report showed Brazil's Amazonian region held over 86 million cattle. Cattle are a particular problem, more so than other livestock like pigs or chickens, as the land size needed to raise and feed cows is so much larger. Cows need a land size as much as 10 times greater than that of that needed for grain production, and much larger than any other livestock, while producing an equal amount of product. This means the agricultural industry uses significantly more resources to produce the same amount of beef as it would for say, poultry, which has a much smaller geological footprint. This means proportionally, the beef (and dairy) industries are far more destructive to the amazon - and the environment in general - than any other specific food source. A 2018 report showed Brazil's Amazonian region held over 86 million cattle. 
Crop Farming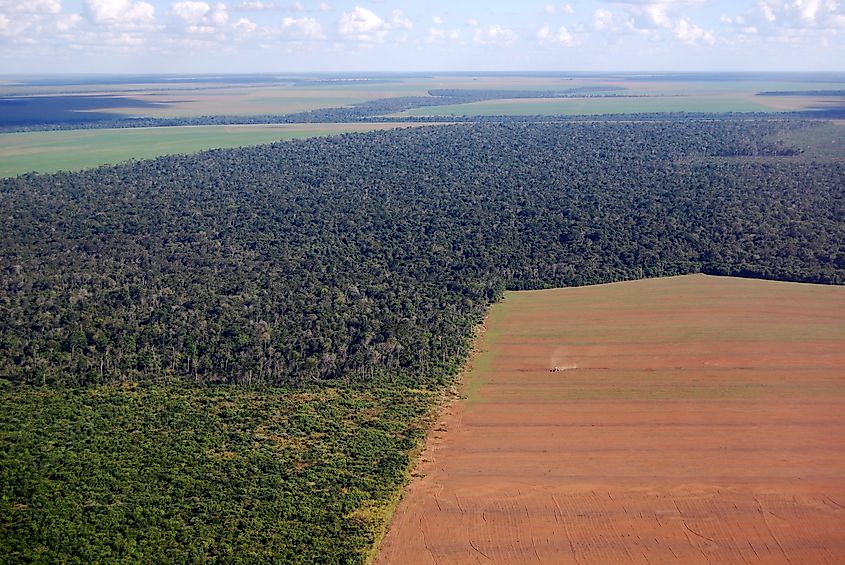 Soy is one of the most plentiful crops in the Amazon. Grown for livestock feed as well as for human consumption, nearly 25 million hectares of Amazon have been given over to soybean growth, with Brazil specifically being the second largest producer in the world. Other prominent crops in the area include coffee, bananas, and cacao, coca, rice, tea and oil palms. These plants are usually planted after slash and burn methods are used to clear the forests. This method is very harsh on the environment, as the land cannot maintain the nutritious soil provided by burning for many seasons. These crops are often considered short-term cash crop plantations, which allow for quick growth and profit for a few years. 4. Crop Growth for Livestock Clearing fields for agriculture is an increasing problem throughout much of the Amazon. While it may seem that the majority of crop farming is undertaken to produce food for humans to eat, there is also a large need for grain production to feed livestock. Brazil specifically grows a large quantity of soy, which is the leading source of animal feed. This soy and soy by-product can be used to feed a wide range of livestock including cows, for both beef and dairy farms, pigs, fish and chickens – for both meat and egg purposes. While large areas within the Amazon have been cleared for crops or cattle ranching, a huge percentage of land has been cleared and converted into croplands for animal feed. It takes on average one to two acres of land to feed raise one cow or cow/calf pair. Because of this, the geological footprint of cattle farming is significant. Land is needed for the cattle themselves, as well as additional acreage needed to feed these animals. In this way, natural rainforests are being mercilessly cut and cleared to make way for more and more farmlands to feed the cows.
Burning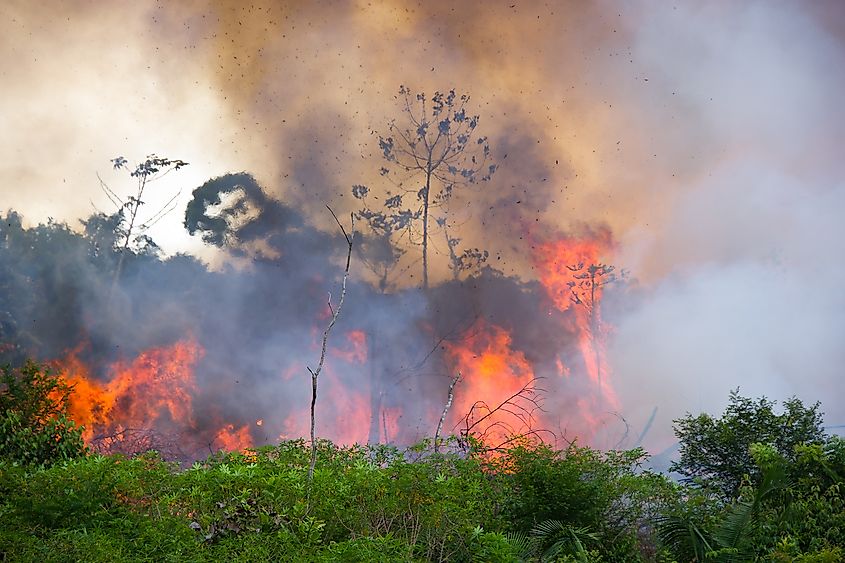 The soil in the Amazon tends not to be the kind best suited to farming or crop growth. Naturally, it is highly acidic, infertile and nutrient deficient. This means that the soil is not suitable for agriculture on its own. However, much of the above ground vegetation in rain forests are high in nutrients. The act of slashing, or cutting, and burning the forests allows these nutrients to return to the soil from the decimated plants. This technique is popular in the Amazon for two reasons, one being the need to enrich the soil, and two, its speed and efficiency. Farmers can clear and burn fields at once, helping to facilitate rapid growth in otherwise harsh conditions. Unfortunately, this method also kills everything in sight indiscriminately. Not only are the rainforests being cut down, but everything in the area is torched, making it very difficult for the natural vegetation to grow back once farming has ended. Similarly, if the land remains an agricultural plot, the nutrients do not stay in the soil for more than a few seasons. They are not naturally occurring in the dirt, and are therefore depleted easily. Grasses and fields need to be burned on a regular basis to maintain the level of nutrients needed for plants to grow. In many cases, it is simply easier to find new plots to clear and burn to continue farming, leaving devastated habitats behind. 
Cash Crops And Monocultures
Hand in hand with this slash and burn and quick crop technique, is the problem of monocultures. After the fields are burnt, and the soil is rich enough to plant, cash crops swiftly follow. These plantings, usually coffee, bananas or soy, are excellent short-term solutions, but run with various long term risks. Natural habitats are not made to sustain a single crop alone, and the soil and earth will suffer from single-minded farming. Some have chosen to combat this with crop rotations, altering the type of crop each season so as not to deplete the land, but this is not commonly done, as it is much more time consuming and expensive for the farmer. Another danger of monoculture is disease spread. When farmers plant only one type of crop, they open themselves up to potential diseases. It is very easy for disease to spread from one plant throughout an entire crop when they are all the same, effectively ruining an entire years income. 
Effects On The Water Table
Farming has an important if often unseen connection to the local water tables. It is the trees which hold the key role in keeping the water tables balanced, and the swift and full removal of them in large regions can have very negative effects. The trees - especially in a rainforest - are key to maintaining the balance of the habitat. They balance the water tables with their presence. When the trees are removed, this balance is thrown off. The trees play a key part in facilitating balance between ground water and water levels in the atmosphere. The number of trees, and vegetation in general in any given region will effect the levels and frequency of precipitation. Additionally, the removal of trees often leads to rapid soil erosion, as there is no longer a root system to hold the earth together. 
Erosion
The removal of trees often leads to rapid soil erosion, as there is no longer a root system to hold the earth together. When large areas are cut and cleared, the groud, once anchored by a complex system of tree roots and other vegetation, no longer has anything to help bind it. This loose soil can easily degrade and blow away in high winds, or be washed into rivers and water basins. This erosion is often compounded by certain crops. Common crops such as coffee, often planted in the cleared amazonian fields, have been known to accelerate soil break down.  In conjunction with decreased soil quality and shifts in water tables and rain patterns this erosion can lead to a total wiping out of clear cut fields and farming regions. 
Habitat Loss And Species Endangerment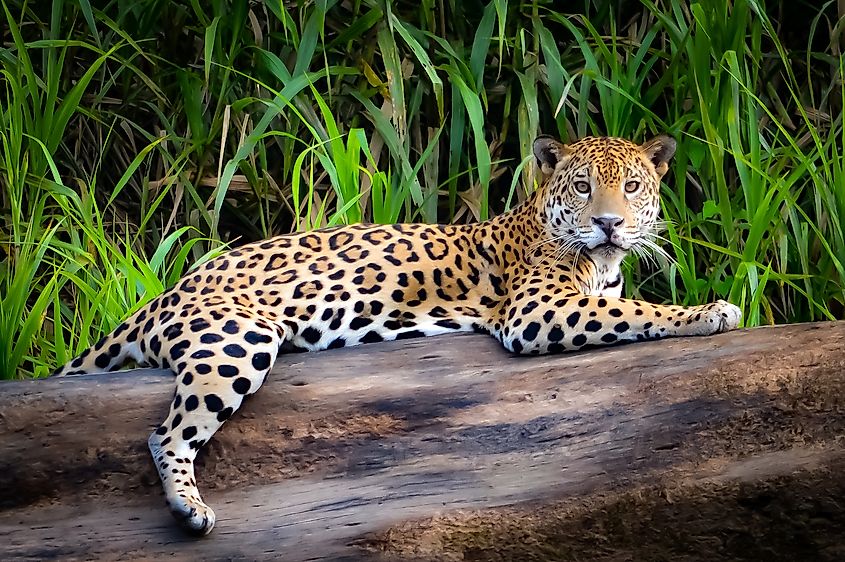 As the Amazonian rainforests are cut down, burned or converted into farm lands, the natural habitats of the region change. Over the last 50 years, some 17% of the Amazon's forests have been lost, mainly do to agriculture. As these forest are depleted, animals that call these forests home are finding the territories becoming smaller and smaller. As the land in which they once thrived diminishes, species try to adapt, or die. Many see a drastic decrease in global population, and a large number of animals native to the Amazon have become endangered. Species such as the sloth, jaguar, Asian elephant, tapir, golden tamarin,  and various species of monkeys have found themselves in vulnerable or endangered positions for an extinction stand point. Without the natural habitats to live and hunt in, many native Amazonian creatures are dying out.
Climate Change
Farming in the Amazon also has a huge impact on the local and global climate. This change is primarily due to deforestation, but there are other contributing factors as to why agriculture can be some problematic. Cattle farming, and the forest clearing associated with it, is responsible of releasing upwards of 340 million tons of carbon per year into the atmosphere. These green house gas emissions and carbon dioxide levels account for roughly 3.4% of global emissions. Both tree cutting and burning have negative effects on the environment, and release large amounts of greenhouse gases.