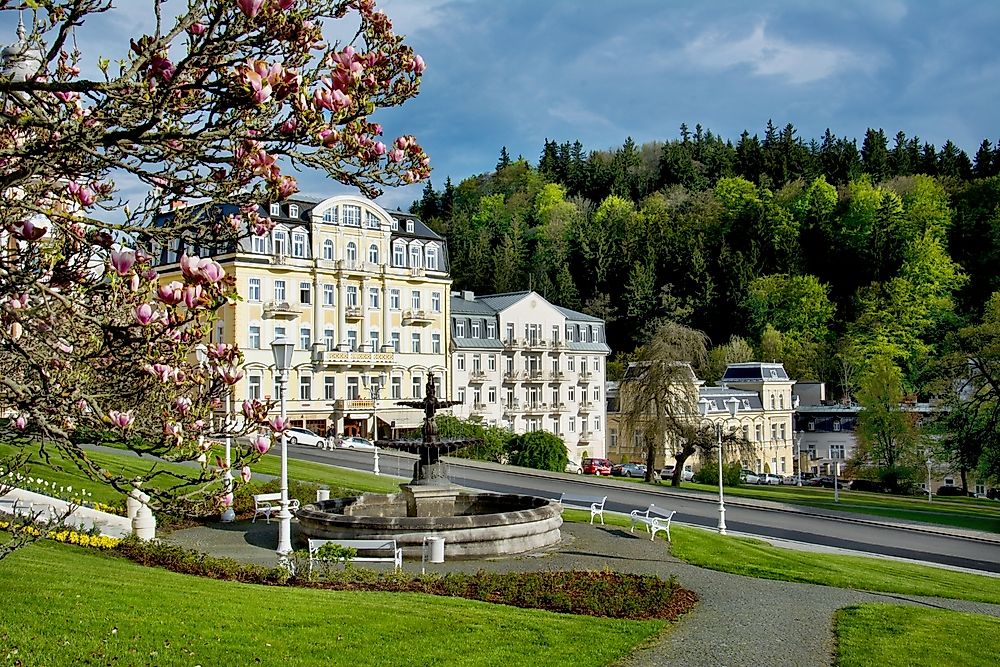 A spa town is a township with reputable hot and cold mineral springs. The term spa is derived from a town named Spa in Belgium, famous for its outstanding natural mineral springs. Spa towns attract patrons who visit the mineral waters for their purported health benefits. Spa towns are a reflection of historic healing centers with mineral waters before modern medicine developed in the 19th century. The vast majority of these towns are complete with a collection of spa features and significant architectural ensembles that includes special spa buildings such as colonnades, spa houses, casino houses, theatres, dedicated hotels, and boarding houses. 
History of Spa Towns
The history of spa towns dates back to 600 BC in modern-day Persia, where King Phraortes developed the first hot tub. The aim was to provide medical treatments through mineral and thermal water customs rooted to bathing, hydrotherapy, irrigations, drinking cures, and mud treatments for various diseases. A decade later, the Greeks basked in the pleasures of hot water and hot air baths. The Romans then followed by finessing the sybaritic soak through the invention of exclusive thermae that were built over hot springs. The splendid bathing facilities also acted as social centers, a tradition that spread to the east and transformed to the Middle Eastern hammam. In medieval times, western medicines were discovered but they played an insignificant role since the primitive societies strongly believed in the healing power of mineral water pools.
In the 19th century, spa towns became known as cure towns that primarily served the wealthy and rising bourgeoisie classes. They particularly offered healing water for symptomatic relief against arthritis, cancer, gout, respiratory, digestive, and nervous ailments. They also became hotbeds for cultural creativity. In the subsequent centuries, hot and cold mineral springs were periodically forgotten and later revived, and new ones uncovered. Cities developed around spa towns have fallen in and out of fashion in accordance with evolving dominant medical theories.
Modern Spa Towns
The end of the Second World War gave rise to modern innovation in the field of medicine, hence reducing the fortunes of the great spa cities. Nevertheless, the tradition of spa cities did not end as parts of the world still have healthy bathing traditions. In Europe, spa towns can be found in the great baths of Germany and the thalassotherapy spas of Spain, France, and Italy. In America, hot springs and mineral spas were seen as an old tradition and attendance dropped. In the 1950s, a new generation of spas emerged and the first modern spas were established in California and Mexico.
Today, there are thousands of spas in every corner of the world. Although the traditional spa towns have advanced to become modern facilities, they still offer hydrotherapy to patrons. Modern spas have been advanced to standard day spas that offer body treatments and lifestyle services and medical spas offering traditional hydrotherapy, which includes cold mineral water treatments and geothermal baths.