What Are The Primary Inflows And Outflows Of Lake Athabasca?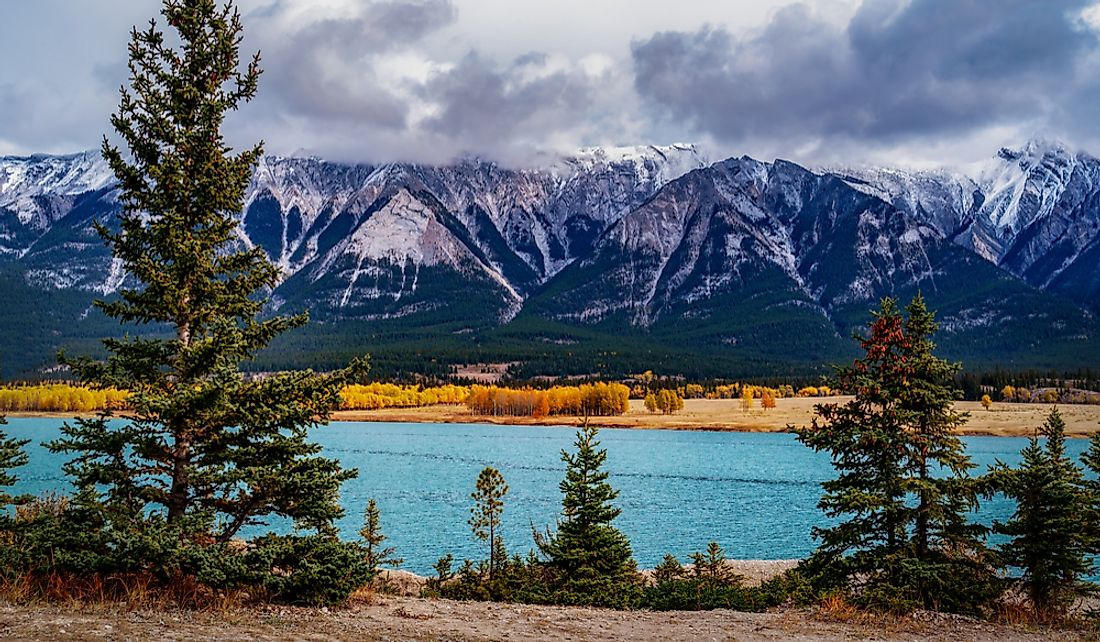 Lake Athabasca is a large lake that spans the Saskatchewan-Alberta provincial border in Canada. Approximately 26% of the lake is located in the northeast corner of Alberta, while the remainder is in northwest Saskatchewan. The lake has a total surface area of 7,850 sq km, a maximum length of 283 km, a maximum width of 50 km, and a maximum depth of 123 m. Lake Athabasca is the deepest and largest lake in both Alberta and Saskatchewan, and ranks as the eighth largest in the country. Many rivers flow into Lake Athabasca. However, its primary inflows include the Peace River, Athabasca River, Fond du Lac River, Colin River, William River, and MacFarlane River. The lake's primary outflow is the Rivière des Rochers.
Primary Inflows of Lake Athabasca
Peace River
The Peace River originates in British Columbia's Rocky Mountains. It then flows northeast, through Alberta to the Peace-Athabasca Delta, which is a large inland delta in Wood Buffalo National Park and is located at the western end of Lake Athabasca. The river then exits the lake and joins with the Rivière des Rochers to form the Slave River.
Athabasca River
The Athabasca River originates from the Columbia Glacier in Jasper National Park, Alberta. The picturesque Athabasca Falls is located along the upper course of the Athabasca River. Next, the river flows through protected areas of Alberta, including Wood Buffalo National Park, before emptying into the Peace-Athabasca Delta, whose waters enter Lake Athabasca.
Fond du Lac River 
The Fond du Lac River begins at an elevation of 395 meters on Wollaston Lake in Saskatchewan and then flows for a distance of 277 km before draining into Lake Athabasca.
Primary Outflow of Lake Athabasca
The Rivière des Rochers is the most important outflow of Lake Athabasca. The river exits the lake and flows north around several islands before it meets the Peace River. The confluence of these rivers forms the Slave River. When water levels are high, which typically occurs in late spring or summer, water from the Rivière des Rochers can flow in the reverse direction, flowing back into Lake Athabasca.
Importance of Lake Athabasca
Lake Athabasca's northern shore was historically a significant uranium and gold mining hub. The lake also contains 23 species of fish, including Arctic grayling, yellow perch, walleye, burbot, and white sucker, and is, therefore, an important fishing area in Canada. The Lake Athabasca Sand Dunes are a unique natural feature located near the southern shore of the lake and were designated as a "Provincial Wilderness Park" in 1992.