Sri Lanka is an island country in the Indian Ocean. Despite its small size, Sri Lanka is host to a great diversity of flora and fauna. About 123 mammalian species live in the country including many threatened ones. One species is critically endangered, ten each are endangered and vulnerable, and three species are near threatened. Sri Lanka also has high levels of endemism. 23% of all flowering plants and 16% of the fauna found in this country occur nowhere else in the world. Some of the most iconic mammalian fauna of Sri Lanka have been mentioned below.
Sri Lankan Elephant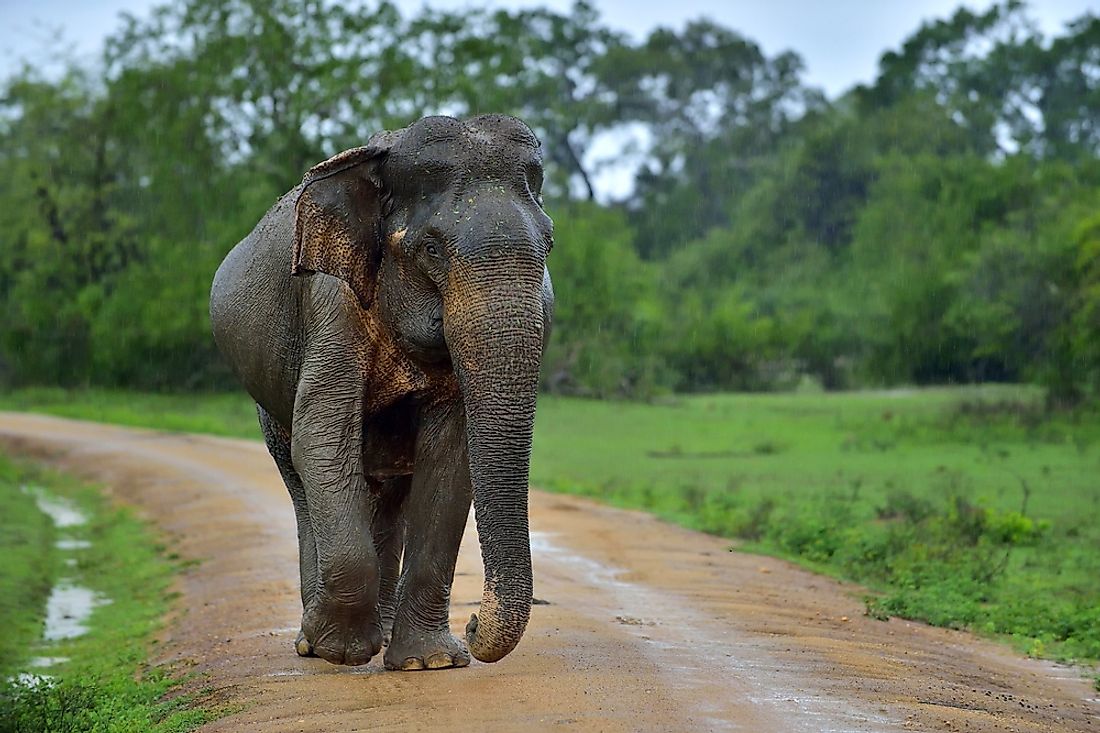 Elephas maximus maximus is one of three subspecies of the Asian elephant. It is native to Sri Lanka. These elephants are the largest subspecies of the Asian elephant. They reach a shoulder height of between 2 and 3.5 m. They also have a darker skin color. These elephants have a restricted habitat confined to the dry zone in Sri Lanka's north, east, and southeast. Human-animal conflicts and habitat destruction threaten the survival of the Sri Lankan elephant. 50% of the population of these animals have been lost over the last three generations. Thus, IUCN has listed the species as endangered.
Toque Macaque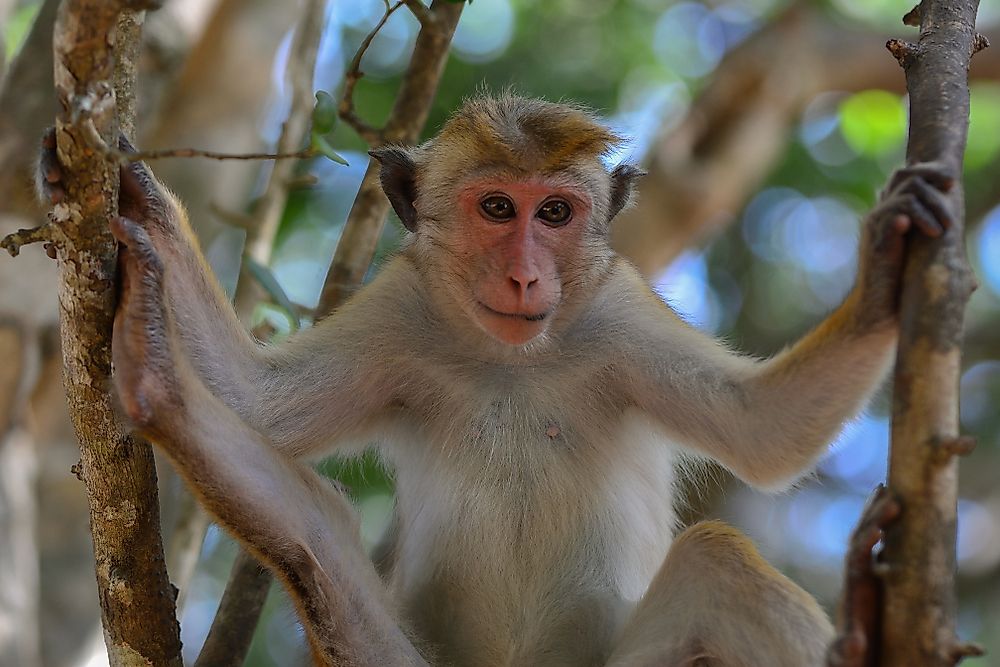 The Macaca sinica is a primate endemic to Sri Lanka. It is a reddish-brown-colored Old World monkey with a highly structured society. They live in groups of 8 to 40 members. These monkeys have a broad diet consisting of flowers, fruits, grains, etc. They also easily adapt to living near humans and have very little fear of them. Wild cats and Indian rock python are the primary predators of these monkeys. Since the torque macaque has a highly restricted habitat limited to the island of Sri Lanka and is threatened by habitat destruction, hunting, and capture for the pet trade, IUCN has listed the species as endangered. Due to the habit of these monkeys to invade croplands, farmers often resort to killing them to protect their crops. Thus, human-monkey conflict needs to be addressed to protect the species.
Sri Lankan Brown Palm Civet
The Paradoxurus montanus is a species of viverrid endemic to Sri Lanka. It has a dark wood-brown coat that is slightly grayish-toned. The underside is paler. The eyes are large and have vertical pupils. The ears are round and prominent. What distinguishes this species from other civets is the pleasant smell released by its anal glands. Most other civets are known to produce unpleasant odors. The brown palm civets odor has been compared to the fragrance of Michelia champaca.
Sri Lankan Leopard
Panthera pardus kotiya is a leopard subspecies found only in Sri Lanka. This leopard has a tawny to rusty yellow-colored coat with rosettes that are smaller than that of the Indian leopards. Since the Sri Lankan leopard faces no competition in its habitat and is the apex predator therein, it grows quite large. Males of this subspecies often weight as much as 100 kg. These felids occupy a wide variety of habitats ranging from grasslands and forest patches to tea estates and plantations. They are solitary hunters and usually nocturnal. They prey on small mammals, reptiles, and birds. The Sri Lankan leopard is threatened with habitat loss and fragmentation, poaching, and persecution. IUCN has enlisted the species as endangered.
Purple-faced Langur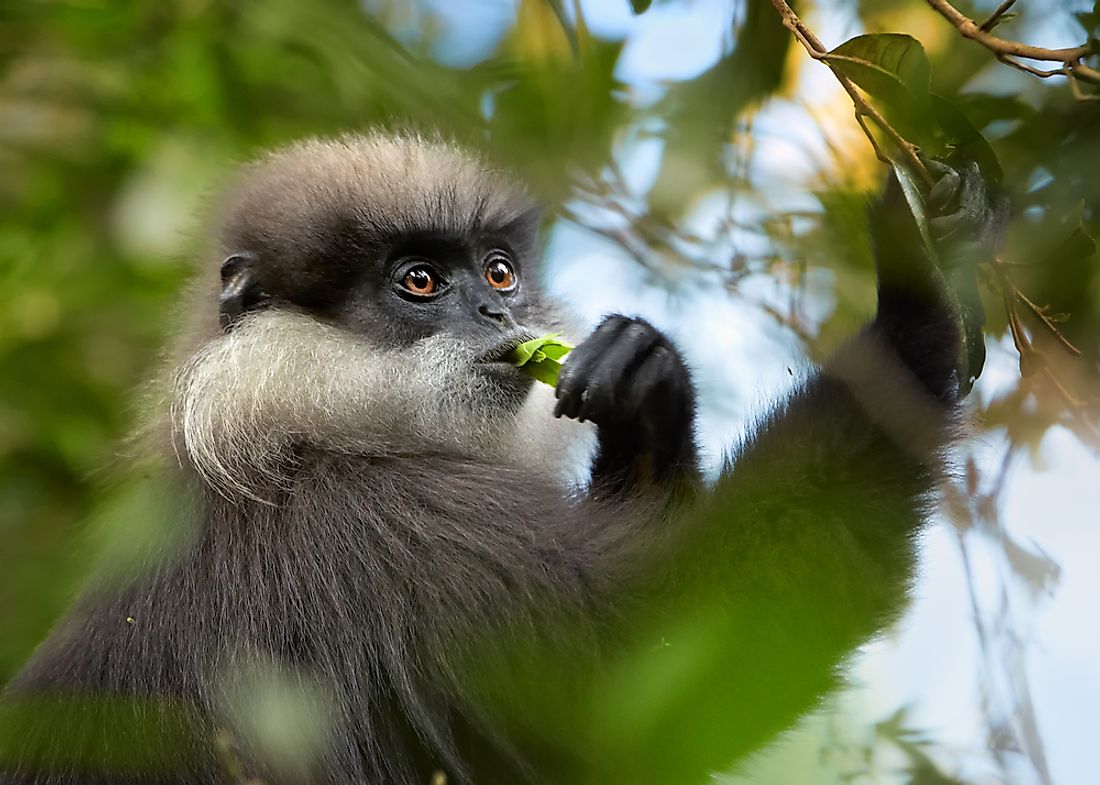 The Semnopithecus vetulus is an Old World monkey found only in Sri Lanka. It is an arboreal species with a brown coat, dark face, and long tail. It occurs in the canopy forests in Sri Lankan mountains and also in the wet zone in the southwestern part of the country. The purple-faced langurs have a largely folivorous diet consisting of fruits, seeds, and flowers. Sadly, these animals are subjected to numerous challenges in their habitat. Their range is continuously decreasing due to deforestation and urbanization. Much of the natural forests where they thrived have now been destroyed. The langurs have no been forced to live closer to humans and are often subjected to persecution due to human-animal conflict.
Sri Lankan Sloth Bear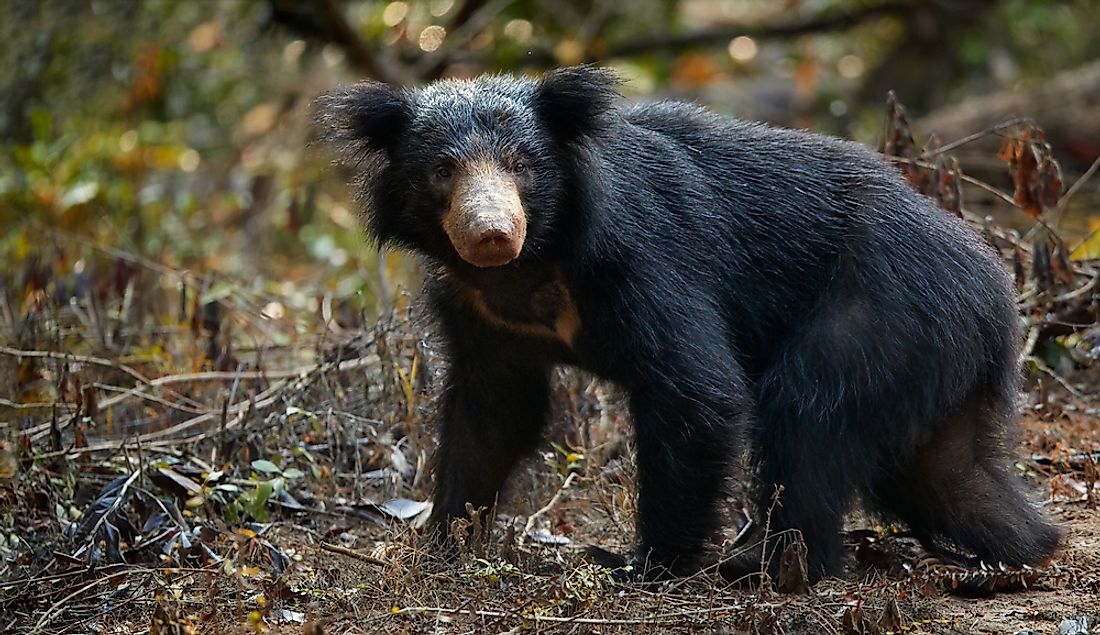 Melursus ursinus inornatus is a sloth bear subspecies found in Sri Lanka. It lives in the lowland dry forests of the country. It is an omnivorous mammal that feeds on roots, berries, nuts, meat, and carrion. It also consumes insects. Unfortunately, the Sri Lankan sloth bear is on the verge of extinction. Only about 500 individuals of this species remain in the wild in small, isolated populations. It is highly dependent on natural forests for food and the destruction of the same has led to its dramatic population decline.
Red Slender Loris
The Loris tardigradus is a small, nocturnal primate found in the Sri Lankan rainforests. It is endemic to the country. It has forward-facing eyes and long slender limbs. The tail is absent in the species. It has a well-developed index finger and larger prominent ears. The fur is reddish-brown color on the dorsal surface white the underside is whitish-grey. These animals sleep during the daytime and are active at night. They hunt for insects, small reptiles, and bird eggs but also feed on plant parts. The red slender loris is an endangered species suffering from habitat destruction, and trapping and killing by humans. Road accidents, electrocution on live wires and capture for the pet trade also claims many individuals from the wild. Thus, is has been labeled as an endangered species by the IUCN.
Grizzled Giant Squirrel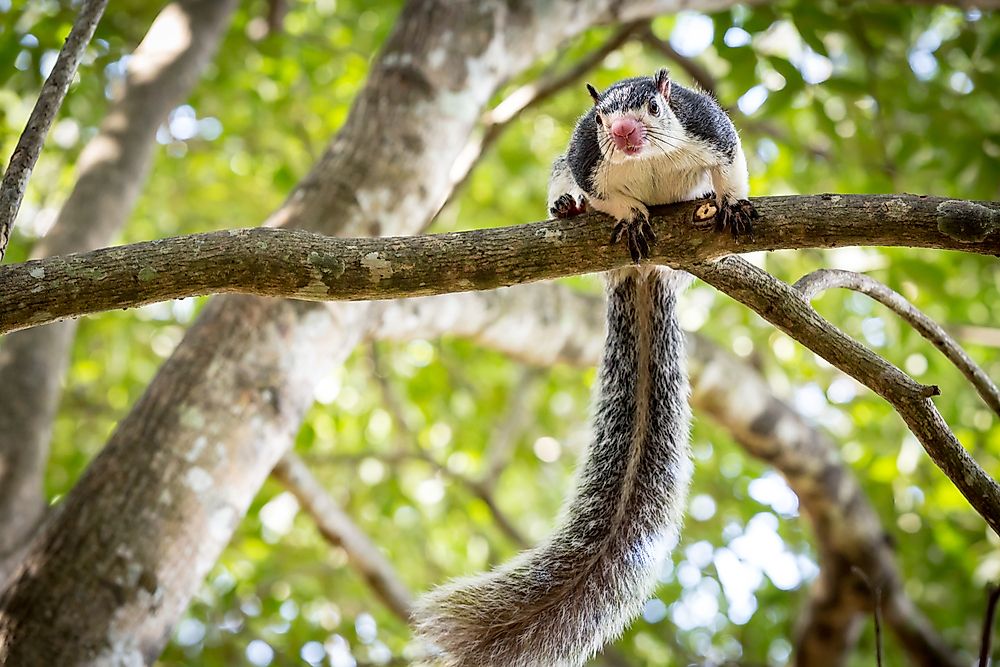 The Ratufa macroura is a tree squirrel found in the Sri Lankan highlands and some parts of southern India. It is the smallest of the giant squirrels found in the Indian subcontinent. It can range in size from 50 to 90 cm from head to the tip of the tail. These squirrels feed on fruits, nuts, bird eggs, and insects. It has been enlisted as a Near Threatened species due to hunting and habitat loss.