Travel
The Oldest Hotels in the World
At over 1,000 years old, Nishiyama Onsen Keiunkan in Japan is the world's oldest hotel.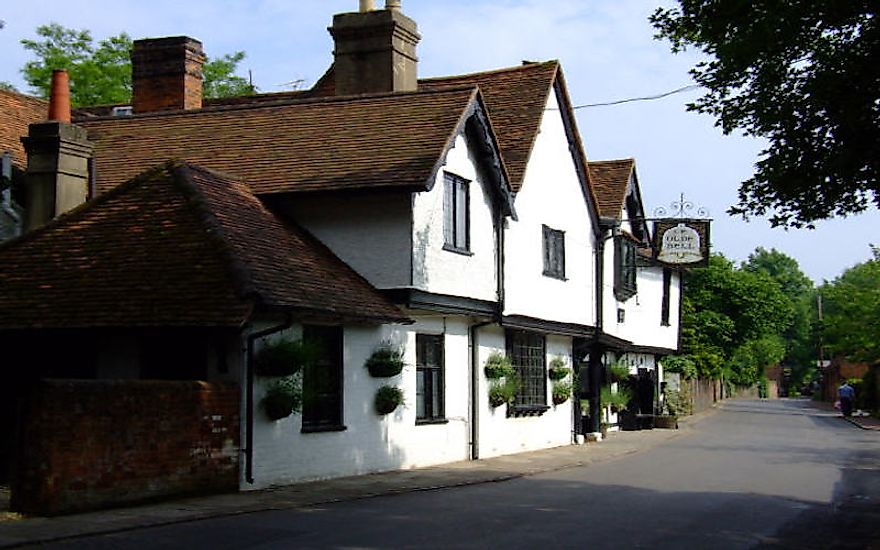 Hotels are a common feature in urban as well as rural landscapes. They provide accommodation and sometimes entertainment and recreational facilities. Hotels are an important element in the tourism sector as they add to the desirability of a particular tourist destination. The institution of hotels has been embraced as far back as biblical times when they were referred to as inns. At over 1,000 years old, Nishiyama Onsen Keiunkan in Japan is the world's oldest hotel.
The World's Oldest Hotels
Nishiyama Onsen Keiunkan
The Nishiyama Onsen Keiunkan hotel opened its doors to the public in the year 705 AD in the Yamanashi prefecture, Japan. It was opened by Fujiwara Mahito, who was the son of Emperor Tenji's aid. The hotel is situated in a remote valley surrounded by mountains including Mount Fiji. Located on the property are hot springs which supply water to baths in the hotel. Nishiyama Onsen Keiunkan has 37 rooms which have housed military commanders, politicians, ruling families, and even samurai. The hotel has been particularly popular during wars since the hot water helped to relieve aching muscles. The hotel is still operating as a family-run entity.
Hoshi Ryokan
Still in Japan is the second oldest hotel in the world, the Hoshi Ryokan. It began operations as an inn in 718 AD in the Komatsu Area in Ishikawa Prefecture. The hotel has hot springs and runs popular open-air baths. According to its history, the hot springs were hailed as having healing properties. The hotel offers Japanese-style accommodation and an array of traditional dishes. It also ranks as one of the oldest family businesses worldwide, having been passed down 46 generations.
Olde Bell Hotel
The Olde Bell Hotel is the oldest hotel in England having begun operations in 1135 in Hurley. It started as a coaching inn and has been expanded and renovated throughout time. The inn's location as the midpoint between Edinburg and London on the Great North Road made it popular with highway men and stagecoaches. The hotel is home to artwork from this period. The Olde Bell Hotel is mentioned in history in several important accounts such as being the meeting point for Dwight D. Eisenhower and Winston Churchill in the course of World War II.
Sanct Peter
The title of the oldest hotel in Germany goes to Sanct Peter located in Cologne. It has operated since 1246. The hotel is nestled between the vineyards of Iowa and offers a variety of sparkling wines to its visitors. In addition to a picturesque view, the hotel also offers world-class cuisines and a tradition of warm hospitality to its customers. The hotel's rooms are well decorated in the attractive colors of the Ahrntal Valley. Sanct Peter is continuously ranked as one of Germany's top 100 hotels.
Trends In The Hotel Industry
Hotels have come a long way, and modern hotels are equipping with contemporary tools to stay in business and remain relevant. Case in point is the rising popularity of bookings made through a hotel's website and other software applications rather than by telephone. The emergence of lifestyle hotels is another trend, which are smaller institutions designed to be creative, dynamic, modern, and affordable.
What is the Oldest Hotel in the World?
At over 1,000 years old, Nishiyama Onsen Keiunkan in Japan is the world's oldest hotel.
The Oldest Hotels in the World
| Rank | Hotel Name | Date of Construction | Location |
| --- | --- | --- | --- |
| 1 | Nishiyama Onsen Keiunkan | 705 | Yamanashi, Japan |
| 2 | Hoshi Ryokan | 718 | Komatsu, Japan |
| 3 | Olde Bell Hotel | 1135 | Hurley, England |
| 4 | Sanct Peter | 1246 | Cologne, Germany |
| 5 | Orso Grigio | 1300 | San Candido, Italy |
| 6 | Hotel Bären | 1311 | Freiburg, Germany |
| 7 | Hotel Interlaken | 1323 | Interlaken, Switzerland |
| 8 | Beekman Arms | 1766 | Rhinebeck, United States |
About the Author
Benjamin Elisha Sawe holds a Bachelor of Arts in Economics and Statistics and an MBA in Strategic Management. He is a frequent World Atlas contributor. 
This page was last updated on January 26, 2018.
Citations
Your MLA Citation
Your APA Citation
Your Chicago Citation
Your Harvard Citation
Remember to italicize the title of this article in your Harvard citation.