Environment
The National Parks Of Albania
The fifteen national parks in Albania encompass an area of 210,668.48 hectares which accounts for about 3.65% of the overall territory of the country.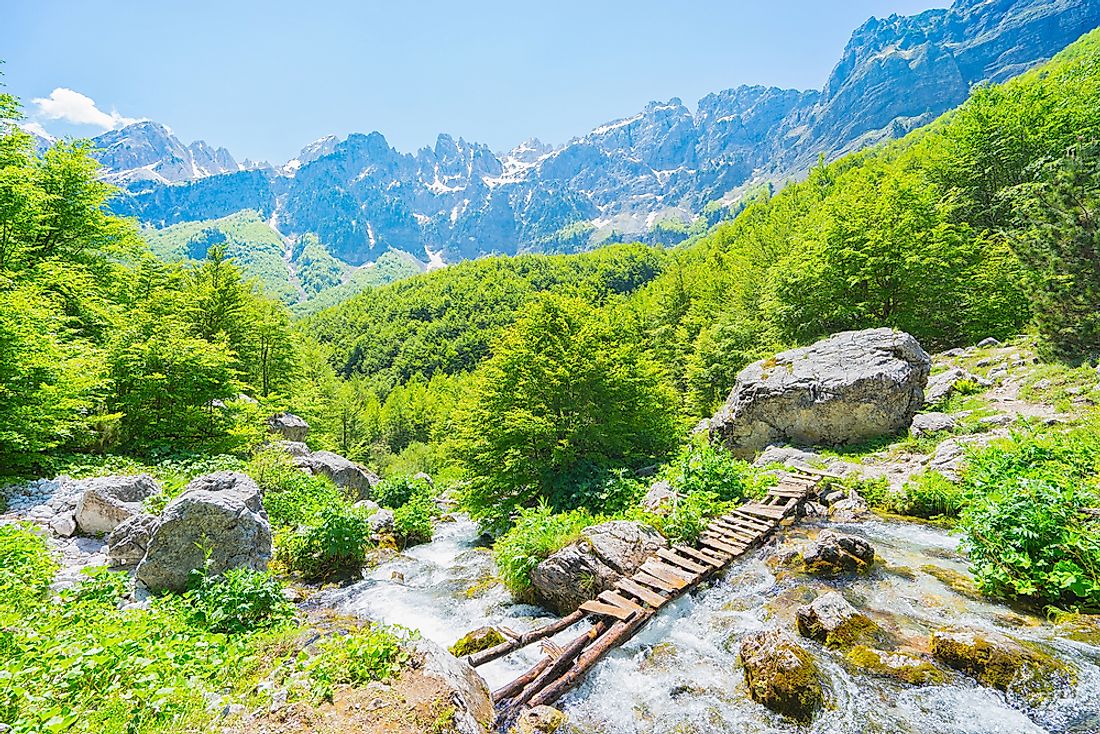 Albania's national parks cover an area of approximately 210,668 hectares or about 13.65% of the country's total area. The network of protected areas include national parks, nature reserves, archaeological sites, and marine reserves. Albania has a network of 15 national parks and eight archaeological parks which are managed by the Ministry of Environment and the National Parks of Albania agencies. Butrint National Park, one of the most well-known parks in Albania, has been included in UNESCO's World Heritage List. It is also among the top ten must see national parks in the world according to the Guardian.
Ecoregions of Albania
Albania consists of different ecoregions that represent the natural geographical ecosystem, water, weather, and renewable resources. The territory of Albania can be divided into four ecoregions:
Dinaric Alpine (mixed forests in the far north).
Balcanic (mixed forest in the north-east).
Pindus mountain (mixed forests covering the central and southeast mountains).
Illyrian deciduous (forest covering the rest of the country).
Albania is generally a mountainous country, with many areas reaching 1,000 meters above sea level. The coastal area enjoys the Mediterranean climate while the inland area experience a continental climate. The coastal area covers approximately 450 kilometers and is located between the Adriatic and Ionic seas.
The Wild Flora and Fauna of Albania
The Environment of Albania is characterized by unique flora and fauna. The climate and terrain of the country creates a favorable environment for several endemic and sub-endemic species. About 3,900 square miles of Albania is forested and about 3,000 different species of plants grow in the country. Several plant species in the country are used for medicinal purposes. Albania is categorized as the Boreal Kingdom and Circumboreal Region Phytogeographically. Clovers are a common species in Albania, with 63 different varieties. The forests are home to several species of mammals including wolves, polecats, and chamois among others. About 750 vertebrates including 350 birds, 330 marine fish, and 80 mammals are found in the country.
Establishment of National Parks in Albania
Albania has about 800 protected areas in the country, including national parks, landscapes, nature reserves, nature science reserves, and resource areas. The National Agency of Protected Areas, founded in 2015, is responsible for the management, development, and expansion of the protected areas. The agency operates under the Ministry of Environment. The first six national parks in Albania were established in 1966 and since then nine more national parks have been added with the latest established in 2010.
Significance of National Parks in Albania
National Parks in Albania are important because they help protect the country's ecosystem. While the national parks offer recreational venues for humans, the areas are monitored to ensure the natural landscape is not disturbed by human activity. The parks offer protection to endangered species such as the lynx, which would be extinct if the areas were not monitored. Butrint National Park and several other parks have been recognized as heritage sites both locally and internationally by the UNESCO.
List of National Parks in Albania
| Rank | National Park | Area Of National Park | Year Established |
| --- | --- | --- | --- |
| 1 | Fir of Hotova National Park | 34,361.1 hectares | 2008 |
| 2 | Shebenik Jabllanicë National Park | 33,927.7 hectares | 2008 |
| 3 | Dajti National Park | 29,384.18 hectares | 1966 |
| 4 | Prespa National Park | 27,750 hectares | 1999 |
| 5 | Mount Tomorr National Park | 24,723.1 hectares | 1996 |
| 6 | Divjaka-Karavasta National Park | 22,230 hectares | 2008 |
| 7 | Karaburun Sazan National Park | 12,428 hectares | 2010 |
| 8 | Butrint National Park | 9,424.4 hectares | 1966 |
| 9 | Valbonë Valley National Park | 8,000 hectares | 1996 |
| 10 | Theth National Park | 2,630 hectares | 1966 |
| 11 | Shtamë Pass National Park | 2,000 hectares | 1996 |
| 12 | Fir of Drenova National Park | 1,380 hectares | 1966 |
| 13 | Lurë National Park | 1,280 hectares | 1966 |
| 14 | Llogara National Park | 1,010 hectares | 1966 |
| 15 | Zall Gjoçaj National Park | 140 hectares | 1996 |
About the Author
John Misachi is a seasoned writer with 5+ years of experience. His favorite topics include finance, history, geography, agriculture, legal, and sports. 
This page was last updated on September 11, 2019.
Citations
Your MLA Citation
Your APA Citation
Your Chicago Citation
Your Harvard Citation
Remember to italicize the title of this article in your Harvard citation.