The Largest Shopping Centres In Australia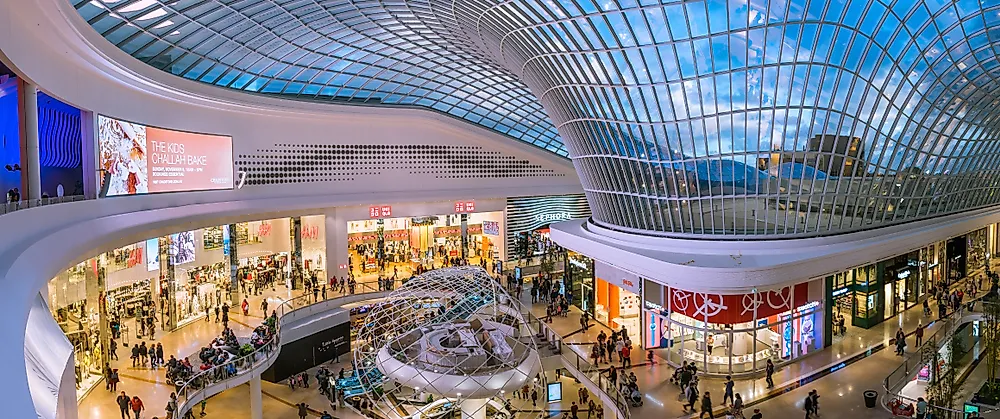 Shopping In Australia
Thinking of Australia often conjures up images of the Great Barrier Reef or the Outback, but this South Pacific country is also home to some of the most impressive shopping centers in the world. In fact, as of 2015, Australia had 1,753 retail centers. This article takes a closer look at the largest shopping centers per area in Australia.
1. Chadstone Shopping Centre
The Chadstone Shopping Centre is located in Melbourne, Australia. At 2 million square feet, it is the largest shopping center in the country. Until 2009, it was the largest shopping center in the Southern Hemisphere. The Chadstone was also the first regional shopping center in Australia; when it opened in October of 1960, it influenced the shopping patterns of the time by drawing people away from traditional city center shopping. A fiberglass roof, bowling alley, and auditorium were opened during the 1970's and 1980's. Today, it houses 510 stores, including: Target, H&M, Aldi, and Gap. In 2013, its moving annual turnover (MAT) was recorded at $1.4 billion.
2. Westfield Fountain Gate
The Westfield Fountain Gate is located in Melbourne, Australia. This is the second largest shopping center in the country with 1,913,340 square feet of space. It was opened in November of 1970 and underwent restoration in the 1980s that brought with it the global retailers Kmart and Coles. From 2011 to 2012, the space in this shopping center was expanded to include a 129,166-square foot Myers store and a 45,208-square foot Coles, as well as several other store expansions. It houses 464 stores and 6,493 parking spaces.
3. Westfield Sydney
The Westfield Sydney is located in the city of Sydney in New South Wales. It covers an area of 1,807,380 square feet, making it the third largest shopping center in Australia. When it opened in 1972, it only had 52 stores. This shopping center underwent significant renovations in 1984, 1996, and 2000, when it was known as the Centrepoint Shopping Centre. In 2003, the Westfield Group purchased the property and renamed it Westfield Centrepoint. Between 2010 and 2012, Westfield Group invested around $930 million in renovations of 4 neighboring shopping centers: Westfield Centrepoint, Sydney Central Plaza, Imperial Arcade, and Skygarden. Part of the redevelopment efforts included merging these 4 centers to create the Westfield Sydney. Today, this shopping center houses 361 stores.
4. Pacific Fair
The Pacific Fair shopping center is located on the Gold Coast in Queensland. It is the fourth largest shopping center in Australia and has a total area of 1,670,000 square feet. When it opened in 1977, this shopping center had only 98 stores. In addition to being a shopping center, the Pacific Fair also serves as a hub for public transportation, including the bus line and G-link light rail. Over the years, this site has been under several renovations and expansions. The latest of these began in January of 2014 with a $670 million investment. It includes an outdoor entertainment area, a casual dining patio, 3 Gold Class cinemas, and a VMax theater. Today, this shopping center is home to just over 400 stores and around 6,500 parking spaces.
The Largest Shopping Centres In Australia
| Centre | Shopping Centre | Suburb | Current size (square meters) |
| --- | --- | --- | --- |
| 1 | Chadstone Shopping Centre | Malvern East, Victoria | 190,000 |
| 2 | Westfield Fountain Gate | Narre Warren, Victoria | 177,755 |
| 3 | Westfield Sydney | Sydney, New South Wales | 167,911 |
| 4 | Pacific Fair | Broadbeach, Queensland | 155,000 |
| 5 | Highpoint Shopping Centre | Maribyrnong, Victoria | 153,900 |
| 6 | Westfield Chermside | Chermside, Queensland | 150,733 |
| 7 | Westfield Garden City | Upper Mount Gravatt, Queensland | 142,835 |
| 8 | Westfield Knox | Wantirna South, Victoria | 141,934 |
| 9 | Macquarie Centre | Macquarie Park, New South Wales | 138,500 |
| 10 | Westfield Parramatta | Parramatta, New South Wales | 137,183 |
| 11 | Westfield Carindale | Carindale, Queensland | 135,496 |
| 12 | Robina Town Centre | Robina, Queensland | 134,500 |
| 13 | Westfield Marion | Oaklands Park, South Australia | 133,778 |
| 14 | Eastland Shopping Centre | Ringwood, Victoria | 131,000 |
| 15 | Westfield Southland | Cheltenham, Victoria | 129,167 |
| 16 | Westfield Bondi Junction | Bondi Junction, New South Wales | 127,716 |
| 17 | Westfield Warringah Mall | Brookvale, New South Wales | 126,634 |
| 18 | Westfield Doncaster | Doncaster, Victoria | 123,190 |
| 19 | Watergardens Town Centre | Taylors Lakes, Victoria | 115,000 |
| 20 | Indooroopilly Shopping Centre | Indooroopilly, Queensland | 115,000 |