Environment
National Parks in Nunavut, Canada
Nunavut, one of the three Canadian territories, hosts some of the largest national parks of Canada by land area.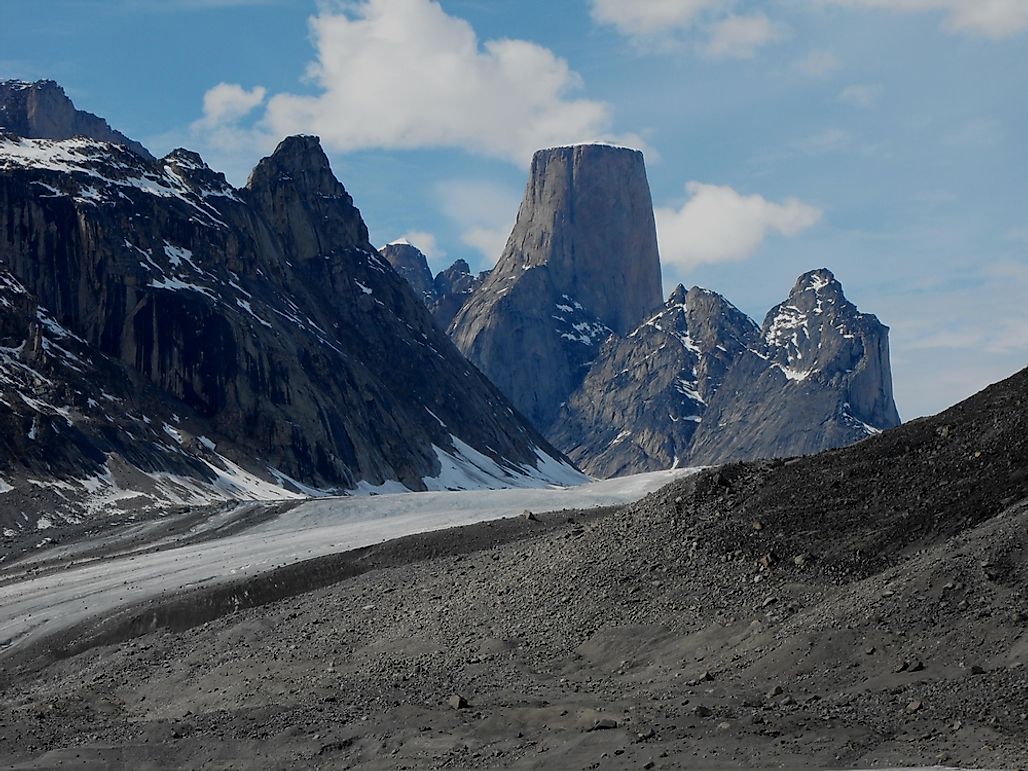 Nunavut is a Canadian territory with a land area of 1,877,787 square km. The territory includes parts of northern Canada, as well as the islands further north including those of the Arctic Archipelago. As most of Nunavut lacks permanent human habitation, vast stretches of land here have been declared as national parks. We will outline these amazing, pristine, northern places below.
5. Ukkusiksalik National Park
This national park occupies an area of 20,885 square km in Nunavut south of the Arctic Circle. The park features vast stretches of tundra and coastal mudflats. The national park is the sixth largest in the country but the smallest in Nunavut itself. A reversing waterfall is a major attraction in this national park. The Ukkusiksalik National Park is also home to several archeological sites and a rich abundance of flora and fauna. Arctic wolves, polar bears, peregrine falcons, and grizzly are the most important residents of this protected area. The national park was established on August 23, 2003.
4. Auyuittuq National Park
A vast area of Arctic wilderness, the Auyuittuq National Park expands across an area of 19,089 square km on Baffin Island. Ice fields, glaciers, and fjords characterize the landscape of this park. In 2000, the Auyuittuq National Park Reserve was upgraded to the status of a national park. Due to the extremely cold conditions prevailing in the national park, little floral and faunal diversity is seen here. However, some of the mammals and birds of the park include lemmings, red foxes, polar bears, snowy owls, Arctic hares, Arctic fox. The coastal waters host many marine species like the narwhals, beluga whales and more.
3. Qausuittuq National Park
Qausuittuq National Park protects an area of 11,000 square km on Bathurst Island. The park was established in the year 2015. Covered by ice and snow in most parts, the national park has little vegetation. Herbaceous species dominate the vegetation type found here. The Qausuittuq National Park is an important habitat for a subspecies of the caribou known as the Peary caribou. Other animals and birds found here include polar bears, Arctic wolves, and foxes, snowy owls, jaegers, gulls, snow geese, etc. Marine life in the coastal waters is quite rich and diverse and include beluga whales, bearded seals, walruses, ringed seals, narwhals, etc.
2. Quttinirpaaq National Park
Established as a national park in 2000, the Quttinirpaaq National Park is the world's second most northerly national park. It is located on Nunavut's Ellesmere Island. The national park encompasses an area of 37,775 square km. Its massive size makes it Canada's second largest national park. The national park's landscape is rugged and ice-covered. Glaciers descend down from the ice-covered mountains. Interestingly, it can be described as a polar desert due to the negligible annual precipitation. The Quttinirpaaq National Park also hosts Nunavut's highest point which is the 2,616 m tall Barbeau Peak. As evident from the extreme climate of the place, little vegetation is found here. A number of birds flock to the area in summer. Small mammalian populations of lemmings, Arctic wolves, and hares, Peary caribou, etc., are also found. The coastal areas and coastal waters house polar bears, ringed and bearded seals, narwhals, and walruses.
1. Sirmilik National Park
The Sirmilik National Park is a 22,200 square km of protected area located in Nunavut's Arctic Cordillera. Archeological finds in the area have indicated the presence of humans here for thousands of years. Initially, the park was established as a bird sanctuary due to the large colonies of seabirds nesting in the area. Later, the area was designated as a national park in 2001. Arctic fauna and flora are found in the park. Polar bears are the most notable of these species.
The Five National Parks Of Nunavut, Canada
| Rank | Park Name | Date Established |
| --- | --- | --- |
| 1 | Ukkusiksalik | 2003 |
| 2 | Auyuittuq | 2001 |
| 3 | Sirmilik | 2001 |
| 4 | Quasuittuq | 2015 |
| 5 | Quttinirpaaq | 1988 |
About the Author
Oishimaya is an Indian native, currently residing in Kolkata. She has earned her Ph.D. degree and is presently engaged in full-time freelance writing and editing. She is an avid reader and travel enthusiast and is sensitively aware of her surroundings, both locally and globally. She loves mingling with people of eclectic cultures and also participates in activities concerning wildlife conservation.
This page was last updated on June 11, 2019.
Citations
Your MLA Citation
Your APA Citation
Your Chicago Citation
Your Harvard Citation
Remember to italicize the title of this article in your Harvard citation.