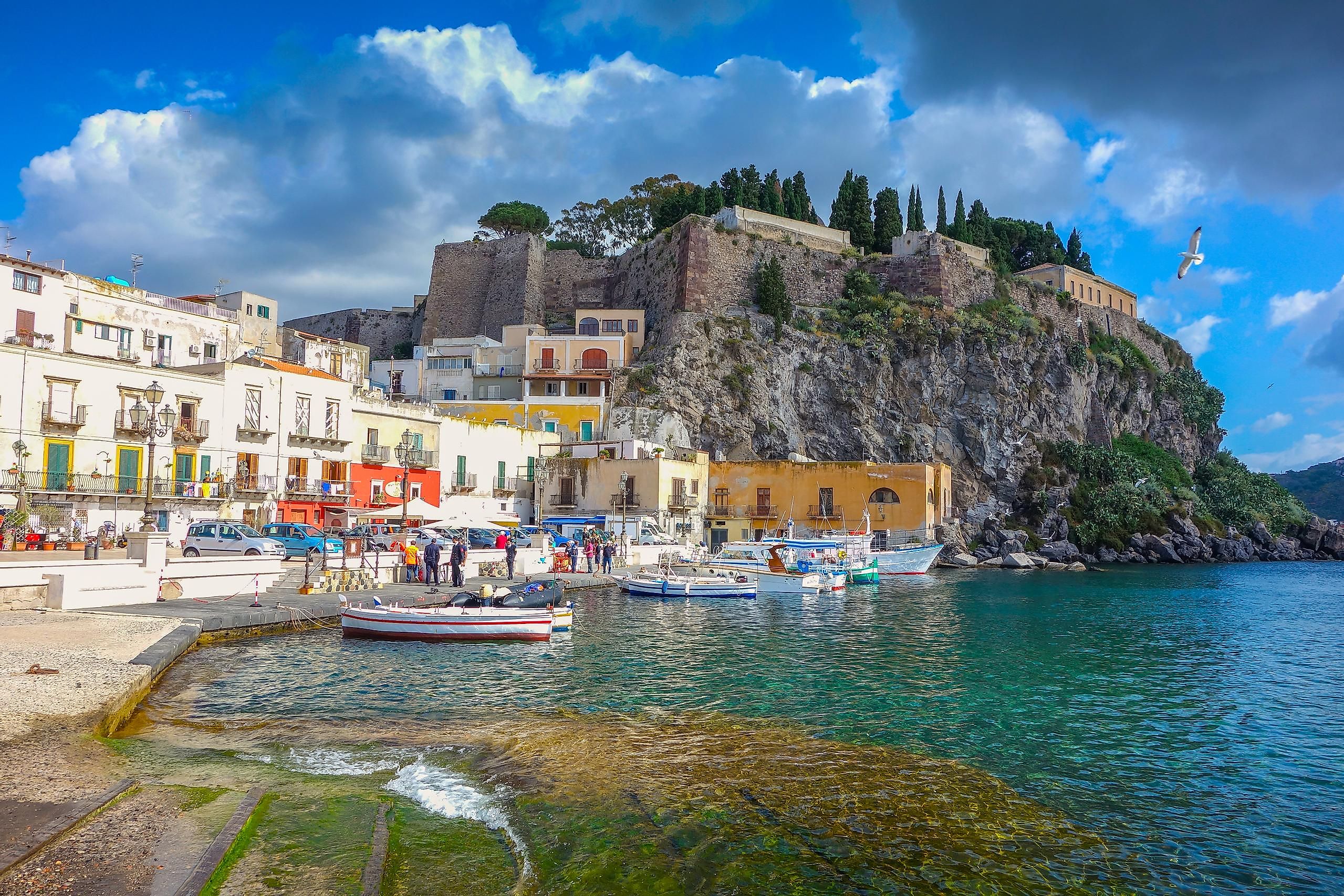 Named a UNESCO World Heritage Site in 2000, the Aeolian Islands are a volcanic archipelago in the Tyrrhenian Sea, north of Sicily, Italy. Their unique name comes from Aeolus, the mythical ruler of winds. Rumor has it that Aeolus was actually a Greek prince who once lived on Lipari (the largest Aeolian Island). He became very popular among his people because of his ability to predict the weather by observing cloud patterns which frequently changed because of an active volcano, which some believe was the Stromboli volcano. Here are some more facts about the Aeolian Islands.
Geography And Climate Of The Aeolian Islands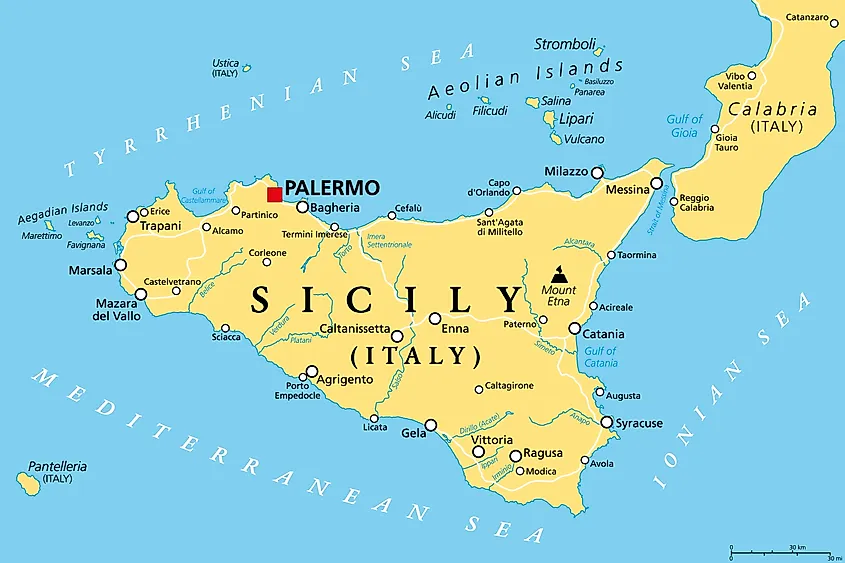 The archipelago formed millions of years ago as the Earth's crust shifted due to plate tectonics. The present shape of the islands is supposedly due to volcanic activity over the last 260,000 years. Lipari is the largest island out of the seven that are inhabited. There are quite a few smaller islands and cliffs that are part of the archipelago, but they are too small and rocky for anyone to live on them. Two volcanoes are still active at present: Stromboli and Vulcano. The volcanic activity left all the islands with very fertile soil, excellent for growing crops. Plenty of people visit the Aeolian islands from all over the world. Tourists like coming for the natural beauty and beaches, whereas geologists and volcanologists are fascinated by their unique geological features and volcanic activity.
The Islands have a Mediterranean climate. It rains a lot, but the temperatures are mostly mild. However, strong winter winds may mean uncomfortable chilly weather for visitors, especially if it rains all the time. The sun is hot and sultry in the summer, but the evening breeze makes the heat bearable.  
The Islands
Lipari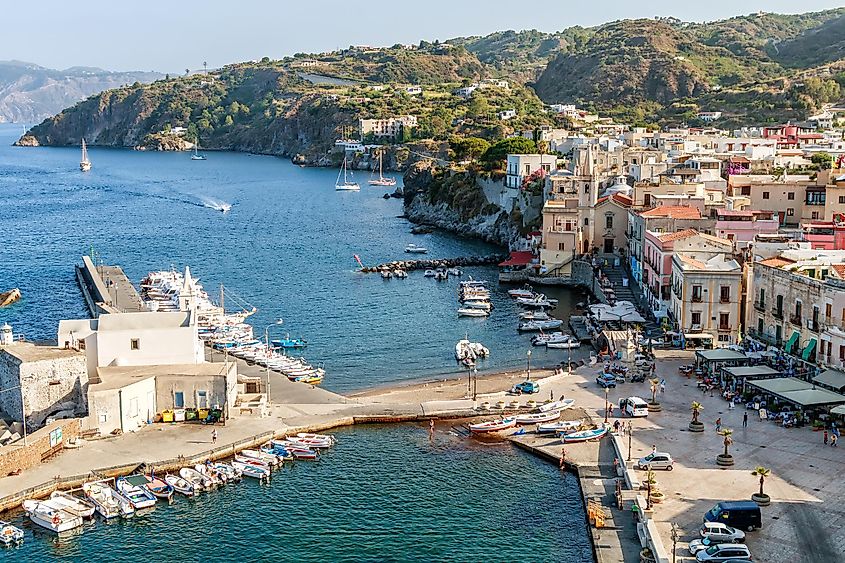 Lipari is the largest of the Aeolian Islands, with an area of around 23 square miles and a population of almost 13,000. The island's history can be traced back to 5000 BC, and the presence of black volcanic obsidian made it an attraction for various invaders who were quick to besiege it over the years. Pumice mining is a large industry in Lipari and pumice is still one of its major exports.
Tourists throng to the island to see the Greek tombs and the spectacular Castello, or castle. They also enjoy its beautiful beaches and scenic spots with souvenir shops and local eateries selling the Lipari specialty: Malvasia wine and capers.
Salina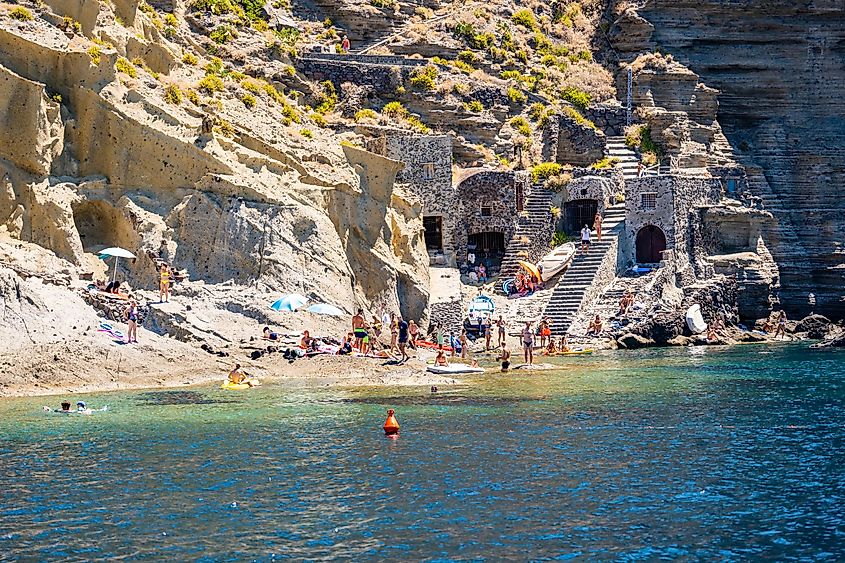 At 16.65 square miles, Salina is the second-largest, but the greenest of all Aeolian islands. It has centuries-old olive groves, several vineyards, ferns, numerous caper bushes, and poplar and chestnut trees, so it is no wonder visitors looking at it from a distance think it is entirely green.
Salina is home to six volcanoes, the largest peak being Monte Fossa delle Felci at 3,176 ft. However, the last eruption took place 13,000 years ago. Salina was also the first Aeolian island to protect its environment with a natural preserve. Visitors come to the island for its natural beauty, delicious local cuisine, historical sites, and annual caper festival in July.
Vulcano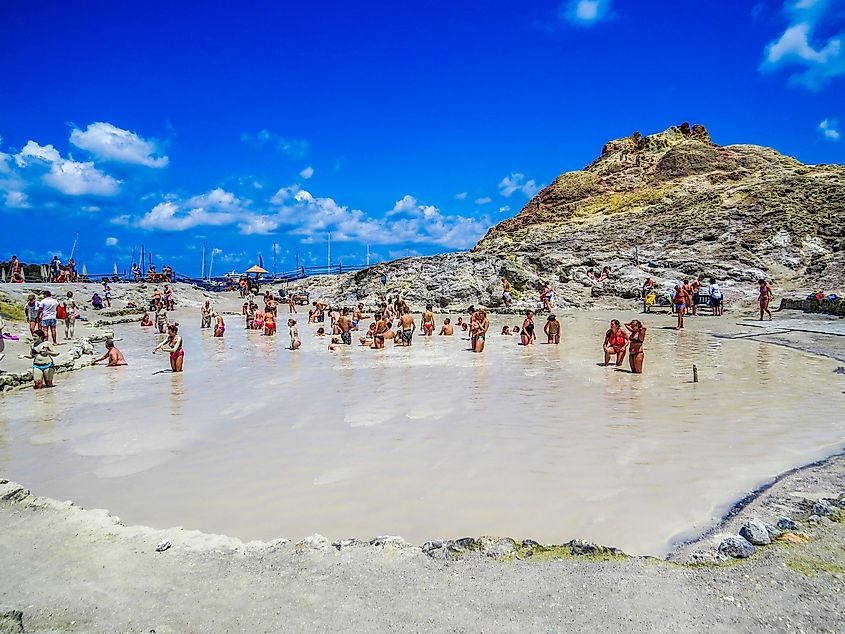 Known as Vulcan's (the Roman God of Fire) workshop's chimney, Vulcano is the third-largest Aeolian island with an area of 8 square miles. It rises to 1,644 ft above sea level, houses several volcanic calderas, and is one of Italy's four active volcanoes that are not submarine. The last volcanic activity happened between 1888-1890, though, so the island has been quiet since then. A spectacular view awaits visitors ready to hike to the island's crater, as all the islands are visible from there. Soaking in the thermal waters of the island's mud baths is also a prime attraction for tourists.
Stromboli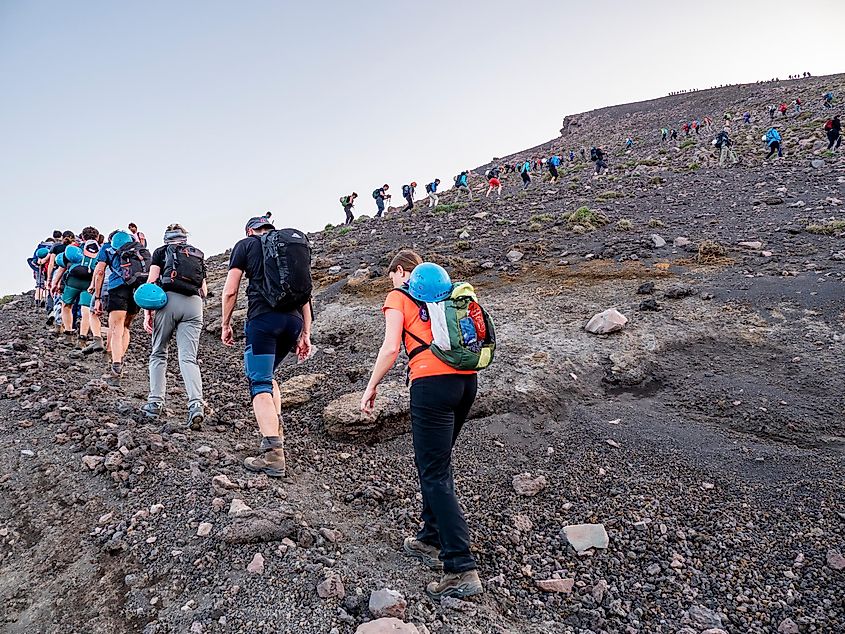 Stromboli houses Mount Stromboli, another of Italy's four active volcanoes and one of the world's most active volcanoes, spewing lava consistently for almost 2,500 years. It is also called the "lighthouse of the Mediterranean" as it emanates a continuous red glow. The island's population used to be 5000 in the early 1900s, but it dwindled to a few hundred after a violent eruption in 1930. Many visitors come here for the four-hour trek to the volcano's summit to watch the lava fireworks at twilight. In the summer of 2019, however, there was a serious eruption, after which the volcano's upper half was closed to visitors. 
Filicudi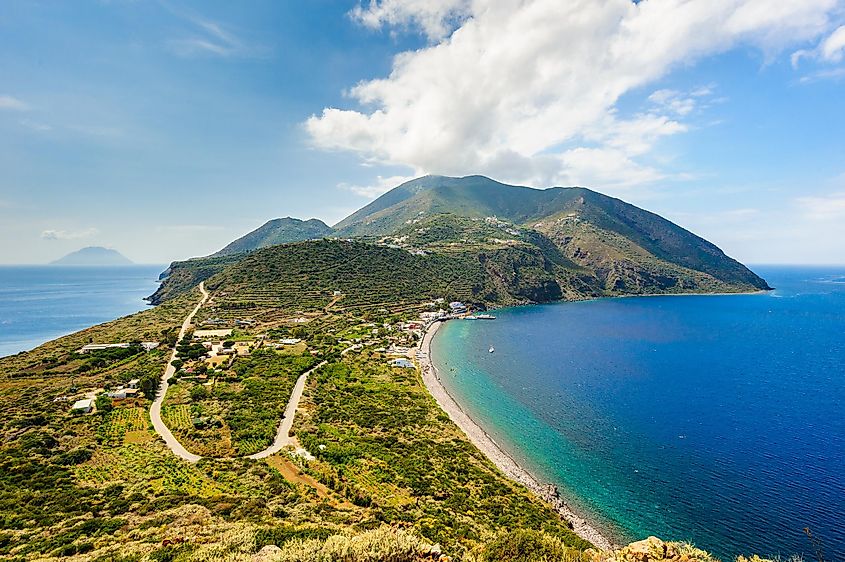 Wilder and less developed than its sister islands, Filicudi is popular among visitors looking to absorb nature in its purest form. The snail-shaped island, covering an area of 3.7 square miles, also houses La Canna, a volcanic, finger-like rock rising about 243 ft above sea level. The island's population was around 270 in 1971 but decreased slowly when the police exiled eighteen mafia leaders to it. Eventually, no one except the mafia people and the police guarding them remained. However, in later years, Filicudi became popular again once photographers and artists made it their home. 
Alicudi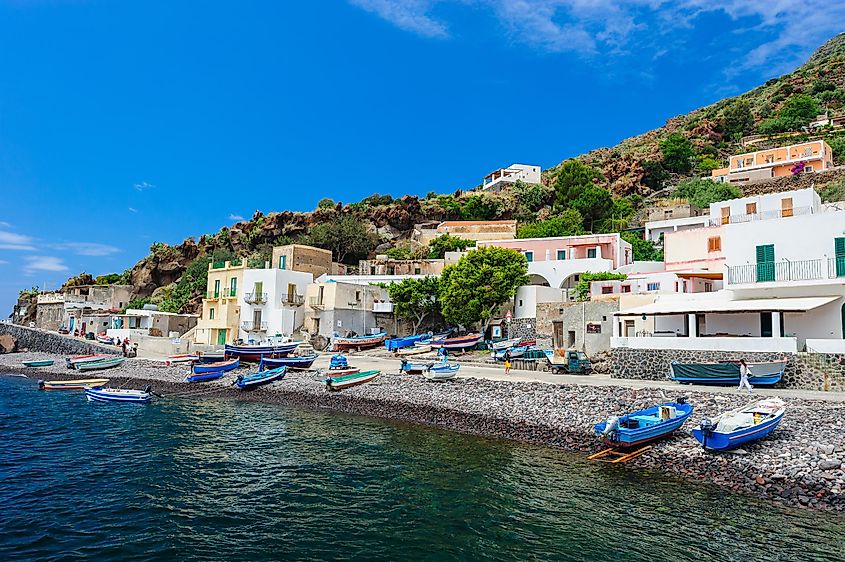 Alicudi, the circular island with an area of only 2.0 square miles, is still very primitive and sparsely populated. Its 120 residents depend on fishing or agriculture for their survival. Visitors should be prepared to view the island on donkey back or to climb thousands of steps to get to the village summit, where a breathtaking view awaits. A fascinating aspect of the island is the mystery that surrounds it. Residents are reluctant to talk about a hallucinogenic bread the locals ate for centuries, unaware that it contained a fungus called "ergot," a by-product of the sultry weather. It is no wonder that for all those years, the island-dwellers believed in magic. Even today, many believe that the bread was fine and their ancestors really did know magic.
Panarea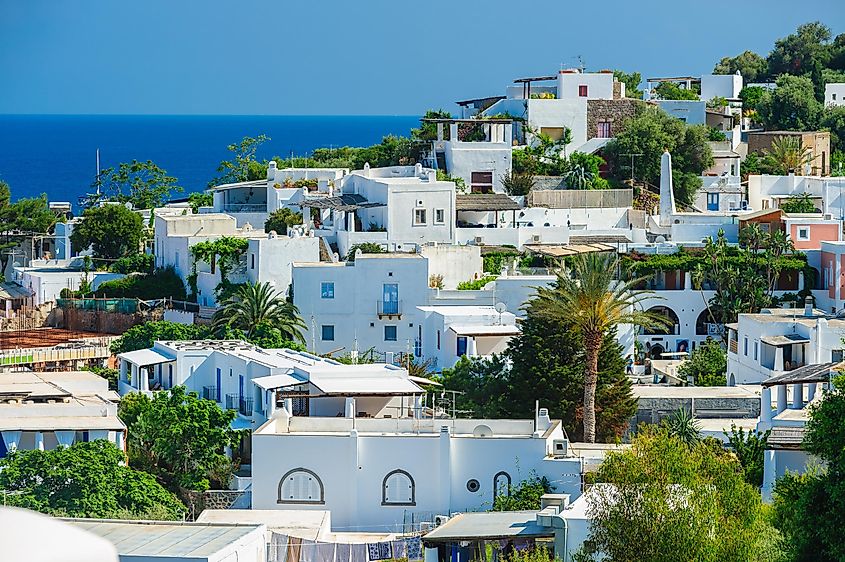 Panarea is the smallest of all the inhabited Aeolian islands. With an area of only 1.3 square miles and a population of only 270 people, the island is nevertheless very popular with tourists. It has uneven terrain, but all the smaller, uninhabited islands are visible from here. Scuba diving is a popular tourist sport, and divers can also swim to a shipwreck not far from the island. The thermal springs on the island are also a big tourist attraction. 
Smaller Islands
Apart from these seven inhabited islands that draw many tourists annually, there are several smaller, uninhabited Aeolian islands. These include Basiluzzo, Strombolicchio, Dattilo, Formiche, and Lisca Bianca, to name a few. It is possible that all of these cliffs and islands were part of one big cratered area but broke apart after several earthquakes. 
The Aeolian islands are majestic and beautiful. Some believe that the best part of visiting them is that most global tourists are still unaware of them. Many people who visit are from other parts of Italy, who understand the importance of their history and truly appreciate their natural beauty and uniqueness.